Applications of Social Media Analytics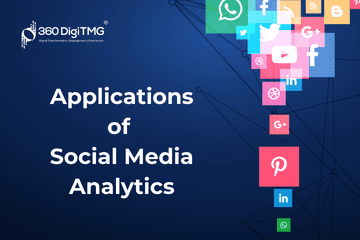 Viewers are increasingly using laptops, mobile phones, tablets, gaming consoles, and linked televisions to consume digital video content all around the world. In order to better understand audience behaviour and consumption habits as a server of such information, you must educate yourself about your digital audience. Only then will you be able to take action to expand your business. Your audience is impacted by three important factors: content, packaging, and quality. You can generate, package, sell, and deliver content to ensure maximum audience engagement by having a thorough grasp of what drives viewer engagement.
Social media are web-based services where people post through a profile as well as permit connections to other people's profiles. The vast increase in the use of social media creates web online communities which allow people to stay in touch, allowing communication and collaboration with each other. The social media users create a big amount of data which is almost structured and unstructured through different social media platforms. The data generated is used by organizations. The automated tools required to extract social media data and perform sentiment analysis to this huge enormous amount of data so that we can analyze and pull out insights.
According to Survey, SMA is a subset of business intelligence (BI) in the corporate sector that is concerned with approaches, procedures, systems, and technologies that turn social media's raw data into information that is relevant and practical for business needs." The use of social media analytics to get useful data from social media platforms is widespread and may be done in a variety of academic disciplines of study. It may be used to industry, agriculture, and more. It is intended to help in the analysis and comprehension of massive data from social media, both organised and unstructured. These methods include machine learning, linguistics data computing, and web crawling. Real-time issue and subject identification in sports is made possible by social media analytics applications. These methods include machine learning, linguistics data computing, and web crawling. Applications of social media analytics in sports are being done to help marketers enhance sports event marketing by quickly identifying problems and particular subjects. It is also beneficial to be aware of the activities taking place, to get knowledge about how major sporting events are managed, and to learn about the hospitality and lodging options.
The technique used for this data is sentiment analysis and on top of it visual analytics from the comments posted on trip advisor. We can find market intelligence for hotels from Twitter comments.
The special goals for taking advantage of social media information. It has the power to reach our customer's social media platforms. There are a few metrics that will help us to measure the performance of social media channels. Using the information, you can analyze the content to minimize or maximize a strategy to drive the business forward. One such metric is the click-through rate, it is nothing but people clicking your link from social media posts to your actual website.
The social media analytics aid in the analysis of the blogs and media exploitation tools. Few businesses prioritise providing business-to-business solutions. The component that is now popular is "Social Media Merchandising" for retail and consumer items. However, they were trying to offer market analysis for both media and entertainment as well as for these sectors.
Customers are watching, sharing, and listening to more content than ever before in the modern world. They imagine having access right away and consistently, for little to no money, on a variety of technical devices, and with access that is tailored to their own interests.
Data analytics is not only helping entertainment and media companies to unlock hidden patterns in their data from social media listening, leading to predictive models to predict advertising, pricing, and sales forecasting.
By understanding the pattern, entertainment and media companies can understand and target customers, improve their experience, streamline the business strategy and identify new products and services to offer customers.
The following are the scenarios where we can consider the scope of analytics.
Online streaming services
Social media platforms
Online casino operators
Online game providers
Platforms that post entertainment-related reading and video content.
Creating customised content for the consumer is a key responsibility of the entertainment sector. Everyone wants to view the information; nevertheless, they must find it fascinating and relevant else they will not click, will not be happy with the experience, and are unlikely to become repeat clients. We should take care to ensure that no one cancels their membership. The entertainment sector as a whole clearly understands the purpose of content personalisation. Consider Facebook and the newsfeed, our Netflix suggestions, YouTube, and so on.
Video streaming content is not the only entertainment industry that depends on BI as well. So do tv channels, blog owners, and social media influencers. Scheduling is very important for the entertainment industry, and analytics helps to determine the right moment for dropping new content. The same can be mapped for television channels – hence many cooking shows on weekend mornings or yoga or health care programs will impact the customers.
Multiple playback contexts may be employed with media analytics to track your whole digital audience.
For instance, if an online merchant uses business intelligence and closely monitors customer behaviour, it becomes abundantly evident which items this consumer frequently purchases in tandem (for instance, Herbalife and at a wellness nutrition store). A strong relationship between the goods should exist. For instance, the online gaming platform should email the player and provide a bonus if they usually play on Sundays but missed one. This would encourage them to play again.
Other Domain Analytics in our 360DigiTMG
Political Analytics, Transit Analytics, Forest Analytics, Wild Analytics, Agriculture Analytics, Army Analytics, E-commerce Analytics, Energy and Resource Analytics, Hospital Analytics, Healthcare Analytics, Hospitality Analytics, Oil and Gas Analytics, Regulatory Analytics, Security Analytics, Trade Analytics, Railway Analytics, Defense Analytics, Education Analytics, Accounting Analytics, Fraud Analytics, Legal and Law Analytics, Banking Analytics, Insurance Analytics, Life Science Analytics, Pharma Analytics, Aviation Analytics, Retail Analytics, Cyber Security Analytics, Supply Chain Analytics, Marketing Analytics
Navigate to Address
360DigiTMG - Data Science, Data Scientist Course Training in Bangalore
No 23, 2nd Floor, 9th Main Rd, 22nd Cross Rd, 7th Sector, HSR Layout, Bengaluru, Karnataka 560102
1800-212-654-321