Applications of Artificial Intelligence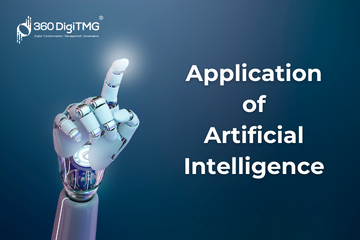 Foundation of Artificial Intelligence
Being a AI is just a step away. Check out the Artificial Intelligence in Hyderabad. Get trained by the alumni from IIT, IIM, and ISB.
Let's first attempt to comprehend the development of artificial intelligence before moving on to comprehend the meaning of the term.
John McCarthy invented the phrase "artificial intelligence" and organised an AI conference in 1956.
After several tests, IBM created "Deep Blue," a supercomputer, which in 1997 defeated a world chess champion. This invention sparked the development of a huge machine.
Commercial robot hoovers cleaners first appeared in 2002.
Moving forward with this, we have advancements like image processing, speech recognition, robotic process automation (RPA), smart houses, and more that came out later in the year.
In order to create a vaccine in the early phases of the SARS-CoV-2 (COVID-19) pandemic, the LinearFold AI algorithm was created in the year 2020 for medical and scientific objectives.
360DigiTMG offers the Best AI Courses in Bangalore to start a career in AI. Enroll now!
What is Artificial Intelligence?
Intelligence here refers to an ability to think, visualize, design, learn by heart and understand the designs, make decisions to adjust for the change, and learn from an experience.
Artificial Intelligence is more concerned with making machines behave like humans in less time than human takes. It can be divided into two parts Strong AI and Weak AI:
Strong AI predicts that in the future people will be surrounded by machines that work like human beings and could have human-level intelligence.
Weak AI has already started by adding some features to the computer and making them more useful tools. For Example 'Deep Blue' played a chess game against a chess champion without thinking but the human player thought the machine was playing by making impressive moves. (Note: There was no celebration by a machine after winning a match against a champion that's the difference between Human Intelligence and Artificial Intelligence)
From the above illustration for AI we can understand that Artificial Intelligence is a kind of simulation of Human intelligence that is processed by Machines which includes learning, reasoning and self correction. Components of AI are shown in the above figure
Want to learn more about AI? Enroll in this AI Training in Hyderabad to do so.
Difference between Machine Learning, Deep Learning, and Artificial Intelligence
A type of artificial intelligence called Machine Learning has more sophisticated statistical methods that let robots get better at tasks over time.
360DigiTMG offers the Artificial Intelligence in Chennai. To start a career in AI. Enroll now!
Deep Learning is made up of a number of methods that expose neural networks to enormous amounts of data in order to train the model to perform tasks like speech recognition and image processing. Artificial intelligence is any method that uses a set of rules, judgements, and machine learning techniques, including deep learning, to make a computer or other machine simulate human intellect.
Being a Artificial Intelligence is just a step away. Check out the Artificial Intelligence Course at 360DigiTMG and get certified today
Does Artificial Intelligence need coding?

Deep Learning Algorithms are used to create Deep Nostalgia that are animated videos from old images. Deep Nostalgia applies the drivers accurately to a face in the still photo, creating a short video. AI is investing billions of dollars in the coming days concentrating on Information Technology, Finance, Marketing, Health sector, Agriculture, Transport, Education, and Gaming.
Looking forward to becoming a Artificial Intelligence Expert? Check out the Artificial Intelligence Course Training in Pune and get certified today.
Applications of AI in various fields

Artificial Intelligence has played a notable role in a number of industries, including manufacturing, research and development, agriculture, business, education, finance, law, and healthcare.

The areas where artificial intelligence has left its mark and is still having an impact are listed below.

Language Understanding (ability to understand the language, translate from one language to another, translate from spoken to written)

Speech Understanding
Semantic Information Processing
Question and Answering
Informational Retrieval
Language Translation

Learning and Adaptive systems (developing new rules based on previous experience)

Cybernetics
Concept Formation

Problem-solving (ability to formulate a problem and plan for its solution)

Inference
Interactive Problem solving
Automatic Program Writing
Heuristic Search

Perception (results in an analyzed structure of the relationship between entities)
Modeling (Predict the behavior and relationship between the real-world objects

Modeling Natural Systems (Economic, Sociological, Ecological, Biological)
Hobot World Modelling

Robots (Combination of all the above)
Games (Chess, Go, Bridge, Dark forest, etc)

What are the applications of Artificial Intelligence?
Applications in Healthcare

Neural networks are used to create complex devices that aid in the detection of illnesses and the identification of cancer cells. analysis of test results and other medical information that enables early detection of chronic illnesses. In order to find novel medications, neural networks analyse historical data. An AI-based chatbot named Buoy Health employs neural network techniques to identify and cure illnesses. With the aid of chatbots, primary care may be automated while physicians can concentrate more on urgent and difficult patients. Precision medicine, robotic surgery, virtual nursing help, and workflow support are examples of other uses.

Applications in Education

There is a slow transition of AI in the field of Education that helps in increasing the productivity of faculties to concentrate on students rather than administrative work. Some of the applications like personal assistance or mentoring, creating smart content, personalized learning, a Grading system, admin tasks, and Intelligent Tutoring are an aid to educators.

Applications in Gaming

Artificial intelligence (AI) advances human interaction games and helps forecast human behaviour. The following examples are AlphaGo, IBM Watson, Deepblue, Dark Forest, FEAR, GTA, Gothic, STALKER (a shadow of Chornobyl), and others.

Applications in Agriculture

In the Agricultural field, AI helps in recognizing the defects and nutrient deficiencies of soil content using computer vision and machine learning applications. Also, AI can analyze where unwanted plants were grown. Aerial Survey and Imaging, Crop and Soil monitoring, Insect and plant disease detection, Intelligent spraying, Automatic weeding, produce grading, and sorting.

Applications in Human Resource

By evaluating applications based on a variety of criteria, AI streamlines the recruiting process. Additionally, it aids in the selection of candidate profiles and gives HR the go-ahead to continue comprehending a candidate's applications. The finest illustration is LinkedIn, which uses an AI application to draw in talent, Data-Based Decision Making, and Employee Behaviour Tracking to monitor Employee Behaviour in an Office Environment.

Applications in E-commerce

Recommendation System is one of the applications that can transform the potential of AI into sales. Hence most companies are investing in recommendation engines. Chatbots and virtual shopping assistants make conversations with the customers help companies business, because of the quick responses and proper guidance for the queries of the customers. Image tagging and Image recognition software help in identifying the image and selecting an appropriate item from the correct source. (Ex: Pinterest)

Applications in Lifestyle

Personalised learning, voice assistants, autonomous cars, fraud detection, and the development of smart content are just a few of the intriguing applications being explored to simplify human labour.

Applications in Robotics

Starship (delivers the item within a 40m radius), Piaggio's Gita robot (hands-free carrier), Cruise (self-driving autonomous vehicle), Hanson Robotics (which has human-like characters such as eye contact, facial recognition, speech, and the ability to hold natural conversations.), Elroy Air (used in autonomous aircraft Vertical take-off and landing (VTOL) that carries 300 to 500 pounds of weight over a 300-mile range

Applications in Navigation

The programme makes use of Convolution Neural Networks (CNN) and Graphical Neural Networks (GNN), which aid in lane road detection, traffic analysis, and route optimisation. Uber makes extensive use of the app for the aforementioned functions. See the link for an example of using AI in the realm of aviation.

Applications in Automobiles

Self Driving Car(SDC) is the best example under this application where AI is used along with the GPS, Radar, Cloud Services, Vehicle's Camera, and Control Signals to operate the vehicle.

Applications in Social Media

The finest examples to use in this area are Instagram, Facebook, and Twitter. Facebook uses DeepText, which can translate between many languages. Twitter employs AI to identify fraud, eliminate hate speech, and block misinformation.

Applications in Marketing

AI helps Marketers who can deliver highly targeted and personalized ads with the help of behavioral analysis, pattern recognition, etc.

Applications in Chatbots

A bot is referred to as virtual aid when it takes the role of human involvement and offers specified information after receiving training. In order to reply to user queries and give pertinent trained information, the models are trained using Natural Language Processing. Credit card fraud and false reviews are two problems that affect e-commerce today, but both problems may be solved with the use of artificial intelligence (AI), which can recognise and manage phoney reviews and lessen credit card theft.

Applications in Finance

Financial services are very significant in the Banking sector which is supported by AI whether it is a personal finance, corporate finance, or consumer finance. AI also helps in detecting the change in the transaction pattern and reduces the risk of fraud and plays a vital role in better predicting and assessing loan risks.
Enroll in the ai courses in Bangalore with placement Program offered by 360DigiTMG to become a successful AI Expert!.
Pros and Cons of AI

There will be generally pros and cons to new technologies hence some of them concerning Artificial Intelligence are here:

Pros

In some cases, it matches the human error and in few, it reduces the human error
It works Non-stop 24X7
It will never get tired and works even for repetitive tasks easily without any hesitation
It is quick enough to complete the task on time

Cons

Since it is working 24X7 costly to implement
It cannot make a copy of human creation
It does some of the jobs without human intervention hence predicting some manual jobs will be replaced leading to unemployment.
Looking at the fast development of AI people may start depending on technology.
Future of AI
A new era of data engineering has arrived, enabling artificial intelligence to apply approaches to streamline activities and make predictions.
People were sceptical that there would be significant job losses due to the creation and development of several robots to assist corporate operations, but as they grew more commonplace, new kinds of occupations started to emerge.
Companies like CamFind are aiming towards artificial intelligence (AI) enabling customers to purchase pertinent things just by taking a picture of them. Few internet marketing platforms are also spending money on using chatbots to provide customer support.
360DigiTMG the award-winning training institute offers a Artificial Intelligence Course Training in Chennai and other regions of India and become certified professionals.
Artificial Intelligence Training Institutes in Other Locations
Ahmedabad, Bangalore, Chengalpattu, Chennai, Hyderabad, Kothrud, Noida, Pune, Thane, Thiruvananthapuram, Tiruchchirappalli, Yelahanka, Andhra Pradesh, Anna Nagar, Bhilai, Calicut, Chandigarh, Chromepet, Coimbatore, Dilsukhnagar, ECIL, Faridabad, Greater Warangal, Guduvanchery, Guntur, Gurgaon, Guwahati, Indore, Jaipur, Kalaburagi, Kanpur, Kharadi, Kochi, Kolkata, Kompally, Lucknow, Mangalore, Mumbai, Mysore, Nagpur, Nashik, Navi Mumbai, Patna, Porur, Raipur, Salem, Surat, Thoraipakkam, Trichy, Uppal, Vadodara, Varanasi, Vijayawada, Vizag, Tirunelveli, Aurangabad
Navigate to Address
360DigiTMG - Data Science, IR 4.0, AI, Machine Learning Training in Malaysia
Level 16, 1 Sentral, Jalan Stesen Sentral 5, Kuala Lumpur Sentral, 50470 Kuala Lumpur, Wilayah Persekutuan Kuala Lumpur, Malaysia
+60 19-383 1378