Artificial Intelligence - Specialist Skills vs. Generic Skills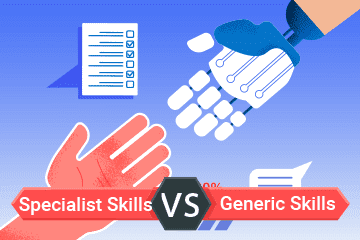 In the large field of artificial intelligence, success requires a variety of talents. Successful AI developers need years to build the necessary expertise. Years of moulding and training are necessary. The abilities needed for AI tasks may be separated into specialist abilities that depend on in-depth topic knowledge and general abilities that depend on the professional's mindset. For any AI specialist to succeed, both of these abilities are crucial. The difference between the two categories of talents is not very distinct.
360DigiTMG offers the Artificial Intelligence Course Training Institutes in Bangalore to start a career in AI. Enroll now!
There are times when the diverse abilities needed for AI employment overlap. However, some of the most important abilities needed may be divided into categories. Aspiring AI professionals can further their careers with the aid of these departments. The general skills are simple to comprehend and have many characteristics with the fundamental attitude instruction needed for challenging tasks. The specialised knowledge required for AI is incredibly challenging to learn and comprehend. That is presumably the reason there aren't enough qualified AI specialists.
Want to learn more about AI? Enroll in this Artificial Intelligence Course Training Institutes in Hyderabad to do so.
Generic Skills:
The generic talents are not'skills' in the traditional meaning of the word, as was already stated. It is more of a collection of the traits needed to thrive in the cutting-edge and competitive world of artificial intelligence. People may first see a lot of parallels between these abilities and the requisite attitudes needed for a number of different vocations. This is due to the fact that, no matter how sophisticated AI is, its capacity to function solely rests on its developers.Artificial intelligence, as any novice may know, is one field that requires more manpower than most other industries. This is because various AI is beyond the understanding of human intelligence until now. Only when humans realize AI supremacy, the need for manpower in the field of AI will be cut short. Therefore, some of the generic skills required for any AI job are given below:
Becoming a Data Scientist is possible now with the 360DigiTMG Artificial Intelligence training program. Enroll today.
The Two C's-Curiosity and Creativity:

Curiosity and inventiveness are the first attributes that spring to mind when discussing intrinsic abilities. An individual must cultivate this within themselves. Try new things as frequently as you can to boost your creativity. In order to expand your creative potential and avoid becoming stagnant, it's also critical to constantly refuel oneself with fresh knowledge. An expert in AI must be skilled at combining technical knowledge with creativity to provide original solutions to a variety of issues. Any AI expert must possess the capacity for original thought.

Ability to Learn and Refresh:

The ability to learn is an important skill in any field as technology tends to update quickly and the future is kind to those who can adapt to change. To build and sustain a successful AI career, a person has to have the ability to learn quickly and assimilate information. People who are drawn by intensive fields like AI must be ready to invest a lot of time and energy in keeping themselves updated with the rising industry trends. An ability to grasp new concepts quickly will also give an impetus to the AI professional.

Patience:

Only those with the patience to put a lot of time on a few uninteresting projects can find success in the field of artificial intelligence. Numerous science-fiction writers, TV programmes, and motion pictures have relentlessly romanticised the idea of AI. In reality, the work that has to be done in AI is neither as simple nor as gratifying as it is on the big screen. The truth is that we are still 50–100 years away from developing the kind of AI that was used to build T-800s and Skynets. Thus, it will need a great deal of patience and determination to succeed in the field of AI. It also won't be a bed of roses to lie on right now.

Competitive Streak:

AI is certainly one of the most advanced technologies known to man. The work done by AI developers around the world may help to engineer the future. If at least 25% of the AI projects around the world become a success, then it will surely alter the world we live in and how we perceive it. An AI specialist is working at the top of the world. To ensure productivity, a healthy competitive streak is necessary. Many of the world's greatest discoveries and inventions have come due to the intense rivalries between scientists, explorers, and inventors. Thus, a mentality to compete, win and move forward is high in demand.

Taking Risks:

Risk-taking is an essential component of life. People get valuable experience by taking a chance. The modern AI expert has to be unafraid of taking chances. Additionally, he or she need to be capable of knowing when to take a chance and when to be cautious. One can only learn this talent via experience. In actuality, only those who succeed by taking measured risks are referred to as experts.
Also, check this Artificial Intelligence Course Training Institutes in Pune to start a career in Artificial Intelligence. Looking forward to becoming a Artificial Intelligence expert? Check out the Artificial Intelligence Course and get certified today.
Specialist Skills:
Many individuals prefer to place a lot of attention in this area. Only someone with a combination of both specialised and general talents may achieve great success. On paper, companies search for specialised talents. Employers will evaluate a candidate's general abilities as well whether they have the required specialisations. The phrase "specialist skills" defines itself. It includes a collection of tools that are essential for anybody exploring the world of artificial intelligence.
An AI specialist requires several specializations. Most companies demand post-graduates and Ph.D. scholars for filling various job openings. However, recent trends have shown that programmers with an interest in several aspects of AI have transitioned into AI experts after garnering a few years of experience. Though it doesn't cover every necessary skill in the book, some of the basic skills required for any AI specialist are given below.
Earn yourself a promising career in Artificial Intelligence by enrolling in AI & Deep Learning training in Singapore. Enroll today.
Strong understanding of mathematics and algorithms:

Many higher-order mathematical operations are involved in the fundamental AI principles. The potential AI applicant has to be proficient in applied math and problem-solving techniques. He or she must be able to recognise issues and determine which algorithms are most effective at resolving certain issues. Any AI expert's job description should include issue solving and solution optimisation to fulfil various demands. The most crucial competency needed for AI and its subsets, particularly machine learning, is the capacity to comprehend and analyse situations requiring sophisticated mathematics. Numerous sophisticated AI systems, such as neural networks, are essentially entirely composed of sophisticated mathematics.

Command over Programming Languages:

An AI expert is also a programmer of sorts. A person cannot be called an AI specialist if he/she is not sufficiently good with various programming languages. An AI expert will have to filter through large amounts of code in different languages. Hence, a basic knowledge of common programming languages like C, C++, Java, Perl, R, Python, etc. is a must. By having an idea regarding the basic programming languages, a person can learn several programming languages of varying complexities. Each programming language has its benefits. For example, C++ can help speed up loading time while Python can help reduce the complexity of the programs.

Probability and Statistics:

A harsh role for probability and statistics is played in the creation of AI programmes. Different probability-based models are needed to assist both inexperienced and experienced AI programmers throughout development. Predictive analytics and machine learning are the main applications here. For programmers and developers of AI systems, a number of models, including the Naive Bayes, Makarov, and Gaussian models, essential requirements. In the field of AI, statistics also play a significant role. A number of significant inferences are made from statistics gathered throughout time. Without a thorough understanding of probability and statistics, one cannot possibly hope to succeed in the field of artificial intelligence.

Data Processing and Unix:

This is deep into the technical domains of AI. Clustering and classification of large amounts of data is an important part of an AI specialist's job. To meet this demand, the data has to be distributed among several computers and clustered among various computers. AI processing is done in Linux based machines. Therefore, knowledge of Unix tools like awk, grep, cat, sort, etc. will come in handy.

Advanced Signal Processing:

AI includes continually interacting with signals and different types of data. Signal extraction is a major part of machine learning. Experts in machine learning must be proficient in the processing of numerous types of signals, including bandlets, wavelets, curvelets, etc., for this. Additionally required is knowledge of time-frequency analysis. Analysis techniques like convolutions and Fourier analysis are given significance.
360DigiTMG the award-winning training institute offers a Artificial Intelligence Course Training Institutes in Chennai and other regions of India and become certified professionals.
Artificial Intelligence Training Institutes in Other Locations
Ahmedabad, Bangalore, Chengalpattu, Chennai, Hyderabad, Kothrud, Noida, Pune, Thane, Thiruvananthapuram, Tiruchchirappalli, Yelahanka, Andhra Pradesh, Anna Nagar, Bhilai, Calicut, Chandigarh, Chromepet, Coimbatore, Dilsukhnagar, ECIL, Faridabad, Greater Warangal, Guduvanchery, Guntur, Gurgaon, Guwahati, Indore, Jaipur, Kalaburagi, Kanpur, Kharadi, Kochi, Kolkata, Kompally, Lucknow, Mangalore, Mumbai, Mysore, Nagpur, Nashik, Navi Mumbai, Patna, Porur, Raipur, Salem, Surat, Thoraipakkam, Trichy, Uppal, Vadodara, Varanasi, Vijayawada, Vizag, Tirunelveli, Aurangabad
Navigate to Address
360DigiTMG - Data Science, IR 4.0, AI, Machine Learning Training in Malaysia
Level 16, 1 Sentral, Jalan Stesen Sentral 5, Kuala Lumpur Sentral, 50470 Kuala Lumpur, Wilayah Persekutuan Kuala Lumpur, Malaysia
+60 19-383 1378