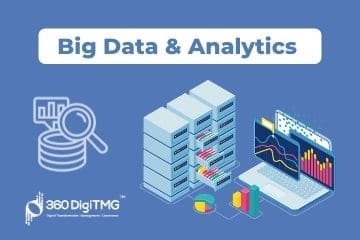 Big Data is a term that is frequently used to describe the enormous amount of organised and unstructured data that we get from a variety of digital sources, including social media, emails, YouTube, and other websites. Big Data analytics refers to the process of extracting a pattern from this heterogeneous data that provides us with knowledge that will benefit the company. It is the most potent concept now used by big corporations and organisations to aid with risk management, supply chain management, product creation, marketing campaigns, and customer retention. Using the many Big Data approaches and technologies, it is possible to overcome the numerous difficulties associated with collecting, storing, searching, analysing, sharing, and visualising data. Hadoop is one such technology; it is an open-source, scalable database solution used for storing any type of data and offers tremendous processing capacity that can tackle practically endless tasks. Operational Big Data and Analytical Big Data are two complementing technologies that are widely employed together among the many big data handling technologies. For real-time, interactive workloads, such as Mongo DB, data is generally collected and stored under the operational category, whereas analytical big data includes the capacity for retrospective and complicated analysis, such as MapReduce. Untangling the numerous relationships and patterns in the data to create sense inside the large sea of data is enormously satisfying and has become crucial to organisations regardless of their size, region, or market share. Modern organisations are data-driven today.
Wish to pursue a career in data analytics? Enroll in this Data Analytics course in Bangalore to start your journey.
What is Big Data and Analytics
Analytics on the other hand is referred to as a technique to handle the issues of Big Data. It is a process of investigating big data to discover hidden patterns, market trends, correlations, customer behavior, and preferences. This technology allows us to examine huge datasets and give valuable information used to make informed business decisions. This advanced form of analytics includes complex applications that involve statistical algorithms, predictive models, and what-if analysis which leads to a positive business outcome. Big data analytics facilitates new revenue opportunities, effective marketing, improved operational efficiency, and competitive advantages over rivals. With the help of Big Data analytics, Data scientists and Data analysts can analyze growing volumes of data with the help of tools like data mining, predictive analytics, machine learning, and deep learning.
Kickstart your career by enrolling in this Data Analyst Course Fees in Chennai.
Applications Of Big Data Analytics
Big data has all the solutions to the issues that data raises, which are numerous. Big Data is a developing technology that can manage any sizeable volume of organised, semi-structured, and unstructured data that can be mined for knowledge. It is mostly used to analyse vast amounts of transactional data in order to make better business decisions. It has developed into a potent tool with applications in many different industries. These applications include recalculating the whole risk portfolios and using it to identify the true reasons of failures and fraudulent behaviour.
Also, check this Data Analytics Course to start a career in Data Analytics.
Social Media Analytics

Social media provides real-time insights about the various aspects of the market like pricing, promotions, campaign placements, or how the market is going to respond, etc. and companies then utilize these insights to derive some intelligent and valuable results that help in adjusting the above variables according to market trends.

Agriculture

In order to maximise agricultural efficiency, data is gathered through sensors inserted into test crops. Simulations are then conducted to determine how plants respond to various changes in variables such as temperature, water levels, soil composition, growth, etc. The ideal environmental settings for the development of particular gene types are then determined by looking at this data.

Marketing

The facial recognition software is being used by marketers to find out how well their advertisements have been able to generate interest in their products. The data collected in the form of facial expressions are used to discover what kinds of promotions encouraged watchers to share the ads with their social network making them likely to "go viral" and improve sales.

Finance

A significant quantity of data generated by the finance sector is utilised by banks and other financial organisations to forecast client behaviour and develop strategies. Around the world, transactions totaling billions of dollars take place, and analysts are in charge of acquiring, processing, storing, and analysing this data in order to identify trends with accuracy and security, make forecasts, and develop future plans.

Healthcare

Insights derived from clinical data can be used to convert information into actionable, value-based healthcare facts that caregivers and administrators can now make use of to deliver a better quality of patient care. Big Data Analysis increases our efficiency and helps sharpen our understanding of the various diseases, injuries, or illnesses.

Pursue a career in Data Analytics with the number one training institute 360DigiTMG. Enroll in the Best Data Analytics Courses in Hyderabad with placements to start your journey.

Conclusion

With its extremely reliable, easy, scalable, and accessible tools and processes, big data is here and causing a revolution in business and technology. These technologies offer the capability necessary to analyse large data sets rapidly and affordably. They can handle large and perplexing amounts of created data. With the help of this technology, we can make great strides in terms of productivity, efficiency, revenue, and profitability. In practically every industry, the growth of data has brought up new opportunities and difficulties. This data also offers usable knowledge that may boost productivity. Big data has an interesting future since it has changed how we store data, how much we can use it for, and how we can utilise it for analysis.
Data Science Placement Success Story
Data Analytics Training Institutes in Other Locations
Agra, Ahmedabad, Amritsar, Anand, Anantapur, Bangalore, Bhopal, Bhubaneswar, Chengalpattu, Chennai, Cochin, Dehradun, Malaysia, Dombivli, Durgapur, Ernakulam, Erode, Gandhinagar, Ghaziabad, Gorakhpur, Gwalior, Hebbal, Hyderabad, Jabalpur, Jalandhar, Jammu, Jamshedpur, Jodhpur, Khammam, Kolhapur, Kothrud, Ludhiana, Madurai, Meerut, Mohali, Moradabad, Noida, Pimpri, Pondicherry, Pune, Rajkot, Ranchi, Rohtak, Roorkee, Rourkela, Shimla, Shimoga, Siliguri, Srinagar, Thane, Thiruvananthapuram, Tiruchchirappalli, Trichur, Udaipur, Yelahanka, Andhra Pradesh, Anna Nagar, Bhilai, Borivali, Calicut, Chandigarh, Chromepet, Coimbatore, Dilsukhnagar, ECIL, Faridabad, Greater Warangal, Guduvanchery, Guntur, Gurgaon, Guwahati, Hoodi, Indore, Jaipur, Kalaburagi, Kanpur, Kharadi, Kochi, Kolkata, Kompally, Lucknow, Mangalore, Mumbai, Mysore, Nagpur, Nashik, Navi Mumbai, Patna, Porur, Raipur, Salem, Surat, Thoraipakkam, Trichy, Uppal, Vadodara, Varanasi, Vijayawada, Vizag, Tirunelveli, Aurangabad
Navigate to Address
360DigiTMG - Data Science, IR 4.0, AI, Machine Learning Training in Malaysia
Level 16, 1 Sentral, Jalan Stesen Sentral 5, Kuala Lumpur Sentral, 50470 Kuala Lumpur, Wilayah Persekutuan Kuala Lumpur, Malaysia
+60 19-383 1378