Graphical Representations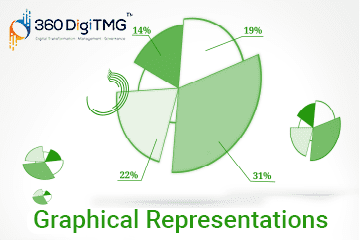 Univariate Analysis - Analysis of a single variable is called Univariate Analysis.
Graphs using which we can visualize single variables are:
Bar Plot
Index Plot
Dot Plot
Strip Plot
Violin Plot
Stem & Leaf Plot
Candle Plot
Pie Chart
Time Series Plots
Histogram
Density Plot
Boxplot or Box & Whisker Plot
Q-Q Plot or
Quantile - Quantile Plot
---
Graphical Representations
For univariate analysis, the histogram, box plot, and Q-Q plot are the most often used plots.
Histogram
Another name for a histogram is a Frequency Distribution Plot.
The histogram's main use is to show the distribution's shape.
Histograms are used to detect the existence of outliers as a secondary purpose.
---
Box Plot is also called as Box and Whisker Plot
Box Plot gives the 5 point summary, namely, Min, Max, Q1 / First Quartile, Q3 / Third Quartile, Median / Q2 / Second Quartile
Middle 50% of data is located in the Inter Quartile Range (IQR) = Q3 - Q1
Formula used to identify outliers is Q1 - 1.5 (IQR) on the lower side and Q3 + 1.5 (IQR) on the upper side
Primary Purpose of Boxplot is to identify the existence of outliers
Secondary Purpose of Boxplot is to identify the shape of distribution
---
Q-Q plot is also called Quantile Quantile Plot
Q-Q plot is used to check whether the data are normally distributed or not. If data are non-normal then we resort to transformation techniques to make the data normal
The line in the Q-Q plot connects from Q1 to Q3
X-axis contains the standardized values of the random variable
Y-axis contains random values, which are not standardized
If the data points fall along the line then data are considered to be Normally Distributed
---
Bivariate Analysis
Analysing two variables is known as bivariate analysis.
To determine whether two variables are correlated, use a scatter plot.
The primary purpose of the Scatter Plot is to determine the following:
Direction - Whether the direction is Positive or Negative or No Correlation

Strength - Whether the strength is Strong or Moderate or Weak

Check whether the relationship is Linear or Nonlinear

Finding out if the relationship is linear or non-linear is the Scatter Plot's secondary goal.
Determining strength using a scatter plot is subjective
Objectively evaluate strength using Correlation Coefficient (r)
Correlation coefficient value ranges from +1 to -1
Covariance is also used to track the correlation between 2 variables
However, Correlation Coefficient normalizes the data in correlation calculations whereas Covariance does not normalize the data in correlation calculation
|r| > 0.85 implies that there is a strong correlation between the variables
|r| < = 0.4 implies that there is a weak correlation
|r| > 0.4 & |r|< = 0.85 implies that there is a moderate correlation
---
Multivariate Analysis
The two main plots to perform Multivariate analysis are:
Pair Plot
Interaction Plot
Click here to learn Data Science Course, Data Science Course in Hyderabad, Data Science Course in Bangalore
Data Science Training Institutes in Other Locations
Agra
,
Ahmedabad
,
Amritsar
,
Anand
,
Anantapur
,
Bangalore
,
Bhopal
,
Bhubaneswar
,
Chengalpattu
,
Chennai
,
Cochin
,
Dehradun
,
Malaysia
,
Dombivli
,
Durgapur
,
Ernakulam
,
Erode
,
Gandhinagar
,
Ghaziabad
,
Gorakhpur
,
Gwalior
,
Hebbal
,
Hyderabad
,
Jabalpur
,
Jalandhar
,
Jammu
,
Jamshedpur
,
Jodhpur
,
Khammam
,
Kolhapur
,
Kothrud
,
Ludhiana
,
Madurai
,
Meerut
,
Mohali
,
Moradabad
,
Noida
,
Pimpri
,
Pondicherry
,
Pune
,
Rajkot
,
Ranchi
,
Rohtak
,
Roorkee
,
Rourkela
,
Shimla
,
Shimoga
,
Siliguri
,
Srinagar
,
Thane
,
Thiruvananthapuram
,
Tiruchchirappalli
,
Trichur
,
Udaipur
,
Yelahanka
,
Andhra Pradesh
,
Anna Nagar
,
Bhilai
,
Borivali
,
Calicut
,
Chandigarh
,
Chromepet
,
Coimbatore
,
Dilsukhnagar
,
ECIL
,
Faridabad
,
Greater Warangal
,
Guduvanchery
,
Guntur
,
Gurgaon
,
Guwahati
,
Hoodi
,
Indore
,
Jaipur
,
Kalaburagi
,
Kanpur
,
Kharadi
,
Kochi
,
Kolkata
,
Kompally
,
Lucknow
,
Mangalore
,
Mumbai
,
Mysore
,
Nagpur
,
Nashik
,
Navi Mumbai
,
Patna
,
Porur
,
Raipur
,
Salem
,
Surat
,
Thoraipakkam
,
Trichy
,
Uppal
,
Vadodara
,
Varanasi
,
Vijayawada
,
Vizag
,
Tirunelveli
,
Aurangabad
Navigate to Address
360DigiTMG - Data Science Course, Data Scientist Course Training in Chennai
D.No: C1, No.3, 3rd Floor, State Highway 49A, 330, Rajiv Gandhi Salai, NJK Avenue, Thoraipakkam, Tamil Nadu 600097
1800-212-654-321