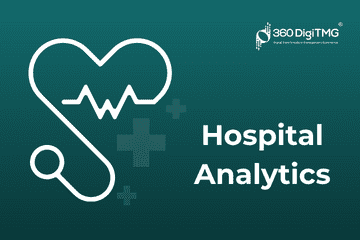 Introduction
The development of data analytics has altered how people view the world. Based on the information available now, better judgements may be taken. Data is ubiquitous in the contemporary world. It is crucial to take information from this data that provides greater understanding of the situation being studied. At the present rate, around 2.5 quintillion bytes of data are produced each day. Big data and advanced analytics are being worked on by more than six million developers worldwide.
One of the fields which greatly benefitted from the adoption of data analytics was the healthcare sector, in particular hospitals. The use of data analytics in hospitals can not only make the hospitals run more economically and efficiently, but also be used to save lives and aid patient care.
What is Hospital analytics?
Hospital analytics is a wide term for the domain of business intelligence in the healthcare industry that deals with the analytical tasks required as a consequence of information gathered from various healthcare-related sources.
Claims and cost data
Pharmaceutical and research & development-related data.
Clinical data collected from ongoing patient care, Electronic health records, and trials
Key patient behavior and sentiment data
The large capacity and higher functioning of hospitals may make them the most significant of all the regions the healthcare industry covers. Regardless of how you look at it, hospitals are the medical facilities that deal with life-or-death circumstances on a daily basis.
Hospitals may profit much from using analytics software if they do so since it will make their daily operations more predictable, straightforward, and effective.
Benefits of Hospital analytics
The main reason to be using these tools is to reduce cost and improve care coordination. Some of the major benefits that can improve the level of service provided by hospitals by utilizing the data are:
Cutting down administrative costs
George Zachariah, a consultant at Dynamics Research Corporation in Andover, Mass while speaking to the Healthcare IT news explained that one of the biggest challenges in the healthcare industry is to reduce administrative costs. Out of the total healthcare budget expense, 25 % goes for the administrative costs. This budget is needed for the human resources to perform. By gathering data and performing analysis about daily hospital expenditure in all areas right from catering to pharmaceuticals, the data analyst can help disorganized medical institutions streamline the budgeting process and make cuts and substitutions that are feasible.
Quashing fraud transactions
It's feasible to handle these problems without wasting time or money by keeping track of fraudulent payments and each patient's medical history. However, in order to arrive at the best possible answer, it is vital to utilise analytical software as well as to have a thorough grasp of how it functions
Enhanced care coordination
One of the main factors for the care of patients is coordination between hospital systems and IT infrastructure. If these two are disjointed, it could lead to delays, inefficiencies, and mistakes that can lead to an adverse effects on patients. Targeted metrics and insights can be used to spot lacuna within internal infrastructure and help these systems to be more fluent, more open, and more communicative to ensure that patient data, medical records, and any other critical information are shared both swiftly and accurately. With the right set of analytical tools and development, this approach could ensure that hospitals and medical institutions across the country or even the world can make use of a similar system and can share patient information.
Improved patient wellness
Hospital data analytics may help hospitals by supplying information on a patient-by-patient basis depending on how a person maintains a healthy lifestyle that is tailored based on their medical history and biometric statistics. This crucial step not only yields a beneficial type of patient aftercare but also stops the majority of individuals from returning to the hospital.
Hospital predictive analytics
Hospital predictive analysis might be used to understand historical and real-time insights. These insights can be very helpful by acting on the issues which in turn has the potential to make improvements in all key areas before the issues unfold. It can also be helpful to spot fatal medical issues before they occur. Apart from big data in healthcare, hospital predictive analytics might be the most powerful use of hospital data presently available.
Hospital Analytics Metrics
Certain Key Performance Indicators (KPI) that help the medical facility increase overall efficiency must be considered in hospital analytics. Various KPI-based dashboards may transform the observations into actionable data.
Hospital KPI dashboard
The main KPIs utilized in this dashboard are:
Treatment costs: It is a KPI that aids in determining how much a patient's care will cost the hospital. It is a KPI for financial management.
Emergency Room (ER) wait time:It is a KPI that measures the time from when a patient arrives at the ER to when they physically see a physician. This KPI is needed to be monitored regularly to find trends in wait time as well as find unusual wait times and their causes.
Patient wait time: It is a KPI that gauges how long it usually takes patients to get treated after registering. The longest aspect to take into account when determining patient satisfaction is the time that patients must wait for consultation or treatment.
As it is evident that the hospital sector has to collect a huge amount of data, quantify the data and arrange the data. If data analytics software is not being used some insights might get lost and some might not even be found.
A centralized dashboard helps in better management of the medical institute and different departments in the institute. It helps find emerging trends and allows the medical institute to adapt to the changes. This dashboard provides a complete overview of the overall functioning of the institute. This might help to get out of a critical problem.
Hospital Performance Dashboard:
In order to set goals and give insight into intended outcomes in one place, all of the aforementioned KPIs are presented as a dashboard. These dashboards aid in identifying solutions to operational and financial challenges.
These dashboards can also be used to identify failing departments. Additionally, remedial actions might be made to boost performance.
Case Study: Medical institutes taking advantage of Hospital Analytics
Some Institutes that have successfully implemented hospital analytics in their institutions according to Healthcare Data Management Magazine are:
University of Pittsburgh Medical Center and Cancer Research University of Pittsburgh Medical Center, which is one of the leading medical institutions in the US applied analytics to gather assimilate, and analyze separate data feeds that were previously very difficult to access and consolidate. Because of these reasons this medical research Centre is one of the leading cancer research centers.
ICU Care and Predictive Analysis ICU Care, a renowned medical institution, in recent years, applied a predictive model to their institutions. This model provided profound insights into patient risk levels in its intensive care units from live data feeds. These insights helped prevent potential issues and understand how to make vital improvements.
Advocate Health and Quality of Care Advocate Health in collaboration with Cerner developed analytical tools in 2015. These analytical tools are to improve the quality of care. These tools are hosted on the vendor's cloud-based management software. This software helps monitor population health and provides insights on improvement in patient care levels.
Conclusion:
Data has the potential to completely change a number of sectors and enterprises. The expanded usage of analytics across a variety of business sectors is a result of the rising demand for analytics or information extraction from data. These insights can help organisations improve and develop into better entities.
The data are acquired from many departments in the hospital sector as well, and utilising different KPIs, insights are gained on how to improve the organisation. These technologies might simplify the system, making life better for both the personnel and the patients.
Click here to learn Data Science Course, Data Science Course in Hyderabad, Data Science Course in Bangalore
Other Domain Analytics in our 360DigiTMG
Political Analytics, Transit Analytics, Forest Analytics, Wild Analytics, Agriculture Analytics, Army Analytics, E-commerce Analytics, Energy and Resource Analytics, Hospital Analytics, Healthcare Analytics, Hospitality Analytics, Oil and Gas Analytics, Regulatory Analytics, Security Analytics, Trade Analytics, Railway Analytics, Defense Analytics, Education Analytics, Accounting Analytics, Fraud Analytics, Legal and Law Analytics, Banking Analytics, Insurance Analytics, Life Science Analytics, Pharma Analytics, Aviation Analytics, Retail Analytics, Cyber Security Analytics, Supply Chain Analytics, Marketing Analytics
Navigate to Address
360DigiTMG - Data Analytics, Data Science Course Training Hyderabad
2-56/2/19, 3rd floor, Vijaya Towers, near Meridian School, Ayyappa Society Rd, Madhapur, Hyderabad, Telangana 500081
099899 94319