Top Best 7 Trustworthy Data and Analytics Trends To Look Out For In 2023 And Beyond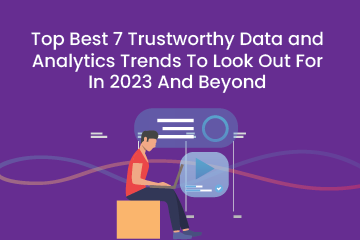 A growing number of organizations are utilizing data analytics to conduct business more efficiently. According to analytics trends, our reliance on these technologies, including the finest data analytics software, will only increase in the upcoming years. Businesses and data analysts continue to work together to make data use better, simpler, and more effective. Advances in Big Data Analytics, Data Science, and Artificial Intelligence are a few of the crucial developments fueling today's industry and changing the operation of organizations globally. As a result, the data analytics market is expanding steadily as more companies adopt data-driven approaches.
Data is known the driving force behind any organization in the current market trend. The three main themes in today's expanding business are data science, big data analytics, and artificial intelligence. The data analytics sector is expanding tremendously as more enterprises use data-driven models to automate their business procedures. As a result, organizations are leaning more toward data analytics, whether supporting fact-based decision-making, embracing data-driven models, or increasing their product offerings that rely on data.
Don't delay your career growth, kickstart your career by enrolling in this Data Analyst Course in Pune.
Data and Analytics: What are they?
Data and analytics (D&A) describe how to manage data to support all operational and analytical uses of data and how data is analyzed to improve business decisions, processes, and outcomes. These outcomes include identifying new business risks, challenges, and opportunities through improved decision-making and customer experiences.
Also, check this Data Analytics Course to start a career in Data Analytics.
What function do Analytics and Data play in business?
For modern firms, data and analytics are crucial because they may enhance the results of many kinds of decisions (macro, micro, real-time, cyclical, strategic, tactical, and operational). Data & Analytics can also uncover opportunities and questions that corporate leaders had not even considered and creative answers to existing questions.
Progressive businesses use data in various ways and frequently rely on data from sources outside their sphere of influence to make wiser business decisions. As it enables quicker, more accurate, and more relevant choices in challenging and quickly evolving business contexts, data and analytics also drive digital strategy and change.
Data-driven decision-making is the process of determining how to make decisions using data. It suggests using a decision model, which can incorporate prescriptive analytical methods that produce results that describe the course of action. Other analytical models that can assist with different decisions are those that are descriptive, diagnostic, or predictive.
By establishing a vision of a data-driven firm, quantifying and communicating business outcomes, and encouraging data-fueled business improvements, forward-thinking organizations are integrating data and analytics into business strategy and digital transformation.
Wish to pursue a career in data analytics? Enroll in this Data Analytics course in Bangalore to start your journey.
Top 7 Data and Analytics trends to watch out for in 2023 and beyond:
Each business must determine what data and analytics mean to them and what initiatives (projects), funds, and resources are required to seize the opportunity. Data analytics may help a firm in several ways, including customizing a marketing pitch for a particular client and recognizing and reducing business risks.
⦁ Better digital experiences:
Businesses must concentrate on giving their customers better digital experiences. First, companies can offer more individualized, pertinent, and exciting experiences by getting to know each user's specific needs and preferences. It entails ensuring that websites are easy to navigate and that the material is compelling and relevant. Then, prepare to engage the customer with a value-enhanced CX strategy, which refers to the customer's entire experience with your company through all relevant online touchpoints, as experiential design and immersive encounters take center stage.
⦁ Hybrid cloud solutions and cloud computing:
One of the most significant data trends for 2022 is the rising use of hybrid cloud services and cloud computing. While private clouds are more secure but more expensive, public clouds are less expensive but offer less security. As a result, combined public and private clouds provide greater agility while balancing cost and security.
As a result of artificial intelligence and machine learning, this is possible. As a result, hybrid clouds are revolutionizing company operations by offering a centralized database, data security, data scalability, and much more at a reduced cost.
⦁ Using Edge Computing to speed up analysis:
Although there are many big data analytics technologies on the market, the issue of extremely powerful data processing capabilities still exists. It led to the development of quantum computing. Now, you can process a large volume of data much more quickly by using fewer bandwidth thanks to computation, which also provides better security and data privacy. For example, Sycamore is a processor that uses quantum bits to make judgments, which can solve a problem in just 200 seconds, making this far superior to classical computing.
Before businesses adopt it, Edge Computing will need a lot of fine-tuning. Nevertheless, though the market trend is accelerating, it will soon become apparent and play a crucial role in business operations.
⦁ The end of predefined dashboards:
In the past, organizations were limited to static dashboards with predefined data, and manual data exploration was only available to data analysts or citizen data scientists. However, due to their lack of interaction and user usability, dashboards appear to have outlived their usefulness. As a result, organizations and business users are searching for solutions that would allow them to independently explore data and pay less for upkeep as concerns about the utility and ROI of dashboards arise.
Modern automated and dynamic BI systems that give insights tailored to a user's demands and supplied at their point of consumption appear to be gradually replacing business.
⦁ Intelligent decision engineering:
Today's market is paying a lot of attention to decision intelligence. It involves various decision-making processes and enables firms to obtain the insights required to motivate business actions. However, there are also applications for traditional analytics, artificial intelligence, and sophisticated adaptive systems. Furthermore, engineering decision intelligence offers a significant potential to help organizations rethink how they maximize decision-making when combined with composability and shared data fabric. In other words, artificial decision analytics can help support human decision-making rather than replace it.
⦁ Create a data-driven culture:
In its most basic form, data is all about numbers. However, data analytics is more than just math. Data collection and analysis are the foundation of a data-driven strategy. It requires the organization to adopt a systematic approach that involves more than just looking at the numbers. Marketers cannot create effective campaigns without a data-driven culture. An organization may become more flexible and efficient, cut expenses, forecast the future more accurately, and improve customer interactions with the support of a data-driven culture. Additionally, it enables businesses to react quickly, adjust as they go, and provide clients with pertinent information when needed.
⦁ Expansion towards edge:
There is an increasing number of data and analytics activities on distributed devices, servers, or gateways not included in a data center or public cloud. However, they reside in edge computing settings more frequently now, closer to where the relevant data and actions are generated and carried out.
Extend data and analytics governance capabilities to edge environments and offer visibility via active metadata. Additionally, it supports data persistence in edge contexts by including edge-resident IT-oriented technologies (relational and nonrelational database management systems) and tiny embedded databases for data processing and storing closer to the device edge.
Kickstart your career by enrolling in this Data Analyst Course Fees in Chennai.
The final thoughts:
The markets for these technologies were originally separate for the data group and the analytics team and can control each entity. But these markets are now interacting in a number of different ways. For instance, data management platforms are increasingly incorporating analytics to enhance their capabilities, particularly ML.
New platforms are emerging in situations like data and analytics governance as analytics and BI platforms expand data science capabilities. In addition, as cloud service providers increasingly control the infrastructure platform on which all these services are used, the complexity is increased in yet another way.
Organizations must weigh the high total cost of ownership of existing, on-premises solutions against the demand for more resources and emerging capabilities, such as natural language query, text mining, and semistructured and unstructured data analysis. In addition, traditional platforms across the data, analytics, and AI markets struggle to accommodate the growing number of data and analytics use cases.
To support advanced analytics, enterprises must invest in composable, augmented data management, and analytics architectures in the future of data and analytics.
Data Science Placement Success Story
Data Analytics Training Institutes in Other Locations
Agra, Ahmedabad, Amritsar, Anand, Anantapur, Bangalore, Bhopal, Bhubaneswar, Chengalpattu, Chennai, Cochin, Dehradun, Malaysia, Dombivli, Durgapur, Ernakulam, Erode, Gandhinagar, Ghaziabad, Gorakhpur, Gwalior, Hebbal, Hyderabad, Jabalpur, Jalandhar, Jammu, Jamshedpur, Jodhpur, Khammam, Kolhapur, Kothrud, Ludhiana, Madurai, Meerut, Mohali, Moradabad, Noida, Pimpri, Pondicherry, Pune, Rajkot, Ranchi, Rohtak, Roorkee, Rourkela, Shimla, Shimoga, Siliguri, Srinagar, Thane, Thiruvananthapuram, Tiruchchirappalli, Trichur, Udaipur, Yelahanka, Andhra Pradesh, Anna Nagar, Bhilai, Borivali, Calicut, Chandigarh, Chromepet, Coimbatore, Dilsukhnagar, ECIL, Faridabad, Greater Warangal, Guduvanchery, Guntur, Gurgaon, Guwahati, Hoodi, Indore, Jaipur, Kalaburagi, Kanpur, Kharadi, Kochi, Kolkata, Kompally, Lucknow, Mangalore, Mumbai, Mysore, Nagpur, Nashik, Navi Mumbai, Patna, Porur, Raipur, Salem, Surat, Thoraipakkam, Trichy, Uppal, Vadodara, Varanasi, Vijayawada, Vizag, Tirunelveli, Aurangabad
Navigate to Address
360DigiTMG - Data Science Course, Data Scientist Course Training in Chennai
D.No: C1, No.3, 3rd Floor, State Highway 49A, 330, Rajiv Gandhi Salai, NJK Avenue, Thoraipakkam, Tamil Nadu 600097
1800-212-654-321