Applications of Analytics in Wildlife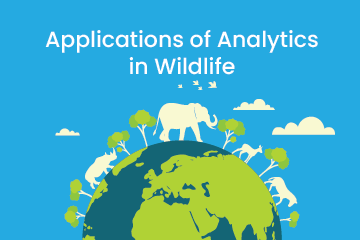 Wildlife plays a major role in the development of forests and also in the day-to-day activities of humans. Wildlife here refers to undomesticated animals which include all the living big, small, and microorganisms that live in the wild or amongst us. Wildlife helps maintain balance on earth and in the development of the ecosystem like deserts, plains, grasslands, woodlands, forests, and Oceans, the most developed areas have distinct forms of wildlife, where all the organisms depend on each other for survival. Wildlife refers to animals that live in the wild and are untouched by human factors however, most scientists are not agreeing with this statement they believe wildlife is affected by human activities. Some wildlife threatens human safety, health, property, and quality of life, for instance, the recent pandemic due to Covid-19. But at the same time, it would be wrong of us to say that we are not endangering wildlife by killing them for their products like Elephant ivory, and pangolin scales, destroying ocean floors for fishing purposes and capturing and preserving butterflies, and beetles in frames for home decors, etc. However, most wild animals have value to human beings, this value however might be economic, educational, or emotional. Even though wild animals are to be in the wild some have adopted the lifestyle of humans for example feral cats, dogs, rats, and many more.
Scientist has predicted that the global wildlife population has decreased by 68% since 1970 and presently many species are under mass extension in the next decade or so if the activities of humans particularly overconsumption, population growth, and intensive farming continue to be practiced. The main reason for the decline of wildlife is the environmental changes due to pollution, in the wildlife habitat and also the wildlife trade where the products are derived from non-domesticated animals either alive or dead or killed for their skins, bones, meat, or other products. Illegal wildlife trade is widespread and constitutes one of the major illegal economic activities, comparable to drug trafficking and weapon trafficking. Due to the trafficking of wildlife products, there is the emergence and spread of many new infectious diseases from wildlife to humans. Hunting is another issue for the decline of wildlife, stone age people used to rely on both wildlife animals and plants for their food. But nowadays it is seen as a sport or recreation or to show their power as a superior species. Tourism is posing a great problem to wildlife and an even greater advantage to us by using it to get income, disturbing the habitat of wildlife by entering into their territory makes them feel threatened and unsafe in their own homes as a result they attack and either kill or get killed.
To address all these issues researchers are depending on the growing technology to eradicate the problems faced in the field of wildlife. Machine Learning and Artificial intelligence are giving way to researchers and government officials to improve, preserve, and safeguard wildlife by identifying illegal wildlife smuggling going on around the world by browsing social media accounts like Twitter, Facebook, etc. and technology giants such as Google, Microsoft, Alibaba, eBay, and others are collaborating with the WWF, TRAFFIC (a monitoring network) and the international fund for animal welfare are using drones to track activities going on in the forest. With the help of drones, they can track all the activities like illegal hunting, and extractions going on in the forest.
Using Machine Learning and Artificial Intelligence researchers can track and take note of the diseases or viruses that are affecting wild animals and transmitting them to humans. Through this cutting-edge technology, researchers can track the species present in the wildlife and their population. The researchers can take note of the species that are near extinction and try to safeguard them from extinction. Artificial Intelligence and Machine Learning are beginning to have a significant impact on ecology and conservation sciences, where new data is gathered by placing cameras in the forest to track wildlife and collecting data and extracting information to study the species about their habitat, food consumption, food type, changes taking place due to environmental changes, etc.
Artificial Intelligence is facilitating the collection of vast and fascinating datasets to analyze in no time. The researchers are studying the wildlife species collectively using Artificial Intelligence to make strategies to protect them. Artificial Intelligence helps conservation by detecting the activities of poaching. Artificial Intelligence provides detailed information about animal species by identifying and classifying them into various classes. Using AI algorithms researchers conserve animal habitat by predicting animal migratory patterns to track the migration of birds from one place to another during their nesting seasons and their habitat in their nesting regions.
Protection Assistant for wildlife security (PAWS) is an Artificial Intelligence-based application that is used for predictive analysis and resource optimization. Its main goal is to assist rangers by analyzing data and giving information about the topography, animal population, paths, and forest trails. Artificial Intelligence guides the system to find the best route for them to patrol and find the snare and traps laid out for the wild animals by poachers. It helps rangers by detecting wildlife crime. Conservation Metrics is yet another company that utilizes Artificial Intelligence tools and machine learning models to help researchers in monitoring wildlife conditions, disturbances, and population trends.
Bees play the most vital role in our ecosystem by pollinating the flowers to give us food, and to store honey which is later consumed by us. To save these tiny creatures apic.ai, designed a beehive monitor to assemble data using TensorFlow which is a google open-source machine learning framework. It tracks various bee activities, such as their patterns, bee counts, the pollen carried over, how much honey is generated per day, etc. Artificial Intelligence helps researchers by making decisions by providing complete data and analysis reports.
Another interesting Artificial Intelligence usage to collect and categorize data on elephants surviving in forests is by placing audio recorders in the forest to monitor jungle sounds. By building different neural networks with conservation metrics, they separated each of these jungle sounds to identify elephants and poachers who are harming them for their ivory. Another issue regarding wildlife that was addressed was road kills, As we all know humans are disturbing the habitat of wild animals by entering into their territory and building roads and railway tracks for easy passage from one city to another, animals when they come in contact with the vehicles at high speed they are instantly killed to minimize this problem government has come up with motion sensor based tracking sensors using GPS, the GPS tracking systems can identify the movements of the animals and warn us of the approaching animals and many more technological improvements are being initiated to save wildlife.
Conclusion:
Artificial intelligence and Machine learning are illuminating different ways to protect and conserve our wildlife species by providing accurate data about what is exactly happening in the wildlife and why it is fighting harder to sustain its ecological nature. Artificial Intelligence gives a comprehensive view of the planet's biodiversity and assists in forming conservation policy.
Click here to learn Data Science Course, Data Science Course in Hyderabad, Data Science Course in Bangalore
Other Domain Analytics in our 360DigiTMG
Political Analytics, Transit Analytics, Forest Analytics, Wild Analytics, Agriculture Analytics, Army Analytics, E-commerce Analytics, Energy and Resource Analytics, Hospital Analytics, Healthcare Analytics, Hospitality Analytics, Oil and Gas Analytics, Regulatory Analytics, Security Analytics, Trade Analytics, Railway Analytics, Defense Analytics, Education Analytics, Accounting Analytics, Fraud Analytics, Legal and Law Analytics, Banking Analytics, Insurance Analytics, Life Science Analytics, Pharma Analytics, Aviation Analytics, Retail Analytics, Cyber Security Analytics, Supply Chain Analytics, Marketing Analytics
Navigate to Address
360DigiTMG - Data Science, Data Scientist Course Training in Bangalore
No 23, 2nd Floor, 9th Main Rd, 22nd Cross Rd, 7th Sector, HSR Layout, Bengaluru, Karnataka 560102
1800-212-654-321