Top Industries and Application areas of Artificial Intelligence in 2021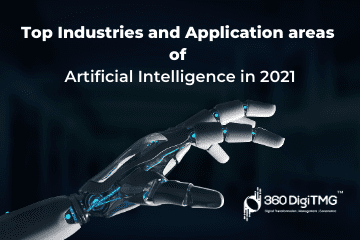 One of the greatest inventions of humans is artificial intelligence, or AI. AI is already replacing numerous professions and occupations, as first shown in science fiction programmes like Star Trek, Star Wars, and Battlestar Galactica. In 1956, a modest workshop at Dartmouth College saw the birth of AI, which has since found its way into nearly every aspect of modern technology, including smartphones, supercomputers, and even our homes.
You might not be familiar with the phrase "artificial intelligence," but chances are strong that you currently use an AI-based gadget. Yes! Artificial intelligence is exemplified by Microsoft's Cortana, Apple's Siri, and Amazon's Alexa. AI has made more progress in the last ten years than it has in the previous fifty. There are several applications for AI and machine learning in the vast majority of industries. You might wonder what the future of AI holds given its explosive rise in 2021. Let's find out, then.
Don't delay your career growth, kickstart your career by enrolling in this Artificial Intelligence Coaching Institutes In Hyderabad with 360DigiTMG Data Analytics course.
Source: industr
AI Future 2021
360DigiTMG the award-winning training institute offers a Artificial Intelligence Engineering Course in Chennai and other regions of India and become certified professionals.
AI in Information Technology

AI already cast its shadow on most traditional IT management and task monitoring systems. With more and more automation apps releasing every day, we can say for certain that AIs grip in this field is only going to tighten.

One of the primary applications of AI in the IT sector is automation. With AI, you don't have to update every documentation manually, check on the task progress every day, and you can avoid all the menial work.

The major advantage AI has in this field is repetition. Many IT sector jobs demand consistency, and hence repetition was adopted by many companies years ago. With AI, this repetition can now be automated. Automating such tasks will not only improve work efficiency but will also decrease the required human power.

There are many more applications of AI in the IT sector. New technologies emerge every day, thanks to the advancements in Artificial Intelligence. Smart apps are an example of how AI can improve our lives without us noticing it.

Artificial Intelligence is a promising career option. Enroll in the Masters in Artificial Intelligence Engineering Course Program offered by 360DigiTMG to become a successful Artificial Intelligence.is just a step away. Check out the Artificial Intelligence Course at 360DigiTMG and get certified today

AI in Digital Security

The most worrying problem for both large and small organisations has been digital security. 2020 shown that no company is secure without a reliable security system. The finest initial line of defence for any organisation is artificial intelligence.

Of course, you have the option of using security systems that are operated by humans. However, even the slightest error while building a network, putting up a server, or upgrading without testing might seriously compromise the security of the entire organisation.

This does not imply that AI will be in charge of all security measures. A human operator must notice what an AI could have overlooked since human security assaults are random and lack a pattern. But it will undoubtedly boost the system's overall effectiveness. In the past two years, several data breaches have been discovered by clever systems at various security organisations. The goal of software technologies like IBM Guardium and Watson is to improve security. The main benefit of employing an AI security system is that you avoid having to go through the millions of events that a network may receive. AI will sort out the events for you by automatically identifying the patterns in the events.

We could even be able to detect an attack before it occurs utilising integrated vulnerability scanners with Artificial Intelligence as it becomes better every day. This will allow the organisations enough time to set up their defences and, if required, launch a counterattack.

Also, check this Artificial intelligence Engineering Course in pune to start a career in Artificial Intelligence. Looking forward to becoming a Artificial Intelligence expert? Check out the Artificial Intelligence Course and get certified today.

AI in Robotics

Robotics is a field that depends primarily on Artificial Intelligence. Robots are the physical forms of Artificial Intelligence. Robotics is already seeing a surge in development in many areas. The growth is expected to increase by a large percent in 2021.

Even with the current growth, you don't have to worry about the creation of Cylons. There is still time for that. Even Skynet is a couple of decades away. However, robots with advanced AI are already taking their first steps in many fields. Recently, some countries employed medical robots to take care of COVID patients.

If everything goes right, we may even see advanced AI robots in space soon. Sending robots will get us some valuable information and allow us to spend more time searching for the secrets of the universe.

Advanced AI robots are also being employed to monitor the environment in many areas. Some robots are also seen greeting people in malls and stations in countries like Japan and China.

Social robots like Sophia are also being created every year. The advancements that humankind made in robotics is like nothing we've ever done before.

AI in Healthcare

One of the most important industries in our world is healthcare. Even a minor error in a patient's medical prescription might result in serious health issues. The way the healthcare system operates is significantly changing because to artificial intelligence.

AI algorithms are capable of correctly predicting a patient's health issues. Additionally, we could even be able to record the prescription and track a patient's progress over time.

Keeping track of health became crucial during this terrible outbreak, and AI is making it even simpler. Contact tracking may also provide some additional work for artificial intelligence. Currently, contact tracing is the only way to trace COVID vectors.

In 2021, the use of AI in healthcare will continue to grow. Numerous pharmaceutical and healthcare organisations are already striking agreements with AI organisations for their aid, even after the pandemic has passed and a vaccine for it is available.

Even governments are likely to embrace AI to deliver better healthcare as the epidemic exposes flaws in the healthcare systems of many nations.

Health researchers are using artificial intelligence to more accurately diagnose ailments. AI has made significant advances to the field of healthcare research by reviewing data that humans cannot in a matter of hours.

Since machine learning is a crucial component of artificial intelligence, it may possibly see a tremendous growth in the future. As the long-needed modernisation of healthcare is finally under way in many countries, specialists in machine learning already foresee a big boost to the profession. Even without the next big thing, the future of artificial intelligence is secure because to healthcare alone.

Source: gettingsmart

360DigiTMG offers the artificial intelligence Engineering Course in Bangalore to start a career in AI. Enroll now!

AI in Automotive Industry

The automotive industry is probably one of the few industries that AI can bring a radical change to. Rail transportation is already integrated with AI systems in many countries. The major change we may see in 2021 is the self-driving car.

If you've seen a car with no driver in it on the road, it would have probably been in a horror film. But with Artificial Intelligence, it is now possible to make cars that don't require drivers. Some companies like Benz and Tesla already started experimenting with AI in cars and reported great success.

The days are not far where you can book an Uber and don't have to rate the driver but rate the software that drove you. There are still a few issues with self-driving cars, like jaywalkers and other unexpected incidents. However, with advancements in both AI and sensors, we may see self-driving cars on the roads in mid-late 2021.

Airplanes are already using AI for navigational assistance. With autopilot modes in many planes and jets, AI considerably increases the efficiency of both the driver and the plane. Cars with AI will also have many features, along with a no-driver system. Many features in the latest Tesla cars may make their way into driverless cars, making them more exciting.

AI can also help design automobiles better. By analyzing the data from the past, new and improved designs that never made their way may see the light in 2021. Some organizations already reported that they are using AI to improve their vehicles' design.

Analyzing and simulating will also be much easier with AI. For instance, if you're performing thermal analysis on a car's frame and miss a connecting rod, the results will be completely different and inaccurate. AI will take care of the analysis for you with only a small chance of an error, if not none.

AI in Education

As the majority of schools and universities continue to provide online courses out of concern about a pandemic wave, several AI-powered education businesses experienced significant growth in 2020. Students can use artificial intelligence to get hyper-personalized information.

Meeting every student's educational requirement in a classroom is a challenge. But you won't have to with hyper-personalization. Artificial intelligence will personalise the coursework or instruction to each student's needs.

Every student aspires of the much-needed reform of hyper-personalization throughout their academic careers. It will also be simpler for professors to educate with AI in education. AI tools may also be used to create improved educational models that will aid pupils in understanding. Instead of the theory-based education system that many people despise, the employment of AI in education will teach students through an application-based method. Additionally, you may utilise AI to create lectures, presentations, and other instructive materials. Teachers will have ample time to concentrate on the material rather than the delivery as a result.

The tests and grading system in an online-based educational system also use AI to prevent any mistakes. Exam and scoring applications that provide thorough feedback to the students are likely to become quite popular. The use of AI can assist instructors as well as pupils.

The areas a teacher needs to focus on to improve the effectiveness and productivity of the lessons may be identified by using interactive feedback forms and an AI system to analyse the results. AI may also be used to better arrange classes.

The patterns in the human brain will affect how attentive you are in a classroom. If artificial intelligence is used to plan the lessons, they will be set up so that you may learn a subject by simply listening to the class.

Many institutions could favour AI grading over conventional grading even after the schools and colleges reopen. This will lighten the load on instructors while also improving overall job efficiency. Grading will go more quickly and give a greater understanding of a student's faults thanks to machine learning.

AI in Marketing

Understanding the market is the most vital job of every marketer. However, it is not as easy as it sounds. Even simple changes in an organization's product release schedule can have a deep impact on the market. It is often hard for marketing analysts to understand the market and develop new strategies. Well, you don't have to worry anymore because Artificial Intelligence will do that for you.

With Machine Learning, you can study the market and its behavior and create accurate models for your organization. Using AI to create the models will save you a lot of time and workforce. Moreover, the scope of error is very small when using an AI to create strategies.

AI will also help you make better presentations. The one thing every marketer must be good at is marketing themselves. Presentations are the right tool for it. Let it be a client presentation for your new product or an idea pitch, AI will help you make the presentation better.

If you use Powerpoint to make your presentations, then you probably used AI in making your presentation. The famous 'Design Ideas' feature uses AI to provide you designs that usually take a long time to come up with. You may think that looks don't matter much in a presentation, but they do.

A client may estimate your dedication to the project by seeing the presentation. Poor looks may say that you had an idea but were unwilling to spend more time on it. Well, thanks to AI, you can score clients without spending much time on the looks while maintaining professional presentation standards.

AI will also help you create better advertisement campaigns for your business. Using Machine Learning, you can study parameters like what your fan base is interested in, when do they read your posts the most, and come up with an ad campaign that will take your business to the next level.

AI in Production

One of the first businesses to regularly use AI is the manufacturing and industrial industry. Artificial intelligence is increasingly being used by several sectors to lower production costs. AI use results in a reduction in manpower. Industries are embracing current technology quickly since personnel and cost are what drive manufacturing.

Not until a decade ago did the cost of nearly every manufactured commodity increase. The cost of consumer purchases also significantly decreased as a result of AI developments. The production values are already drastically changing as hundreds of jobs requiring manual labour are mechanised every day.

Germany, Japan, and China are among the technologically developed nations that heavily rely on AI in their sectors. Due to the increasing efficiency of AI, this growth will only accelerate in 2021 and the years to follow.

One of the many industries that AI has helped to revitalise is agriculture. Thanks to AI, cutting-edge, more effective farming practises are replacing traditional ones. We can now analyse historical data from agricultural land using machine learning to choose the crop to plant this season.

Additionally, AI is offering a means to connect and automate the whole agricultural sector, from seed preparation through harvesting and selling the crop. Now, it is possible to include soil sensors into a centralised system that manages machinery for irrigation (sprinklers, drones, etc.), application of fertiliser, and harvesting. These devices may then be included in a programme that automatically sells the harvest to the highest bidder.

Agriculture is now more efficient than it has ever been because to total automation.

AI in Environment

In the past two decades, awareness is growing of the situation of our environment. With plastic everywhere and harmful gases being released into the atmosphere every second, it is our responsibility to take care of our Earth.

Artificial Intelligence is currently the best weapon in our arsenal to counter climate change. Using advanced Machine Learning, you can analyze the climate and weather patterns much faster than with traditional systems.

Organizations like Microsoft are already promoting the use of AI in saving the environment with programs like AI for Earth. Artificial Intelligence is assisting researchers and environmentalists to make strategies to protect our environment. Recently, in the Team Trees movement that went viral on the internet, Mark Rober used advanced AI drones to find the best spots to plant trees.

As AI is advancing rapidly, we can also expect to see environmentalists using AI to study various ecologies. We'll also be able to predict the subtle changes climate change can have on ecology and proceed to take necessary actions.

2020 had a lot of worse moments and the Australian bush fires and the California Forest fires were some of the worst among those. However, using AI, we can find out ways to not only control these fires but prevent them or contain them faster. Identifying potentially dangerous spots in vulnerable areas will also allow governments to make special regulations for such areas.

Artificial Intelligence is also seeing many applications in disaster management and recovery programs. Many countries are using Machine Learning to predict where the next disaster may occur and what might it be. This helps organizations like FEMA prepare better and be ready when the disasters strike. Artificial Intelligence is also being used to create disaster management plans based on previous disaster responses and their impacts.

AI in Finance

Finance is the industry that most urgently need AI. Even while AI is gaining ground in practically every industry, banking still seems to be a little bit in the dark. AI is the finest tool for every investor since markets are always changing. Due to the high cost, small and mid-sized investors are unable to deploy AI in this industry.

You may use a variety of programmes to assist in making wise investments. For independent investors to access AI, this industry must continue to flourish.

You can still find a tonne of software programmes and resources that can aid in improving your financial decisions. With AI, forecasting the markets has never been easier. Machine learning is being used by investors to forecast market behaviour, and they are seeing excellent returns.

AI may also be used to design an investment and spending strategy to maximise profitability. You can spend as much as you like and still have a respectable amount in the bank if you have a smart expenditure strategy.
Conclusion
One of the most amazing things we have ever created is artificial intelligence. Even though AI is only shown in sci-fi programmes as killer droids, we've advanced beyond that. The creation of social humanoid robots like Sophia demonstrates that the days of science fiction are far gone and that we are already living in the modern day.
AI is evidently being widely utilised in both businesses and organisations as well as daily life. Asking Siri or Alexa on your phone to speak informally, ask for directions, or find local restaurants is just us, as humans, connecting with the most cutting-edge technology ever created. We will undoubtedly see additional breakthroughs in the industry in 2021 because to the many researchers and computer scientists working in the area.
Artificial Intelligence Training Institutes in Other Locations
Ahmedabad, Bangalore, Chengalpattu, Chennai, Hyderabad, Kothrud, Noida, Pune, Thane, Thiruvananthapuram, Tiruchchirappalli, Yelahanka, Andhra Pradesh, Anna Nagar, Bhilai, Calicut, Chandigarh, Chromepet, Coimbatore, Dilsukhnagar, ECIL, Faridabad, Greater Warangal, Guduvanchery, Guntur, Gurgaon, Guwahati, Indore, Jaipur, Kalaburagi, Kanpur, Kharadi, Kochi, Kolkata, Kompally, Lucknow, Mangalore, Mumbai, Mysore, Nagpur, Nashik, Navi Mumbai, Patna, Porur, Raipur, Salem, Surat, Thoraipakkam, Trichy, Uppal, Vadodara, Varanasi, Vijayawada, Vizag, Tirunelveli, Aurangabad
Navigate to Address
360DigiTMG - Data Science Course, Data Scientist Course Training in Chennai
D.No: C1, No.3, 3rd Floor, State Highway 49A, 330, Rajiv Gandhi Salai, NJK Avenue, Thoraipakkam, Tamil Nadu 600097
1800-212-654-321