Transportation in machine learning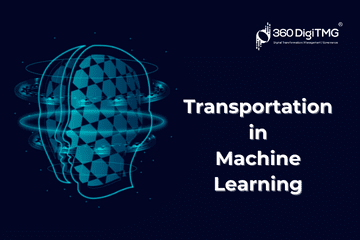 What is Machine Learning?
Artificial intelligence (AI), often known as machine learning, is the branch of computer science that uses algorithms and data to mimic how people learn and increase accuracy. It is widely used in many different sectors across the world.
A well-behaved transport system has an impact on the nation's economy, safety, and standard of living.
Want to learn more about Machine Learning Course. Enroll in this Machine Learning Training Institute in Hyderabad to do so.
However, the system has continued to be strained as a result of population growth patterns, cutting-edge technical advancements, and increasing economic globalisation. Because the number of automobiles is increasing at a rate that is sometimes faster than the population as a whole, roads are becoming increasingly congested and dangerous. This problem will no longer be resolved by merely adding more roads. To keep up with the growing rate of automobiles, the cost of construction is rather expensive and the turnaround time for the final product is too long.
Machine learning technologies have already made encouraging strides in the transport industry, where it has been demonstrated that they even offer a greater return on investment than the conventional methods. The transportation problems still have a lot of room for machine learning applications and exploitation, which warrants more consideration. The main goals of these systems include reducing road congestion, boosting safety and reducing human error, mitigating negative environmental consequences, maximising energy performance, and improving productivity and efficiency of surface transportation.
Example of Machine Learning in practice
Consumer goods
Creative Arts
Energy
Financial Services
Healthcare
Manufacturing
Transportation
yourself a promising career in Machine Learning Training Center in Chennai by enrolling in the Machine Learning Program offered by 360DigiTMG.
Is Machine learning able to help the transportation industry?
This question holds a big yes.
Machine learning has enormous advantages for both the transportation industry and transportation engineering. Since machine learning anticipates data on real-time traffic, intricate data on roads, highways, accidents, weather, etc., the transportation sector benefits immensely from it.
To enhance contemporary transportation and smart city logistics, machine learning in logistics and transportation aims to gather and integrate data from many sources.
The following examples show how machine learning in transportation engineering is improving people's quality of life:
Public transportation management.
Real-time traffic analysis and management
Data integrated intelligent transportation systems
Data of infrastructure requirements
Smart city logistics
How to use Machine learning to differentiate transportation modes?
Following are some examples of how machine learning is used;
Navigation
Nowadays, most cars are equipped with navigation systems. where voice help may be used to correctly navigate to a destination. Real-time vehicle tracking is made feasible by machine learning and data analytics.
App support to vehicles
Isn't it incredible that you can control the car's temperature while you're inside your house? You can use ML-powered apps to control many such things.
Self-driving cars
Autonomous or self-driving cars feature futuristic design. But it is feasible with the help of ML. Even if a car is capable of driving itself to a location, a driver must always be present inside the vehicle.
Drone Taxi
This method of parcel delivery to the customer is used by many online retailers. This is being used as a logistical and transportation option by numerous businesses, including defense. These taxis cut down on costs, carbon emissions, and journey time.
Traffic Control
It is one of the best real-world uses of ML. It aids in traffic flow prevention and route optimization for both individuals and transportation corporations.
Become a Machine Learning expert with a single program. Go through 360DigiTMG's Machine Learning and AI Courses in Bangalore Enroll today!
Ways Machine Learning Can Transform the Transportation Industry.
During online purchases, make customers-specific purchasing recommendations. Every day, after completing an online purchase, we receive recommendations for other purchases. Although online sellers commonly employ this tactic, it is less common for transit companies to sell tickets and passes online. However, owing to machine intelligence, transit companies may easily adopt this strategy to increase online sales. By acquiring and reviewing data from previous transactions, machine learning algorithms may effectively recognise consumers' buying habits. For instance, a traveller who buys a certain monthly pass may be eligible for rewards, savings, or upgrading chances. As consumer habits change, these systems adapt and learn new things. This machine learning application may improve customer retention and encourage the sale of specials.
Gift vouchers for different companies
Ticket upgrades
Special holiday package of buses and metro railways
Special discount on birthdays or holidays
For a frequent traveler, predict the next date of the journey and offer discount
Use predictive analytics to maintain engine health more efficiently.
A railway or bus and its components are normally maintained using a planned maintenance procedure. Based on this method, quick examinations or in-depth examinations lead to either corrective repairs or proactive maintenance aimed at the weakest link strategy. Despite the fact that this tactic is effective, its reliance on conjecture makes it incredibly ineffective.
Every contemporary train and bus now has a technological component that generates constant data feeds. Different data sources offer chances to create condition-based maintenance or failure prediction models using machine learning. These models aim to anticipate future failures. Contrary to the current planned maintenance method, condition-based maintenance is grounded in facts rather than assumptions. After converting to the new kind, transit companies could anticipate fewer production downtime and longer equipment life.
Detect track defects with image recognition and matching algorithms.
To examine and analyze tracks for flaws depending on numerous variables, such as metal wear out, thermal expansion problems, and erosions owing to the volume of runs, rail businesses can benefit from machine learning. Machine learning techniques use matching and recognition algorithms to do this. These algorithms search for patterns in photos taken by drone cameras. To determine which patterns represent track problems, the algorithm continuously learns and develops. Predictive analytics can be used to maintain rail lines in a manner akin to maintaining train and bus parts. It removes uncertainty from routine maintenance to guarantee peak performance.
360DigiTMG offers the Best Deep Learning Course in Pune to start a career in Machine Learning. Enroll now!
Create an interactive journey for passengers with rich data sets & a mobile app.
Mobile apps are a need for any transit firm. They enable passengers to purchase items, check schedules and statuses, find nearby stations and landmarks, and do a lot more. Large data sets that are always improving and evolving assist front-end app features like location tracking, notification systems, and suggestion systems.
Alerts for equipment malfunction or maintenance
Updates about train status and current location
Parking assistance
Targeted messaging and notifications sent to users
Alarm indicating arrival at the destination
Nearby transportation, hotels, restaurants, etc.
Develop targeted marketing campaigns.
Another benefit of having extensive data sets is the ability to classify and label passengers based on prior interactions and transactions with the transportation firm. These categories may therefore be used to develop targeted marketing campaigns that match clients with acceptable offers. A frequent traveller between Points A and B, for instance, may be targeted with deals specific to that route. Deals to help attendees travel to any special public event, such a concert or a baseball game, might be advertised.
Manage customer complaints.
The handling of consumer complaints is the final area where machine learning might have a significant impact on the transit sector. Machine learning can be used to assess and categorize complaints according to keyword or importance. Positive customer feedback can also be examined and taken into account. Customers will be delighted and your reputation will improve if you can discover complaints and ideas quickly and effectively.
ML In Transportation Industry: Final Thoughts
Towns and cities, as well as smart cities, can use significant advancements in technology in the transportation sector, such as big data in transportation for increased safety and machine learning for higher efficiency, to reduce the frequency of traffic accidents, improve the flow of traffic, and even bring offenders to justice.
Safety and efficiency soar when you can utilise techniques like machine learning in transportation to handle all the big issues afflicting the industry, such the alarmingly high number of deadly accidents, traffic congestion, and damaged roads.
Of all, this is only the exciting start. However, there will be more. It is believed that as technology develops, more "smart cities" will proliferate all over the world, boosting sustainability and operational efficiency while enhancing the safety of our roads, highways, and crossings.
Macine Learning Training Institutes in Other Locations
Ahmedabad, Bangalore, Chengalpattu, Chennai, Hyderabad, Kothrud, Noida, Pune, Thane, Thiruvananthapuram, Tiruchchirappalli, Yelahanka, Andhra Pradesh, Anna Nagar, Bhilai, Calicut, Chandigarh, Chromepet, Coimbatore, Dilsukhnagar, ECIL, Faridabad, Greater Warangal, Guduvanchery, Guntur, Gurgaon, Guwahati, Indore, Jaipur, Kalaburagi, Kanpur, Kharadi, Kochi, Kolkata, Kompally, Lucknow, Mangalore, Mumbai, Mysore, Nagpur, Nashik, Navi Mumbai, Patna, Porur, Raipur, Salem, Surat, Thoraipakkam, Trichy, Uppal, Vadodara, Varanasi, Vijayawada, Vizag, Tirunelveli, Aurangabad
Navigate to Address
360DigiTMG - Data Science Course, Data Scientist Course Training in Chennai
D.No: C1, No.3, 3rd Floor, State Highway 49A, 330, Rajiv Gandhi Salai, NJK Avenue, Thoraipakkam, Tamil Nadu 600097
1800-212-654-321
Navigate to Address
360DigiTMG - Data Science, Data Scientist Course Training in Bangalore
No 23, 2nd Floor, 9th Main Rd, 22nd Cross Rd, 7th Sector, HSR Layout, Bengaluru, Karnataka 560102
1800-212-654321