Data Scientist vs Artificial Intelligence Engineer?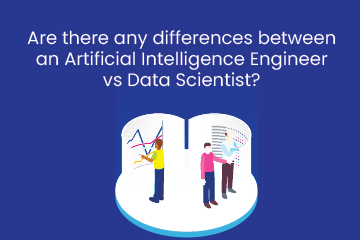 A data scientist is someone good at both mathematics and computer science. They bridge the gap between the business and IT sectors, are in high demand, and earn well. It would be a surprising fact that data scientists have paved the way for themselves only in the last couple of decades. Companies did not realize the importance of data scientists until big data was fully understood. Today, data scientists are the most sought- after and in high demand. According to Harvard Business Review in 2011 the job of a Data Scientist is renowned as 'the sexiest job of the 21st century'. Earlier, data science was included as part of statistics in mathematics. Data science as a field gained recognition only after the world thoroughly understood the significance of data science in every area.
Want to learn more about AI expert? Enroll in this Artificial Intelligence in Bangalore in Manila to do so
.
Also, check this AI Course in Pune to start a career in Artificial Intelligence. Looking forward to becoming a Artificial Intelligence Expert? Check out the Artificial Intelligence Course and get certified today.
What does a data scientist do?
Using statistical tools in mathematics and analyzing data for making informed decisions is the prime goal of every data scientist. A data scientist is someone who uses algorithms, math, statistics, design, engineering, communication, and management abilities to extract valuable and practical insights from vast volumes of data and positively influence the use of algorithms, math, statistics, design, engineering, communication, and management abilities to extract valuable and practical insights from vast volumes of data and have a beneficial influence on the company.
To extract meaning from data, data scientists make heavy use of statistical techniques, distributed architecture, visualization tools, and many data-oriented technologies including Hadoop, Spark, Python, SQL, and R. Data scientists utilize the information they collect to inform different business processes, analyze user metrics, forecast potential business hazards, evaluate market trends, and improve decision-making to achieve organizational objectives.
360DigiTMG the award-winning training institute offers a AI Course in Chennai and other regions of India and become certified professionals.
Objectives of a data scientist:
Become a AI expert with a single program. Go through 360DigiTMG's PG Diploma in Artificial Intelligence in Hyderabad. Enroll today!
.
Finding patterns between datasets and analyzing them.
Assessing market trends.
Creation of algorithms and models for decision-making for business processes.
Making use of machine learning to enhance the available data and predict potential business risks.
Communicate important recommendations and improvements to the team.
Be adept in utilizing the tools like Python, R, SAS, or SQL in data analysis.
Before analysis, data should be cleaned, transformed, and explored.
Utilize cutting-edge data mining techniques to produce fresh data.
For a business challenge, choose and implement a suitable family of machine learning algorithms.
Analyze huge datasets using a variety of analytical techniques and machine learning models to find trends, patterns, and connections.
Improve corporate decision-making by working with data analysts, AI developers, and other stakeholders.
Clearly convey the findings to the various business stakeholders.
An average data scientist makes $139,000 a year.
The US Bureau of Labor Statistics reports that there is a significant need for data professionals, with statistics and mathematical science employment predicted to expand by 31% and 33%, respectively, between 2020 and 2030. (BLS)
Also, check this Artificial Intelligence course in Kottayam to start a career in Artificial Intelligence in Chennai.
.
In order to become an efficient data scientist, it is important to upgrade one's knowledge in some areas like Programming languages, Machine learning, Big data, Data visualization, and Communication.
Programming languages: Data scientists might anticipate utilizing them to handle vast amounts of data, filter through them, and do other management tasks. The following are common programming languages for data science: Python, R, SQL, and SAS.
Data visualization: A key skill for a data scientist is the ability to design graphs and charts. You should be ready to complete the assignment if you are familiar with the following tools: Tableau, PowerBI, and Excel.
When you use machine learning and deep learning in your job as a data scientist, you might possibly forecast the results of future datasets and continually improve the quality of the data you collect. You may study the fundamentals of machine learning by enrolling in a course.
Big data: Some companies would want to know that you have experience working with this type of information. Hadoop and Apache Spark are two examples of software frameworks used to process large data.
Even the most talented data scientists will only be able to make a difference if they can effectively convey their results. One frequently sought-after quality for data scientists is the capacity to communicate concepts and findings both orally and in writing.
Want to learn more about AI? Enroll in this AI Course in Bangalore to do so.
Who is an Artificial Engineer?
The one-man army of artificial intelligence developers is responsible for transferring human intelligence to machines, from creating a robot hand to solving Rubik's cubes to speech recognition systems. An organization's AI applications and systems are created, implemented, tested, and maintained by an artificial intelligence engineer. In addition to having a solid working understanding of the field of artificial intelligence, this calls for programming and statistical analysis. The creation of clever autonomous models and their integration into applications are tasks for an artificial intelligence engineer. Building, maintaining, and deploying end-to-end AI solutions is done by AI engineers using machine learning, deep learning, software engineering concepts, algorithmic calculations, neural networks, and NLP. To develop AI solutions that may enhance operations, service delivery, and product creation for corporate profitability, they collaborate with business stakeholders. At some companies, artificial intelligence engineers are more research-oriented and focus on developing the best model to solve a problem while developing, deploying, and training AI systems.
360DigiTMG offers the AI Course in Hyderabad to start a career in AI. Enroll now!
What skills should an AI engineer possess?
Programming expertise in languages like Python and R.
Computer science and software engineering fundamentals
Algorithms and solid mathematics Architecture design and assessment of knowledge data.
Using their expertise to maintain and deploy end-to-end solutions.
Good command of Linux/Unix-based commands is necessary since the majority of AI processing takes place on Linux-based computers.
As AI engineers deal with vast volumes of data that cannot be kept on a single system, they should have knowledge of distributed computing.
Understanding human cognition, language, perception, emotions, and memory through cognitive science. The ability to understand human cognitive processes more deeply is a must for AI engineers.
Image processing, computer vision, neural network topologies, and NLP are all examples of machine learning.
Knowledge of feature extraction techniques for signal processing.
Building AI models from scratch and assisting product managers and other teams with their implementation and analysis are some specific tasks, as well as managing the development and production of an AI infrastructure, conducting statistical analyses, and interpreting the results to inform future decisions.
Don't delay your career growth, kickstart your career by enrolling in this Artificial Intelligence in Pune with 360DigiTMG Data Analytics course.
.
According to Pay Scale, an artificial intelligence engineer's salary is 1,500, 641 lakhs per annum in India.
So, it is evident that data scientists and AI engineers are quite different and have different responsibilities. It is however necessary to remember that a data scientist creates data products that support successful corporate decision-making, and an artificial intelligence engineer assists firms in creating unique solutions that deliver autonomy. Data scientists and AI developers collaborate closely to develop solutions that clients can use.
Being a AI expert is just a step away. Check out the AI Course at 360DigiTMG and get certified today. Enroll today.
Artificial Intelligence Training Institutes in Other Locations
Ahmedabad, Bangalore, Chengalpattu, Chennai, Hyderabad, Kothrud, Noida, Pune, Thane, Thiruvananthapuram, Tiruchchirappalli, Yelahanka, Andhra Pradesh, Anna Nagar, Bhilai, Calicut, Chandigarh, Chromepet, Coimbatore, Dilsukhnagar, ECIL, Faridabad, Greater Warangal, Guduvanchery, Guntur, Gurgaon, Guwahati, Indore, Jaipur, Kalaburagi, Kanpur, Kharadi, Kochi, Kolkata, Kompally, Lucknow, Mangalore, Mumbai, Mysore, Nagpur, Nashik, Navi Mumbai, Patna, Porur, Raipur, Salem, Surat, Thoraipakkam, Trichy, Uppal, Vadodara, Varanasi, Vijayawada, Vizag, Tirunelveli, Aurangabad
Navigate to Address
360DigiTMG - Data Analytics, Data Science Course Training in Chennai
D.No: C1, No.3, 3rd Floor, State Highway 49A, 330, Rajiv Gandhi Salai, NJK Avenue, Thoraipakkam, Tamil Nadu 600097
1800-212-654-321