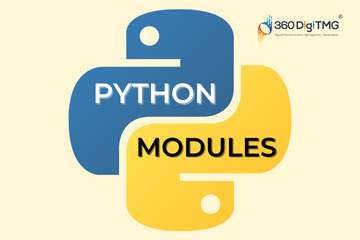 The most well-liked and influential programming language is python. Thanks to its high-level features, Python is used by between 90 and 95 percent of companies to undertake data analysis. The Python programming language is adaptable, interpreted, all-purpose, free, simple to learn, and functionally focused.
Leveraging Python as a computer language, companies today are leveraging data science to solve their business concerns. There are several modules and packages available. Let's talk about the Python modules;
Python Module
A Python module is a Python file that contains Python code, definitions, functions, and statements. It also contains classes and variables. The codes are logically organized into the module for better understanding. In simple terms, a module is a single file containing runnable Python code.
Python Package
A folder called a "Python package" houses several modules as files. It is a collection of modules, to put it simply. Python packages and modules are two tools that enable modular programming by breaking down complex jobs into smaller, more manageable components.
Click here to explore 360DigiTMG.
Advantages
Simplicity
Reusability
Scoping
Maintainability
Organizable
Many times, files with the.py [pythonfile] suffix are used to hold modules. It features a module called attributes that has a number of classes, functions, and variables. By utilising their names, one may access these properties.
Let's look at how to make a module;
Addition, subtraction, multiplication, and division are the four functions that must be built into a rudimentary calculator.
First, create a python file calculator.py
In this file there are four functions - sum(), subtract(), multiply(), divide()
Created is the file calculator.py
Learn how to import a module now.
By importing the module, we may use it.
import
After importing the calculator module, the subsequent statements are put into action. the following output,
Difference between Modules and Packages
The following are some of the distinctions between Modules and Packages:
A Package is a directory containing numerous modules and sub-packages, whereas a Module is an a.py file containing Python code.
An __init__ .py file is required to create a package. There is no such necessity when it comes to creating modules.
We can import all objects in a module at once by using the asterisk (*) operator but we can't import all modules in a package at once.
Data Science Training Institutes in Other Locations
Agra
,
Ahmedabad
,
Amritsar
,
Anand
,
Anantapur
,
Bangalore
,
Bhopal
,
Bhubaneswar
,
Chengalpattu
,
Chennai
,
Cochin
,
Dehradun
,
Malaysia
,
Dombivli
,
Durgapur
,
Ernakulam
,
Erode
,
Gandhinagar
,
Ghaziabad
,
Gorakhpur
,
Gwalior
,
Hebbal
,
Hyderabad
,
Jabalpur
,
Jalandhar
,
Jammu
,
Jamshedpur
,
Jodhpur
,
Khammam
,
Kolhapur
,
Kothrud
,
Ludhiana
,
Madurai
,
Meerut
,
Mohali
,
Moradabad
,
Noida
,
Pimpri
,
Pondicherry
,
Pune
,
Rajkot
,
Ranchi
,
Rohtak
,
Roorkee
,
Rourkela
,
Shimla
,
Shimoga
,
Siliguri
,
Srinagar
,
Thane
,
Thiruvananthapuram
,
Tiruchchirappalli
,
Trichur
,
Udaipur
,
Yelahanka
,
Andhra Pradesh
,
Anna Nagar
,
Bhilai
,
Borivali
,
Calicut
,
Chandigarh
,
Chromepet
,
Coimbatore
,
Dilsukhnagar
,
ECIL
,
Faridabad
,
Greater Warangal
,
Guduvanchery
,
Guntur
,
Gurgaon
,
Guwahati
,
Hoodi
,
Indore
,
Jaipur
,
Kalaburagi
,
Kanpur
,
Kharadi
,
Kochi
,
Kolkata
,
Kompally
,
Lucknow
,
Mangalore
,
Mumbai
,
Mysore
,
Nagpur
,
Nashik
,
Navi Mumbai
,
Patna
,
Porur
,
Raipur
,
Salem
,
Surat
,
Thoraipakkam
,
Trichy
,
Uppal
,
Vadodara
,
Varanasi
,
Vijayawada
,
Vizag
,
Tirunelveli
,
Aurangabad
Navigate to Address
360DigiTMG - Data Analytics, Data Science Course Training Hyderabad
2-56/2/19, 3rd floor, Vijaya Towers, near Meridian School, Ayyappa Society Rd, Madhapur, Hyderabad, Telangana 500081
099899 94319