5 Reasons Why Data Scientist Remains as the Top Job in Malaysia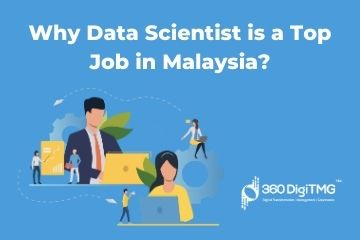 Because they are in such great demand and pay so well, data scientists are one of the most sought-after careers in Malaysia. Along with experience comes a rise in pay. A data scientist has access to technical advancements that enable him to complete his task quickly and effectively. A Data Scientist's primary responsibility is to collect massive volumes of data for analysis and employ analytical tools to do so. A data scientist must also develop algorithms to provide answers to various issues, identify hidden trends and patterns for an organisation, and convey future projections to their management. They must also make suggestions for adjustments that are affordable.
To become a Data Scientist, you'll need a variety of abilities. Data scientists are skilled in many areas. They must be able to deliver and elucidate the material to an audience devoid of technical expertise. They must have strong programming, data structure, and algorithmic abilities. They also require analytical and mathematical abilities. Because it's difficult to find someone with all of these abilities, data scientists are in great demand. Additionally, maintaining and organising data is proving to be challenging for businesses. The march towards a data-driven society is being hampered by a lack of qualified individuals. Major commercial choices are also made by corporate organisations using data analytics.
Difficulties in Handling Data by Companies

Many challenges have emerged in handling organisations' data as they move towards becoming more data-driven. The ability to manipulate data, clean it up, or transform it into a format that is useable is still in great demand. To handle and arrange these data for analysis, businesses require qualified people. Data organisation into useable system code is referred to as data preparation. It also involves dealing with data that is inaccurate or, more commonly, faulty data.

A typical business organization spends around $13 million or more every year for analyzing bad data, according to research. So, that's why Data Scientists will always be in demand.
The companies need a person who can analyze the data and prepare it for use in a cost-effective way.
Without any doubt, this work is time-consuming. This data preparation accounts for 80% of the Data Scientist's work.
But, even if a large number of tools and analytical techniques are available, there will always be a need for a skilled professional who has a broad set of skills that are needed to draw out perceptions from the given date.

Since the majority of their business activities and choices rely on the data, large corporations also rely on data scientists for all of their data handling and analysis needs. These enormous databases are difficult for the corporation to manage alone.

Lack of Skilled People

There is an unexpected demand for a big number of skilled personnel as a result of the rapid expansion of digitalization. As an illustration, disciplines like artificial intelligence (AI) and machine learning, which have automated most of the manual labour, have also greatly increased the demand for trained people with access to the internet. The primary element separating a successful firm from one that is failing is the availability of valuable and experienced personnel.

It is predicted that this gap between skilled and unskilled people will go on increasing in the future.
The quick advances being made in fields like robotics and Artificial Intelligence are changing the total set of skills needed for the job.
This era needs a new set of skills in a very practiced and precise way.
After digitization, there will be a large demand for people with technical skills in computers like app development, programming, data structures, and also the skills which cannot be mastered easily by computers like problem-solving skills, negotiating, and creative thinking.
The companies hiring a group of people with some fixed set of skills that are needed today will no longer be needed 5 to 10 years from now.

Therefore, what businesses actually need is a multi-skilled expert who can consistently grow and learn from the challenges that lie ahead. These kinds of issues have resulted in a significant need for data scientists nowadays.

A Career Apart from Traditional Jobs

Since it is the highest-rated job of the 21st century, a career as a data scientist might be considered apart from more conventional careers. The set of abilities required to obtain a job in the past has altered presently. To deal with changes that occur today, a new set of abilities are needed. The modern age is the digitization era.

A person who doesn't have computer literacy today is considered illiterate even if he knows how to read and write.
While we see advancing technologies like Artificial Intelligence and Machine Learning, this has also increased the demand for skilled professionals.
A Data Scientist is highly in demand in every small and large company because the businesses are slowly converting into data-driven automation.
Today, humans are skilled enough to make major business decisions so that's why they have turned to the techniques of data analytics, which makes use of data to make these business decisions.
A Data Scientist, with the help of data, analyzes the condition of the business in the market and takes major decisions related to business attributes.

Because of this, choosing a career as a data scientist is distinct from choosing a typical job. It is also clear that you need to build new abilities and techniques that are entering the market while simultaneously continuing to expand.

Need for Organizing Data in Both Large and Small Companies

In order to successfully manage a business, data and information are essential assets that require organisation in both large and small businesses, as well as startups. Big data is the term used to describe handling enormous files of datasets. Even if these tools are automated, some manipulation is always required to integrate them effectively into the work framework.

Data organization plays a big role to determine the information type which will be received by Big data analytics.
Big data tools come into use while extracting data from different or multiple sources and it can also organize large amounts of data in a very short time. With the help of Big data analytics, millions of units of data can be classified in seconds.
Organizing the data has a lot of benefits. For example, it enhances the management system of the company. Using Big data analytics tools for organizing data can make a good impact on improving market performance and the cost efficiency of managing the products.
A clear representation of useful data helps to remove the irrelevant or useless data. The useless or irrelevant data and information that are not useful for business purposes are generally known as corporate noise.
Many specialized techniques are essential for managing big data. For these specialized techniques, skilled Data Scientists are employed to focus on a specific piece of data or information which is beneficial.

Good Salary and Job Opportunities

Data scientists are in high demand in Malaysia due to the abundance of employment options and generous pay packages accessible to them.

Many of the Malaysian companies offer RM5000-RM8000 for a month. The payments get higher when the experience of a Data Scientist increases with time.
If you are not experienced and are new, then you start working in local startups by doing work like data mining and analysis. You can also work on open data sets available for practice.
If you want to search for a job, you can go look for a marketplace for a Data Scientist and Data Analyst. The best possible way to understand the data is to understand what exactly the role is for a Data Scientist.
A good certification also enhances the chances of getting hired.
Since there is a lack of skilled people, Data Scientists have many extra benefits as compared to other jobs like flexible timings, working from home, better wages, better facilities, etc.
Job opportunities also depend on your background and experience.
You can find plenty of career chances if you merely improve your technical and soft abilities. Numerous large corporations, like Accenture, Continental Malaysia, and SD Technology Centre, employ and provide employment to a large number of talented and qualified individuals. Training in Data Science may be found in Bangalore.
Conclusion
These were some of the explanations for why data scientist is still the most sought-after profession in Malaysia. Without a question, the scope and field of employment for data scientists will expand in the years to come. Additionally, this will improve their employment prospects in Malaysia.So, these were some of the reasons why Data Scientist remains the top job all over Malaysia. Undoubtedly, a Data Scientist is a job whose scope and area of application will increase in the coming years. This will also enhance job opportunities for them in Malaysia.
Click here to learn Data Science Course, Data Science Course in Hyderabad, Data Science Course in Bangalore
Data Science Training Institutes in Other Locations
Agra
,
Ahmedabad
,
Amritsar
,
Anand
,
Anantapur
,
Bangalore
,
Bhopal
,
Bhubaneswar
,
Chengalpattu
,
Chennai
,
Cochin
,
Dehradun
,
Malaysia
,
Dombivli
,
Durgapur
,
Ernakulam
,
Erode
,
Gandhinagar
,
Ghaziabad
,
Gorakhpur
,
Gwalior
,
Hebbal
,
Hyderabad
,
Jabalpur
,
Jalandhar
,
Jammu
,
Jamshedpur
,
Jodhpur
,
Khammam
,
Kolhapur
,
Kothrud
,
Ludhiana
,
Madurai
,
Meerut
,
Mohali
,
Moradabad
,
Noida
,
Pimpri
,
Pondicherry
,
Pune
,
Rajkot
,
Ranchi
,
Rohtak
,
Roorkee
,
Rourkela
,
Shimla
,
Shimoga
,
Siliguri
,
Srinagar
,
Thane
,
Thiruvananthapuram
,
Tiruchchirappalli
,
Trichur
,
Udaipur
,
Yelahanka
,
Andhra Pradesh
,
Anna Nagar
,
Bhilai
,
Borivali
,
Calicut
,
Chandigarh
,
Chromepet
,
Coimbatore
,
Dilsukhnagar
,
ECIL
,
Faridabad
,
Greater Warangal
,
Guduvanchery
,
Guntur
,
Gurgaon
,
Guwahati
,
Hoodi
,
Indore
,
Jaipur
,
Kalaburagi
,
Kanpur
,
Kharadi
,
Kochi
,
Kolkata
,
Kompally
,
Lucknow
,
Mangalore
,
Mumbai
,
Mysore
,
Nagpur
,
Nashik
,
Navi Mumbai
,
Patna
,
Porur
,
Raipur
,
Salem
,
Surat
,
Thoraipakkam
,
Trichy
,
Uppal
,
Vadodara
,
Varanasi
,
Vijayawada
,
Vizag
,
Tirunelveli
,
Aurangabad
Navigate to Address
360DigiTMG - Data Science, IR 4.0, AI, Machine Learning Training in Malaysia
Level 16, 1 Sentral, Jalan Stesen Sentral 5, Kuala Lumpur Sentral, 50470 Kuala Lumpur, Wilayah Persekutuan Kuala Lumpur, Malaysia
+60 19-383 1378