How to Become a Data Analyst: Complete Career Guide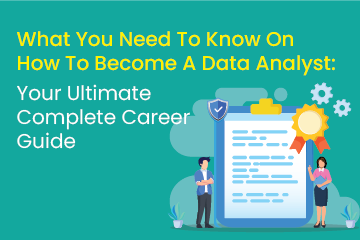 You need to extract insights from huge data sets and possess critical data analysis abilities to become a data analyst. Data Analytics is a promising field since businesses from all sectors have significantly invested in big data and expanded their analytics teams, particularly in the telecommunications, insurance, advertising, financial services, healthcare, and technology sectors. Moreover, you can anticipate that expansion to continue for a very long time since industries that have lagged in adopting big data analytics, like education, government, and manufacturing, have committed to up their big data analytics activities in the future.
What is Data Analytics?
The word "analyze" refers to closely examining something to draw out valuable information from it. As a result, data analytics studies raw data to get valuable insights. These insights could include knowledge about your organization, new products, new market trends, etc.
Data analytics is analogous to putting together a jigsaw puzzle. To create the final image, you must first collect all the puzzle pieces and precisely fit them together. In data analytics, you must similarly examine and clean data gathered from many sources before converting it into information that others can understand.
The type of obtained data can be structured, semi-structured, or unstructured. Analyzing data requires the use of a variety of tools and frameworks. A graph or chart showing the research's precise results is available as a visual representation.
There is a high demand for professionals who can help businesses transform raw data into valuable knowledge for corporate success. As a result, data analysts have many exciting career opportunities among the various employment opportunities in the data analytics industry.
Kickstart your career by enrolling in this Data Analyst Course Fees in Chennai.
What is the Role of a Data Analyst?
A data analyst is responsible for gathering, scrubbing, and analyzing data that they can apply to better business judgments. They need to be able to explain their findings to the people who will be making the decisions. Data analysts frequently have strong backgrounds in computer science and mathematics.
Businesses have become increasingly data-driven, making the data analyst role more important. Companies can make sense of the enormous volumes of data they collect with the aid of data analysts. Using their knowledge of mathematics and computer science, they clean and analyze data, then present their conclusions to the people making the decisions.
Data Analytics Career: The Qualifications Required to Become a Data Analyst?
Data analysts have easily transportable abilities. Hence, a degree is only sometimes required to be a good data analyst. However, having the following credentials and information will undoubtedly aid you in your quest to become a data analyst:
Programming Languages: To present, examine, and understand data, data analysts employ statistical programming languages. Data analyst job descriptions typically specify which languages candidates should be fluent in. However, since Python and R are the most popular, you're secure if you know either.
Data Tools: Data analysts work with various programs and equipment. Excel and Google Sheets are most common across all sectors, but SQL is a more sophisticated tool for handling larger data sets.
Skills in visualization and presentation: Data analysts need to simplify complex data. Practical communication skills are crucial for the position, and tools for visualization and presentation, such as Tableau and Jupyter Notebook, are also helpful.
Statistics: Most data analysts have a strong background in math and statistics, making it easier to spot mistakes and interpret data correctly.
Analytical thinking and approach to problem-solving: An intelligent analyst should have the ability to think creatively, think beyond the box, and approach problems from multiple angles. It aids in generating goodwill among important business stakeholders and enables you to pose pertinent and engaging research questions.
Also, check this Data Analytics Course to start a career in Data Analytics.
Data Analyst Responsibilities and Roles
Below is a list of what a data analyst does:
⦁ Data Collection: Surveys, online analytics, and the purchase of datasets are some ways analysts get data. However, analysts don't always have to get the data because corporations occasionally make it available.
⦁ Recognize Data Problems: Analysts fix any data errors, including duplicates. They also spot anomalies and outliers. Additionally, analysts use tools like Microsoft Excel, business intelligence tools, or computer languages to maintain consistency and preserve the correctness of their interpretations.
⦁ Create Models: Data analysts are frequently in charge of data modeling, which involves deciding how to construct database structures and how to store and compare various categories of data.
⦁ Interpretation: Data analysts then look for trends and patterns in processed data to turn them into valuable insights.
⦁ Contextualize: Once you start evaluating data, analysts will look for linkages with the data in the larger business context, such as the general market and industry trends on a local and global scale.
⦁ Presentation: Last but not least, analysts must use graphs, charts, and other tools to present data findings and interpretations to stakeholders, clients, management, and colleagues.
Don't delay your career growth, kickstart your career by enrolling in this Data Analyst Course in Pune.
Step-by-step Guidelines on How to Become a Data Analyst
If you're thinking about how to become a data analytics expert, there are several paths you can take. Some begin with degrees in math and data science that complement one another and advance to data science positions, while others concentrate solely on expanding their analytics knowledge.
These stages are maybe the most efficient method to succeed as a data analyst:
⦁ Start Learning the Fundamentals of Data Analytics:
You can begin by understanding the fundamentals if you are brand-new to data analytics. Foundational knowledge is essential because it can make learning new ideas, instruments, and techniques easier when they emerge. In addition, completing a foundational education can give you a more comprehensive understanding of data analytics and help you decide if this is the perfect career path for you.
Back then, even entry-level aspirants may require a bachelor's degree. The majority of jobs now still call for bachelor's degrees. However, as technology develops, more businesses are beginning to drop this criterion, so you can find a job regardless of your educational background as long as you demonstrate that you possess the necessary abilities and skills.
⦁ Work on Real-Time Projects to Gain Practical Experience:
You must create a portfolio of your own projects to be hired as a data analyst. Then, apply your data science, machine learning, and statistics knowledge by looking for a freelancing job or working with a friend. Your confidence will increase due to these tasks, enabling you to demonstrate your professional accomplishment.
The best way to start with personal projects is to choose a dataset that is readily accessible to the public and observe what you can learn from it. Many public data repositories exist, including Data.gov and Datahub.io. These websites offer various datasets related to healthcare, the environment, and animals.
Select a dataset regarding a topic you are interested in, then start using your data analysis skills. Conduct exploratory data analysis using various algorithms and statistical techniques, then visualize your results to create a report.
Not only will this improve your practical knowledge of the topic of data analysis, but it will also look good on your CV if you're applying for entry-level positions. It is because you don't have to complete the projects in a professional environment, and employers value applicants who take the initiative.
⦁ Create Technical Data Analytics Skills:
You can start developing your technical expertise after you feel comfortable with data analysis and computer science fundamentals. Most of the time, positions as data analysts will call for specialized knowledge in a particular programming language or set of coding tools.
Since each profession has its own unique criteria, it's advisable to brush up on some of the more common technical ones, like:
⦁ Statistic evaluation
⦁ SQL (Structured Query language)
⦁ Programming in Python or R
⦁ Cleaning and preparing data
⦁ Data visualization
In-depth technical competence and programming language learning might take time and effort.
Look at job advertisements for positions relevant to your interests to hasten the development of your data analyst profession. Then, utilize those listings to determine the tools and languages you need to learn the most.
Remember that many employers will be searching for a combination of critical technical talents and soft skills, such as solid communication and problem-solving skills. Therefore, work to improve your interpersonal skills and technical understanding.
⦁ Practical Experience using Data Visualization Tools:
Data analysts frequently use tools for data visualization. These data visualization tools don't require technical expertise to master, and they typically operate by clicking and dragging. However, understanding the many functions needed for these tools' data analysis and visualization is crucial. The more diverse your skill set is the more probable you will work on challenging, captivating, and business-transforming projects.
Even though MS Excel is the most straightforward tool, you can employ it for all businesses and professions. The development of incredibly impressive dashboards makes good use of several Excel features, including the ability to create pivot tables, manipulate data with formulae, and visualize data with graphs.
For a data analyst, coding expertise and understanding are less critical than for a data scientist. You must be able to study and understand huge data sets. You can use data visualization tools such as Power BI and Tableau. However, not all businesses can afford to purchase these products. Therefore, using Python and its many data visualization modules is the most common choice. The most suitable programming language for beginners is Python. You'll be able to function in this position with rudimentary Python skills and a command of the essential libraries needed for it, such as Pandas, Matplotlib, Seaborn, Numpy, and Scikit Learn.
⦁ Improve your Logical Thinking to Make Decisions and Solve Problems:
A strong command of logic is essential for a data analyst to comprehend algorithms and complex structures easily. As a result, you can run detailed reports and quickly analyze native applications like CRM or ERP systems. Additionally, developing logical thinking will make it simpler for you to resolve business-related issues.
These competencies provide the basis of data analysis. The significant responsibility of a data analyst is to offer accurate information for making decisions and solving problems. Because of this, it is the only qualification needed to be a data analyst. Therefore, it's crucial to have excellent oral and written communication skills if you want to work as a data analyst. To prepare, present, and explain facts to coworkers, you must communicate effectively. Collaboration with your coworkers depends on effective communication.
⦁ What Salaries can a Data Analyst Expect?
The average salary for data analysts in the United States was roughly $71,884 per year, according to Glassdoor. Additionally, the United States Bureau of Labor Statistics reports that data analyst salaries in the US can range from $65,000 to $86,000. The income range includes several types of data analysts, and some of these can anticipate even better work prospects.
Wish to pursue a career in data analytics? Enroll in this Data Analytics course in Bangalore to start your journey.
Conclusion:
A data analyst has a beautiful and well-paid job. However, you don't have any experience and want to work as a data analyst. In that case, you should first brush up on the fundamentals of data analysis, take on some projects, and develop your resume. Your data analyst resume will stand out if you have project work experience and other skills to help you land your ideal job.
Are you interested to learn more about data analytics? Make your choice.
Some people will respond differently to the question of how to become a data analyst. For example, you might pursue a degree for more structure or choose networking and independent study to cut costs and time commitment.
Online courses are also an option; they are more structured than complete self-study. Regardless, we hope that this article has assisted you in choosing the most suitable route to a career as a data analyst.
Are you looking to increase your data analytics expertise and qualifications?
Data Science Placement Success Story
Data Science Training Institutes in Other Locations
Agra
,
Ahmedabad
,
Amritsar
,
Anand
,
Anantapur
,
Bangalore
,
Bhopal
,
Bhubaneswar
,
Chengalpattu
,
Chennai
,
Cochin
,
Dehradun
,
Malaysia
,
Dombivli
,
Durgapur
,
Ernakulam
,
Erode
,
Gandhinagar
,
Ghaziabad
,
Gorakhpur
,
Gwalior
,
Hebbal
,
Hyderabad
,
Jabalpur
,
Jalandhar
,
Jammu
,
Jamshedpur
,
Jodhpur
,
Khammam
,
Kolhapur
,
Kothrud
,
Ludhiana
,
Madurai
,
Meerut
,
Mohali
,
Moradabad
,
Noida
,
Pimpri
,
Pondicherry
,
Pune
,
Rajkot
,
Ranchi
,
Rohtak
,
Roorkee
,
Rourkela
,
Shimla
,
Shimoga
,
Siliguri
,
Srinagar
,
Thane
,
Thiruvananthapuram
,
Tiruchchirappalli
,
Trichur
,
Udaipur
,
Yelahanka
,
Andhra Pradesh
,
Anna Nagar
,
Bhilai
,
Borivali
,
Calicut
,
Chandigarh
,
Chromepet
,
Coimbatore
,
Dilsukhnagar
,
ECIL
,
Faridabad
,
Greater Warangal
,
Guduvanchery
,
Guntur
,
Gurgaon
,
Guwahati
,
Hoodi
,
Indore
,
Jaipur
,
Kalaburagi
,
Kanpur
,
Kharadi
,
Kochi
,
Kolkata
,
Kompally
,
Lucknow
,
Mangalore
,
Mumbai
,
Mysore
,
Nagpur
,
Nashik
,
Navi Mumbai
,
Patna
,
Porur
,
Raipur
,
Salem
,
Surat
,
Thoraipakkam
,
Trichy
,
Uppal
,
Vadodara
,
Varanasi
,
Vijayawada
,
Vizag
,
Tirunelveli
,
Aurangabad
Navigate to Address
360DigiTMG - Data Science, IR 4.0, AI, Machine Learning Training in Malaysia
Level 16, 1 Sentral, Jalan Stesen Sentral 5, Kuala Lumpur Sentral, 50470 Kuala Lumpur, Wilayah Persekutuan Kuala Lumpur, Malaysia
+60 19-383 1378