Applications of Data Analytics in the Movie Industry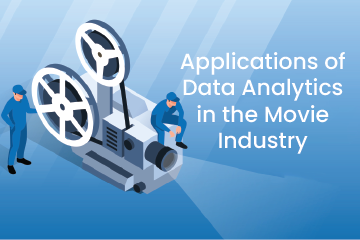 Filmmaking involves a vast array of variables, from figuring out production expenses to creating targeted marketing campaigns. Data scientists using movies data analytics can study a lot from the film business because data science is being used in almost every stage of the production process. The data science revolution is being led by streaming services. Big data techniques are examined by production businesses, such as Amazon, Hulu, and Netflix, to support them to choose the kinds of content to produce and provide individualized looking into suggestions provided. Data science can help the art of creating and selling entertainment at previously unheard-of heights in this way. Several movies include the area of data science as a compelling topic. The adaptations of big films from historical inventors like Alan Turing and John Nash, parallel with fictitious plots that incorporate AI, machine learning, and predictive analysis as key plot points. There will undoubtedly be more movies on data science as a result of society's obsession with its consequences. Production businesses in film data analytics will also keep using technology to better understand viewers' interests and viewing habits so they can produce material that appeals to a wide audience.
Also, check this Data Analytics Course to start a career in Data Analytics.
Using data analytics in the film industry, filmmakers can use technology to help them decide how to make and advertise every given movie. Every aspect of a movie, from choices in casting to even the colors used in marketing, can have an impact on sales. Using technology, we can anticipate client preferences and work out for optimizing better content. Predicting the viewers, like what they are looking from a movie all but confirms the movie's success. In 2018, 20th Century Fox, which the Walt Disney Company attained this year, issued a paper clarifying how it uses machine learning to study the content of movie trailers. Data gathered during the process is used to compare trailers and forecast which other movie viewers of a certain trailer might find interesting. 20th Century Fox developed Merlin, an "experimental movie attendance prediction and recommendation system," using Google servers and the open-source TensorFlow AI framework. Throughout Merlin's test run, the program studied the trailer for "Logan," the origin story of the superhero Wolverine, to forecast the possible demand of other films to "Logan" viewers. From these forecasting results studied later, 11 of the 20 predictions were accurate. X-Men: Apocalypse, John Wick: Chapter 2, Doctor Strange, Batman v. Superman: Dawn of Justice, and Suicide Squad were the top five real films, and they were all on the projected list. The audience was typically seeking out a superhero film with a "rugged macho action lead."
Pursue a career in Data Analytics with the number one training institute 360DigiTMG. Enroll in the Best Data Analytics Courses in Hyderabad with placements to start your journey.
Merlin is a prime example of how software development, related to data-driven movies has changed over the past ten years, even though its data interpretation wasn't entirely accurate. Future software development must incorporate time-saving strategies intended to cut down on time spent on tedious chores, allowing programmers to focus more on enhancing AI algorithms. AI is the perfect place to start if you want to increase the precision of data analysis within programs because it is designed to concentrate on a specific task.
At the beginning of 2010, big data started to consider altering the approaches taken to turn data analytics into profitable insights. Big data is often outwardly sourced, leveraging data from the internet, open data sources, and other places to provide more precise forecasts. Big data can be used in the movie sector to brand user experiences and lower churn rates among audiences of streaming sites. Retaining viewers is crucial for streaming services and film production firms since users have an almost limitless selection of movies and television series to pick from. Big data paired with machine learning can assist businesses in identifying issue areas. A high churn rate is an indication that a company is doing something incorrectly. To maximize streaming quality and create a customized user experience, Netflix developed its adaptive streaming algorithms, which it is always working to enhance. To advance the experience, the industry leader in streaming adapts the media's audio and visual quality. Moreover, they are using predictive caching to allow a movie to play more quickly or with better quality. The following episode, for instance, will be partially cached if the viewer is currently viewing a series.
The recommendations for the movie data for an existing client or new customer are based on both explicit and implicit data. According to Todd Yellin, vice president of product innovation at Netflix, "Explicit data is what you essentially tell us: you give The Crown a thumbs up, we get it. In reality, behavioral data is implicit data. We can understand viewers' behavior since they simply binge-watched a series over two nights without specifically telling them that they liked it. Most relevant information is implied and Netflix algorithms are tremendous success stories in this context if its revenues are any sign, where Netflix's profits have improved by more than 30% since 2015, and its yearly revenue is now $16.614 billion.
Kickstart your career by enrolling in this Data Analyst Course Fees in Chennai.
Though the techniques such as Merlin and other technologies are examples of predictive analytics, more data must be inspected to classify reliable trends. Researchers have gathered data on thousands of films and television programs over the past few decades to find reliable predictors. Frequent criteria have shown correlations, with character kinds, plot difficulty, star power, budget, and "buzz," which refers to the social media activity and advertising activity immediately after a specific movie. Buzz is notable in that it may be learned about from a variety of sources, including social media and critical reviews. However, the buzz a movie obtains is only a minor part of the whole analytical picture. Every stage of the film's life cycle, from development to post-production and release, requires the usage of data analytics.
Producers, production businesses, and executives can use predictive analytics to better understand audience behavior, identify trends, and drive strategic decision-making. Making informed decisions is essential to the filmmaking process, and obtaining high-quality, highly useful data is essential to retaining customers and increasing profitability. Big data and predictive analytics are used in a variety of ways in the film business, and data scientists should be aware of these applications and apply their expertise to other economic sectors. In the data collection process, Web scraping is essentially the process of examining a webpage's HTML and dissecting it to collect useful data for the study. We can quickly and easily import all of the HTML into a Jupyter notebook and begin disassembling it using the requests and Beautiful Soup libraries. There are websites such as moviefone.com, imdb.com, and boxofficemojo.com to create recommendations.
Wish to pursue a career in data analytics? Enroll in this Data Analytics course in Bangalore to start your journey.
While movie data analysis using python, Netflix's recommendation algorithm has gained a reputation for being remarkably accurate over the last few years. It is so effective that data-driven recommendations account for 80% of all streaming time on the platform. With recommendations divided into high-level genres and categories like "similar to what you were viewing previously," the algorithm is intimately linked with the user interface. But in reality, this algorithm goes far further, gathering information on things like how long it has been since a person last viewed a piece of content, when they stop watching, what devices they use, and much more.
There could be an excuse for thinking that the odds are stacked against independent filmmakers and in favor of the major studios that have the money to invest in complex data analytics. As the small film festival Rain dance demonstrates, data analytics doesn't have to be expensive, and producers on a tighter budget may acquire a ton of big data online that is readily available for free. Soon, we'll start to see practical analytics tools designed exclusively for independent film producers, such as budgeting and scheduling optimizers, which will open up new audiences and possibly have endless success.
Data Science Placement Success Story
Data Analytics Training Institutes in Other Locations
Agra, Ahmedabad, Amritsar, Anand, Anantapur, Bangalore, Bhopal, Bhubaneswar, Chengalpattu, Chennai, Cochin, Dehradun, Malaysia, Dombivli, Durgapur, Ernakulam, Erode, Gandhinagar, Ghaziabad, Gorakhpur, Gwalior, Hebbal, Hyderabad, Jabalpur, Jalandhar, Jammu, Jamshedpur, Jodhpur, Khammam, Kolhapur, Kothrud, Ludhiana, Madurai, Meerut, Mohali, Moradabad, Noida, Pimpri, Pondicherry, Pune, Rajkot, Ranchi, Rohtak, Roorkee, Rourkela, Shimla, Shimoga, Siliguri, Srinagar, Thane, Thiruvananthapuram, Tiruchchirappalli, Trichur, Udaipur, Yelahanka, Andhra Pradesh, Anna Nagar, Bhilai, Borivali, Calicut, Chandigarh, Chromepet, Coimbatore, Dilsukhnagar, ECIL, Faridabad, Greater Warangal, Guduvanchery, Guntur, Gurgaon, Guwahati, Hoodi, Indore, Jaipur, Kalaburagi, Kanpur, Kharadi, Kochi, Kolkata, Kompally, Lucknow, Mangalore, Mumbai, Mysore, Nagpur, Nashik, Navi Mumbai, Patna, Porur, Raipur, Salem, Surat, Thoraipakkam, Trichy, Uppal, Vadodara, Varanasi, Vijayawada, Vizag, Tirunelveli, Aurangabad
Navigate to Address
360DigiTMG - Data Science Course, Data Scientist Course Training in Chennai
D.No: C1, No.3, 3rd Floor, State Highway 49A, 330, Rajiv Gandhi Salai, NJK Avenue, Thoraipakkam, Tamil Nadu 600097
1800-212-654-321