What are the differences between a Data analyst and a Business analyst?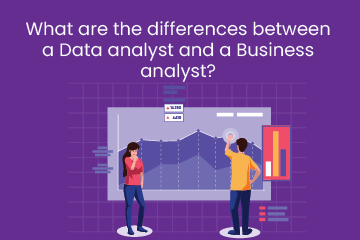 Data are being mass-produced in today's world and it is important that there are engineers/analysts who constantly work with such data to help organizations to take data- driven decisions. Data is a valuable piece of information that allows us to find solutions to real-life problems. Effective approaches to problem-solving can be achieved by utilizing and analyzing data.
The realm of computer science holds the keys to all the problems in the world. Computer science requires people like data scientists, data analysts, and business analysts to act as a catalyst to be able to solve these problems. IT sector is now brimming with new advancements every day which is enabling us to understand and solve many real-world problems efficiently.
Data analysts and business analysts are now some of the most important jobs out there. They hold great importance because of what their objectives are and how they impact an organization. Both data and business analysts work for the improvement, betterment, and enhancement of organizations using their analytical skills. The analysis involves a detailed, in-depth study and thereafter provides meaningful insights for making informed decisions that will enable the organizations to move forward.
Although some objectives and essence of both data and business analysts are similar, there are some marked differences that need to be pointed out.
Who is a Data Analyst?
Data analysts, as the name suggests, are people who are adept in the analysis of data. They gather, clean, and perform a deep analysis of data to come up with data-driven solutions. They work in a wide range of industries like business, criminal, science, medicine, government, etc.
As a data analyst, one is expected to answer questions and solve problems using analytical power. The process of data analysis involves identification-collection-cleaning-analysis- interpreting.
Data analysis usually involves 4 steps - descriptive analysis, diagnostic analysis, predictive analysis, and prescriptive analysis.
As of today, data analysis has become one of the biggest jobs with the greatest demand in the job sector.
Responsibilities of a data analyst:
Utilizing automatic tools to obtain data from primary and secondary data sources.
Development and maintenance of databases.
Assessment of quality and meaning of data.
Filtering and reviewing data.
Incorporation of statistical tools to identify, analyze and interpret data.
Working alongside programmers, engineers, etc.
Performing EDA (Exploratory data analysis).
Skillset of a data analyst:
Ability to solve problems.
Meticulous analysis.
Knowledge of SQL, Oracle, R, MATLAB, and Python.
Communication skills.
Strong statistical and mathematical skills.
Proficient in database design development, data models, data mining, and segmentation.
Microsoft Excel, SPSS and VBA, Power BI, Jupyter, Tableau.
There are various kinds of data analysts like medical and health care analysts, market research analysts, business analysts, business intelligence analysts, operations research analysts, intelligence analysts, etc.
How to become a data analyst?
Earning professional certificates or a bachelor's degree will open up ways for people to become data analysts.
Salary of a data analyst:
The salary of a data analyst in India ranges between ₹ 1.7 Lakhs to ₹ 12.0 Lakhs with an average annual salary of ₹ 4.3 Lakhs.
Who is a Business Analyst?
Business analysts are the people who process, interpret and provide documentation of business processes, services, etc. The key role of business analysts is to ensure that business efficiency is consistent. Many companies need these business analysts to help with solving business problems and achieving the results that are desired.
Responsibilities of a business analyst:
Conducting business analysis as per the requirement of a company.
Forecasting, planning, and reporting results.
Financial analysis, quality assurance, etc.
Understanding thorough customer behavior.
They are required at every level of a business.
Skills of a business analyst:
Communication skills.
Analytical and creative thinking.
Ability to provide different perspectives on a problem.
Meticulous.
Knowledge of business structures.
Knowledge of data structures.
Understanding current trends, networks, and databases.
Being skilful in the IT sector.
How to become a business analyst?
Completing a bachelor's degree or a master's degree in business analytics, data science, management information systems or IT can lead to a successful career in business analysis.
Salary of a business analyst:
In India, it ranges between ₹ 2.6 Lakhs to ₹ 15.3 Lakhs with an average annual salary of ₹ 6.8 Lakhs.
There are quite a few challenges faced by business analysts. They require access to an abundant amount of data and data privacy laws should be strictly followed. They need to carefully manage analytics, the success of the team, and also communicate efficiently.
It is evident that IT and Computer Science related jobs are in high demand. The opportunities are enormous, and the sky's the limit in these sectors. As there is plenty of room for growth, advancement, and improvements, people working in the jobs like Business analysis and Data analysis have constant challenges to endure and overcome. The bottom line is that these jobs are very well appreciated in today's world and more people seem to be drawn towards them as each day goes by.
Data Science Placement Success Story
Interview Questions and Answers
Data Science Training Institutes in Other Locations
Agra
,
Ahmedabad
,
Amritsar
,
Anand
,
Anantapur
,
Bangalore
,
Bhopal
,
Bhubaneswar
,
Chengalpattu
,
Chennai
,
Cochin
,
Dehradun
,
Malaysia
,
Dombivli
,
Durgapur
,
Ernakulam
,
Erode
,
Gandhinagar
,
Ghaziabad
,
Gorakhpur
,
Gwalior
,
Hebbal
,
Hyderabad
,
Jabalpur
,
Jalandhar
,
Jammu
,
Jamshedpur
,
Jodhpur
,
Khammam
,
Kolhapur
,
Kothrud
,
Ludhiana
,
Madurai
,
Meerut
,
Mohali
,
Moradabad
,
Noida
,
Pimpri
,
Pondicherry
,
Pune
,
Rajkot
,
Ranchi
,
Rohtak
,
Roorkee
,
Rourkela
,
Shimla
,
Shimoga
,
Siliguri
,
Srinagar
,
Thane
,
Thiruvananthapuram
,
Tiruchchirappalli
,
Trichur
,
Udaipur
,
Yelahanka
,
Andhra Pradesh
,
Anna Nagar
,
Bhilai
,
Borivali
,
Calicut
,
Chandigarh
,
Chromepet
,
Coimbatore
,
Dilsukhnagar
,
ECIL
,
Faridabad
,
Greater Warangal
,
Guduvanchery
,
Guntur
,
Gurgaon
,
Guwahati
,
Hoodi
,
Indore
,
Jaipur
,
Kalaburagi
,
Kanpur
,
Kharadi
,
Kochi
,
Kolkata
,
Kompally
,
Lucknow
,
Mangalore
,
Mumbai
,
Mysore
,
Nagpur
,
Nashik
,
Navi Mumbai
,
Patna
,
Porur
,
Raipur
,
Salem
,
Surat
,
Thoraipakkam
,
Trichy
,
Uppal
,
Vadodara
,
Varanasi
,
Vijayawada
,
Vizag
,
Tirunelveli
,
Aurangabad
Navigate to Address
360DigiTMG - Data Analytics, Data Science Course Training in Chennai
D.No: C1, No.3, 3rd Floor, State Highway 49A, 330, Rajiv Gandhi Salai, NJK Avenue, Thoraipakkam, Tamil Nadu 600097
1800-212-654-321