Top 7 Tips for Those Who are Still Worrying to Take Data Science Course to Get Job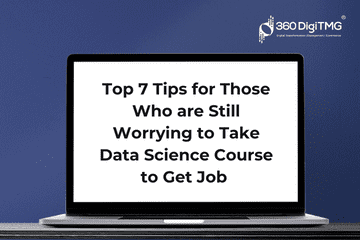 One of the most significant challenges that ambitious data scientists have is consistency. You'll be astounded at how much knowledge you'll acquire in a year or two if you can consistently learn incremental expertise and skills in data science. In every organization, data is the most valuable asset. As a result, businesses may better analyze and improve their operations, saving time and money. Poor advertising decisions, for example, can waste time and money and have a detrimental impact on a business. By evaluating the performance of various marketing channels and focusing on those with the best ROI using data effectively, businesses may reduce this waste.
Consequently, a business can increase lead generation without increasing advertising expenses. But, many of you are still confused about taking a data science course to start your career. So, let's use these tips to put an end to all of those worries.
Data Science's Importance in Business:
Numerous reasons contribute to data science's significance in the business world. First, data science allows enterprises to monitor, manage, and record performance measures to support improved organizational decision-making. Trend analysis enables businesses to make crucial decisions that will improve consumer engagement, raise productivity levels, and boost profits. Using already-existing data, data science models can duplicate a variety of operations. As a result, businesses may plan how to get the best possible business results. By merging existing data with additional data points to generate insightful insights, data science assists organizations in identifying and defining target audiences. Data science also assists recruiters by connecting data points to find applicants that best meet their company's needs.
Want to learn more about data science? Enroll in the Best Data Science courses in Chennai to do so.
How Come Data Science is Interesting?
In the constantly developing field of data science, the pace of new scientific advancements and discoveries is accelerating. As a result, you might learn something new while working every day. As a result, you may constantly learn new Data Science abilities, providing you a competitive advantage with education and experience. Data science is fascinating because of this.
Learn the core concepts of Data Science Course video on YouTube:
The Future of Data Science:
Due to documenting every aspect of consumer interaction, businesses now have access to massive datasets. Data science is critical in analyzing and constructing machine learning models based on this data. This is so that they can provide insightful insights from these datasets. As a result, it becomes risky to assume that as machine learning and analysis improve, so will the demand for data science.
Given the increased demand for data scientists for analysis, more employment should become available as the business grows. As a result, individuals seeking a career in data science can confidently predict a promising future. In all industries, data science has a comprehensive application.
A key element of the future of data science is artificial intelligence. Data scientists will likely have to cope with AI as the most powerful technology in the future. To demonstrate it another way, the future of data science will align itself to improve in the long term. Businesses are already in the usage of artificial intelligence to make decisions and maintain operations. When applied to real-world scenarios, artificial intelligence will employ automated methods to sift through massive volumes of data to identify patterns that will assist present enterprises in making better decisions.
7 Tips for Not Worrying About Taking a Data Science Course for a Job:
Working as a data scientist is a beautiful moment, with plenty of job possibilities, high incomes, and exciting career prospects. But what if you're still worried? Thankfully, there are numerous options for learning paths. In addition, there are many other ways to acquire the necessary professional skills, including self-teaching, attending training programs, and earning a college degree. Uncertain about where to begin? We'll demonstrate how to progress from being a beginner to being job-ready in the field of data science in this article.
1. Schedule Some Time Each Day to Practice Your Data Skills:
To start moving toward a profession in data, you don't have to stop everything and enroll in full-time classes. How much you can do in as little as 15 minutes a day may amaze you.
Planning how your learning will fit into your life will help you succeed. Asking yourself these questions while you create a plan will help:
⦁ When do I have the clearest head? When are my distractions at their lowest?
⦁ How can I embed my learning time into my day? Right after I've had my first coffee? Over my lunch hour? just the following dinner?
⦁ Where can I work without being interrupted much?
⦁ Can I set a timer to remind myself to keep my word?
⦁ Whom do I need to let know about my interruption-avoiding strategy? Roommates? Household members? Colleagues?
Are you looking to become a Data Scientist? Go through 360DigiTMG's PG Diploma in Data Science and Artificial Intelligence!.
2. Create a Solid Foundation in Math and Statistics:
Math is a prerequisite for working in data science, just like in many other scientific fields, and it will provide you with a solid theoretical grounding in the subject. Statistics and probability are essential concepts to understand while working in data science. However, most of the algorithms and models that data scientists construct are merely programmatic adaptations of statistical techniques for problem-solving.
Start with a course if you are new to statistics and probability. You are using this as an opportunity to learn the fundamental ideas of variance, correlation, conditional probabilities, and Bayes' theorem. You'll be in an excellent position to comprehend how those ideas apply to the work you'll undertake as a data scientist if you do this.
3. Acquire Knowledge of the How, What, Where, When, and Why of Data Abilities:
Knowing everything, there is to know about Python Pandas, Tableau, or a specific machine learning model is not as crucial as understanding how each of these tools functions, what they do, and when and why you should use them.
In five years, the most popular programming language or piece of software today can be outdated. Therefore, learning should focus more on developing larger skill sets than memorizing specific programming syntax or material in a constantly evolving field.
4. Consider Mistakes as Teaching Tools:
There will be instances, particularly early on, where a minor error in your code results in the crash of your application. Or perhaps you invest a lot of effort creating a database to discover that you might have modeled it better. That's alright! Allow yourself to learn from your mistakes. We learn in this way.
Accuracy is vital when you're working, but while learning, accept that mistakes will be made. You'll experience frustration from time to time, but you'll grow as an analyst by overcoming those difficulties.
Become a Data Scientist with 360DigiTMG Data Science course in Hyderabad Get trained by the alumni from IIT, IIM, and ISB.
5. Develop Your Skill Set as a Data Analyst Incrementally
Pick one skill and hone it after you've established a data analysis foundation with a structured overview. Then, choose between directly addressing your worst weakness or increasing your confidence with a skill you already have some experience in.
Here are some tips about where to begin:
⦁ Practice the fundamentals of R or Python programming.
⦁ Utilize SQL to begin interacting with data (Structured Query Language).
⦁ Improve your spreadsheet skills by taking an Excel course.
⦁ Refresh your knowledge of linear algebra or statistics.
6. Focus on Your Professional Talents as Well:
Successful data analysts use their technical skills in the work but also depend on soft skills, such as effective communication. For example, you might have to present your findings to decision-makers who may not have the same technical expertise as you do as an analyst. Therefore, communicating complex concepts in straightforward ways can be a great advantage.
Employers are also drawn to other job traits like curiosity, problem-solving, cooperation, and attention to detail. The excellent thing is that you probably already possess many of these skills.
7. Use Data Science Tools in Practice:
Tools for data science simplify the process. You don't have to learn a specific tool at this point. You can do that once you begin working and are aware of the equipment needs of your employer. It's sufficient right now to choose and experiment with one that appeals to you. The objective is to acquire a fundamental understanding of the tools and what you can do with them.
Look at the job descriptions published by the company you wish to work for if you have one in mind. Typically, they'll mention Tensor Flow and Hadoop, among other tools. You can become familiar with those tools if you wish to work for that specific company.
Also, check this Data Science Institute in Bangalore to start a career in Data Science.
Get Started with 360digiTMG:
We've included some tips and suggestions to consider while building your data analyst skills. Then, start investigating this in-demand career path with lifetime access to LMS and IBM Data Analyst Professional Certificates if you're prepared to move further.
Data Science Placement Success Story
Data Science Training Institutes in Other Locations
Agra
,
Ahmedabad
,
Amritsar
,
Anand
,
Anantapur
,
Bangalore
,
Bhopal
,
Bhubaneswar
,
Chengalpattu
,
Chennai
,
Cochin
,
Dehradun
,
Malaysia
,
Dombivli
,
Durgapur
,
Ernakulam
,
Erode
,
Gandhinagar
,
Ghaziabad
,
Gorakhpur
,
Gwalior
,
Hebbal
,
Hyderabad
,
Jabalpur
,
Jalandhar
,
Jammu
,
Jamshedpur
,
Jodhpur
,
Khammam
,
Kolhapur
,
Kothrud
,
Ludhiana
,
Madurai
,
Meerut
,
Mohali
,
Moradabad
,
Noida
,
Pimpri
,
Pondicherry
,
Pune
,
Rajkot
,
Ranchi
,
Rohtak
,
Roorkee
,
Rourkela
,
Shimla
,
Shimoga
,
Siliguri
,
Srinagar
,
Thane
,
Thiruvananthapuram
,
Tiruchchirappalli
,
Trichur
,
Udaipur
,
Yelahanka
,
Andhra Pradesh
,
Anna Nagar
,
Bhilai
,
Borivali
,
Calicut
,
Chandigarh
,
Chromepet
,
Coimbatore
,
Dilsukhnagar
,
ECIL
,
Faridabad
,
Greater Warangal
,
Guduvanchery
,
Guntur
,
Gurgaon
,
Guwahati
,
Hoodi
,
Indore
,
Jaipur
,
Kalaburagi
,
Kanpur
,
Kharadi
,
Kochi
,
Kolkata
,
Kompally
,
Lucknow
,
Mangalore
,
Mumbai
,
Mysore
,
Nagpur
,
Nashik
,
Navi Mumbai
,
Patna
,
Porur
,
Raipur
,
Salem
,
Surat
,
Thoraipakkam
,
Trichy
,
Uppal
,
Vadodara
,
Varanasi
,
Vijayawada
,
Vizag
,
Tirunelveli
,
Aurangabad
Navigate to Address
360DigiTMG - Data Science Course, Data Scientist Course Training in Chennai
D.No: C1, No.3, 3rd Floor, State Highway 49A, 330, Rajiv Gandhi Salai, NJK Avenue, Thoraipakkam, Tamil Nadu 600097
1800-212-654-321