What Skills are Required for IoT?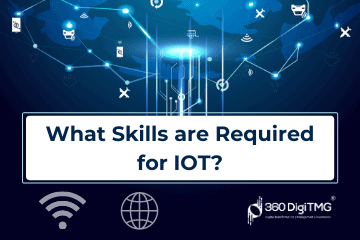 Introduction:
The world has undergone a transformation thanks to the wonders of the Internet of Things (IoT). Nowadays, practically every home has IoT-based appliances like washing machines and cellphones. It has become a popular technology of the decade as a result.
Want to learn more about Best IoT Course. Enroll in this IoT Course Fees in Hyderabad to do so.
Many individuals are drawn to this sector, particularly those who desire to pursue an IoT specialisation to brighten their futures. The IoT industry has a bright future, and those who are now employed in it make enormous annual salaries and have lavish lives as a result. IoT encompasses several domains, and each domain has certain skill requirements for employment.
If you want to enter the IoT business, you must research the skills needed to become an expert in the field. You will find this article to be extremely helpful since it outlines the abilities needed for IoT.
Skills required for IoT
Future-proofing your profession requires the ability to integrate data, technology, and research. You must determine whether you are proactive and creative enough for this reason to cope with the rapidly developing IoT industry. If you want to succeed in the IoT industry, you must be an expert in the following fields.
Artificial Intelligence
Machine Learning
Programming
Understand the working of sensors
Big data
Cloud computing
Networking
GPS & User Interface
Being a IoT is just a step away. Check out the Internet of Things Training in Bangalore at 360DigiTMG and get certified today.
Also, check this IoT Training Institute in Pune to start a career in Best IoT Training Institute.
Artificial Intelligence

In the modern IoT, artificial intelligence (AI) is becoming a key component. To improve IoT performance, the data is processed using AI algorithms. Additionally, it has resolved the power and storage problems. In order to make judgements, real-time AI approaches are used to the sensors. Therefore, you must be familiar with AI if you want to work in the IoT industry. You already know AI if you have a background in computers. As a result, you may move on to the next skill needed and save time.

Machine Learning

You are required to get expertise in machine learning as it is one of the basic skills that are utilized and needed in the field of IoT. You must have skills in collecting, analyzing, and extracting required results from a massive amount of data. You need to be an expert in identifying patterns of data that can deal with the complex predictions of the result. Again, if you have a computing degree then move to the next required skills.

Programming

You cannot consider IoT without programming. Therefore, having knowledge of programming languages, particularly Java and Python, is necessary. Because IoT sensors are operated by software that is created using a language, these two languages are overly utilised in IoT sensors. These languages are those that a computer science graduate is proficient in.

Understand the working of sensors

The IoT industry sensors are included in almost every project. These are the physical devices that are connected to a network through the Internet for exchanging data. Being an IoT expert you must be aware of the working of sensors and how they exchange data.

Big Data

In the realm of IoT, big data and AI are merged, which has enhanced efficiency. Due to the massive volume of data created by IoT devices, businesses need an expert to do data analysis. Therefore, if you are adept at handling large data, your recruiters must love you.

Risk security

The applications of IoT are complex by their nature. That is why numerous issues happen when working in the amazing field of IoT like you may face a malicious attack, privacy problem, or the loss of data. The industry hires persons who are professional in dealing with such kinds of issues. These experts also make plans to protect their industry from these attacks and save data from loss. You must possess this skill if you want to make your future in IoT.

Cloud Computing

IoT applications are used by gadgets that produce a lot of data, as was previously stated. Since it is a significant matter to keep that much data, there must be a storage problem. This problem can be solved by cloud computing since it saves created data there. In order to operate in the IoT industry, you must understand how devices link to cloud networks and how data is kept there.

Mobile Hardware

There is not a single device that can run without hardware because it is the fundamental part of the embedded IoT. If you have decided to come into the field of IoT then you need to enhance your skills in knowing what hardware is, where it is used, which components are used to integrate, and so on. You need to develop an understanding of the operating systems that are required to run the hardware.

Networking

The Internet is used to link IoT devices to a network. To understand the specifics of device connection and how they interact over a network, you must grasp networking. You need to be familiar with the switches, hubs, and other hardware components that make up a network.

GPS & User Interface

An IoT expert needs to build knowledge about GPS because many sensors are location-based and the user interface should be designed simple so that the users can easily use these devices easily.

yourself a promising career in IoT Training Institute in Chennai by enrolling in the IoT Training and Placement Program offered by 360DigiTMG.

Like the creation of an IoT device, many additional talents are required. You may connect to a number of open-source websites that direct you in the creation of various gadgets, such as the Raspberry Pi.
Conclusion
The IoT business needs highly qualified workers since it is growing swiftly. If you want to have a future in IoT, you must acquire the aforementioned abilities.
IoT Training Institutes in Other Locations
Ahmedabad, Bangalore, Chengalpattu, Chennai, Hyderabad, Kothrud, Noida, Pune, Thane, Thiruvananthapuram, Yelahanka, Andhra Pradesh, Anna Nagar, Bhilai, Calicut, Chandigarh, Chromepet, Coimbatore, Dilsukhnagar, ECIL, Faridabad, Greater Warangal, Guduvanchery, Guntur, Gurgaon, Guwahati, Hoodi, Indore, Jaipur, Kalaburagi, Kanpur, Kharadi, Kochi, Kolkata, Kompally, Lucknow, Mangalore, Mumbai, Mysore, Nagpur, Nashik, Navi Mumbai, Patna, Porur, Raipur, Salem, Surat, Thoraipakkam, Trichy, Uppal, Vadodara, Varanasi, Vijayawada, Vizag, Tirunelveli, Aurangabad
Navigate to Address
360DigiTMG - Data Science, Data Scientist Course Training in Bangalore
No 23, 2nd Floor, 9th Main Rd, 22nd Cross Rd, 7th Sector, HSR Layout, Bengaluru, Karnataka 560102
1800-212-654-321