Where Can I Learn IoT For Free?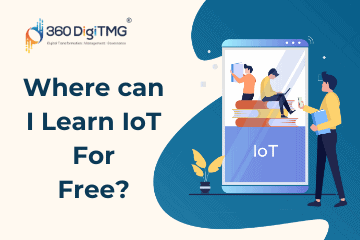 Introduction:
The Internet of Things (IoT) has had a significant impact on people's lives. Its quick expansion has made it a popular issue among the public. Many individuals are employed in the IoT sector and have good lives. IoT will become more and more popular in the future, as will the number of IoT devices. Every year, the corporations advertise several job openings using IoT technology. Because of this, a lot of individuals are entering this industry, but employers would rather recruit someone with greater domain expertise or IoT foundational knowledge. Many websites provide free IoT courses. This post will be beneficial for you if you want to begin a career in IoT. It will direct you to a page where you may get free IoT education. So, if you're interested in learning more about IoT, stay reading.
Becoming a IoT is possible now with the 360DigiTMG IoT Fundamentals. Enroll today.
Sources to learn IoT for free
Multiple sources offer free learning of IoT. You can learn it and get hands-on practice to gain experience on online platforms. You can learn from the following sources:
Online lectures
Watch video tutorials of IoT
Getting admission into some online course
Joining some IoT platforms
Web pages, articles, blogs on the internet
Websites that offer courses of IoT without any cost like Udemy, EdX, and Coursera, etc.
Free courses of IoT
You may read about online courses that you can take for free in this area. You should enrol in these courses if you're interested in the exciting topic of IoT. These courses are still useful to you even if you already work in the IoT sector. The firm will favour you more since you are senior and have more experience if you complete any of the courses, which will raise your value. Your pay may improve as a result. Many courses are freely accessible online. The list below discusses a few of them.
Looking forward to becoming a IoT Institute Trainer Check out the Internet of Things Course in Pune and get certified today.
IoT Programming and Big Data

This course is offered by Curtin University and powered by EdX. In this course, you will learn about the implementation of different software to solve the requirements of big data in IoT. This is a top-rated course, and you can freely enroll in it. No doubt the lectures and learning material are free but if you want a certificate after completion then you need to pay a fee. This does not mean that learning will go to waste if you do not get the completion certificate. At the time of hiring, the companies usually hire you according to your performance in trial days.

Duration

You simply need to study for 5 hours every week over the course's 5 weeks. And how quickly you learn will affect how long it takes. If you have studied the subjects in advance, you may go on to the next one right away.

Syllabus

You will learn the software requirement in IoT, how data is managed in IoT, creating Python scripts to manage massive data, etc.

AWS IoT: Developing & Deploying an IoT

This course instructs students on how to create and implement secure Internet of Things solutions. AWS is offering this course, and EdX is powering it. All across the world, there are numerous Internet of Things (IoT) devices that require rapid solutions for data collecting, storage, and analysis. Because of this, AWS offers a wide range of services to help people create IoT solutions. It will go through various security aspects including the Amazon Web app. But in order to enrol in the course, you must have prior application development expertise.

Cost

You can enroll in the course and can access and download all the material that is taught in the course. But if you need a certificate you need to pay a fee.

Being a IoT Trainer is just a step away. Check out the Internet of Things Training in Bangalore at 360DigiTMG and get certified today.

Duration

The course is approximately 4 weeks long and you can learn it by only spending 3 or 4 hours per week.

Introduction to Internet of Things

The Stanford School of Engineering is responsible for providing and supporting this course. This course gives students a thorough understanding of IoT and introduces them to some of the field's most fascinating topics. Students can get an overview of the graduate degree certificate programme in this quick course. Applications, sensors, embedded systems, circuits, networking, etc. will all become clear to you.

Requirements

There is no prerequisite to learning this course. No matter what knowledge you have, you can learn it. But if you want to enroll yourself in a graduate certificate then you must show the reason why you want to take this certificate.

Cost

The course is available free of cost and you can learn it without any issues regarding fees.

Duration

This course can be learned after 60 days of enrollment. You can learn and download videos during this period.

Industrial IoT Markets and Security

The University of Colorado in Boulder is offering this course on Coursera. You will learn in this course how to create the IoT market infrastructure of the future. If you are interested in security and the industrial sector, you may enrol in this course.

To learn more about Internet of Things, the best place is 360DigiTMG, with multiple awards in its name 360DigiTMG is the Best place to start your Best IoT Training in Hyderabad. Enroll now!

Duration

This course is 5 weeks long and you can learn it by merely spending 4 to 5 hours a week.

Cost

You can freely learn this course from Coursera.

Introduction to programming with IoT Boards

The Pohang University of Science and Technology (POSTECH) is the provider of this Coursera-based course. You will learn IoT in this course using IoT programming platforms like Raspberry Pi and Arduino. You will gain knowledge of several programming languages used in the Internet of Things to create various components.

Duration

This is a very short course and is almost 7 hours long. You can learn the course in 5 weeks which means you have enough time to learn the course.

Cost

You can enroll yourself for free on Coursera and learn this course.
360DigiTMG the award-winning training institute offers a Internet of Things Course in Chennai, and other regions of India and become certified professionals.
Conclusion
IoT is becoming the most sought-after industry in the world as it gains popularity daily. As a result, it is changing swiftly. IoT courses are available for free from a variety of sites. If you're interested in IoT, you may study in these courses and graduate ready to work in the industry.
IoT Training Institutes in Other Locations
Ahmedabad, Bangalore, Chengalpattu, Chennai, Hyderabad, Kothrud, Noida, Pune, Thane, Thiruvananthapuram, Yelahanka, Andhra Pradesh, Anna Nagar, Bhilai, Calicut, Chandigarh, Chromepet, Coimbatore, Dilsukhnagar, ECIL, Faridabad, Greater Warangal, Guduvanchery, Guntur, Gurgaon, Guwahati, Hoodi, Indore, Jaipur, Kalaburagi, Kanpur, Kharadi, Kochi, Kolkata, Kompally, Lucknow, Mangalore, Mumbai, Mysore, Nagpur, Nashik, Navi Mumbai, Patna, Porur, Raipur, Salem, Surat, Thoraipakkam, Trichy, Uppal, Vadodara, Varanasi, Vijayawada, Vizag, Tirunelveli, Aurangabad
Navigate to Address
360DigiTMG - Data Science, IR 4.0, AI, Machine Learning Training in Malaysia
Level 16, 1 Sentral, Jalan Stesen Sentral 5, Kuala Lumpur Sentral, 50470 Kuala Lumpur, Wilayah Persekutuan Kuala Lumpur, Malaysia
+60 19-383 1378