Data Analyst Salaries in India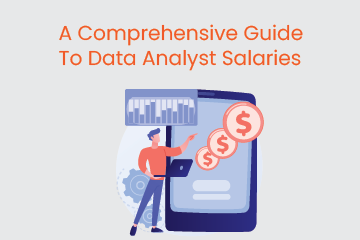 In recent years, and particularly during the Covid-19 outbreak, there has been an increase in the demand for data analysts. Due to the increased demand for highly qualified data analysts, incomes have also increased. PayScale says the average pay for data analysts working for businesses and consulting firms is $64,000. However, a lot relies on the data analyst's quality and years of experience, their technical skills, the company, the location, and the industry.
What is Data Analytics?
Let's begin with a basic explanation of data analytics to understand the average data analyst's salary better.
How do businesses learn about the state of their business? How do they modify their business model based on their present sales and consumer demographics? How do they prevent mistakes or learn from mistakes already made? These questions can be quickly answered by evaluating their data.
Companies are becoming increasingly aware that developing data intelligence is the only way to succeed in the modern day. They need data analyst abilities to accomplish this: a person who understands and analyses data from surveys, marketing initiatives, and purchase statistics.
A company's success or failure may depend on its ability to analyze data effectively and understandably communicate findings. As a result, the average data analyst's salary is typically relatively high because data analysts play a significant role in guiding corporate strategy.
Over the following ten years, there will likely be an increase in the need for data analysts. According to LinkedIn's Workforce Report for 2021, there is an increasing need for data analysts in all sectors of the American economy.
While some industries pay more, data analysts should anticipate making a respectable living across all sectors and degrees of experience. Given the enormous demand for people with the necessary abilities, now is a great time to retrain and enter the field of data analytics.
Skills Necessary for the Data Analyst Job Description:
Comprehensive domain knowledge:

Knowledge of data analytics helps solve issues. They must comprehend the variables in a firm, the levers they might be able to pull to improve things significantly, and the external and internal forces that are influencing its expansion, and model all significant judgments in accordance.

Statistics and Math:

Any problem you face will require you to make decisions with objectivity. It would help if you relied on mathematics and statistics to make decisions objectively. Things like finding patterns, segmenting data, and making forecasts based on the past are necessary.

Technical Knowledge:

You can locate and resolve an issue by combining your mathematical abilities with domain knowledge. But most companies are not as straightforward. It will help if you thoroughly use R, Python, SQL, etc. since you will have to work with data sets far beyond your mathematical capabilities. And to be able to replicate your algorithms and business solutions at scale.

Soft Skills:

Last but not least, among data analytics abilities, you should be able to explain your solution to the stakeholders in the most straightforward possible terms. Although they might need to become more familiar with KS Statistics, root mean square error, or your clustering approach, your soft skills will still be helpful.
How Much Salary Are Data Analysts Making?
The LinkedIn community reports that the US average income for data analysts is $90,000. Based on experience, region, industry, firm type, etc., analysts can make up to $125,000 annually. Over and above your income, you can also receive sign-on incentives and annual bonuses.
Data Analyst:

Finding trends, patterns, and relationships in the gathered data and concluding are the primary duties of a beginning data analyst. They also employ data mining tools to arrange the information and offer reports to stakeholders. Finally, organizations use these insights to make strategic decisions.

Despite these advantages, a degree in mathematics or statistics is not a requirement for employment as a data analyst. In addition to having excellent technological abilities, many companies today are willing to hire employees with a minimum education and a data analytics certification.

Responsibilities of a Data Analyst:

To examine and mine corporate data to find connections and valuable patterns among various data pieces.
To personalize consumer-centric algorithm models to meet distinct customer requirements.
To develop and implement unique models to find solutions to commercial questions about, for example, the effectiveness of marketing tactics, consumer taste, preference trends, etc.
To map and trace data from many systems to address specific business issues.
To create SQL queries to retrieve data from the data warehouse and find solutions to challenging business problems.
To perform consumer data analysis and research using statistical approaches.

Salary of a Data Analyst in India:

A mid-career data analyst with an experience of 5 - 9 years can make a salary of up to Rs 6,03,120, depending on the organization they are working for and the location of the working place. In India, a data analyst with an experience of 1 - 4 years has a gross earning (including tips, bonuses, and overtime pay) of Rs 3,96,128. And if you are a seasoned and professional data analyst with ten to nineteen years of industry expertise, you can expect an average salary of Rs 9,00,000.

Marketing Analyst:

A marketing analyst (MA) is similar to a business analyst, except that the MA focuses on marketing data to gain insights into sales, markets, channel performance, and promotions. A master's degree (MA) combines research abilities, analytical abilities, and marketing expertise, including knowledge of client profiling, ROI calculations, and advertising channel performance. For instance, a marketing analyst must understand conversion rates, cost per conversion, client lifetime value, and other related concepts.

MAs use Google Analytics, internet advertising, and CRM applications in addition to the tools used by data analysts (such as Python or R).

Responsibilities of a Marketing Analyst:

Researching target markets, competitive brands, and consumer and market trends.
Creating and putting into practice market and consumer surveys.
Collecting, examining, and interpreting data related to marketing.
Creating in-depth reports on customer behavior, rival activity, performance, and sales.
Keeping track of existing clientele and seeking out new ones.
Predicting future consumer, market, and sales patterns.
Collaborating on the development of marketing strategies with the marketing team.
Interacting with clients, competitors, and suppliers.
Utilizing analytical technologies and analytics to track the effectiveness of marketing trends.
Keeping up with the most recent developments in science, business, and consumer behavior.

Salary of a Marketing Analyst:

According to the amount of experience, the starting salary for a marketing analyst is $59,400 and can reach $122,000. Additionally, this position can advance to becoming a senior analyst, marketing consultant, or strategist with a better salary.

Data Engineers:

A Data Engineer's primary responsibility is to plan and build a solid infrastructure for converting data into formats that Data Scientists can use. Data engineers must not only create scalable pipelines to convert semi-structured and unstructured data into accessible formats but also find significant trends in massive datasets. Data engineers primarily focus on preparing and improving raw data so that they can use it for operational or analytical purposes. Unfortunately, there are many misconceptions regarding data engineers, and the majority of them are untrue.

Responsibilities of Data Engineers:

Integrate, compile, and purify data gathered from many sources.
Data scientists should prepare raw data for manipulation and predictive/prescriptive modeling.
Create the infrastructure required for the best possible data extraction, transformation, and loading from various sources using SQL, AWS, and other big data technologies.
Build data pipelines using advanced analytics software, machine learning algorithms, and statistical methods.
To meet the needs of the functional and non-functional business requirements, assemble enormous and complicated data sets.
Find and create creative solutions that enhance data quality, efficiency, and dependability.
Create, assemble, evaluate, and maintain data architectures.

Salary of a Data Engineer in India:

Based on Glassdoor, the average Data Engineer salary in India is Rs. 8,56,643 LPA. Of course, a number of variables affect the Data Engineer compensation, such as the company's size and reputation, location, educational background, position held, and experience. However, data engineers are typically paid well by reputable businesses and significant participants in the Big Data sector, including, but not limited to, Amazon, Airbnb, Spotify, Netflix, IBM, Accenture, Deloitte, and Capgemini. Additionally, your market value also increases the more Big Data-related employment experience you have.
Salary for Data Analysts Depending on Experience:
Salary of an Entry-Level Data Analyst:

Of the three groupings of these professions, data analysts at the E level earn the least money. The average annual salary for entry-level data analysts, according to Glassdoor.com, is roughly $34,500. It indicates that a data analyst of this kind might make about $2875 a month. As you can see, this is far less than the $3700 monthly average US salary. But taking everything into account, it's still quite decent!

Salary of a Junior-Level Data Analyst:

Junior data analysts get an average salary of $5833 a month, or roughly $70,000 annually. What can we infer about this number right now? First, it's undoubtedly clear to you that this sum is much higher than the national average wage in the US. Why does this matter? Therefore, there are probably more seasoned junior data analysts than inexperienced ones.

Salary of a Senior Level Data Analyst:

According to Glassdoor, a senior data analyst makes just under $107,000 annually, or $8916 per month. This figure suggests that all the rumors are accurate, so it is safe to say that.

We're discussing a senior data analyst's salary; these professionals have worked in the area for a significant portion of their careers! Therefore, it is only fair that their compensation reflects their dedication to their job.
Salary of a Data Analyst by Location:
The place of employment has a significant impact on data analysts' salaries. The compensation range for data science analysts is higher in the United States than in India, as shown in the graphic below. The most significant cities in the US for high incomes are Washington, New York, Charlotte, Atlanta, and Dallas. Hyderabad, Chennai, and Tamil Nadu are the cities with the highest-paid data analyst jobs in India, followed by Bangalore, Mumbai, and Noida.
Data Analyst Salaries by the Top Countries:
(Source: Payscale)
US: The average salary for data analysts annually in the US is $65,934.
India: The average salary for a data analyst annually in India is Rs. 1479,565.
United Kingdom: The average annual salary for data analysts in the UK is £28,317. Additionally, the average yearly pay for data analysts in London is £32,413
Canada: A data analyst in that country earns a yearly income of C$59,092. And the annual average pay for data analysts in Toronto is C$59,886.
Australia: The average annual income for a data analyst there is AU$72,808.
New Zealand: The average yearly salary for data analysts in New Zealand is NZ$63,979.
Singapore: A data analyst in Singapore makes an average base income of S$51,088 per year.
Germany: The annual salary of a data analyst there is €46,922
South Africa: A data analyst reported earning R288,498 per year in that country.
Ireland: The average annual income for a data analyst in Ireland is €35,712
Salary of a Data Analyst by Industry:
The sectors that profit most from big data analytics offer the highest data analyst salaries. Technology, healthcare, financial, and government organizations are a few of these.
Government:

Governments at all levels deal with enormous amounts of infrastructure, transportation, public health, and law enforcement data that need to be structured and analyzed to find better ways to implement programs and creative solutions to problems. It is the rationale behind employing data analysts by numerous government organizations, such as the FDA, Department of Transportation, Environmental Protection Agency, NASA, Census Bureau, FBI, and others.

A data analyst typically earns $103,734 a year in the US Federal Government.

Technology:

Data analysts are in high demand since they play a crucial role in tech businesses. However, there are several different kinds of tech organizations, and depending on each job's objectives and nature, your function as an analyst will vary slightly.

The average annual salary for a data analyst in software and IT services is $65,000, according to LinkedIn. However, pay at top firms is frequently substantially higher.

Finance:

Financial institutions and legacy banks rely on data exploitation to remain competitive and strive for profitability. Financial data analysts provide solutions for safeguarding client data, categorizing customers, algorithmic trading, uncovering fraud, underwriting, credit scoring, risk modeling, lending, and loan appraisal, among other things.

According to Glassdoor, the annual average salary for a financial data analyst is $64,375, but for individuals with suitable expertise, this can reach $200,000.

Healthcare:

Every day, the healthcare sector must manage thousands of megabytes of unstructured data. Hospitals and other healthcare facilities hire data analysts to decode fragmented data from patient files, clinical trials, and billing information and turn it into actionable insights.

The healthcare sector is quickly becoming one of the top employers for data analysts, according to the over 35,000 job ads on LinkedIn alone. In addition, the typical pay for a data analyst in the healthcare industry is above average, coming in at $72,595.
Get Enrolled in 360digiTMG:
At 360digiTMG, we want to give students practical experience with various cutting-edge data analytics tools and technologies through multiple data analytics projects. By allowing you to enter the analytics market through various completed end-to-end data science and analytics projects that increase your lifetime earning potential as a data analyst, 30digiTMG assists you in shrewdly gaining real-world analytics experience. Furthermore, working on these full-cycle projects will teach you all the skills you need to advance your data analyst career and earn big earnings.
Click here to learn Data Science Course, Data Science Course in Hyderabad, Data Science Course in Bangalore
Data Science Training Institutes in Other Locations
Agra
,
Ahmedabad
,
Amritsar
,
Anand
,
Anantapur
,
Bangalore
,
Bhopal
,
Bhubaneswar
,
Chengalpattu
,
Chennai
,
Cochin
,
Dehradun
,
Malaysia
,
Dombivli
,
Durgapur
,
Ernakulam
,
Erode
,
Gandhinagar
,
Ghaziabad
,
Gorakhpur
,
Gwalior
,
Hebbal
,
Hyderabad
,
Jabalpur
,
Jalandhar
,
Jammu
,
Jamshedpur
,
Jodhpur
,
Khammam
,
Kolhapur
,
Kothrud
,
Ludhiana
,
Madurai
,
Meerut
,
Mohali
,
Moradabad
,
Noida
,
Pimpri
,
Pondicherry
,
Pune
,
Rajkot
,
Ranchi
,
Rohtak
,
Roorkee
,
Rourkela
,
Shimla
,
Shimoga
,
Siliguri
,
Srinagar
,
Thane
,
Thiruvananthapuram
,
Tiruchchirappalli
,
Trichur
,
Udaipur
,
Yelahanka
,
Andhra Pradesh
,
Anna Nagar
,
Bhilai
,
Borivali
,
Calicut
,
Chandigarh
,
Chromepet
,
Coimbatore
,
Dilsukhnagar
,
ECIL
,
Faridabad
,
Greater Warangal
,
Guduvanchery
,
Guntur
,
Gurgaon
,
Guwahati
,
Hoodi
,
Indore
,
Jaipur
,
Kalaburagi
,
Kanpur
,
Kharadi
,
Kochi
,
Kolkata
,
Kompally
,
Lucknow
,
Mangalore
,
Mumbai
,
Mysore
,
Nagpur
,
Nashik
,
Navi Mumbai
,
Patna
,
Porur
,
Raipur
,
Salem
,
Surat
,
Thoraipakkam
,
Trichy
,
Uppal
,
Vadodara
,
Varanasi
,
Vijayawada
,
Vizag
,
Tirunelveli
,
Aurangabad
Navigate to Address
360DigiTMG - Data Analytics, Data Science Course Training in Chennai
D.No: C1, No.3, 3rd Floor, State Highway 49A, 330, Rajiv Gandhi Salai, NJK Avenue, Thoraipakkam, Tamil Nadu 600097
1800-212-654-321