Your Complete Guide On What Are The Duties Of A Data Analyst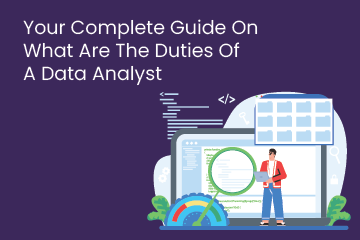 Online, there is a never-ending stream of opinion and conversation concerning data analytics. Finding a straightforward explanation of what a data analyst performs daily is only sometimes simple, though. The fact that data analytics is frequently grouped alongside similar disciplines like data science, machine learning, artificial intelligence, and business analytics makes this more challenging. These fields rely heavily on data analytics, yet that discipline is separate in and of itself.
These solutions and insights are necessary for organizations across all sectors to make better decisions. For example, data analytics are used in manufacturing, marketing, health care, and B2B and B2C commerce to streamline operations and boost revenue.
Demand for these jobs is high. The U.S. Bureau of Labor Statistics states that there will be a 23 percent increase in analyst job vacancies between 2021 and 2031. More specifically, it is anticipated that there will be 13,500 new employment openings for data scientists annually. The average starting pay for data analysts at entry-level roles is in the $90,000 area, but with success in the profession, salaries for senior positions can approach $130,500.
What is Data Analytics?
To find and share data-driven insights that help stakeholders, managers, and other executives in an organization make more informed decisions, analytics puts theory and practice together. Experienced data analysts take into account a variety of external elements as well as the greater context of their business and the organization as a whole. In the data-based suggestions they provide to stakeholders, analysts can also take the competitive climate, internal and external corporate interests, and the unavailability of specific data sets into account.
By teaching students the principles of probability theory, data visualization, predictive analytics, statistical modeling, and risk management in the context of a corporate environment, a Master of Professional Studies in Analytics program helps students get ready for a future as a data analyst. Additionally, a master's in analytics provides students with the programming languages, database languages, and software applications necessary for a data analyst's day-to-day tasks.
What Is a Data Analyst?
Data analysts gather and examine vast amounts of data and information to identify trends and valuable insights.
Generally speaking, a good data analyst will help organizations by understanding customer needs and detecting chances to assist in making data-driven decisions that ultimately enhance business profits. In addition, to increase efficiency, they will also analyze products and business procedures using data.
Data analysts work in fields as diverse as mining and epidemiology to finance and political campaign management. They frequently collaborate with colleagues from many disciplines. As an illustration, tracking the rates at which website visitors become customers provides information that enables a digital marketer to follow a potential consumer from the moment they land on a landing page until they make a purchase. The marketer may learn what happens at each stage and determine the effective material and why. The work of data analysts is crucial throughout a company because of this.
Most data analysts are bachelor's degree holders, though only sometimes in a related subject. Professionals who wish to acquire the technical data skills and expertise needed to transition into entry-level Data Analyst employment increasingly turn to data analytics courses as a training alternative.
Why is Data Analysis Important?
Data analytics is significant for two distinct reasons. First, it helps with decision-making, to start. Second, there are a lot of data that back it up. These two qualities work well together to make data analytics a potent tool. It is much more scientific to make conclusions based on empirical evidence rather than intuition or "gut feeling." Even if it's not always accurate, data analytics is the most reliable tool for forecasting future trends and drawing conclusions about the past.
In the modern world, data analytics has a wide range of uses. Data analytics, for instance, is commonly advertised online as a tool for business information, such as predicting future sales or directing product development and marketing spending.
What Skills and Abilities are Necessary to Work as a Data Analyst?
Programming expertise
Communication skills
Data Visualization
Machine learning
Database expertise
How I can become a data analyst must be something you're considering. The most often requested question—how to become a data analyst without experience—will be addressed in this section. One needs to have certain abilities to pursue a profession in data analytics. The following are some of the capabilities a data analyst needs:
Programming expertise: Most data science job duties would require expertise in specific programming languages. A computer programming language is used for all technical activities, from data cleaning and analysis to appropriate machine-learning techniques. Big data analysts need to be fluent in one language and have a few other valuable skills. People who work as data analysts gather data, clean it up, evaluate statistics, and display it using programming languages like R and SAS.
Analytical abilities: In a career as a data analyst, analytical skills show the candidate's capacity to research data and use logic to identify patterns or draw conclusions. Employees employ analysis to thoroughly examine speech, files, pictures, charts, and graphs to extract the most critical information. A successful data analyst possesses two essential qualities: originality and curiosity. Having a solid understanding of statistical methodology is necessary, but it is much more important to approach problems from an original and analytical perspective. It will assist the analyst in coming up with intriguing research queries that would aid clients in comprehending the subject.
Communication skills:The movement of knowledge from one place, person, or community to another is what communication is all about. One transmitter, one message, and one receiver are needed for communication. Although it can seem simple, communication is a complicated problem. Big data analysts must effectively explain their findings to a customer or a small group of business executives. Successful communication is essential.
Data visualization: In a data analyst's profession, visualization can provide useful information to stakeholders, investors, and other team members by converting enormous amounts of abstract data into detailed visuals and diagrams. It is crucial to use a variety of strategies to visualize data effectively. Data analysts use different diagrams for different audiences, enlarge visualizations, and customize graphs based on their audience's needs.
Machine learning: It is a data analytics technique that makes it easier to create analytical models. It involves the idea that machines can learn from data, spot patterns, and form opinions without the assistance of humans. As a result, there can always be more emphasis on the importance of machine learning skills in data analytics career paths, even though data analyst roles typically do not require such skills.
Database expertise: The functions of database querying languages are the creation, reading, updating, and deleting of tables in a database. The majority of data scientists, software developers, data analysts, and other data-using professions employ database querying languages, which are descriptive and domain-specific. Most data analysts use SQL as their primary compilation language, and there are different dialects of SQL, including PostgreSQL, T-SQL, and SQL.
How do you Become a Data Analyst?
There are various routes one may take to become a data analyst. However, the first stage is frequently determining what transferable abilities you already have and developing the new skills you'll need in this new work, whether you're just getting out of college or looking to change careers.
Defining an objective:

The first step is to establish your goal. It is the most challenging step in the procedure. An apparent issue could not necessarily represent the root of a problem.

Aptitude for coding:

Data analysts must have a passion for numerics and a desire to use them in programming.

Howe advises learning to code to make your work reproducible and allow for further development. Then, the only options left to you are to teach others how to do it or continue doing it yourself forever if you can't write down a program that performs what you are doing.

The capacity to interpret data and draw conclusions:

"If you desire to be a data analyst, you need to be able to utilize statistical procedures correctly. You must enjoy math and excel at using numbers. Data must be viewed as a riddle or puzzle, and you must be able to say, "There's something in here that I want to find." Then you use your mathematical abilities to look for hints and solve that enigma."
What are the Duties of a Data Analyst?
Data analysts' tasks include gathering and cleansing data to show market trends and viewpoints. Building dashboards and designing and managing relational databases and systems for many departments across their organization are all skills that those who choose to pursue a career as a data analyst can learn to use with business intelligence tools like tableau and programming. Most data analysts collaborate with IT administrators, executives, and data scientists to identify organizational targets. After gathering and cleaning data from primary and secondary sources, professionals in the data analytics career path use essential statistical tools and techniques to analyze and interpret the results. In other instances, they locate patterns, resemblances, and trends in large data sets to find possible chances for product creation. Producing documentation based on observations and corresponding with numerous stakeholders are tasks listed in a data analyst's job description.
Data Gathering:

Information was acquired from a variety of sources. Data custodians, including internal information management staff, may receive the specifications from analysts. Environmental tools like traffic cameras, satellites, monitoring equipment, and many others can also be used to collect data. Presentations, online resources, or other material may also provide access to this.

Processing data:

Organizing the obtained data for processing or processing requires prior preparation. For example, data may be organized in rows and columns and in a tabular format and incorporated in a table sheet or statistical software for further analysis.

Data Cleaning:

The data can be complete once analyzed and compiled; sometimes, an error can occur. The need for data cleaning comes from data access and preservation problems. Data cleaning can be termed as preventing and correcting these errors. Typical tasks involve comparing information, recognizing inaccuracies, analyzing data quality, and determining duplications. Various analytical methods can pinpoint these data issues. For example, a textual spell checker can minimize mistyped phrases, but judging whether the sentences are appropriate can be much more challenging.

Data Analysis:

To start deciphering the messages in the data, analysts might utilize a range of methods referred to as observational data analysis. The exploration approach might clean up the data. To aid in explaining the findings, descriptive statistics, such as the average, may be generated. Data analysis in graphical form can also be done using data modeling to gain greater insight into the data signals.
What is the Future of the Data Analyst Profession?
Data analysts are in high demand across practically all corporate sectors regarding their careers. Most firms require a data analyst, and job prospects are excellent because the profession is crucial to business growth. The most effective option for students who wish to change their jobs and significantly increase their salaries is an executive program or certification from one of India's top B-schools. With a keen understanding of the sector, big data analysts might also explore several employment prospects. Data analytics is a field that combines computer science, business intelligence, statistics, sociology, and communication. These professionals must be highly skilled with numbers, excellent communicators, and abstract thinkers. Project preparation should benefit from tight collaboration between these analyses and the project manager. After completing specific requirements, a business analyst is promoted to managerial roles like a senior business analyst.
Key Responsibilities of a Data Analyst:
In general, however, data analysts are required to carry out the following duties daily:
Designing and managing databases and data systems, including resolving coding and other data-related issues.
Obtaining data from both primary and secondary sources, then reformatting it so that humans and machines can read it.
Using statistical methods to analyze data sets and paying close attention to trends and patterns could be helpful for efforts at diagnostic and predictive analytics.
Highlight the importance of their job in light of regional, societal, and global trends that impact their business and industry.
Creating executive leadership reports that use relevant data to communicate trends, patterns, and projections.
Collaborating with programmers, engineers, and corporate leaders to develop data governance policies, suggest system upgrades, and identify opportunities for process improvement.
Putting up the relevant documentation so that interested parties may grasp the Processes of the data analysis process and repeat or reproduce the analysis if necessary.
Get Started with 360digiTMG today:
Data analysis can also lead to other vocations—many who begin as data analysts later become data scientists. Data scientists study data similarly to analysts using arithmetic, statistics, and computer science. But a scientist can create models and other tools using cutting-edge methods to predict future trends.
If you're prepared to begin considering a career in data analysis, the Data Analytics Professional Certificate on 360digiTMG will help you develop work-ready abilities in less than six months. Learn from data experts at 360digiTMG how to clean, organize, analyze, visualize, and display data.
Click here to learn Data Science Course, Data Science Course in Hyderabad, Data Science Course in Bangalore
Data Science Training Institutes in Other Locations
Agra
,
Ahmedabad
,
Amritsar
,
Anand
,
Anantapur
,
Bangalore
,
Bhopal
,
Bhubaneswar
,
Chengalpattu
,
Chennai
,
Cochin
,
Dehradun
,
Malaysia
,
Dombivli
,
Durgapur
,
Ernakulam
,
Erode
,
Gandhinagar
,
Ghaziabad
,
Gorakhpur
,
Gwalior
,
Hebbal
,
Hyderabad
,
Jabalpur
,
Jalandhar
,
Jammu
,
Jamshedpur
,
Jodhpur
,
Khammam
,
Kolhapur
,
Kothrud
,
Ludhiana
,
Madurai
,
Meerut
,
Mohali
,
Moradabad
,
Noida
,
Pimpri
,
Pondicherry
,
Pune
,
Rajkot
,
Ranchi
,
Rohtak
,
Roorkee
,
Rourkela
,
Shimla
,
Shimoga
,
Siliguri
,
Srinagar
,
Thane
,
Thiruvananthapuram
,
Tiruchchirappalli
,
Trichur
,
Udaipur
,
Yelahanka
,
Andhra Pradesh
,
Anna Nagar
,
Bhilai
,
Borivali
,
Calicut
,
Chandigarh
,
Chromepet
,
Coimbatore
,
Dilsukhnagar
,
ECIL
,
Faridabad
,
Greater Warangal
,
Guduvanchery
,
Guntur
,
Gurgaon
,
Guwahati
,
Hoodi
,
Indore
,
Jaipur
,
Kalaburagi
,
Kanpur
,
Kharadi
,
Kochi
,
Kolkata
,
Kompally
,
Lucknow
,
Mangalore
,
Mumbai
,
Mysore
,
Nagpur
,
Nashik
,
Navi Mumbai
,
Patna
,
Porur
,
Raipur
,
Salem
,
Surat
,
Thoraipakkam
,
Trichy
,
Uppal
,
Vadodara
,
Varanasi
,
Vijayawada
,
Vizag
,
Tirunelveli
,
Aurangabad
Data Analyst Courses in Other Locations
ECIL
,
Jaipur
,
Pune
,
Gurgaon
,
Salem
,
Surat
,
Agra
,
Ahmedabad
,
Amritsar
,
Anand
,
Anantapur
,
Andhra Pradesh
,
Anna Nagar
,
Aurangabad
,
Bhilai
,
Bhopal
,
Bhubaneswar
,
Borivali
,
Calicut
,
Cochin
,
Chengalpattu
,
Dehradun
,
Dombivli
,
Durgapur
,
Ernakulam
,
Erode
,
Gandhinagar
,
Ghaziabad
,
Gorakhpur
,
Guduvanchery
,
Gwalior
,
Hebbal
,
Hoodi
,
Indore
,
Jabalpur
,
Jaipur
,
Jalandhar
,
Jammu
,
Jamshedpur
,
Jodhpur
,
Kanpur
,
Khammam
,
Kochi
,
Kolhapur
,
Kolkata
,
Kothrud
,
Ludhiana
,
Madurai
,
Mangalore
,
Meerut
,
Mohali
,
Moradabad
,
Pimpri
,
Pondicherry
,
Porur
,
Rajkot
,
Ranchi
,
Rohtak
,
Roorkee
,
Rourkela
,
Shimla
,
Shimoga
,
Siliguri
,
Srinagar
,
Thoraipakkam
,
Tiruchirappalli
,
Tirunelveli
,
Trichur
,
Trichy
,
Udaipur
,
Vijayawada
,
Vizag
,
Warangal
,
Chennai
,
Coimbatore
,
Delhi
,
Dilsukhnagar
,
Hyderabad
,
Kalyan
,
Nagpur
,
Noida
,
Thane
,
Thiruvananthapuram
,
Uppal
,
Kompally
,
Bangalore
,
Chandigarh
,
Chromepet
,
Faridabad
,
Guntur
,
Guwahati
,
Kharadi
,
Lucknow
,
Mumbai
,
Mysore
,
Nashik
,
Navi Mumbai
,
Patna
,
Pune
,
Raipur
,
Vadodara
,
Varanasi
,
Yelahanka
Navigate to Address
360DigiTMG - Data Analytics, Data Science Course Training in Chennai
D.No: C1, No.3, 3rd Floor, State Highway 49A, 330, Rajiv Gandhi Salai, NJK Avenue, Thoraipakkam, Tamil Nadu 600097
1800-212-654-321