How To Become A Successful Data Analyst? Complete Guide On Data Analyst Career Path To Succeed Your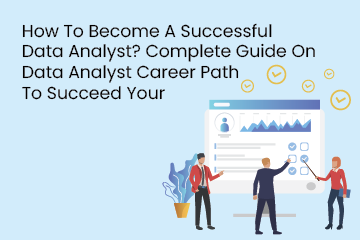 When pursuing a career in data analytics, it's crucial to consider the big picture. For example, what will happen after you become a certified data analyst? What kind of career path can you expect to take?
This blog outlines some of the most typical career pathways for data analysts. By the time you're done, you'll be able to identify how to begin a career as a data analyst and where it can lead you when you get your foot in the door.
It's a good thing that data analysis is a broad and varied area that combines various disciplines, such as information technology, business analysis, project management, and more. ‌ However, this implies that a data analysis professional's career path may fluctuate depending on the interests and preferences of a particular person.
What Do Data Analysts Do?
Data analysts sort through mountains of data to look for trends, forecast future events, and gather information to help their companies make business decisions. Your employer greatly influences the path your data analyst career will take. Large investment banks, hedge funds, and private equity firms on Wall Street employ data analysts. They also work in marketing, retail, and the healthcare sector. Data analysts are, in general, found everywhere. You can also find them in significant insurance organizations, credit bureaus, technological corporations, and just about any sector you can imagine. Massive tech firms like Meta (previously Facebook) and Google thoroughly study big data. To accomplish this, they hire many of the best data analysts for various tasks, including advertising, internal analysis, and a significant amount of user analysis.
The managerial track is the most popular career route for analysts at financial organizations like investment banks once they graduate from entry-level positions. Your supervisors will look to you as someone who can guide the following hiring group if you demonstrate that you are among the finest in your group. In addition, if you indicate your managerial abilities, you can consider a career as a department head or vice president.
Data analysts are frequently referred to as information scientists by businesses. Typically, this classification entails using a company's confidential database. Since many information scientists deal with core database infrastructures, they also develop abilities in other relevant technological areas, including constructing and developing data infrastructure. One industry that uses and substantially relies on information scientists for data gathering, mining, and analysis is the government sector. Information scientists are also needed for the deep data infrastructures used by the insurance and healthcare industries.
Data Analyst Career Path: Exploiting Salary and Job Trends:
By 2025, the big data market can expect to be worth $229,4 billion. Why does this matter? Along with the data business, demand for data analysts is rising fast. The World Economic Forum research identifies seven new professions with significant growth rates, with data and AI having a tremendous growth rate at 41% annually. Since there need to be more data analyst specialists to fill this need, businesses view data analytics as one of the most challenging fields to serve. In the US, there are more than 461,000 positions for data analysts, ranging from junior or entry-level positions to senior analysts.
Similarly, there are over 111,000 job openings for data analysts across India's diverse businesses. There is a high demand for data analyst specialists globally, as seen by the growth in the number of data analysts employed. It is safe to assume that data analysts will remain in demand for a long time.
Another major factor supporting your goal to become a prosperous data analyst in 2022 is the enormous need for their services. Data analysts in the USA make an average salary of $67,196 per year. Data analysts with the least experience can expect to make $46,734 annually, while those with the best experience may make up to $106,770 annually. The average yearly income of a data analyst in India is 4.3 Lakhs, with payscale ranging from 1.8 Lakhs to 11.5 Lakhs. Entry-level data analysts begin with an annual income of 1.4 Lakhs, while seasoned data analysts make an average of 11 Lakhs.
Defining the Roles and Responsibilities of a Data Analyst:
A thorough understanding of data analysts' day-to-day duties is the next step in the professional path for data analytics. Suppose data professionals wish to further their careers in the field. In that case, they must know what a data analyst's responsibilities are and how they are different from those of other positions. Data analytics is looking at unprocessed data to learn insightful, beneficial information. Data analysts are in charge of producing these insights, which assist firms' decision-making processes.
The objective of data analysts is to offer detailed solutions to issues or problems that are crucial to the organization. To complete their duty, they must gather data from relevant sources (databases) and clean this unprocessed data in various ways. Finally, they analyze the produced data using data analysis to create insightful findings.
The following are some everyday duties entailed by a career in data analysis:
Creating and maintaining databases and data systems as required.
Locating and fixing any code issues necessary to make these databases work.
Using primary and secondary data sources for data mining and data wrangling.
Utilizing relevant data, produce in-depth reports outlining trends, patterns, and forecasts.
Statistical data analysis and attentive observation of trends and patterns may be beneficial for diagnostic and predictive analytical tasks.
Create the appropriate documentation to enable stakeholders to comprehend the steps in the analytic process and, if needed, replicate it.
Working with other data team members, such as data scientists, data engineers, and analytics engineers.
What Data Analysts Do: How to Become a Data Analyst?
Collecting and separating data that is numerical.
Identifying patterns, trends, and algorithms in the data.
Number interpretation.
Market research analysis.
Relating these decisions to the business.
You must love numbers, be able to glean valuable insights from processed data, and have the ability to effectively express these insights in the visual form if you want to succeed as a data analyst. One cannot pick these abilities overnight. Anything is attainable with perseverance, diligence, and appropriate leadership. And indeed, everything starts with a plan.
Career Paths for Data Analysts to Become Successful Data Analysts:
Professional data analysts can choose a career path depending on their interests and talents. The standard career path for a data analyst begins with a position as an analyst 1, then moves on to analyst II, senior analyst, data scientist, and finally, chief technology officer. You, therefore, have a long future of consistent job growth ahead of you if you choose to pursue a profession in data analysis. Continue reading for some potential career paths for data analysts. ‌
Marketing Data Analyst:

To flourish in the sector, every organization depends on marketing data analysts. Marketing data analysts have specialized knowledge in both quantitative and qualitative market analysis. They thoroughly examine the market data, evaluate the findings, and support various commercial operations, such as assisting companies in understanding how their marketing methods affect their expansion. A marketing data analyst's ultimate objective is to use data to make an optimal and workable choice about market tactics. A marketing analyst uses numerous analytics and machine learning approaches to analyze an organization's data. Furthermore, they employ data visualization to produce thorough reports on Key Performance Indicators and the ROI of different marketing strategies. Analytics is another tool a marketing analyst utilizes to monitor email campaign KPIs like delivery, open, click-through, etc.

To speed up their market expansion, numerous top corporations employ marketing analysts. For example, marketing analysts and Salesforce collaborate to provide analytics tools and promote their software. In addition, to support its internal business operations and broaden its marketing platform, Google employs many marketing analysts.

Entry-Level Data Analyst:

Finding the message that a piece of data is trying to express is the same task for all data analysts. However, the roles vary depending on the position and level of seniority. For example, you won't be handling independent business-critical duties as a beginning data analyst. Instead, entry-level data analysts collaborate in groups under the general supervision of senior analysts or consultants.

In a company setting, entry-level data analysts frequently play the following roles:

Data Collection: You gather data from dependable, accurate, and secure sources. You will then need to capture this data and keep it in already-existing databases or data storage systems.

Data cleaning: Not all collected data you can utilize in the interpretation, analysis, or decision-making processes. Data must first be "cleaned" to be processed further. Data cleaning is carried out by entry-level data analysts through various tasks like standardization, finding missing values, and de-duplication.

Producing reports: You will need to generate reports regarding your findings after performing fundamental analyses, primarily utilizing programs like Power Bi and MS Excel.

A senior business analyst and an entry-level data analyst have different levels of expertise in data analysis. Other distinctions include:

Education: Senior analysts may have a master's degree or higher in their respective professions, but entry-level analysts are frequently bachelor's degree holders.

Experience: Senior analysts have more experience and contributed to various initiatives throughout their careers.

Programming Knowledge: Senior analysts are frequently proficient in various programming languages, including Python and R.

Analytics Skills: Senior analysts have accumulated specialized analytical abilities through time that can only be achieved via extensive practice.

HR Data Analyst:

Any organization's HR processes and data are gathered, arranged, examined, and reported on with the help of the HR analyst. These analysts compile and analyze HR metrics and data from various sources, including payroll outputs, the human resource information system (HRIS), employment records, management and employee surveys, official labor statistics, etc. HR analysts examine employee and candidate data before entering it into the appropriate HR databases. They also plan and present to the entire organization-specific training sessions and presentations on HR-related topics. Leading businesses like Reed and Pepsico hire HR analysts to maintain and update their HR systems, create channels for HR management to get workforce insights, and convert workforce data and insights into actions.

Data Analytics Manager or Director:

To turn raw data into business insights, data analytics managers develop and put into practice complete business strategies and tools. Later, you can use these insights from other company specialists to develop organizational decisions and plans.

Here are some duties that an analytical director or manager may have:

Creating and constructing data models, reporting systems, data automation systems, and performance measurements.
Creating technical procedures to address business problems.
directing the delivery of insights and reports for performance metrics and business function analysis.
Hiring entry-level analysts.
Keeping data reporting and deliveries accurate.
Analyzing the outcomes of analytical projects and communicating them to the sales department, stakeholders, leadership, and product teams.
Establishing departmental standards and quality controls to satisfy organizational requirements.
Communicating to internal and external stakeholders the business consequences and results of insights.

Senior Data Analyst:

Beyond extraordinary analytical abilities, senior data analysts need to have other qualities. For example, they can manage junior analysts just starting their careers because they are senior team members. A senior analyst (or chief data officer) makes sure that everyone on the team follows business policies, stays abreast of emerging trends and certifications, picks up new skills, and takes on managerial responsibilities to oversee the division. Becoming a senior data analyst takes more than a bachelor's degree in data analysis and a few years of job experience. Senior analysts frequently need higher degrees and constantly expanding data analytics industry knowledge.

The following are the responsibilities of a senior data analyst:

Deliver statistics-driven insights, reports, and actionable advice to help your clients and business succeed.
To increase business revenue and preserve partnerships, develop cutting-edge and creative solutions in collaboration with client and supply account teams.
Work with other technical and product teams to collect customer feedback, test hypotheses, and assess the effects of product launches.
Identify projects impacting the company's revenue, specify the project's aims and objectives, and offer a plan of action to attain those goals.
Is a Career as a Data Analyst Right Pick for You?
With a profession in data analytics, you can employ a range of sophisticated talents to support core business operations. You'll be expected to demonstrate critical thinking, strategic analysis, and cross-functional communication abilities. You'll also need to be incredibly focused and determined to read through complex datasets daily. It could be a suitable career choice if you enjoy individual work and appreciate sharing insights with a broader team to help them progress.
Professionals in data analytics are adept at assembling crucial data, posing pertinent questions, and utilizing sound business judgment to offer crucial insights. After taking an online course from 360digiTMG, you'll grasp business tools like Microsoft Excel, Tableau, SQL, and more. In addition, you will get the knowledge and abilities you need to succeed in the industry in our Data Analytics Flex and Data Analytics Immersion courses.
Now is the Time to Pick the Best Career Path for a Data Analyst!
The continual pleasure of recognizing and addressing problems makes the data analytics sector so interesting, and most data analytics professionals are satisfied with their work. Who doesn't love being able to choose their job path, make a fantastic salary, and advance their professional development?
As soon as you master the principles of data analysis, you may create a profession that suits your skills and interests. The same knowledge, abilities, and practical experience are required for any job route for a data analyst, nevertheless, along with building a solid professional portfolio. Look into the 360digiTMG, which provides more than 250 projects on Big Data and Data Science to assist you in developing all the skills necessary for a career in data science. Additionally, you have lifetime access to the projects' LMS (Learning Management System) features and a comprehensive overview of all the projects to aid in your understanding of the solutions.
Click here to learn Data Science Course, Data Science Course in Hyderabad, Data Science Course in Bangalore
Data Science Training Institutes in Other Locations
Agra
,
Ahmedabad
,
Amritsar
,
Anand
,
Anantapur
,
Bangalore
,
Bhopal
,
Bhubaneswar
,
Chengalpattu
,
Chennai
,
Cochin
,
Dehradun
,
Malaysia
,
Dombivli
,
Durgapur
,
Ernakulam
,
Erode
,
Gandhinagar
,
Ghaziabad
,
Gorakhpur
,
Gwalior
,
Hebbal
,
Hyderabad
,
Jabalpur
,
Jalandhar
,
Jammu
,
Jamshedpur
,
Jodhpur
,
Khammam
,
Kolhapur
,
Kothrud
,
Ludhiana
,
Madurai
,
Meerut
,
Mohali
,
Moradabad
,
Noida
,
Pimpri
,
Pondicherry
,
Pune
,
Rajkot
,
Ranchi
,
Rohtak
,
Roorkee
,
Rourkela
,
Shimla
,
Shimoga
,
Siliguri
,
Srinagar
,
Thane
,
Thiruvananthapuram
,
Tiruchchirappalli
,
Trichur
,
Udaipur
,
Yelahanka
,
Andhra Pradesh
,
Anna Nagar
,
Bhilai
,
Borivali
,
Calicut
,
Chandigarh
,
Chromepet
,
Coimbatore
,
Dilsukhnagar
,
ECIL
,
Faridabad
,
Greater Warangal
,
Guduvanchery
,
Guntur
,
Gurgaon
,
Guwahati
,
Hoodi
,
Indore
,
Jaipur
,
Kalaburagi
,
Kanpur
,
Kharadi
,
Kochi
,
Kolkata
,
Kompally
,
Lucknow
,
Mangalore
,
Mumbai
,
Mysore
,
Nagpur
,
Nashik
,
Navi Mumbai
,
Patna
,
Porur
,
Raipur
,
Salem
,
Surat
,
Thoraipakkam
,
Trichy
,
Uppal
,
Vadodara
,
Varanasi
,
Vijayawada
,
Vizag
,
Tirunelveli
,
Aurangabad
Navigate to Address
360DigiTMG - Data Analytics, Data Science Course Training in Chennai
D.No: C1, No.3, 3rd Floor, State Highway 49A, 330, Rajiv Gandhi Salai, NJK Avenue, Thoraipakkam, Tamil Nadu 600097
1800-212-654-321