Applications of Data Analytics in the Oil and Gas Industry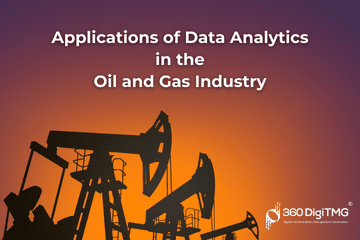 The main activity of the oil and gas sector is the extraction of crude oil and natural gas from the core of the earth. According to the science underlying the production of crude oil and natural gas, hydrocarbons are the fundamental elements that are a part of the earth's crust and are naturally occurring substances. Hydrocarbons, which are nothing more than the plants and animals that persisted for tens of thousands of years compacted in sedimentary rocks like sandstone, limestone, and shale, are the basis for the development of fossils. These sedimentary rocks are a product of ancient waters, and they include organic material from decomposing plants and animals. When subjected to specific temperatures and pressures, these biological compounds beneath the crust of the planet would eventually transform into oil and gas reserves. Oil and gas migrate through porous sedimentary rock towards the earth's surface because their densities differ from that of water (oil and gas have densities lower than water). These oil and gas reservoirs, which are buried behind less permeable cap rock, are what the gas and oil industry refer to as our sources of natural gas and crude oil. With an expected $5 trillion in worldwide revenue as of 2022, the oil and gas business is one of the greatest in terms of financial value in the whole globe. Oil has a significant influence on all aspects of the global economic system, including transportation, heating, energy, industrial output, and manufacturing.
The oil and gas sector relies heavily on data, and the businesses that deal with processing oil and gas will manage enormous amounts of data. It is crucial to always come up with innovative approaches to handle this volume of data. These systems include a variety of sensors that collect data in addition to the data that might be gleaned from the RFID network on Earth.
The process in the oil sector is shown in the graphic above, along with how these sensors are crucial to overall logistics and how data is produced during the whole process. Structured, unstructured, and semi-structured forms will be used to collect the data. These businesses handle both the massive amounts of historical data and the real-time data they get from these IoT sensors. This information should be processed, kept, studied, and tested to see what happens. Data analytics has a significant impact on the oil and gas business, whether it's improving safety precautions or return on investment. The oil and gas business relies on modern data analytics to run various processes. The position of progressive analytics in the oil and gas sector has been created by the industry's increasing reliance on data and the need to push the frontiers of research and production.
Also, check this Data Analytics Course to start a career in Data Analytics.
Oil and Gas Data Analytics for Ensuring Human Safety:
There are several internal and external elements that affect total finances when it comes to production costs in the oil and gas industry. The cost of drilling wells, installing pipelines, and logistics all play a significant role in determining how much oil and gas companies can produce. By increasing production efficiency using oil and gas data analytics, production costs may be reduced or stabilised. The businesses utilise rock analysis methods for things like locating reservoirs. Therefore, oil production data from neighbouring units is combined with downholes to alter their boiling technique in real-time as oil wells are dug.
Wish to pursue a career in data analytics? Enroll in this Data Analytics course in Bangalore to start your journey.
Oil and Gas Data Analytics for Reducing Production Costs:
When it comes to production costs in the oil and gas industries, many internal and external factors influence the overall finances. Drilling wells, laying pipelines, and logistics have a major share in affecting the oil and gas company's production costs. Oil and gas data analytics increase production efficiency, which is being used to decrease or stabilize production costs. In instances such as finding reservoirs, the companies use rock analysis techniques. So, by using analytics to process the digging of oil wells, oil production data from nearby units is paired with down-holes to adjust their boiling strategy in real-time.
Pursue a career in Data Analytics with the number one training institute 360DigiTMG. Enroll in the Best Data Analytics Courses in Hyderabad with placements to start your journey.
Oil and Gas Data Analytics for Predictive and Preventive Maintenance:
In industries, the downtime of machinery, which is an unexpected event breaks production for some time. There could be any reasons for this event to happen, such as malfunction, repair, or changeover of tools or equipment. To face these downtime issues, oil and gas industries are using predictive analysis techniques by building simulation data that forecast maintenance occurrences. Oil and gas data analytics reduces the expense of unpredictable reactive and downtime maintenance by implementing predictive maintenance techniques. These forecasts provide updates on optimizing downtimes for large-scale maintenance operations, well before the downtime event happens. In this way, it could protect the machinery as well as production losses. Mostly, we notice these studies related to gas compression system, which is a vital component in several offshore installations and results in major downtime losses. Predictive data analytics algorithms could provide an opportunity to take precautionary maintenance strategies involving regular equipment examination and replacement.
Oil and Gas Data Analytics for Upstream, Midstream, And Downstream Optimization:
Algorithms for oil and gas data analytics are used in a variety of oil and gas activities. Upstream, midstream, and downstream exploration, drilling, production, and delivery are three sectors that are crucial to these businesses. Data from sensors, sometimes referred to as seismic data, is what we obtain when we use upstream analytics to gather data. Based on many areas of interest, this data will be collected throughout the petroleum search. Therefore, as was already indicated, data analytics is crucial in the analysis of seismic data. To maximise the drilling process, customised predictive models are built to execute the prediction analysis to detect potential equipment problems. Drilling optimisation approaches are monitored for concerns with abrupt downtime. Downhole sensors, including as temperature, sound, and pressure sensors, are utilised to gather crucial information to increase reservoir output. Oil and gas data analytics is being built to improve reservoir modelling for reservoir management through the examination of production data.
Kickstart your career by enrolling in this Data Analyst Course Fees in Chennai.
Oil and Gas Data Analytics for Logistics:
Logistics in the oil and gas industries is an enormously recognizable and difficult problem, where the oil and gas products are to be transported. The only goal of logistics departments in these sectors will be the transportation of this highly flammable material (Oil and Gas) securely without any risk. In this process, oil and gas companies are using data analytics to minimize downtimes and refining equipment maintenance costs, boosting asset management.
Oil and gas (O&G) company economics and strategies are geared towards discovering new procedures that might result in capital restraint, orienting towards financial health, vowing to combat climate change, and changing business models. The data analysis relating to these strategy improvements demonstrates that their organisations are experiencing positive growth. Oil and gas (O&G) companies are focusing on streamlining and optimising their resource portfolios, putting smart goals for the energy transition into practise, recruiting, hiring, and retaining workers in a competitive labour market, as well as managing additional environmental, social, and governance (ESG) requirements.
The amount and variety of the data from the oil and gas industry are two distinctive features. Volume refers to the amount of seismic data that has been collected, whereas variety refers to the organised, unstructured, semi-structured, and photos and films that have been collected from pools using various sensors. It is therefore imperative that professionals in the oil and gas sectors focus on open-source models, cloud technologies, computer technology, and iterative development techniques. Businesses like Exxon (U.S.), Chevron (U.S.), Saudi Aramco (Saudi Arabia), Gazprom (Russia), China National Petroleum Corporation (China), Equinor (previously Statoil of Norway), TOTAL (France), ENI (Italy), and others have begun focusing on data analytics by assigning specific departments to the projects. Advanced oil and gas data analytics is growing quickly as a result of trend and market analysis. Control systems for complex processing facilities in oil and gas firms will soon be totally autonomous.
Data Science Placement Success Story
Data Analytics Training Institutes in Other Locations
Agra, Ahmedabad, Amritsar, Anand, Anantapur, Bangalore, Bhopal, Bhubaneswar, Chengalpattu, Chennai, Cochin, Dehradun, Malaysia, Dombivli, Durgapur, Ernakulam, Erode, Gandhinagar, Ghaziabad, Gorakhpur, Gwalior, Hebbal, Hyderabad, Jabalpur, Jalandhar, Jammu, Jamshedpur, Jodhpur, Khammam, Kolhapur, Kothrud, Ludhiana, Madurai, Meerut, Mohali, Moradabad, Noida, Pimpri, Pondicherry, Pune, Rajkot, Ranchi, Rohtak, Roorkee, Rourkela, Shimla, Shimoga, Siliguri, Srinagar, Thane, Thiruvananthapuram, Tiruchchirappalli, Trichur, Udaipur, Yelahanka, Andhra Pradesh, Anna Nagar, Bhilai, Borivali, Calicut, Chandigarh, Chromepet, Coimbatore, Dilsukhnagar, ECIL, Faridabad, Greater Warangal, Guduvanchery, Guntur, Gurgaon, Guwahati, Hoodi, Indore, Jaipur, Kalaburagi, Kanpur, Kharadi, Kochi, Kolkata, Kompally, Lucknow, Mangalore, Mumbai, Mysore, Nagpur, Nashik, Navi Mumbai, Patna, Porur, Raipur, Salem, Surat, Thoraipakkam, Trichy, Uppal, Vadodara, Varanasi, Vijayawada, Vizag, Tirunelveli, Aurangabad
Navigate to Address
360DigiTMG - Data Science, IR 4.0, AI, Machine Learning Training in Malaysia
Level 16, 1 Sentral, Jalan Stesen Sentral 5, Kuala Lumpur Sentral, 50470 Kuala Lumpur, Wilayah Persekutuan Kuala Lumpur, Malaysia
+60 19-383 1378