How Do I Start Learning IoT?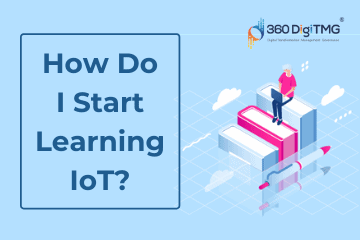 Introduction:
The Internet of Things (IoT) is a network where different objects are linked in order to share data using various technologies. The gadgets may include a PC, a smartphone, an oven, a coffee maker, and numerous more. We have attained a very high level of technology consumption as a result of IoT. IoT is being used more frequently and is growing in popularity as a result of the comfort it has provided to its consumers. For instance, it may turn on and off the lights when you enter and exit your room, or it might begin brewing coffee at the appointed hour.
Become a IoT Course Fees expert with a single program. Go through 360DigiTMG's IoT Course fee in Bangalore Enroll today!
In fact, IoT has demonstrated its value in every aspect of life. The gadgets have integrated sensors that react in accordance with the needs. Because of this, people are drawn to it, especially pupils who show a lot of interest in it. This post will be helpful for you if you're a student who wants to begin a career in the IoT industry since it will explain how you can begin learning IoT. So let's get going.
Stages of IoT:
IoT device is developed in the following four stages:
Physical hardware assembly
Device programming
Programming of the concerned server
Data visualization for the user of the device
To achieve excellence in all of the above, an IoT developer is not required. Keep in mind that you shouldn't study IoT just because it is popular if you want to. However, if learning is something you are interested in, you should work hard to learn it. You can choose one of the aforementioned steps to begin moving forward.
To learn more about Internet of Things, the best place is 360DigiTMG, with multiple awards in its name 360DigiTMG is the Best place to start your Best IoT Training in Hyderabad. Enroll now!
How can you start learning IoT?
If you have decided to take a step towards IoT then you must acquire basic skills that are required in the field of IoT. You need to be good at it otherwise you will not be able to make success. Once you have opted to be an IoT developer then you need various tools and terminologies that are used in IoT. You need to learn the following properly:
Hardware for IoT:
As you are aware, only when the hardware and software are coupled can the device be utilised. Therefore, in this case, both are required to enable data sharing on the device. Each gadget features sensors that are solely utilised for that particular job. Determining the hardware that is most appropriate for your activity is therefore important if you are working on an IoT project or application. As a newbie in the IoT space, you may now connect to hardware platforms like Arduino to access preset capabilities of Internet connectivity at a very cheap cost.
Looking forward to becoming a IoT Certification Trainer Check out the Internet of Things Course in Pune and get certified today.
Technology for the network of IoT:
After selecting the appropriate hardware for your project, it is time to build a connection between the devices so that they can share data between them. The network is a major component in the environment of IoT because it makes the devices able to communicate with all available devices of the network. In this context, you need to have a wide knowledge of the parameters so that the connection between devices remains endless. These parameters may involve the volume of data, bandwidth, interoperability, and network range, etc. Data security is also considered in this regard as it is a primary concern of the users. You should keep in mind that networking plays a vital role in your whole project. So, you must choose the appropriate technology carefully.
Platform:
The IoT platform functions as a go-between for connecting devices and data. The user interface has been used to transport this data. It functions the same way as a smartphone's web application. You must select an IoT platform before connecting devices, programmes, and applications. Additionally, it will offer secure communication throughout the whole process.
IoT Training and Placement Course is a promising career option. Enroll in Internet of Things Course in Chennai offered by 360DigiTMG to become a successful.
Top sites to learn IoT:
The following are the most common and popular sites for learning IoT. If you are interested, then you can check the following:
Tips for becoming an IoT developer:
To become an IoT developer you need to learn the following. Once you have mastered them, you will surely drive through the field of IoT. You need to concentrate on the following:
Sensors:

If you are an engineer or have a degree in computer science, you must be familiar with sensors. Therefore, if you lack a background in computers, you must have a thorough understanding of sensors. The IoT will immerse you in the mechanical and electrical world, so you must have a thorough understanding of the subject.

Interface:

When building a business Internet of Things device, it is crucial that you comprehend the user interface. As they utilise these gadgets for help, the consumers are quite worried about the interface. Build an interface that is straightforward so that the consumer can grasp it.

Programming language:

You need to build your skills in programming. You can learn either Python or JavaScript.

Complete online projects:

If computer science or engineering is not your profession, you may still join several IoT platforms to get your hands dirty on IoT projects. You may improve your talents and put what you've learnt into practise in this way. In order to adapt to the changing environment, make sure you learn on a variety of platforms.
Don't delay your career growth, kickstart your career by enrolling in this IoT Course for Beginners with 360DigiTMG.
Wrapping up:
By the article's conclusion, it can be concluded that IoT is an emerging area with a promising future. If you have a degree in engineering or computer science, you can study IoT. However, this does not imply that if you lack this degree, you cannot study IoT. You can study it from the sources given there and brighten your future.
IoT Training Institutes in Other Locations
Ahmedabad, Bangalore, Chengalpattu, Chennai, Hyderabad, Kothrud, Noida, Pune, Thane, Thiruvananthapuram, Yelahanka, Andhra Pradesh, Anna Nagar, Bhilai, Calicut, Chandigarh, Chromepet, Coimbatore, Dilsukhnagar, ECIL, Faridabad, Greater Warangal, Guduvanchery, Guntur, Gurgaon, Guwahati, Hoodi, Indore, Jaipur, Kalaburagi, Kanpur, Kharadi, Kochi, Kolkata, Kompally, Lucknow, Mangalore, Mumbai, Mysore, Nagpur, Nashik, Navi Mumbai, Patna, Porur, Raipur, Salem, Surat, Thoraipakkam, Trichy, Uppal, Vadodara, Varanasi, Vijayawada, Vizag, Tirunelveli, Aurangabad
Navigate to Address
360DigiTMG - Data Science, IR 4.0, AI, Machine Learning Training in Malaysia
Level 16, 1 Sentral, Jalan Stesen Sentral 5, Kuala Lumpur Sentral, 50470 Kuala Lumpur, Wilayah Persekutuan Kuala Lumpur, Malaysia
+60 19-383 1378