5 In-Demand Data Analyst Skills to Get You Hired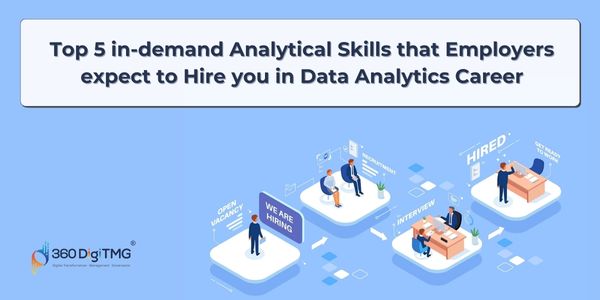 We can send and receive an infinite quantity of data as we continue to digitise our physical environment. A successful firm or organisation today thus uses data-driven business strategy. The findings of a data analyst might also result in a data-driven business plan. Unquestionably, a data analyst is a key component of a winning plan. But how does one become a data analyst, and what qualifications are necessary to be successful in this line of work? We shall acquire just that from this blog.
Honing your data analytics abilities might make you the sought-after employee businesses are desperately wanting if you're searching for ways to increase your influence at work and become a more marketable candidate in your profession.
What is Data Analytics?
The simplest explanation of data analytics is the science of evaluating the provided data in its raw form and producing insightful reports that are easy for everyone to understand. The primary goal of data analytics is to optimize the company's performance. An organization can reduce expenditure by employing a data-driven approach or strategy. In addition, a business utilizing a data-driven strategy is more likely to reach better conclusions, enabling it to produce more suitable products for its customers.
Also, check this Data Analytics Course to start a career in Data Analytics.
Who is a Data Analyst?
The most in-demand professionals are data analysts in the world today. A person with expertise in collecting and analyzing data is known as a data analyst. They are essential to numerous businesses in various industries that rely on data. Business intelligence and capacity to tackle problems holistically are prerequisites for becoming a data analyst. The work also necessitates highly developed technological skills. You must also grasp statistical analysis, have significant data visualization abilities, and possess soft skills.
Wish to pursue a career in data analytics? Enroll in this Data Analytics course in Bangalore to start your journey.
Roles and Responsibilities of a Data Analyst:
If you enjoy studying math, statistics, and computer science and are keen to work in a field that integrates these three academic specialties, a job as a data analyst will be great for you. Data mining, Python, and Structured Query Language (SQL) will play a big technological role in the profession since data analysts must extract insights from huge data sets and produce reports and visualisations.
Skills Needed to Become a Data Analyst:
However, the benefits of a job in data analytics will not come without significant training and experience. Data analysts need unique abilities to succeed in their line of work, and their education is primarily technological; nevertheless, they also need a few soft skills.
Data Preparation and Cleaning:The initial step in data analytics is to clean the data and prepare it for the subsequent analysis stage. Because the data you will be working with may come from various sources, you must clean it. In a sense, cleaning data entails dealing with inconsistent and null data and undesired data. Knowing what data to collect and which to delete is another critical thinking skill. As previously said, data cleaning and preparation is the first step in the data analysis process. Hence it is one of the essential data analyst skills.
Programming or Technical Expertise:Data extraction from predetermined data sets is the primary responsibility of a data analyst. To extract data, you must be familiar with a few programming languages. The most widely used programming languages in the industry are Python, R, and SQL. When handling massive data sets and processing information, SQL is used. It is a computer tool and spreadsheet that is much faster and more effective than conventional spreadsheets. Therefore, knowing how it works is one of the essential data analyst skills because it is one of the most valuable tools.
Although data analytics frequently use spreadsheets, it is preferable to be familiar with statistical programming languages like Python and R since they operate more rapidly and effectively and can accomplish tasks that conventional spreadsheets cannot. In addition, industry-standard languages like Python and R perform advanced predictive analysis on more extensive data volumes. As a result, proficiency in these languages is a crucial data analyst talent.
Data Visualizations Designing:Data visualization makes patterns and trends in data clear. Humans are visual beings, thus most people will comprehend a chart or graph more quickly than they will a spreadsheet because of this. This entails developing clear, eye-catching charts that will aid others in understanding your discoveries. It also entails avoiding elements that can be deceptive or difficult to read, such as pie charts (like manipulating axis values). Therefore, you should consider including visualizations in your data investigation. Occasionally, items in the data are visible visually but may be hidden if you merely look at the numbers.
Problem-Solving:As a data analyst, you encounter issues, defects, and barriers every day. Therefore, another essential talent for a data analyst is the ability to work your way out of problems.
Here are a few possible outcomes:
Researching a software problem or a quirk of the coding language you're using could be necessary.
Your company's resource constraints could force you to approach problem-solving in a novel way.
You could not be utilising enough information.
To meet a tight deadline, you might need to do some "good enough" analysis.
No of the circumstance, having strong problem-solving skills will always be a significant benefit for any data analyst.
Visualising data Because a data-driven business strategy might be the end result of data analysis, data visualisation is a crucial data analyst skill. Everyone in a meeting has to be aware of the information. As a data analyst, you must know how to present data so that everyone can comprehend it. It is absurd to expect a developer to understand a challenging data spreadsheet.
Graphs and other graphical tools can help you communicate the subject matter in a way that is understandable to everyone because humans are visual learners. As a data analyst, you will produce data visualisations to display the trends and patterns in the data. Your charts and graphs must be well-designed and eye-catching as a consequence. Humans frequently react to information given in charts and graphs far more strongly than to information based purely on facts.
Pursue a career in Data Analytics with the number one training institute 360DigiTMG. Enroll in the Best Data Analytics Courses in Hyderabad with placements to start your journey.
How To Develop Skills As A Data Analyst:
As technology develops, data analysis is becoming more and more prevalent. As more firms, industries, and organisations use automated solutions, need for data analysts will increase. You should perform more tasks as a data analyst than only gather data.
Take advantage of the Data Analytics Professional Certificate offered by 360digiTMG to start acquiring many of these abilities required for a job as a data analyst. Learn how to use SQL and R to clean and organise data, use Tableau to visualise data, and create a case study for your portfolio—all without any prior experience or academic training. You may then start applying directly for entry-level positions with Google and at than 130 other US firms after completion.
You can have a successful career in data if you also have the previously listed skills. Additionally, by honing these abilities, you will position yourself as the perfect applicant for a data analyst position, increasing your employment prospects.
Kickstart your career by enrolling in this Data Analyst Course Fees in Chennai.
Get started with 360digiTMG:
The field of data analysis is growing in popularity as technology advances. Data analysts will rise as more businesses, companies, and organizations turn to automated solutions. As a data analyst, you should do more than merely collect data.
Take advantage of 360digiTMG's Data Analytics Professional Certificate to begin developing many of these skills necessary for a data analyst career. No prior experience or academic background is essential to learn how to clean and organize data using SQL and R, visualize with Tableau, and prepare a case study for your portfolio. After finishing, you can begin applying directly for entry-level jobs with Google and more than 130 other US employers.
If you also possess the abilities mentioned earlier, you can have a successful career in data analytics. Furthermore, by developing these skills, you will become an ideal candidate for a data analyst position, boosting your chances of landing a job.
Data Science Placement Success Story
Data Analytics Training Institutes in Other Locations
Agra, Ahmedabad, Amritsar, Anand, Anantapur, Bangalore, Bhopal, Bhubaneswar, Chengalpattu, Chennai, Cochin, Dehradun, Malaysia, Dombivli, Durgapur, Ernakulam, Erode, Gandhinagar, Ghaziabad, Gorakhpur, Gwalior, Hebbal, Hyderabad, Jabalpur, Jalandhar, Jammu, Jamshedpur, Jodhpur, Khammam, Kolhapur, Kothrud, Ludhiana, Madurai, Meerut, Mohali, Moradabad, Noida, Pimpri, Pondicherry, Pune, Rajkot, Ranchi, Rohtak, Roorkee, Rourkela, Shimla, Shimoga, Siliguri, Srinagar, Thane, Thiruvananthapuram, Tiruchchirappalli, Trichur, Udaipur, Yelahanka, Andhra Pradesh, Anna Nagar, Bhilai, Borivali, Calicut, Chandigarh, Chromepet, Coimbatore, Dilsukhnagar, ECIL, Faridabad, Greater Warangal, Guduvanchery, Guntur, Gurgaon, Guwahati, Hoodi, Indore, Jaipur, Kalaburagi, Kanpur, Kharadi, Kochi, Kolkata, Kompally, Lucknow, Mangalore, Mumbai, Mysore, Nagpur, Nashik, Navi Mumbai, Patna, Porur, Raipur, Salem, Surat, Thoraipakkam, Trichy, Uppal, Vadodara, Varanasi, Vijayawada, Vizag, Tirunelveli, Aurangabad
Navigate to Address
360DigiTMG - Data Analytics, Data Science Course Training Hyderabad
2-56/2/19, 3rd floor, Vijaya Towers, near Meridian School, Ayyappa Society Rd, Madhapur, Hyderabad, Telangana 500081
099899 94319