Home / Blog / Data Science / An overview of current trends in big data analytics, including its applications, types & importance
An overview of current trends in big data analytics, including its applications, types & importance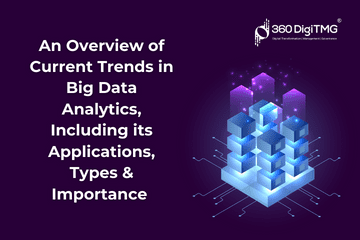 Your customers produce a tremendous quantity of data each day. Every time a consumer opens your email, uses your mobile app, tags you on social media, walks into the shop, makes an online purchase, speaks with a customer care representative, or asks a virtual assistant about you, these technologies record and analyse data for your company. And those people are your clients. Additionally, a tonne of data is generated daily by employees, supply chains, marketing programmes, financial departments, and other factors. Big data refers to a sizable amount of data and datasets from many sources and data kinds.
What is Big Data?
Big Data is an extensive collection of large amounts of data while growing exponentially with time. No traditional data management systems can effectively store or process this data because of its magnitude and complexity. Therefore, big data is a substantial type of data.
In an era when technology has achieved its apex and entirely taken over our lives, the volume of data exchanged is immense.
A standard computing tool cannot handle the massive data collected daily. Therefore, we refer to these large amounts of data as "big data."
Nowadays, businesses primarily rely on big data to learn more about their customers. Big data analytics is drawing insightful conclusions from such unstructured big data.
Learn the core concepts of Data Science Course video on Youtube:
Kickstart your career by enrolling in this Data Analyst Course Fees in Chennai.
What is Big Data Analytics?
In order to make data-informed judgements, big data analytics involves finding trends, patterns, and correlations in vast volumes of raw data. With the use of more modern technologies, these approaches apply well-known statistical analysis techniques to bigger datasets, such as clustering and regression. As data engineers research ways to aggregate the large amounts of complicated information created by sensors, networks, transactions, smart devices, online usage, and more, this field of study continues to advance. To identify and scale more sophisticated insights, big data analytics methods are being employed today in combination with cutting-edge technology like machine learning.
What is the need for Big Data Analytics?
Big Data analytics is the backbone of all online activity we engage in across all industries. For instance, the 2 billion users of the video-sharing website Youtube generate a significant amount of data daily. With this information, you can immediately receive suggested videos via the video-sharing platform. These are generated using a clever recommendation engine and rely on likes, search history, and shares. These are all carried out using various tools, methods, and approaches that result from big data analytics.
Pursue a career in Data Analytics with the number one training institute 360DigiTMG. Enroll in the Best Data Analytics Courses in Hyderabad with placements to start your journey.
Current trends in Big data analytics:
Big Data analytics are becoming essential tools for companies of all sizes operating in a variety of sectors. By utilising the power of big data, businesses are now able to learn things about their clients, their markets, and their surroundings that were previously not conceivable. As the field of big data analytics develops over the coming years, we could expect to see even more amazing and ground-breaking uses of this technology.
How do computers learn a human language:

Big data is constantly growing and includes information from social media, emails, messages, sensors, and more. Machines can filter through large amounts of big data using natural language processing to find trends, evaluate sentiment, and spot correlations

Big data analytics creates a more beneficial world:

Using cutting-edge analytics to solve issues like poverty, sickness, hunger, illiteracy, climate change, or education is something SAS is enthusiastic about doing.

Alternative data: Dangerous or necessary?

Unstructured massive data of minimal value in raw form is what alternative data is frequently. Discover why it's crucial to examine this data to gain a complete and up-to-date view of how the business world is changing.
Importance of Big Data Analytics:
Big data analytics involves a number of steps, despite its seeming simplicity. Big data is characterised by its enormous volume, velocity, and diversity. Big data analytics methods may therefore analyse enormous data sets to provide valuable business data.
Big data analytics are essential because any organisation must comprehend the ever-expanding amount of data. By 2020, we were producing an astonishing 1.7 MB of data every second.
This shows how big data analytics may be useful for organising enormous volumes of data. It supports the organisation, transformation, and modelling of the data in accordance with an enterprise's requirements. It also helps us to see patterns in the data and draw conclusions from it.
Also, check this Data Analytics Course to start a career in Data Analytics.
Big Data Analytics Applications:
Below are some examples of big data analytics applications:
Customer Acquisition and Retention:

Customer information can be used to boost customer satisfaction through data-driven activities in marketing trends. For example, Netflix, Amazon, and Spotify personalization engines aid create better consumer experiences and foster client loyalty.

Targeting Ads:

Individualized information about customer interaction patterns, order histories, and product page viewing patterns can be quite helpful when developing targeted ad campaigns for clients on a broad and personal level.

Product Enhancement:

It can generate insights on development decisions, product feasibility, performance metrics, and so on, and immediate improvements that benefit customers.

Price Simplification:

Pricing models can be generated and used by retailers using various data sources to maximize revenues.

Supply Chain and Channel Analytics:

Predictive analytical models aid in B2B supplier networks, preemptive replenishment, route optimizations, inventory management, and alerting of potential delivery delays.

Management of Risk:

It aids in detecting new hazards through using data patterns to establish effective risk management methods.

Better Decision-Making:

The insights from the data can assist businesses in making wise and prompt decisions.
Types of Big Data Analytics:
Big data analytics is classified into four types: diagnostic, descriptive, prescriptive, and predictive analytics. Furthermore, to enhance the data analysis process and guarantee the organization benefits from the data they receive, they employ various technologies for operations like data mining, cleansing, integration, visualization, and many more.
Diagnostic Analytics:

One of the most advanced types of big data analytics you may use to analyse data and content is diagnostic analytics. With the use of this type of analytics, you may utilise the information you learn to provide an explanation for a certain event. As a result, you may comprehend the reasons behind certain actions and events involving the company you work for, its customers, employees, products, and more by researching data.

⦁ Benefits:

The benefits of diagnostic analytics include a greater understanding of your data and several ways to obtain solutions to business-related problems. Additionally, by utilising tools for finding, filtering, and comparing data produced by individuals, this analytics helps organisations to better understand their clientele.

Descriptive analytics:

Descriptive analytics is one of the most prevalent types of analytics used by businesses to stay current on trends and operational performance. It is one of the first steps in analyzing raw data by doing simple mathematical operations and making statements about samples and measurements.

⦁ Benefits:

Descriptive analytics has transformed the way businesses operate. They now employ this form of analytics to better comprehend their current business condition compared to the past. It is a critical phase in data analytics; without it, it would be impossible to predict future trends or make data-driven decisions.

Prescriptive Analytics:

Based on the results of descriptive and predictive analysis, prescriptive analytics employs different simulations and approaches to generate suggestions for enhancing corporate operations. Additionally, it uses data insights to suggest the best course of action for the organisation.

⦁ Benefits:

Among other things, prescriptive analytics may improve production, customer service, marketing, and strategy. Through the use of data and models, this type of analytics helps producers better understand the market and forecast its future condition.

Predictive Analytics:

As the name implies, this sort of data analytics focuses on creating predictions about potential outcomes based on data insight. It employs various sophisticated predictive techniques and models to get the best results, including machine learning and statistical modeling.

⦁ Benefits:

The primary advantage of predictive analytics is the more trustworthy and precise future projection. As a result, companies may manage shipment schedules, stay on top of inventory needs, and identify methods to save and make money using the predictions generated by this analytics.
Don't delay your career growth, kickstart your career by enrolling in this Data Analyst Course in Pune.
Conclusion:
Big data analytics may be used by businesses to analyse their raw data and use it to inform smarter choices. Because of this, big data analytics tools and apps may save costs, accelerate decision-making, and identify new possibilities. As a result, big data analytics is advancing the biggest and most prosperous firms today. Businesses that can turn data into information and information into insights will be the ones that control the future in a world of fierce competition. Therefore, the best course of action for any organisation is to adopt a transparent data-driven strategy and harness the potential of big data through transformational data analytics approaches.
Data Science Placement Success Story
Data Science Training Institutes in Other Locations
Agra, Ahmedabad, Amritsar, Anand, Anantapur, Bangalore, Bhopal, Bhubaneswar, Chengalpattu, Chennai, Cochin, Dehradun, Malaysia, Dombivli, Durgapur, Ernakulam, Erode, Gandhinagar, Ghaziabad, Gorakhpur, Gwalior, Hebbal, Hyderabad, Jabalpur, Jalandhar, Jammu, Jamshedpur, Jodhpur, Khammam, Kolhapur, Kothrud, Ludhiana, Madurai, Meerut, Mohali, Moradabad, Noida, Pimpri, Pondicherry, Pune, Rajkot, Ranchi, Rohtak, Roorkee, Rourkela, Shimla, Shimoga, Siliguri, Srinagar, Thane, Thiruvananthapuram, Tiruchchirappalli, Trichur, Udaipur, Yelahanka, Andhra Pradesh, Anna Nagar, Bhilai, Borivali, Calicut, Chandigarh, Chromepet, Coimbatore, Dilsukhnagar, ECIL, Faridabad, Greater Warangal, Guduvanchery, Guntur, Gurgaon, Guwahati, Hoodi, Indore, Jaipur, Kalaburagi, Kanpur, Kharadi, Kochi, Kolkata, Kompally, Lucknow, Mangalore, Mumbai, Mysore, Nagpur, Nashik, Navi Mumbai, Patna, Porur, Raipur, Salem, Surat, Thoraipakkam, Trichy, Uppal, Vadodara, Varanasi, Vijayawada, Visakhapatnam, Tirunelveli, Aurangabad
Data Analyst Courses in Other Locations
ECIL, Jaipur, Pune, Gurgaon, Salem, Surat, Agra, Ahmedabad, Amritsar, Anand, Anantapur, Andhra Pradesh, Anna Nagar, Aurangabad, Bhilai, Bhopal, Bhubaneswar, Borivali, Calicut, Cochin, Chengalpattu , Dehradun, Dombivli, Durgapur, Ernakulam, Erode, Gandhinagar, Ghaziabad, Gorakhpur, Guduvanchery, Gwalior, Hebbal, Hoodi , Indore, Jabalpur, Jaipur, Jalandhar, Jammu, Jamshedpur, Jodhpur, Kanpur, Khammam, Kochi, Kolhapur, Kolkata, Kothrud, Ludhiana, Madurai, Mangalore, Meerut, Mohali, Moradabad, Pimpri, Pondicherry, Porur, Rajkot, Ranchi, Rohtak, Roorkee, Rourkela, Shimla, Shimoga, Siliguri, Srinagar, Thoraipakkam , Tiruchirappalli, Tirunelveli, Trichur, Trichy, Udaipur, Vijayawada, Vizag, Warangal, Chennai, Coimbatore, Delhi, Dilsukhnagar, Hyderabad, Kalyan, Nagpur, Noida, Thane, Thiruvananthapuram, Uppal, Kompally, Bangalore, Chandigarh, Chromepet, Faridabad, Guntur, Guwahati, Kharadi, Lucknow, Mumbai, Mysore, Nashik, Navi Mumbai, Patna, Pune, Raipur, Vadodara, Varanasi, Yelahanka
Navigate to Address
360DigiTMG - Data Analytics, Data Science Course Training Hyderabad
2-56/2/19, 3rd floor, Vijaya Towers, near Meridian School, Ayyappa Society Rd, Madhapur, Hyderabad, Telangana 500081
099899 94319