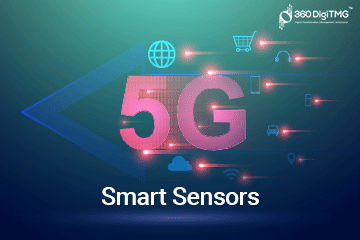 Any Internet of Things application must be able to sense physical occurrences, and sensors make this possible.
Looking forward to becoming a IoT Institute Trainer Check out the Internet of Things Course in Pune and get certified today.
Sensors:
Both sensors and actuators are collectively called 'Transducers'. Transducers are the devices that convert the energy of one kind into the energy of another kind. Some common transducers are as follows:
Quality Being Measured
The input device (Sensors)
Output device (Actuators)
Light
Light Dependent Resistor (LDR)
Photo Diode
Phototransistor
Solar cell
Lights and Lamps
LEDs and Displays
Fibre Optics
Temperature
Thermocouple
Thermistor
Thermostat
Resistive Temperature Detectors (RTD)
Heater
Fan
Force or Pressure
Strain Gauge
Pressure switch
Load cells
Lifts and Jacks
Electromagnetic vibrations
Position
Potentiometer
Encoders
Reflective/slotted opto-switch
LVDT
Motor
Solenoid
Panel Meters
Speed
Tacho – generator
Reflective/slotted optocoupler
Doppler effect sensors
AC and DC Motors
Stepper Motor
Brake
Sound
Carbon microphone
Piezoelectric crystal
Bell
Buzzer
Loudspeaker
An electrical signal is produced by a physical phenomenon using a transducer, or sensor. Through electrical components like microcontrollers/microprocessors, computers, etc., sensors serve as the interface to the physical environment. Multiple transducers may be included in sensors. For instance, if it is difficult to transform anything straight from chemical to electrical energy, a sensor that must convert something in the form of chemical energy into electrical energy needs more than one transducer. Heat will be converted to electrical energy by transducer 2, whereas chemical energy will be converted to heat by transducer 1.
There are many different kinds of sensors, which can be categorised according to their output type, method of detection, means of detection, conversion phenomenon, active or passive nature, etc. With the development of the Internet of Things, these sensors underwent evolution, and as a result, we now have "Smart Sensors," which are sensors that have electronics built into them to make them intelligent sensors.
Become a IoT Course Fees expert with a single program. Go through 360DigiTMG's IoT Course fee in Bangalore Enroll today!
What is a Smart Sensor?
A sensor producing an electrical output when combined with interfacing electronic circuits is known as "Smart Sensor", it is a combination of both sensor and actuator.
The smart sensor will have intelligent features and some electronics that can perform:
Take a decision
Perform Logical operations
Sensor + interfacing circuit = smart sensor
Smart Sensor Functional Diagram:
A smart sensor detects the measurand, which is the quantity, quality, or condition that has to be measured. Before transferring the signal to the microprocessor or microcontroller, the signal condition and storage unit contains Analogue to Digital converters that convert it into a digitally readable form, store it in its memory, and do further processing such as aggregating, error checking, etc.
Smart Sensor Functions:
Smart sensor carries four functionalities
Don't delay your career growth, kickstart your career by enrolling in this IoT Course for Beginners with 360DigiTMG.
Measurement

Every sensor has the basic ability to measure, which involves detecting physical signals and converting them into electrical signals. If the sensor is incorporated, the signal will also go through some signal processing. Correction compensation is one of the extra functions of smart sensors. Consider this corrective compensation example: Offset and gain are two parameters of sensors that are typically adjusted during fabrication and calibration cycle (Sensor calibration is a method of improving sensor performance by removing structural errors in the sensor outputs) are carried out in the factory itself based on that adjustment in offset and gain is done. These modifications typically alter over time for various reasons, necessitating a recalibration of the instrument. Smart sensors could be able to self-calibrate since they might store the correction functions in their memory and processors might occasionally request compensation.Diagnosis - This is the inherent ability for a smart sensor to determine if it operates properly. With the IoT system complexity steadily increasing, malfunctioning components must be identified as quickly as possible.

Configuration

The configuration in terms of technological, functional, operational aspects include Active Installation Support - sensor would be able to alert on alignment errors or installation errors

Configuration of operational modes- Based on the environmental conditions the sensor can be configured into different modes such as low power mode
Configuration of fault identification, response

Verification

Using a collection of supervisory devices/circuits built into the sensor, the verification function may provide services like ongoing monitoring of the behaviour of the intelligent sensor. Supervisory findings can be routinely updated, kept in a database (like FIFO or Flash), and made available for maintenance. It provides the essential diagnosis services, enabling the user to find errors whenever they are discovered.

Communication

The smart sensor's communication capabilities, which are bidirectional from the sensor to the main microprocessor or microcontroller and back again, are another key aspect. Smart sensors will handle various data rates and contain systems for synchronising communication between sensors and microcontrollers. Industrial Smart sensors are equipped with plug-and-play mechanisms, similar to CAN bus systems, that allow for easy network connection and removal. They also include processes to recognise their own identities in the network.
yourself a promising career in IoT Training Institute in Chennai by enrolling in the IoT Training and Placement Program offered by 360DigiTMG.
Smart Sensors Networks/ Wireless Sensor Networks
Smart sensor technology is combined with IoT connection to provide a variety of high-end applications. These wireless sensor networks, also known as WSNs, are what we refer to as linked smart sensors. These WSNs employ a user-defined decision-making process to sense, measure, and gather data from their surroundings or the item (that has to be measured). They then broadcast that data to the outside world.
Smart sensor nodes or wireless sensor nodes examples include:
In the future, we could see enhanced learning capabilities like machine learning combined with smart sensors that adapt their activity to maximise the collection of data from the outside environment.
A prior knowledge (available before experience)
Adaptive learning (based on experience)
These sensors are able to manage a variety of conditions thanks to their functional features like auto-calibration, which allows them to calibrate themselves without any additional connections, compensated measurements, which allow them to correct for measurement errors, and self-health evaluation.
Utilising smart sensors can lower production testing costs as they have firmware-based signal processing capabilities, processed data validation, power management, and multi-sensing capabilities. Smart sensors have their own components integrated onto the same PCB (Printed Board Circuit). Performance and dependability are therefore enhanced.
Smart Sensors Networks Applications
To learn more about Internet of Things, the best place is 360DigiTMG, with multiple awards in its name 360DigiTMG is the Best place to start your Best IoT Training in Hyderabad. Enroll now!
Industrial

In industries machines and equipment are monitored and controlled for pressure, temperature, humidity level, and also for vibrations. A Smart Sensor can monitor all these parameters at one go and also connects to the network without any other hardware assistance. This helps to maintain machinery and also ensure safety for employees handling the machinery.

Finger Recognition

The fingerprint pattern is scanned by a fingerprint sensor, which then records a digital representation of it. The image is known as a livescan. A biometric template will be made using the live scan and kept for matching.

Pattern Recognition

When the sensor detects the contours of an object, it compares with them and also with models in a reference image.

Telecommunication

A wireless identity module (WIM), which is a smart card like a SIM card, allows for the completion of e-commerce transactions with the highest level of security possible through the use of encryption and a digital signature.

Smart Dust

Smart dust is a hypothetical wireless network of tiny microelectromechanical (MEMS) sensors, robots, or devices, which can detect (for example) light, temperature, or vibration. The devices will eventually be the size of a grain of sand, or even a dust particle, with each mote having self-contained sensing, computation, communication, and power.

Biomedical Applications

Using chip technology, a number of smart sensors for biological purposes have also been created. such as biochips Applications of silicon technology in biology include cytosensor microphysiometers.

MEMS and Process Control

MEMS(Micro-Electro-Mechanical Systems) are very small physical systems. MEMS sensors are a combination of electrical and mechanical components. MEMS uses a modified integrated circuit (computer chip) fabrication techniques and materials to create these very small mechanical devices.

Defence Applications

Smart cameras have extensive software analytics built into them that enable them to recognise objects, analyse crowd behaviour, detect intrusions into protected areas, and more. They can also notify alerts via IP network capabilities. EMI fatigue loading, heat cycling, vibration and shock levels, and corrosive conditions are further monitoring tasks performed by smart sensors.
IoT Training Institutes in Other Locations
Ahmedabad, Bangalore, Chengalpattu, Chennai, Hyderabad, Kothrud, Noida, Pune, Thane, Thiruvananthapuram, Yelahanka, Andhra Pradesh, Anna Nagar, Bhilai, Calicut, Chandigarh, Chromepet, Coimbatore, Dilsukhnagar, ECIL, Faridabad, Greater Warangal, Guduvanchery, Guntur, Gurgaon, Guwahati, Hoodi, Indore, Jaipur, Kalaburagi, Kanpur, Kharadi, Kochi, Kolkata, Kompally, Lucknow, Mangalore, Mumbai, Mysore, Nagpur, Nashik, Navi Mumbai, Patna, Porur, Raipur, Salem, Surat, Thoraipakkam, Trichy, Uppal, Vadodara, Varanasi, Vijayawada, Vizag, Tirunelveli, Aurangabad
Navigate to Address
360DigiTMG - Data Analytics, Data Science Course Training Hyderabad
2-56/2/19, 3rd floor, Vijaya Towers, near Meridian School, Ayyappa Society Rd, Madhapur, Hyderabad, Telangana 500081
099899 94319