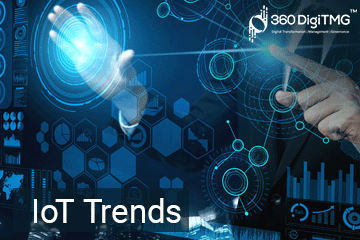 Introduction to IoT:
The idea of IoT (Internet of Things) is more well-known than ever these days. IoT enables our everyday physical objects to become intelligent and linked. The "things" in the Internet of Things (IoT) might be little home appliances or massive industrial machinery. These "things" collect data from their surroundings or from any item, process it, and then transmit it to other devices or a local or remote server. Through the interconnection of devices, monotonous repetitive tasks are eliminated. In addition, by analysing data from these IoT-connected "smart things," we can gain a greater understanding of the world in which objects monitor and respond to changing conditions without the need for human intervention. Now, let's look at its definition.
Becoming a IoT is possible now with the 360DigiTMG IoT Fundamentals. Enroll today.
IoT Definition:
Internet of Things (IoT), is about internetworking of physical devices that have – sensors, electronics, and communication interfaces embedded in them and further connecting billions of such devices to the internet. Devices using the internet can communicate, interact, and can be controlled remotely. Let's understand this definition with an example of IoT intelligent transportation.
IoT Explained using Intelligent Fleet Management Systems:
A freight firm made the decision to upgrade all of its trucks to smart, linked vehicles. This will assist them in keeping track of their fuel usage, delivery schedules, accident rates, maintenance expenses, and other factors that will ultimately lead to profits.
Are you looking to become a IoT Expert? Go through 360DigiTMG's IoT Course in Bangalore.
They have added numerous sensors to their fleet management system to detect things like fuel level, temperature, tyre pressure, engine health statistics, and more. All of the sensor data is sent to the cloud via WI-FI, GPRS, and GPS modules. This sensor data is analysed to produce insights that increase road safety by warning drivers of impending routes, weather, pavements, speed, etc. By learning relevant information about commuters' tastes and behaviour, it can improve fleet management operations. By learning relevant information about commuter preferences and behaviour, it may improve fleet management operations. It also aids in reducing traffic and preventing accidents, and it functions as follows.
Access Data in Real-Time:
Fleet owners can access data in real-time generated by Sensors fitted in the vehicle like real-time location, tire pressure, speed, fuel levels, engine condition, and further analysis is done on this sensor data in real-time which helps Fleet owners to know about Driver's behavior and can stop engine remotely if anything suspicious is recognized they can guide drivers by providing information about their driving quality, braking practices, speed compliance, etc.
All these data will be stored in databases for the in-depth analysis, which will give insights like an optimized route based on fuel consumption, on-time delivery, safety, etc.
Want to learn more about Best IoT Course. Enroll in this IoT Course Fees in Hyderabad to do so.
Connected Fleets:
Smart and linked vehicles are more productive, efficient, and have a less environmental effect.
Connected vehicles reduce CO2 emissions by 75% annually compared to conventional trucks because they keep their engines running efficiently and prevent wasteful engine starts and stops. Additionally, cloud-based online applications or mobile applications that assist drivers based on their driving styles and weather alerts can minimise accidents by 25% annually, which are mostly caused by irresponsible driving and poor weather conditions. The fleet management system is made more effective and efficient by additional data on engine condition, breakdown warnings, and congestion updates.
Access to Preventative Maintenance:
Along with providing better insights into driver's behavior, connected trucks allow you to monitor the health of vehicles with real-time alerts on battery, engine maintenance, inspection reminders, coolant temperature which helps to take preventive measures to keep vehicles safe and smooth for a longer period of time.
Smart IoT devices can monitor, regulate, and optimise a variety of industrial processes to raise production. By automating regular processes, IoT lowers labour expenses while simultaneously ensuring worker safety.
IoT Benefits:
Thus, IoT by connecting objects, people, and environments, it becomes a strong value add to each organization. Some benefits of IoT system are as follows:
360DigiTMG the award-winning training institute offers a Internet of Things Course in Chennai, and other regions of India and become certified professionals.
Improved Productivity:

Smart IoT devices can monitor, regulate, and optimise a variety of industrial processes to raise production. By automating regular processes, IoT lowers labour expenses while simultaneously ensuring worker safety.

Predictive Maintenance/Analysis:

The precise information from IoT smart sensors and endpoints can be used to improve existing processes. The large amount of data collected is used to examine patterns that will help to predict losses such as Breakdown of machinery, faults in the manufacturing process so that we can take necessary measures even before damage occurs.

Rapid Response:

Thanks to edge computing technologies, data can now be analysed on any on-premises device, even gateway devices. This makes maintenance intervention optimisation easier and offers an edge in market developments and strategic monitoring.

Reduces Human Errors:

By Analyzing data through technologies like Artificial Intelligence, Machines and processes can make their own decisions. IoT makes it possible to reduce human errors.
Trends in the Field of IoT
Businesses are keen on identifying technologies that will lead to innovation. According to the Gartner Survey below are some IoT trends that will drive business growth and innovation.
Artificial Intelligence:

Using artificial intelligence, a machine may accomplish a list of tasks and learn from data. Devices in an IoT system helped by artificial intelligence (AI) may analyse data, make choices, and take action on the data without the need for human intervention.

Social, Legal and Ethical IoT:

Does IoT deployment have some key concerns - How secure are the devices? How data is used? Social, Legal, and Ethical issues of IoT have to be addressed and resolved for better Security and Privacy.

Infonomics and Data Broking in IoT:

The concept of evaluating and accounting for data or information as an asset is called Infonomics and aggregation of data from different sources is called Data Broking.

IoT Governance:

Enterprise architecture (EA), application of business governance, and IT governance for the Internet of Things are all examples of IoT solution governance. The lifespan of IoT devices, data management for the IoT solution, and IoT applications inside an organisation are the main areas of attention for IoT governance. In order to achieve the specified business objectives, IoT governance outlines the adjustments to ideas and principles.

Sensor Innovation:

IoT Sensors need to consume low power, low cost for economical widespread deployment, compactness, and robustness, diagnostics, identification, validation, calibration has to be done by themselves with minimal maintenance requirements.

Trusted Hardware and OS:

A critical component of an IoT system is trusted hardware and operating systems. IoT systems are not maintained like traditional computers; when they are set up, only a limited amount of user-side setup and adjustments are anticipated. Reliability, safety, efficiency, and productivity are therefore the main concerns for embedded systems, and particularly for industrial systems.

New Wireless Networking Technologies for IoT:

Networking is essential to the Internet of Things (IoT), but connecting IoT devices is different from connecting standard PCs, smartphones, and tablets. little Power Wide Area Networks (LPWANs), for example, have evolved to link devices with battery power and little computational power. Using LTE-M, NB-IoT, and LoRa technologies Due to its extended range (up to 1000 km), low energy consumption, and connectivity, practically all sensors are suitable for Internet of Things (IoT) applications that deliver sensor data that is small in size and doesn't require a lot of bandwidth. Real-time video and picture streaming over 5G is useful for surveillance, connected health, time-sensitive industrial automation, etc. While Zigbee and BLE are suitable for indoor and short-range Consumer IoT applications, respectively.
360DigiTMG offers the Best IoT Course Fees in Pune to start a career in Internet of Things. Enroll now!
IoT Advantages and Disadvantages
The Internet of Things (IoT) concept has made it feasible to connect gadgets with the physical environment around them, from modest domestic appliances to massive industrial machinery. Due to its exposed devices and applications, IoT has drawn the attention of attackers.
Cyberattacks aimed at jeopardising the security and privacy of IoT devices are already taking place all around us. Due to inadequate security on IoT devices and apps, IoT devices are susceptible to such attacks. Attackers are abusing the sensors on IoT devices, sending false messages to or from devices, and causing networks to crash by flooding them with messages from a single infected device. By using just one such vulnerable device, attackers were able to infect and attack millions of IoT devices. They can do this to steal data, money, user identities, and other things. The correct security protocols, authentication, and permission must be used to safeguard data at IoT endpoints, gateways, networks, clouds, and apps.
IoT Training Institutes in Other Locations
Ahmedabad, Bangalore, Chengalpattu, Chennai, Hyderabad, Kothrud, Noida, Pune, Thane, Thiruvananthapuram, Yelahanka, Andhra Pradesh, Anna Nagar, Bhilai, Calicut, Chandigarh, Chromepet, Coimbatore, Dilsukhnagar, ECIL, Faridabad, Greater Warangal, Guduvanchery, Guntur, Gurgaon, Guwahati, Hoodi, Indore, Jaipur, Kalaburagi, Kanpur, Kharadi, Kochi, Kolkata, Kompally, Lucknow, Mangalore, Mumbai, Mysore, Nagpur, Nashik, Navi Mumbai, Patna, Porur, Raipur, Salem, Surat, Thoraipakkam, Trichy, Uppal, Vadodara, Varanasi, Vijayawada, Vizag, Tirunelveli, Aurangabad
Navigate to Address
360DigiTMG - Data Science Course, Data Scientist Course Training in Chennai
D.No: C1, No.3, 3rd Floor, State Highway 49A, 330, Rajiv Gandhi Salai, NJK Avenue, Thoraipakkam, Tamil Nadu 600097
1800-212-654-321