Know on how to build a successful AI career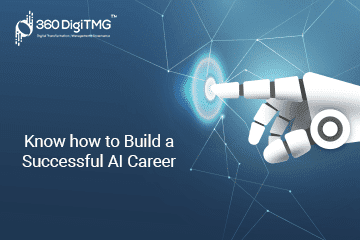 Artificial intelligence has become quite a phenomenon these days. The advancements in AI over the years have spewed a range of lucrative jobs for aspiring professionals. Many people aren't quite certain about the career options for an AI professional. This article expects to educate people on what it takes to build a successful career in AI.
Click here to learn
Data Science in Hyderabad
Skills Required
A career in artificial intelligence will involve working with the latest computer technology and programming, coupled with automation and cutting edge robotics. An Artificial intelligence career will demand specializations in math, logic and rudimentary engineering applications. Communication is also an important skill required for an Artificial intelligence career. The AI professional must be well versed in both verbal and written communication to explain the underlying concepts and ideas behind various AI technologies.
AI is now being used by most industries seen around us. The skills for these jobs may vary tremendously. However, certain skills would help anybody willing to invest time and resources for an AI career. The most important requirement for any AI professional is a calm and collected analytical mind. This is because, the work of an AI professional, no matter the job specification, always involves analyzing complex problems and coming up with cost-effective solutions. Another important requirement is foresight.
Click here to explore 360DigiTMG.
AI technology undergoes rapid evolution across timescales of minutes to hours. The aforementioned foresight is crucial for gaining and keeping a competitive advantage. The shift from current technologies to emerging ones must be supported by the AI expert. AI companies operate on the same tenet as the majority of technical businesses: "Survival of the fittest." Adoption in the forward direction is required to survive in a digital environment that is evolving at an accelerating rate. A loss in income will eventually result if the AI technician is not prepared to adjust.
The capacity to maintain and repair technology will be the next big thing. This includes the technician's ability to spot errors and increase damage minimization. The AI technician must be willing to get their hands dirty and capable of doing hardware and software fixes. Additionally, they have to be endowed with the capacity to innovate on the go. Today's AI technology is a good illustration of this kind of spontaneous innovation. As was already established, excellent communication is crucial. The AI technician must be able to absorb technical knowledge and effectively communicate it to the team.
Despite the aforementioned basic criteria, professions in AI also need for a good intellectual foundation. The major issue with AI is that a person's knowledge in one particular field doesn't matter all that much; what counts is their capacity to excel in a variety of fields. However, the majority of AI positions demand at least a master's or PhD in a certain field.
The Basic Academic Skills Required for an AI Career are:
Higher-order mathematics- which includes probability, statistics, algebra, logic, etc.
Bayesian networks, graphical modeling, ANN's (Artificial Neural Networks), CNN's (Convoluted Neural Networks).
Basic physics, engineering, mechanics, and robotics.
Higher-order scientific theories like the Cognitive science theory.
Knowledge of computer science, coding, and assorted programming languages.
again are not the exact skills required and are rather a generalization. The exact skills required, actually varies from job to job.
The Process Involved
It is not at all necessary to emphasise how important AI is as a vocation. Newcomers entering the area of AI are unsure on how to move forward with their careers. This is due to the broad use of AI. The implications of AI are enormous, and there is little doubt that AI offers a vast number of fascinating and lively career opportunities. According to current estimates, there are at least 500,000 open positions for qualified AI workers in several businesses worldwide. By 2020, according to another prediction, AI would generate close to 2.3 million new employments.
Additionally, it is predicted to eliminate 1 million additional employments. In order to increase employability and job happiness, it is now time to obtain the appropriate skills and dive into an AI profession. Nowadays, AI is utilised in practically every industry. The importance of AI like Thanos is unavoidable, from the film business to analysing traffic patterns.
The goal of this section is to inform readers about AI and its numerous subfields. It is the area of research that deals with enabling artificial intelligence in machines. AI systems typically consist of interconnected hardware and software that learns in a similar manner to how humans do. This is done in a number of ways to take human error out of the equation. It might be harmful to have too many human aspects in a given role. With the most advanced computer systems available, AI is able to avoid many errors that a person may make in the same situation.
Machine learning is another expression frequently used in conjunction with AI. Artificial intelligence is a subset of machine learning. It explains how the computer learns. The development of machine learning has led to the creation of sophisticated algorithms. These algorithms provide the computer the ability to learn new knowledge and behave intelligently. The tiniest amount of human interference with the system will do this. There is extensive usage of AI. With the aid of smart recommendations and superior technology, customers utilise AI to make their lives simpler. AI is used by businesses to control risks, cut costs, and improve decision-making.
A career in AI is interesting. Both seasoned and inexperienced programmers can use it. Depending on the profession, different abilities are really needed. The best course of action for those who have a keen interest in AI and related technologies but lack understanding is to improve their computer and maths abilities. This entails registering for the majority of AL and machine learning courses. Additionally, it's critical to gain programming abilities in languages like C, C++, and Java. It's also admirable to develop one's business and communication abilities. It is advised for seasoned programmers interested in AI to get right into sophisticated algorithms and code.
AI Career Options
Recent stats have shown an increase in the number of AI jobs. This increase in AI jobs can bring down other jobs. Automation will replace human effort in many industries. The safest job in the industry right now is that of an AI scientist/ researcher. As AI technology is growing by leaps and bounds, being a part of its growth, is an excellent way of ensuring job security and satisfaction. The safest field to hold on to a job is a vibrant and challenging one like AI. Many researchers point out that wholesale termination or loss of AI jobs is not possible within the next decade. As AI is not limited to a few fields, the job opportunities are in plenty. The only limitation is the quality of the people required for the job.
AI is a Very Demanding Field
For an AI career to survive and last, skill is absolutely essential. Only qualified experts are sought after by businesses. This is a negative aspect for those who lack the necessary skills for the position. Mathematical aptitude and familiarity with machine learning techniques are key requirements. Basic programming knowledge and knowledge of computer science are additional qualifications. Many experts claim that familiarity with AI, machine learning, and other technologies like Natural Language Processing, as well as understanding of programming languages like Java and Python, are highly appreciated by many AI organisations.
Ensuring an AI job
The field of AI is a developing one and it can get fairly competitive. To meet with the rising competition, it is difficult to ensure an AI job. However, one can be alert with a lookout for possible job prospects. Some ways of 'almost' ensuring an AI job are:
Signing up for various courses:

There are a tonne of online AI courses accessible. Such courses can be enrolled in and attended to assist increase the knowledge needed for AI careers. Additionally, staying current with career changes is beneficial.

Joining small organizations:

Rather than wait for a big break, one can try for a position within a small organization. This will give the necessary experience that many companies ask for. It also allows for improving existing skills.

Add business knowledge:

Many proponents of AI lack business understanding. Only when AI is employed with a commercial emphasis does it succeed. Thus, having business abilities is crucial.

Increasing knowledge:

Reading a lot will help an aspiring AI professional to improve knowledge of many relevant topics. As AI is an ever-changing field, staying updated is important.

Don't stop learning:

AI has one drawback: it is always evolving. One must also adapt in order to keep up with this progress. Continuous learning is crucial for adaptation. One needs to be a sponge for knowledge. The collection and assimilation of all relevant information must be accomplished.
Click here to learn Data Science Course, Data Science Course in Hyderabad, Data Science Course in Bangalore
Data Science Training Institutes in Other Locations
Agra
,
Ahmedabad
,
Amritsar
,
Anand
,
Anantapur
,
Bangalore
,
Bhopal
,
Bhubaneswar
,
Chengalpattu
,
Chennai
,
Cochin
,
Dehradun
,
Malaysia
,
Dombivli
,
Durgapur
,
Ernakulam
,
Erode
,
Gandhinagar
,
Ghaziabad
,
Gorakhpur
,
Gwalior
,
Hebbal
,
Hyderabad
,
Jabalpur
,
Jalandhar
,
Jammu
,
Jamshedpur
,
Jodhpur
,
Khammam
,
Kolhapur
,
Kothrud
,
Ludhiana
,
Madurai
,
Meerut
,
Mohali
,
Moradabad
,
Noida
,
Pimpri
,
Pondicherry
,
Pune
,
Rajkot
,
Ranchi
,
Rohtak
,
Roorkee
,
Rourkela
,
Shimla
,
Shimoga
,
Siliguri
,
Srinagar
,
Thane
,
Thiruvananthapuram
,
Tiruchchirappalli
,
Trichur
,
Udaipur
,
Yelahanka
,
Andhra Pradesh
,
Anna Nagar
,
Bhilai
,
Borivali
,
Calicut
,
Chandigarh
,
Chromepet
,
Coimbatore
,
Dilsukhnagar
,
ECIL
,
Faridabad
,
Greater Warangal
,
Guduvanchery
,
Guntur
,
Gurgaon
,
Guwahati
,
Hoodi
,
Indore
,
Jaipur
,
Kalaburagi
,
Kanpur
,
Kharadi
,
Kochi
,
Kolkata
,
Kompally
,
Lucknow
,
Mangalore
,
Mumbai
,
Mysore
,
Nagpur
,
Nashik
,
Navi Mumbai
,
Patna
,
Porur
,
Raipur
,
Salem
,
Surat
,
Thoraipakkam
,
Trichy
,
Uppal
,
Vadodara
,
Varanasi
,
Vijayawada
,
Vizag
,
Tirunelveli
,
Aurangabad
Navigate to Address
360DigiTMG - Data Science, Data Scientist Course Training in Bangalore
No 23, 2nd Floor, 9th Main Rd, 22nd Cross Rd, 7th Sector, HSR Layout, Bengaluru, Karnataka 560102
1800-212-654-321