AI Applications Assisting Specialists to Increase Their Efficiency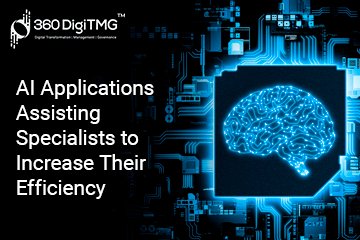 One of the hottest issues of this decade is artificial intelligence, or AI. The way we live and work has been dramatically revolutionised by AI. It corrects itself after making mistakes by learning from them. Thus, when it is used more frequently, the value increases. We'll talk about how using AI tools may help specialists work more effectively.
Because AI is used to find patterns in data, it has increased the efficiency of that data. Businesses now approach data like an asset. For any profession to succeed, better data management is now essential.
AI may be used to control waste, automate agricultural processes, track climate change, and many other things. It can also radically alter the agriculture industry. But first, let's talk about the many sorts of AI so that we can comprehend how it is used.
But before we understand the application of AI, let's first discuss types of AI.
Click here to explore 360DigiTMG.
Types of AI
Understanding the types of AI can help you gain better insight into the application of AI.
Weak AI

Weak AI also known as narrow AI, is created only to carry out a certain task. Siri and Google Assistant serve as a good illustration of this. They were created and trained exclusively to function as a digital assistant. More than that is not possible for them.

Strong AI

Strong AI refers to Artificial General Intelligence. It is more like the human brain. It can perform unfamiliar tasks and carry out specific commands. It can work beyond a pre-programmed algorithm.

Strong AI may be shown in speech recognition, visual perception, language translation, and decision-making, to name a few.

Moreover, based on functionality, artificial intelligence can be classified into four types. These are as follows:

Reactive Machines

Reactive machines take lessons from experience and apply them to their future actions. They take in the environment and respond to it. They have no memories.

Limited Memory

Limited Memory can retain data for some time. They cannot add data to their experience or library. They are used in autonomous vehicles.
It is widely used in self-driving cars to store data such as the speed of nearby cars, the speed limit, the distance between cars nearby and similar other information that can be used for the smooth driving of cars.

Theory of Mind

Theory of Mind is all about programming a machine to mimic the human brain. It possesses cognitive traits such as feelings, ideas, and memories.

Self-Awareness

Self-awareness is all about understanding the current state and using this information to find out what others are feeling. This is again a theoretical concept and does not exist as of now.

Artificial intelligence is widely used in performing the following tasks:

Planning
Computer Vision
Natural Language Processing or NLP
Robotics
Machine Learning
Artificial General Intelligence
Applications of AI
Let us now discuss the applications of AI.
Artificial Intelligence in HealthCare

We all understand that being healthy is valuable. The field of artificial intelligence has undergone a full transformation. Thanks to AI, this sector of the economy has grown rapidly during the past ten years.

The use of AI as a healthcare assistant is trainable. It may be trained to make medicine recommendations for simple medical conditions like fever, headache, vomiting, etc. Professional doctors will have more time to devote to more important responsibilities as a result of this freeing up. For the consumer, this may also save costs and boost efficiency.

Pathologists can utilise it to examine tissue samples. The diagnosis will be more precise as a result. When a lot of data has to be analysed for research projects like DNA modelling, it is frequently employed. We have been able to solve numerous puzzles thanks to it.

It helps in decision making and research
It is helping in cognitive science and medical software
It is trying to provide a content-rich discipline for the next generation of the scientific community

Artificial Intelligence in Business

Without a question, the corporate sector has benefited the most from artificial intelligence.

Artificial intelligence is used in business for reporting, processing massive amounts of data, and accuracy. AI assists companies in making critical business choices. It may be applied to chatbots, adaptive intelligence, and automation to simplify and streamline the industrial process.

You may have visited websites where a chat box appears out of nowhere. You can type your question into the box and receive a prompt response. Chatbots assist in making this feasible.

Chatbots uses robotic process automation. This removes the need for humans. This is fast and easy. It is cost-effective for the business because a single chatbot can handle multiple customers at the same time.

Click here to learn Data Analytics in Bangalore

It can be used to automate processes in industries. For example, Tesla uses artificial intelligence to build cars. Huge robots are used in place of humans. This increases the speed of production and at the same time removes any error that humans are prone to commit.

Artificial Intelligence in Education

To assign hundreds of copies is a time-consuming process for a teacher. Errors and biases are common when manual grading. The process of going through each copy and inspecting it takes a long time. With the use of AI, all of these issues will soon be solved.

Even while AI cannot possibly match human intelligence, it comes quite close. Education institutions can quickly examine multiple-choice questions and complete the gaps thanks to computerised grading systems. The checking procedure will quickly become quick and simple.

AI may be applied to improve learning as well. The answer sheets might reveal what the learner is missing in terms of knowledge. It may be taught to give a thorough analysis of the student's skills and areas for improvement.

Teachers will utilise this report to instruct a particular pupil. Together, AI and humans can accomplish more by doing this.

Artificial Intelligence in Autonomous Vehicles

The autonomous car sector has undergone a major shift thanks to artificial intelligence. Future-oriented innovations like LIDAR, long-range radar, and cameras have given us a significant advantage.

Each of these tools serves a certain function. Each one of them gathers a unique piece of data. To provide insights, this information is further cleansed and analysed.

Click here to learn Artificial Intelligence in Hyderabad

Some of the uses of AI in autonomous vehicles are as follows:

Automatically directing the car towards a gas station when fuel is low
Automatically adjusting the trip as per traffic conditions
Use of virtual assistance technology
Incorporating natural language interface

Artificial Intelligence in Social Media

We now have access to the entire world thanks to social media. It makes communication easier everywhere in the world. The world has undergone a total transformation as a result of these innovations, and artificial intelligence is transforming various fields of technology.

AI is in charge of everything, including upgrades and notifications. It keeps track of all of your previous web searches, communications, actions, and much more. Therefore, AI may analyse your data for a longer period of time the longer you stay on these sites. Your feed will be more individualised thanks to the information collected.

Artificial Intelligence for a Better World

The main critique of AI is that it is snatching away jobs. People think that automation can lead to unemployment and an economic crash. This is far from the truth. AI is making this world a better place to live in.

Click here to learn Python in Hyderabad

It is this AI that understands its mistakes and takes the future course of action to prevent it from happening again in the future. It learns from its own mistakes and improves itself – a quality very rare in humans. It is AI that can help you in fraud detection and security surveillance. It is an AI that is used to control traffic.

Click here to learn Machine Learning in Bangalore

Companies like Microsoft are using AI to map the world. This will help us better understand the land and property distribution. It can be used to make better schemes to eradicate poverty. It can even be used to make timely planning for farming.
AI is used in weather forecasting that saves millions of lives every year from tsunamis and cyclones.

Artificial Intelligence in Tourism

The travel and tourism sector is also influenced by artificial intelligence. Both consumers and companies benefit from it.

You may have observed that the rates on their websites are constantly changing. You must have purchased a ticket in advance or waited a while to get lower-priced tickets. Yes?

Everyone engages in that. AI is used to do this.

AI forecasts prices via predictive analysis. The software can monitor pricing trends and notify you when it is the ideal moment to make a purchase. Purchase your ticket at the best time and price. Artificial intelligence is to thank for everything.
The Bottom Line
AI has a plethora of applications! Without a question, AI has gone a long way and still has a long way to go. It has significantly made our lives easier. You can see how far we have come in only 20 years if you contrast the lives of this generation with those in the 1990s.
Click here to learn Data Science Course, Data Science Course in Hyderabad, Data Science Course in Bangalore
Data Science Training Institutes in Other Locations
Agra
,
Ahmedabad
,
Amritsar
,
Anand
,
Anantapur
,
Bangalore
,
Bhopal
,
Bhubaneswar
,
Chengalpattu
,
Chennai
,
Cochin
,
Dehradun
,
Malaysia
,
Dombivli
,
Durgapur
,
Ernakulam
,
Erode
,
Gandhinagar
,
Ghaziabad
,
Gorakhpur
,
Gwalior
,
Hebbal
,
Hyderabad
,
Jabalpur
,
Jalandhar
,
Jammu
,
Jamshedpur
,
Jodhpur
,
Khammam
,
Kolhapur
,
Kothrud
,
Ludhiana
,
Madurai
,
Meerut
,
Mohali
,
Moradabad
,
Noida
,
Pimpri
,
Pondicherry
,
Pune
,
Rajkot
,
Ranchi
,
Rohtak
,
Roorkee
,
Rourkela
,
Shimla
,
Shimoga
,
Siliguri
,
Srinagar
,
Thane
,
Thiruvananthapuram
,
Tiruchchirappalli
,
Trichur
,
Udaipur
,
Yelahanka
,
Andhra Pradesh
,
Anna Nagar
,
Bhilai
,
Borivali
,
Calicut
,
Chandigarh
,
Chromepet
,
Coimbatore
,
Dilsukhnagar
,
ECIL
,
Faridabad
,
Greater Warangal
,
Guduvanchery
,
Guntur
,
Gurgaon
,
Guwahati
,
Hoodi
,
Indore
,
Jaipur
,
Kalaburagi
,
Kanpur
,
Kharadi
,
Kochi
,
Kolkata
,
Kompally
,
Lucknow
,
Mangalore
,
Mumbai
,
Mysore
,
Nagpur
,
Nashik
,
Navi Mumbai
,
Patna
,
Porur
,
Raipur
,
Salem
,
Surat
,
Thoraipakkam
,
Trichy
,
Uppal
,
Vadodara
,
Varanasi
,
Vijayawada
,
Vizag
,
Tirunelveli
,
Aurangabad
Navigate to Address
360DigiTMG - Data Analytics, Data Science Course Training Hyderabad
2-56/2/19, 3rd floor, Vijaya Towers, near Meridian School, Ayyappa Society Rd, Madhapur, Hyderabad, Telangana 500081
099899 94319