Applications of AI in Life Sciences and HealthCare Industry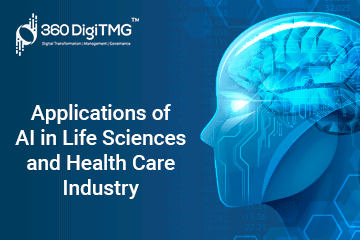 Why the need for Using AI?
We already know that machine learning and artificial intelligence are quickly taking over every significant business. Although AI is still in its infancy, the sectors in which it has been used have already undergone a revolution. Productivity and efficiency have increased across the board, from huge digital-based businesses to the defence sector.
Because AI has such a significant influence on how we live our lives, its use has moved beyond the machines sector to include the life sciences and healthcare sectors. The use of AI is enabling businesses to investigate medical topics that were once viewed as risky and puzzling.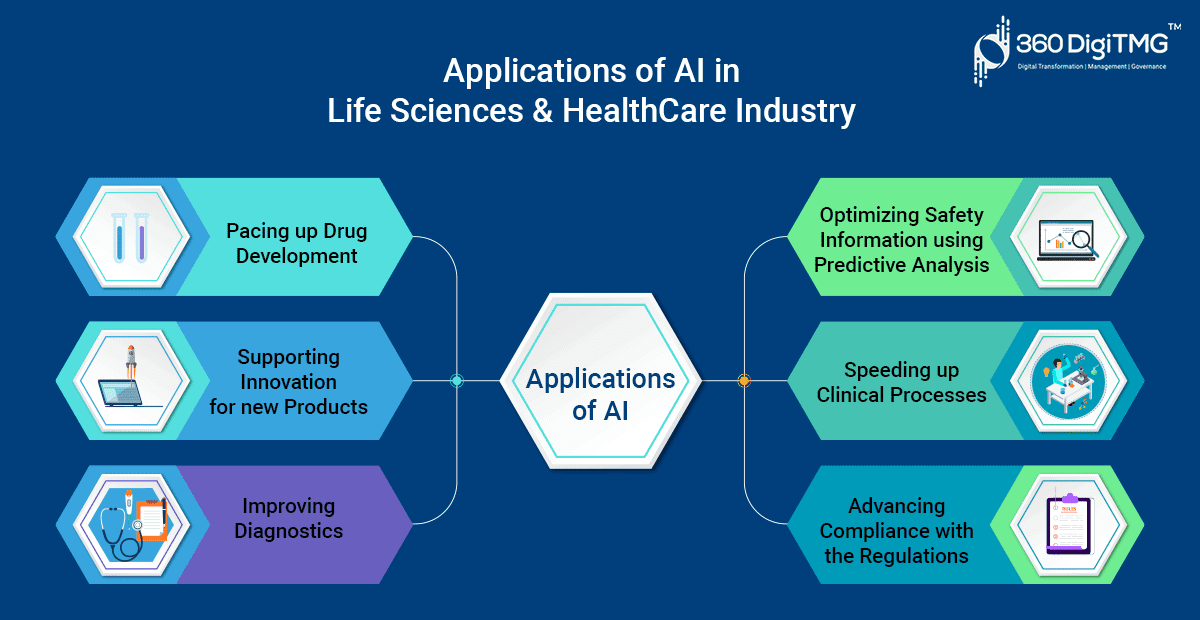 The solution is all of it! Consider the employee at your workplace who consistently arrives before his scheduled time, engages in conversation with everyone, and appears to be having a pleasant day. He would say he likes his work if you asked him. I assume that his attitude has anything to do with this. He probably has a higher emotional quotient than the norm. He is aware of how to manage his feelings and what makes him function at his best. He knows that being a robot won't accomplish anything at all.
Click here to learn Data Science in Hyderabad
The main benefit of AI in the healthcare sector, similar to how it is used in other industries, is that it can collect patient data objectively and analyse it in minute detail to recommend the best course of therapy. Recognising historical sickness trends might be useful for predicting potential health risks in the future. With the use of AI, we can diagnose a patient quickly and provide a prescription. It also widens the set of probabilities that we consider while choosing the correct treatment for the patient.
The Applications
The Life Sciences and HealthCare Industry has witnessed a steady rise in the utilization of AI technologies in the past few years. With more and more people getting interested in data science and machine learning, the time for innovation in the field of AI is ripe right now and the firms are taking advantage of this to advance their business market.
The use of AI in the healthcare sector has been embraced as a way to compensate for the shortage of experienced workers and quick diagnostic techniques. In the subject of medicine or the biological sciences, AI has found several applications. The primary industries where AI has changed are listed below.
Click here to learn Data Science in Bangalore
Thus, we can see that AI is increasingly becoming an integral part of the Life Science and HealthCare industry. It is not only being used for increasing the efficiency and productivity of the institutions but also for providing safer and better service to the consumers and patients for a healthy and better future. However, AI should be used efficiently and carefully because after all, the machines are prone to mistakes.
Click here to learn Data Analytics in Bangalore
Pacing Up Drug Development
New medication development and research are more difficult than they appear. Most new pharmaceuticals require at least 7 to 10 years of development time before they can be manufactured on a large scale for use in commerce. For the creation of novel medications, a variety of facts are needed, including details on body metabolism, adverse effects, and the patient's prior experience with similar medications. Before even beginning the new medication development, this kind of information must be gathered and analysed over the course of several weeks or months.
Click here to learn Python in Hyderabad
AI efficiently gathers and quickly analyses all the necessary data, allowing us to drastically cut down on this time. So, using AI speeds up the start procedure. Their use is not restricted to data mining, though. The patient-collected data may be utilised by the AI systems to generate a real-time patient model that can be used to evaluate all potential pharmacological effects on the patient.
Without utilising any human test participants, it enables us to detect any potential negative effects even before the medicine is put on the market. The entire amount of simulated and gathered data may also be utilised to find out how long it will take to develop and market a new medicine.
Click here to learn Data Analytics in Hyderabad
Supporting Innovation for New Products

The biggest goal of the Life Science and HealthCare industry is to advance the research and innovation for new products. AI has opened up new avenues to help in the innovation of new products. The most widely used method in the HealthCare industry is to develop sophisticated algorithms that can identify and analyze the patterns and causes of infestation of any disease.

Click here to learn Artificial Intelligence in Bangalore

These data can be used for devising new experiments to invent a remedy for the disease. Not only for making new drugs, but the system itself can also be used for improving the existing medicines. The data mined by the AI system can be used to predict the reactions of the body in response to any drug. This information can be used to make any necessary changes in the existing medicine to provide better results.

Click here to learn Artificial Intelligence in Hyderabad

Another major advantage of AI use in the research process is that it helps us to eliminate various blind spots and unexplored areas which were not accessible to us due to the experimental limitations. However, AI can be effectively used to break through those barriers and discover new information by conducting clinical experiments that could not be done physically before.

Improving Diagnostics

When AI gained popularity, one of its initial uses was to advance diagnostic methods. The first step in each patient's treatment is a diagnosis. In most circumstances, if the diagnosis is incorrect, the entire course of therapy will be incorrect, which might be deadly for the patient. Even highly skilled medical professionals are susceptible to misdiagnosis. They are, after all, human, and every other person's body reacts to different viruses in a different way. Additionally, even when two people experience the same symptoms, their problems may differ.

Click here to learn Machine Learning in Hyderabad

This created a possibility for the use of AI in automated diagnostics. When compared to conventional human diagnosis techniques, automated diagnosis is quicker and more accurate. AI systems can use tiny magnifications to spot illness patterns and compare the gathered information to the patient's medical history. The technology then employs a number of sophisticated algorithms to precisely diagnose the illness. In addition, the AI system has the ability to check the body's hormone levels to determine if the patient is experiencing the symptoms of the same sickness or a different condition.

In comparison to manual diagnosis by doctors, automated diagnosis with AI offers us a better, more thorough, and more accurate diagnosis. However, it would be incorrect to imply that doctors are unnecessary and may be replaced by automated diagnosis systems. Because medical professionals always possess unique insights that cannot be replicated by technology.

Optimizing Safety Information using Predictive Analysis

As we all know that medical pieces of equipment and medicines are very sensitive and should always be maintained regularly to ensure its safety for usage. The expiry dates and safety periods for any medicine are generally determined by using the chemical components but these analyses are not always very efficient and accurate.

Most of the companies producing medicines on a large commercial scale have to meet tight deadlines which are most of the time not in sync with the time required by the safety department to run all the necessary tests to determine the safety period of the medicine. This often leads to misleading information about the safety of medicines or pieces of equipment. AI software can effectively analyze the pieces of equipment or medicines keeping in mind the various constraints not limited to the chemical factors but also other usage and environmental factors.

lick here to learn Machine Learning in Bangalore

All these data can be used to perform predictive analysis and determine the safety periods more accurately than normal methods. The machine learning systems can be utilized to record patterns of past medicines usage to determine the future usage patterns of the medicine and pieces of equipment. The data can be used to predict the timeline for starting commercial production and their submission dates to get sold in the market with the most optimal safety period of usage printed on them.

Speeding Up Clinical Processes

Medical institutions are facing significant challenges as a result of the growing population. Due to the completion of different diagnostic procedures and clinical tests taking longer than expected, the majority of patients miss the deadlines for their treatment. An AI model can provide accurate illness prescriptions and identify the high-probability target locations that may be impacted by the disease if these partial data are input into it.

In order to secure the most effective results, AI systems may be very useful when developing the curriculum for various healthcare programmes. AI can simulate some models to run clinical trials and assess the results. It can extend the findings to provide the best method for choosing a trial site and identifying patients.

Advancing Compliance with the Regulations

The major drawback of the Life Science and HealthCare industry is that most of the major firms often neglect the safety regulations and feel no need to comply with them. AI is increasingly being used for employing complex algorithms to identify some keywords and adverse events which indicate any kind of non-compliance with the regulations. This is more effective than normal manual inspection and enforces transparency in clinical processes. It also reduces human efforts to ensure policy compliance.
Click here to learn Data Science Course, Data Science Course in Hyderabad, Data Science Course in Bangalore
Data Science Training Institutes in Other Locations
Agra
,
Ahmedabad
,
Amritsar
,
Anand
,
Anantapur
,
Bangalore
,
Bhopal
,
Bhubaneswar
,
Chengalpattu
,
Chennai
,
Cochin
,
Dehradun
,
Malaysia
,
Dombivli
,
Durgapur
,
Ernakulam
,
Erode
,
Gandhinagar
,
Ghaziabad
,
Gorakhpur
,
Gwalior
,
Hebbal
,
Hyderabad
,
Jabalpur
,
Jalandhar
,
Jammu
,
Jamshedpur
,
Jodhpur
,
Khammam
,
Kolhapur
,
Kothrud
,
Ludhiana
,
Madurai
,
Meerut
,
Mohali
,
Moradabad
,
Noida
,
Pimpri
,
Pondicherry
,
Pune
,
Rajkot
,
Ranchi
,
Rohtak
,
Roorkee
,
Rourkela
,
Shimla
,
Shimoga
,
Siliguri
,
Srinagar
,
Thane
,
Thiruvananthapuram
,
Tiruchchirappalli
,
Trichur
,
Udaipur
,
Yelahanka
,
Andhra Pradesh
,
Anna Nagar
,
Bhilai
,
Borivali
,
Calicut
,
Chandigarh
,
Chromepet
,
Coimbatore
,
Dilsukhnagar
,
ECIL
,
Faridabad
,
Greater Warangal
,
Guduvanchery
,
Guntur
,
Gurgaon
,
Guwahati
,
Hoodi
,
Indore
,
Jaipur
,
Kalaburagi
,
Kanpur
,
Kharadi
,
Kochi
,
Kolkata
,
Kompally
,
Lucknow
,
Mangalore
,
Mumbai
,
Mysore
,
Nagpur
,
Nashik
,
Navi Mumbai
,
Patna
,
Porur
,
Raipur
,
Salem
,
Surat
,
Thoraipakkam
,
Trichy
,
Uppal
,
Vadodara
,
Varanasi
,
Vijayawada
,
Vizag
,
Tirunelveli
,
Aurangabad
Navigate to Address
360DigiTMG - Data Science Course, Data Scientist Course Training in Chennai
D.No: C1, No.3, 3rd Floor, State Highway 49A, 330, Rajiv Gandhi Salai, NJK Avenue, Thoraipakkam, Tamil Nadu 600097
1800-212-654-321