Home / Blog / Data Science / Data Scientist Jobs: What Is The Salary for Freshers To Kickstart Their Journey?
Data Scientist Jobs: What Is The Salary for Freshers To Kickstart Their Journey?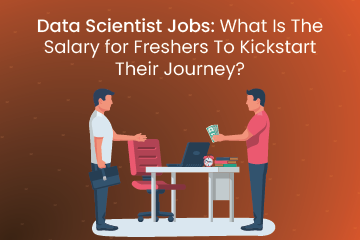 Job offerings in the field of data science have significantly increased merely in the last few years. And it appears that the field will continue to grow in popularity. In data science, people employ programming mathematics, statistics, and other domain knowledge to glean crucial insights from large amounts of data.
Numerous firms that are interested in hiring data scientists are offering them excellent compensation packages, along with other data-related occupations like data analysts and data engineers. The better, the more expertise you have in the area. To understand more about the subject, consider taking a data science course.
Every step of the data processing and cleaning process demands tenacity, a lot of mathematical and statistical knowledge, and a hint of engineering knowledge. After the foundational work is done, data scientists are required to identify patterns and create models, to comprehend how products are used and how well they are doing overall or acting as prototypes that are eventually included back into the final product. As a result, data scientists play a crucial role in articulating the benefits of data-driven design to their enterprises.
Learn the core concepts of Data Science Course video on YouTube:
Overview of Data Science:
Making predictions based on potential trends, assisting with analyzing data and information from various sources, and mining these structured and raw forms of data to identify inefficiencies and opportunities to provide better solutions for business requirements are all tasks that fall under the purview of a data scientist. Additionally, using a variety of programming languages, they are responsible for cleaning the data and developing models for exploiting the data. Organizations are prepared to make significant investments in data scientists due to the role of data scientists in IT processes and initiatives that are data-driven. People with the required skills to work as data scientists who deliver high productivity and value to the company are richly rewarded. Before entering this sector, those who are interested are most concerned about the availability of data science jobs, their salaries, and their future employment prospects.
For years, 360digiTMG has offered extensive courses in AI and data science, emphasizing coaching and practical, customized learning modules that will help students become data scientists who are ready for the field.
Are you looking to become a Data Scientist? Go through 360DigiTMG's Data Scientist Course in Hyderabad!
What exactly are Data Scientists?
In order to get practical insights from data, data scientists combine domain knowledge, computer proficiency, and a solid grasp of mathematics and statistics. Artificial intelligence (AI) systems are created using data such as numbers, text, photos, video, audio, and other types to perform activities that often need human intelligence. These systems consequently produce insights that analysts and business users can employ to create economic value. Learn Java in Chennai to improve the coding and computing techniques in data science in order to broaden your skill set for a job in the field.
The person in charge of collecting and interpreting massive amounts of disorganized data is known as a data scientist. The individual must be an authority in science, statistics, and maths to process the data. Typically, a number of procedures, like data analysis, data processing, and data modeling, were employed to interpret the findings. They are interested in finding cutting-edge solutions to business problems using their practical understanding of skepticism, contextual awareness, and preconceived notions. The gross data scientist salary in India is reaching a peak every year as a result of the greater demand in all IT management sectors.
Want to learn more about data science? Enroll in this Data Scientist Course in Lucknow to do so.
Structure of Pay for Data Scientist Jobs:
The abilities, expertise, geography, IT companies, and the number of years of experience an applicant has all affect the typical salary of a data scientist. Additionally, it differs between novices and seasoned pros. In the graph below, we have provided a rough estimate of the starting wage for data scientists in this section.
⦁ Salary based on Companies Based on Companies, Salary At different IT companies, data scientists are paid differently. In the chart below, we estimated the freshers' pay based on information provided by the company's alumni.
Accenture - Rs. 10,00,329
Capgemini - Rs. 9,65,394
Wipro - Rs. 9,15,948
Cognizant - Rs. 8,87,182
Infosys - Rs. 8,50,083
TCS - Rs. 7,29,380
⦁ Salary based on Location Similar to businesses, data scientists' average salaries in India vary depending on where they work. In contrast to how salaries are typically estimated based on local living costs, our estimation shows the following compensation packages for various national regions. Enroll in and successfully complete IELTS Coaching in nearby locations to you; if you want to increase your pay, then relocate to different areas for the finest Data Scientist Salary for Freshers.
New Delhi - Rs. 8,82,047
Mumbai - Rs. 8,23,692
Bengaluru - Rs. 10,03,133
Hyderabad - Rs. 8,77,564
Pune - Rs. 7,80,692
⦁ Salary Based on Work Experience The typical salary package for both new hires and seasoned professionals increases with the number of years of work experience. As a result, we have displayed the following wage estimation in the chart below based on our experience. Become more knowledgeable about data science by learning Online Data Science Courses at Top Universities in India.
Fresher - Rs. 5,71,493
Early-Career Data Scientist - Rs. 8,00,750
Mid-Career Data Scientist - Rs. 14,20,229
⦁ Salary based on the Skills the Candidate has - Data scientists are valued according to the number of skills or areas of expertise they have. As a result, they are also paid according to the talents they possess; the chart below shows an estimate of fresher income. Take the 360digiTMG Data Science Course to improve your chances of earning the top.
Earn yourself a promising career in data science by enrolling in
Data Scienctis Course in Kalyan
offered by 360DigiTMG.
Fresher Data Scientist Salary:
A Data Scientist's average salary range is:
Data scientists are in charge of supporting organizations with data acquisition and data sourcing. Professionals in data science assist with processing, cleaning, integrating, and storing data.
Data scientists' primary responsibilities include exploring data and performing exploratory data analysis. Additionally, they create data models and make recommendations for algorithmic approaches to data use. Data Scientists are sometimes in charge of utilizing machine learning to utilize the data or combining it with AI systems.
Data scientists must be proficient in Python, R, or Scala programming. Additionally, they must be familiar with NoSQL DBMS systems, distributed file systems like Hadoop, and RDBMS like MySQL, MariaDB, and others. Data scientists must also have a solid understanding of data visualization.
A data scientist in India earns an annual salary of Rs. 8,60,316.
The average salary for new hires and data scientists in India with less than a year of experience is Rs. 5,71,493, according to 533 data scientists' salaries. A data scientist with between one and four years of experience may expect to make an average yearly income of Rs. 8,00,750. (based on the wages of 2476 data scientists).
The average yearly income for experienced data scientists with five to nine years of expertise is Rs. 14,20,229, according to 868 data scientists' salaries. Senior data scientists with 10 to 19 years of experience earn an average yearly pay of Rs. 18,40,360, according to the salaries of 233 data scientists.
Pay for Data Scientists in Other Nations:
The top Five Countries' Salaries are as follows:
⦁ United States: In terms of paying data scientists who are willing to work for them well, the United States of America is at the top of the list. In the United States, data scientists make an average salary of $120,000 annually. The compensation for data scientists is the highest in any nation.
⦁ Australia: second-highest paying nation for data scientists in Australia. Coming to the United States, the increase in data scientists from Australia and other nations is proof of this. Depending on experience, the typical compensation for a data scientist ranges from AU$ 75,233 to AU$ 1,121,578 annually.
⦁ Israel: Nobody could have foreseen that Israel would develop into a significant IT hub, offering a wide range of job prospects for both inexperienced and seasoned data scientists. Working data professionals in Israel make about $88,000 per year.
⦁ Canada: you're hoping to work in data science in Canada, you're in for a great future. Data scientists in Canada make about $81,000 a year. A data scientist may earn up to $117,750 per year, with a starting salary of $77,870.
⦁ Germany: People seeking work in data science in Germany might make up to 5,960 euros per month. Working data scientists in Germany make between 2,740 and 9,470 euros monthly.
Factors in Support of Becoming a Data Scientist:
1. Growing demand: Data science will be one of the most in-demand professions in 2021. By 2026, it is anticipated that more than 11 million individuals will work in data science and analytics. After the United States, India is the country where data scientists' jobs are most plentiful. One of the main factors affecting data scientists' high salaries in India is the country's great need for them.
2. Lucrative positions with a variety of responsibilities: There is numerous employment available for data scientists, who are in high demand. There is a critical shortage of data scientists despite the fact that their demand is tremendously strong. There are several open positions all around the world as a result of a lack of necessary skill sets. This is a great industry to enter because there is a significant lack of ability.
3. Altering workplace conditions: Data science is helping to shape the workplace of the future. Artificial intelligence and robotics have enabled the mechanization of an increasing number of routine and manual tasks. Data science technologies have made it simpler to teach robots to carry out monotonous tasks as people take on more positions requiring critical thinking and problem-solving.
4. Improving the caliber of products: Machine learning and artificial intelligence have made it possible for businesses to customize their offerings and improve client experiences. From e-commerce to marketing and retail, from information technology to health care, they are thriving in every sector. Data scientists play a crucial role as trusted advisors and strategic partners to management because data is a company's most valuable asset. They search the data for pertinent information that could assist them in refining their area of expertise, identifying their ideal target market, and organizing upcoming marketing and growth plans.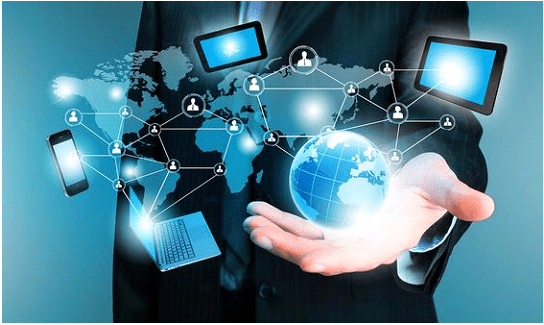 Also, check this
Data Scientis Course in Chengalpattu
to start a career in Data Science. Looking forward to becoming a Data Scientist? Check out the Data Scientist Course and get certified today.
Job Positions in Data Science that Pay Well in India:
A. Data Scientists: Simply coded statistics make up data science. Alongside R, Python has shown its proficiency in data sorting using both broad and specific criteria. In India, R and Python data science programmers make more money than both software developers and DevOps programmers combined. The reason for this is that corporations today frequently collect, clean, and process data because they need it to obtain market and customer information.
Salary Range in India for Freshers: The pay for data scientists in India varies greatly depending on a number of variables. Nevertheless, the average pay for data scientists is 698,412. A data scientist with less than one year of experience might expect to make approximately 500,000 per year. For data scientists, the entry-level pay is about 610,811 per year for those as experienced or with 1 to 4 years of experience.
B. Data Engineers: A Data Engineer's main responsibility is to plan and build a solid infrastructure for converting data into formats that Data Scientists can use. Data engineers must create not only scalable pipelines to convert semi-structured and unstructured data into accessible formats but also find significant trends in huge datasets. Data engineers primarily focus on preparing and improving raw data so that it can be used for operational or analytical purposes.
Salary Range in India for Freshers: The average Data Engineer income in India, according to Glassdoor, is Rs. 8,56,643 LPA. Of course, there are a number of elements that affect the Data Engineer compensation, such as the company's size and reputation, location, educational background, job title, and experience.
C. Data Analyst: Data analysts are experts who translate numbers, statistics, and figures into understandable plain English. Based on data analysts' and data scientists' salaries in India, they receive good wages.
Salary Range in India for Freshers: In India, a data analyst with 1 to 4 years of experience can expect to make a gross salary of Rs 3,96,128 (including tips, bonuses, and overtime pay), while a mid-career data analyst with 5 to 9 years of experience can expect to make up to Rs 6,03,120 depending on the company and the workplace's location.
Challenges in the Career of Data Science:
⦁ Preparation of Data: Data scientists spend around 80% of their time cleaning and preparing information to improve its quality, that is, to make it correct and consistent, before using it for analysis. However, 57 percent of them believe it to be the most challenging aspect of their jobs and describe it as tedious and time-consuming.
⦁ Different data sources: Data scientists will require access to more data sources as businesses continue to employ a variety of apps and technologies and produce data in a variety of formats, necessitating their utilization. This method requires manual data entry and time-consuming data searching, which always leads to mistakes, repeats, and inaccurate conclusions.
⦁ Data protection: businesses transition to cloud data management, cyberattacks are spreading more widely. Businesses should employ robust machine learning-enabled security platforms and add extra security measures to protect their data.
⦁ Excellent non-technical stakeholder communication: Data scientists must be able to communicate effectively with corporate leaders who may be unaware of the intricacy and technical jargon involved in their work. Their models won't likely be implemented if the CEO, stakeholder, or client can't understand them.
Conclusion:
Data scientists have tempting job descriptions and salaries. If you think you have the skills and passion for pursuing a career as a data scientist, now is the time. Depending on your degree of experience and skill set, you might also think about enrolling in pertinent data science courses to further your entry into the field. There are many opportunities, and the market needs qualified professionals. Make the correct career decision now!
Being a Data Scientist is just a step away. Check out the
Data Scientist Course
at 360DigiTMG and get certified today.
Data Science Placement Success Story
Data Science Training Institutes in Other Locations
Agra, Ahmedabad, Amritsar, Anand, Anantapur, Bangalore, Bhopal, Bhubaneswar, Chengalpattu, Chennai, Cochin, Dehradun, Malaysia, Dombivli, Durgapur, Ernakulam, Erode, Gandhinagar, Ghaziabad, Gorakhpur, Gwalior, Hebbal, Hyderabad, Jabalpur, Jalandhar, Jammu, Jamshedpur, Jodhpur, Khammam, Kolhapur, Kothrud, Ludhiana, Madurai, Meerut, Mohali, Moradabad, Noida, Pimpri, Pondicherry, Pune, Rajkot, Ranchi, Rohtak, Roorkee, Rourkela, Shimla, Shimoga, Siliguri, Srinagar, Thane, Thiruvananthapuram, Tiruchchirappalli, Trichur, Udaipur, Yelahanka, Andhra Pradesh, Anna Nagar, Bhilai, Borivali, Calicut, Chandigarh, Chromepet, Coimbatore, Dilsukhnagar, ECIL, Faridabad, Greater Warangal, Guduvanchery, Guntur, Gurgaon, Guwahati, Hoodi, Indore, Jaipur, Kalaburagi, Kanpur, Kharadi, Kochi, Kolkata, Kompally, Lucknow, Mangalore, Mumbai, Mysore, Nagpur, Nashik, Navi Mumbai, Patna, Porur, Raipur, Salem, Surat, Thoraipakkam, Trichy, Uppal, Vadodara, Varanasi, Vijayawada, Visakhapatnam, Tirunelveli, Aurangabad
Data Analyst Courses in Other Locations
ECIL, Jaipur, Pune, Gurgaon, Salem, Surat, Agra, Ahmedabad, Amritsar, Anand, Anantapur, Andhra Pradesh, Anna Nagar, Aurangabad, Bhilai, Bhopal, Bhubaneswar, Borivali, Calicut, Cochin, Chengalpattu , Dehradun, Dombivli, Durgapur, Ernakulam, Erode, Gandhinagar, Ghaziabad, Gorakhpur, Guduvanchery, Gwalior, Hebbal, Hoodi , Indore, Jabalpur, Jaipur, Jalandhar, Jammu, Jamshedpur, Jodhpur, Kanpur, Khammam, Kochi, Kolhapur, Kolkata, Kothrud, Ludhiana, Madurai, Mangalore, Meerut, Mohali, Moradabad, Pimpri, Pondicherry, Porur, Rajkot, Ranchi, Rohtak, Roorkee, Rourkela, Shimla, Shimoga, Siliguri, Srinagar, Thoraipakkam , Tiruchirappalli, Tirunelveli, Trichur, Trichy, Udaipur, Vijayawada, Vizag, Warangal, Chennai, Coimbatore, Delhi, Dilsukhnagar, Hyderabad, Kalyan, Nagpur, Noida, Thane, Thiruvananthapuram, Uppal, Kompally, Bangalore, Chandigarh, Chromepet, Faridabad, Guntur, Guwahati, Kharadi, Lucknow, Mumbai, Mysore, Nashik, Navi Mumbai, Patna, Pune, Raipur, Vadodara, Varanasi, Yelahanka
Navigate to Address
360DigiTMG - Data Analytics, Data Science Course Training in Chennai
D.No: C1, No.3, 3rd Floor, State Highway 49A, 330, Rajiv Gandhi Salai, NJK Avenue, Thoraipakkam, Tamil Nadu 600097
1800-212-654-321