What Are The Educational Requirements Need To Become A Data Scientist?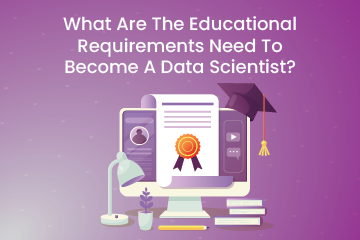 Data scientists are analytical professionals that analyze and interpret data to address challenging issues. To find solutions to business difficulties, they draw on their expertise in the industry and their comprehension of the context.
The work of a data scientist integrates computer science, statistics, and mathematics to gather and organize information from various data sources, turn the findings into workable strategies, and share them with their organizations. Effective communicators, leaders, team players, and high-level analytical thinkers are necessary for data scientists to succeed.
Data scientists operate in various sectors, including government organizations, manufacturing, healthcare, and academic institutions. In today's data and tech-heavy economy, data scientists are in high demand, and their pay and employment growth reflects that.
What is a Data Scientist?
Because data science is primarily focused on deep knowledge discovery through data exploration and inference, a skilled data scientist must possess both the statistical understanding and computing skills necessary for tackling complex problems. This field employs mathematical and algorithmic tools to address some of the most analytically challenging business issues, using vast amounts of unprocessed data to uncover the hidden knowledge that lies under the surface.
Governments and commercial businesses are interested in concluding their enormous data-gathering operations, given the exponential amount of data produced by our smartphones, desktop computers, and the wide variety of IoT devices worldwide. Therefore, one would initially believe that data scientists and analysts are interchangeable, i.e., that there is a mutual one-to-one correlation between the two, but this is not the case.
Data scientists must have great verbal, written, and visual communication abilities because much of their job involves precise, rigorous, minutiae-driven analysis. They will be responsible for communicating their conclusions and analysis to a large group of people who might find very complex data-driven jargon challenging to understand. It may comprise high-level corporate stakeholders and their own managers and team members. Data scientists must communicate what they have learned and what should be done now that the information is known thoroughly and understandably.
Why Consider a Career in Data Science?
Data scientists use big data to discover trends, develop sound business strategies for their clients, and support important decisions, earning the title of "sexiest job of the 21st century" according to Harvard Business Review. These professions draw those who seek to understand the world through obtaining and analyzing data sets.
Programs in data science are frequently successful with bright, inquisitive people who have a penchant for solving challenges. These students frequently inquire about the "how" and "why" of events. They then look for data to address those queries.
Computer science, mathematics, statistics, research methods, and foundational business concepts are all included in data science education. Despite being cross-disciplinary, these programs favor STEM subjects. As a result, data science degrees may be incredibly alluring to students interested in STEM fields.
Education Requirements for Becoming a Data Scientist:
The educational requirements for data science specialists vary based on their job, organization, and sector. Data scientists frequently need a bachelor's degree in computer science, data science, or a closely related field. However, a master's degree in data science or a closely related topic is preferred by many jobs in this industry.
A bachelor's degree is typically required for data analysts and data engineers. A master's degree is typically necessary to work as a data scientist or computer and information research scientist.
Some data science experts have a range of educational backgrounds. An individual might obtain a bachelor's degree in computer science and pass a data science boot camp, for instance. Or, they could finish a bachelor's degree in another subject before obtaining a master's in data science.
Generally, as people obtain higher degree levels, their professional options and wages rise. Additionally, candidates for jobs with a graduate degree will stand out from those with only a bachelor's.
To become a data scientist, you normally require a science, math, or computer-related degree. The following degree specialties could be especially beneficial:
Computer Science
Data Science/Computer and Data Science
Engineering
Mathematics
Mathematics and Operational Research
Physics
Statistics
You'll need to be proficient in database design and coding and some programming languages like R, Python, SQL, C, or Java.
Some major employers have graduate training programs in data science, which typically last two years to complete. Some programs may accept graduates from any discipline. Some people will list the degree topics they will accept.
Many data scientists have postgraduate degrees, such as a Master's or Ph.D., which might be helpful. It is especially beneficial if you're thinking about changing careers or want to develop your analytical skills. Some organizations will require a relevant Master's or Ph.D. in a field such as:
Big data
Business Analytics
Data Analytics
Data Science
Enrolling in a course requires a degree in mathematics, engineering, computer science, or a scientific field. However, if you have basic programming skills and quantitative aptitude, you may also be able to succeed in business, economics, psychology, or health.
Postgraduate machine learning, mathematics, physics, and computer science courses are also pertinent.
Data Scientist job description:
Although data science projects and activities may vary depending on the firm, all data science professionals often share several essential work tasks, like as:
Gathering enormous volumes of data and using it for analysis-friendly
Resolving challenges in the workplace with the aid of data-driven tools and strategies.
Using a variety of applications and programming languages to collect and analyze data
Having extensive knowledge of analytical techniques and equipment.
Insightful data visualizations and comprehensive reports are used to communicate findings and offer advice.
Identifying patterns and trends in data and providing a plan to put improvements into practice.
Utilize predictive analytics to foresee future needs, occurrences, etc.
Participate in developing data mining architectures, modeling standards, reporting techniques, and data analysis methods.
Provide fresh algorithms to address issues and create analytical tools.
Make cost-effective improvements to current practices and tactics.
Learn the core concepts of Data Science Course video on YouTube:
What Persons are Eligible?
Everyone can learn data science, regardless of their level of experience. Engineering, software, marketing, and IT professionals can enroll in external data science or part-time programs.
Data science is a muddled synthesis of ideas from mathematics, computer science, and statistics. As a result, each student is required to hold a degree in either science, technology, engineering, or mathematics (STEM background).
Anyone from a STEM background is eligible to become a data scientist in India because having a STEM background is one of the minimum requirements for data scientists that any novice should possess.
The other advantage is having studied computer programming in the high school. Students are taught the fundamentals of data science as well as its modern notions. Based on their understanding of statistics, machine learning, and programming, students become experts in using Data Science techniques in the real world.
Students from other fields, like business studies, are also qualified for appropriate Data Science courses. In addition, business professionals with a foundational degree in business administration, such as an MBA or BBA, are also qualified to pursue further courses in the field of data science.
These professionals bear the title of Executive in the IT industry. They are mostly in charge of producing MIS (Management Information System), CRM, and business-related DQA reports (Data Quality Assessment).
After the 12th grade, entrance to a data science program in India requires a minimum level of skill in mathematics, computer science, and statistics. Additionally, aspirant students must have a minimum cumulative high school grade point average of 50%.
Students seeking possibilities for a Diploma in Data Science must possess a BE/BTech/MCA/MSc degree with statistics, computing, or programming as their primary disciplines. In addition, for the students above to be eligible for a Diploma in Data Science, their cumulative grade point average should be at least 50%.
The requirements for enrolling in a Data Science course for those interested in an MSSc, MTech, or MCA A BCA, BE, BTech, or another degree from an accredited university that is equivalent to data science is required. In addition, the aspirant applicants should also possess a thorough understanding of mathematics and statistics and a minimum cumulative GPA of 50% on their university score sheet.
A minimum of 55% in the postgraduate program is one of the data science prerequisites for pursuing a Ph.D. in the field. Therefore, students with higher-than-average GPAs are probably given precedence over other students.
Data Science Curriculum:
Educators created a Data Science course syllabus to help students become prepared to use their knowledge of the field in the workplace. The curriculum is also get modified to fit commercial requirements.
Open-source software, libraries, databases, SQL, Python, R, data visualization, data analysis, and machine learning are the main topics covered in the course's curriculum. The course's basic idea follows data processing procedures.
Career Path for Data Scientists:
Graduating students frequently require on-the-job training before they can launch their professions. This training frequently focuses on the company's unique initiatives and internal operations. It might contain cutting-edge analytics methods that undergraduate courses will not cover.
The subject of data science is continually evolving; thus, it is crucial for anyone working in it to continue their education. For their careers, data scientists receive training to stay on the cutting edge of knowledge and technology.
Jobs for Data Scientists:
Data scientists operate in many places, but most are offices where individuals can work in teams, collaborate on projects, and communicate clearly. Writing code for a program that will evaluate the data or uploading numbers and data into the system could make up a large portion of the job.
The organization you work for and the sector you are in will have a big impact on the tempo, atmosphere, and pace of the workplace. You may be employed by a company that values patience, deliberate development, or prioritizes speedy outcomes in a fast-paced work atmosphere.
Depending on the type of data science you are pursuing and the nature of the companies you work for, you may discover a workplace built to foster creative thinking for efficiency and effectiveness.
How to Begin Your Data Science Career?
Before beginning their careers, data science professionals normally need a bachelor's degree. But many positions call for higher-level degrees. For example, political analysts and computer and information research scientists often need a master's degree or doctorate, whereas operations research analysts and market research analysts typically need a bachelor's degree.
Data science associate degree: It offers a well-rounded general education in several subjects, such as math, science, and communication. Learners can enroll in a condensed sequence of foundational classes in their chosen subject at the associate level. Students can also acquire an associate of science or an associate of arts, which are more general degrees.
Data science bachelor's degree: A bachelor's degree is necessary for many data science occupations. For instance, analysts in operations research often require a bachelor's degree in data science, business intelligence, or a closely related discipline. Computer science, statistics, communication, and business courses are all included in the interdisciplinary curriculum of data science degrees.
Data Science master's degree: Gaining specialized knowledge in machine learning, software engineering, data mining, applied statistics, risk analysis, analytics, and data management is facilitated by master's programs in data science. Graduates understand how to analyze huge, complicated data sets and put their conclusions to use. The top data science master's programs train students for careers in various fields, including government, business, and scientific research and development.
Data Science Doctoral Programs: Students who complete doctoral programs in data science can prepare for positions in academia and research. These programs offer challenging, advanced training in natural language processing, computational cognitive modeling, deep learning, and mathematical data science methods. Professionals in data science can benefit greatly from earning a Ph.D. degree.
How to Become a Data Scientist in Six Steps
1. Preparation:
Future data scientists can start putting together their plans before they even set foot on a college campus or enroll in an online degree program. Aspiring data scientists will benefit from brushing up on their knowledge of applied math and statistics and mastering the most popular programming languages in data science, such as Python, Java, and R.
2. Finish your undergraduate degree:
Statistics, computer science, information technology, mathematics, or data science, if accessible, are the most popular majors for data scientists. However, there is advice that you minor in one of the subjects if you are currently enrolled in another undergraduate program and need help to switch.
3. Find an entry-level position:
Many times, employers are eager to fill entry-level data science positions. Look for openings for junior data analyst or junior data scientist employment. When searching for entry-level data science positions, system-specific training or certifications in data-related domains (such as business intelligence applications, relational database management systems, data visualization tools, etc.) may be helpful.
4. Obtain a Ph.D. or a Master's Degree:
For those in the data science field, those with advanced degrees like a Master's or Ph.D. typically have greater career options. It requires the same prerequisites for an undergraduate degree for the in-demand graduate degrees in data science: data science (if available), computer science, information technology, arithmetic, and statistics. However, many businesses also accept STEM degrees in fields like physics, engineering, and biotechnology (among others).
5. Gain promotion:
Gaining a promotion or becoming a highly sought-after data scientist depends largely on additional education and experience. Therefore, strong technical abilities combined with project management and leadership expertise will pave the way for greater possibilities and higher pay.
6. Never Stop Learning:
In the rapidly changing world of data science, staying current is essential. An insurance policy against changes in the job market in this era of ongoing technological innovation is continual education. Since data science is a relatively new subject compared to other careers with a statistical and technological focus, this is also the case.
Click here to learn Data Science Course Syllabus, Data Science Training in Hyderabad, Data Science Course Fees in Bangalore
Data Science Placement Success Story
Data Science Training Institutes in Other Locations
Agra, Ahmedabad, Amritsar, Anand, Anantapur, Bangalore, Bhopal, Bhubaneswar, Chengalpattu, Chennai, Cochin, Dehradun, Malaysia, Dombivli, Durgapur, Ernakulam, Erode, Gandhinagar, Ghaziabad, Gorakhpur, Gwalior, Hebbal, Hyderabad, Jabalpur, Jalandhar, Jammu, Jamshedpur, Jodhpur, Khammam, Kolhapur, Kothrud, Ludhiana, Madurai, Meerut, Mohali, Moradabad, Noida, Pimpri, Pondicherry, Pune, Rajkot, Ranchi, Rohtak, Roorkee, Rourkela, Shimla, Shimoga, Siliguri, Srinagar, Thane, Thiruvananthapuram, Tiruchchirappalli, Trichur, Udaipur, Yelahanka, Andhra Pradesh, Anna Nagar, Bhilai, Borivali, Calicut, Chandigarh, Chromepet, Coimbatore, Dilsukhnagar, ECIL, Faridabad, Greater Warangal, Guduvanchery, Guntur, Gurgaon, Guwahati, Hoodi, Indore, Jaipur, Kalaburagi, Kanpur, Kharadi, Kochi, Kolkata, Kompally, Lucknow, Mangalore, Mumbai, Mysore, Nagpur, Nashik, Navi Mumbai, Patna, Porur, Raipur, Salem, Surat, Thoraipakkam, Trichy, Uppal, Vadodara, Varanasi, Vijayawada, Visakhapatnam, Tirunelveli, Aurangabad
Data Analyst Courses in Other Locations
ECIL, Jaipur, Pune, Gurgaon, Salem, Surat, Agra, Ahmedabad, Amritsar, Anand, Anantapur, Andhra Pradesh, Anna Nagar, Aurangabad, Bhilai, Bhopal, Bhubaneswar, Borivali, Calicut, Cochin, Chengalpattu , Dehradun, Dombivli, Durgapur, Ernakulam, Erode, Gandhinagar, Ghaziabad, Gorakhpur, Guduvanchery, Gwalior, Hebbal, Hoodi , Indore, Jabalpur, Jaipur, Jalandhar, Jammu, Jamshedpur, Jodhpur, Kanpur, Khammam, Kochi, Kolhapur, Kolkata, Kothrud, Ludhiana, Madurai, Mangalore, Meerut, Mohali, Moradabad, Pimpri, Pondicherry, Porur, Rajkot, Ranchi, Rohtak, Roorkee, Rourkela, Shimla, Shimoga, Siliguri, Srinagar, Thoraipakkam , Tiruchirappalli, Tirunelveli, Trichur, Trichy, Udaipur, Vijayawada, Vizag, Warangal, Chennai, Coimbatore, Delhi, Dilsukhnagar, Hyderabad, Kalyan, Nagpur, Noida, Thane, Thiruvananthapuram, Uppal, Kompally, Bangalore, Chandigarh, Chromepet, Faridabad, Guntur, Guwahati, Kharadi, Lucknow, Mumbai, Mysore, Nashik, Navi Mumbai, Patna, Pune, Raipur, Vadodara, Varanasi, Yelahanka
Navigate to Address
360DigiTMG - Data Analytics, Data Science Course Training in Chennai
D.No: C1, No.3, 3rd Floor, State Highway 49A, 330, Rajiv Gandhi Salai, NJK Avenue, Thoraipakkam, Tamil Nadu 600097
1800-212-654-321