Best 7 Proven Reasons Why Working In Data Jobs Could Make You Rich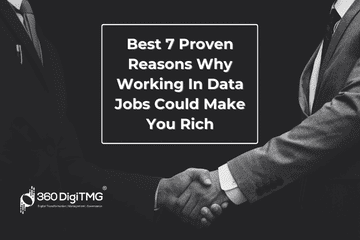 There is no disputing that individuals nowadays are interested in careers as data engineers, data scientists, and data analysts. As a result of how closely these positions are related, many firms may even use the terms interchangeably. So, if you're thinking about entering the data sector, choosing the right function could seem like a challenging endeavour filled with many unanswered questions. Is it feasible to work as a data scientist, for instance, without a Ph.D.? Does being a data analyst need me to have a working knowledge of Python or R? This post will define differences and point you towards the best resources for each.
The two most apparent approaches for businesses to monetize data are as follows:
To build better products for clients, data is gathered and evaluated for product development. Increased sales, goods with more added value, or more deals closed are the results of this.
Internal process issues and bottlenecks are found using data, which are then fixed to increase corporate productivity and profitability.
Learn the core concepts of Data Science Course video on Youtube:
Best seven reasons why you should be the one profiting from a data job:
One of the most popular courses to take is one on data careers. Because of the considerable advancements achieved in the field of information technology, businesses large and small are actively seeking candidates with training in this area. There won't be a drop in demand for data employment anytime soon. Why is this taking place? What's fueling this sudden increase in demand? In this article, we'll examine the factors that make a profession in data appear to be one of the most promising for becoming rich.
1. Providing data to the sales force:
A company's sales organisation seeks to boost sales. Data may be a powerful tool for attaining that objective. Businesses that are cutting edge provide their sales personnel with broad customer data sets that make it simple to identify client difficulties that can result in lost business and sales leads. Data enables the sales team to engage clients more persuasively, provide better product demonstrations, and improve customer service. Salespeople tell customers that cutting-edge companies make fantastic data leaders.
2. Control over your decision:
Since you are the property's owner, you have the right to determine how to use it. It should be up to you if you want to keep it private and leave no digital traces. Additionally, if you wish to use your data to generate additional revenue should be your choice.
2. Data sales to participants at all levels of the industrial value chain:
Businesses usually see their operations as separate silos, and the data they have comes from their transactions and contacts with customers. They use it to serve their own purposes. In actuality, they have been operating in value chains and network settings where the final product that is delivered to the client is the result of multiple cooperative firms cooperating. Many businesses have recently come to the realisation that these networked business environments provide opportunities for information sharing and capitalization across organisations. Data may be useful for enhancing business processes and the interconnectedness of value chain members. Companies can profit from the sale of their data to partners up and down the value chain, such as retailers, resale partners, and other 3sales partners, or by selling it to both.
4. Have an impact on your actions:
Your data is not only gathered from you; it is also finally applied to behavior modification. Ad targeting techniques may be annoying—a seemingly innocent Google search might result in a barrage of adverts following you throughout the Internet—too dangerous—false news and phony accounts can influence elections. Your whole user experience reduces to automated algorithms only concerned with "engagement," with little to no thought given to the bigger picture or long-term impact. You are left to deal with the consequences while they can profit.
5. Demand for data jobs:
Data-related careers are highly sought after in the employment market. After taking a data course, your chances of getting a good job will rise. Employing trained personnel who can collect, analyse, and apply substantial volumes of data in a way that benefits the organisation is now important to organisations. The need for data employment is growing daily because there aren't enough professionals in this field.
6. Various employment roles in the data field
There are several job titles available for data career professionals. After taking a data course, you will notice that you can access various employment options. The big data analytics market, a data science subfield, is quite good. Well, if you are knowledgeable in this particular subject, large companies like IBM, Oracle, Opera, and many more offer several employment positions. Your employment opportunities will increase if you take a data course. These are some positions that a data student could apply for, including data analyst, engineer, machine learning engineer, and generalist in data science.
7. Salary for Data jobs:
Jobs in the data field often have high pay ranges in the six figures. How much to pay them depends on how committed they are to the organisation. A level one data career contributor may only anticipate making $97,000 on an essential basis, in contrast to a level 3 data position that can bring in a salary of $152,000. In addition, they also receive an additional prize, with the level one contributor receiving a reward starting at $10,000 and the level three contributor receiving compensation beginning at a much higher range.
Technical prerequisites for jobs involving data:
Each of these three requires coding expertise, but the specific programming language and analytics platform vary depending on the position.
⦁ Extract/Transform/Load (ETL) data pipelines are a specialty of data engineers, who are experts in various data warehouses, cloud computing platforms, and ETL. For their daily tasks, they use multiple systems, including AWS, Google Cloud, Snowflake, and others. In addition, data engineers are proficient in Python and SQL, and some are also proficient in C++ and Java.
⦁ Data scientists are well-versed in SQL, R, and Python and have extensive statistical understanding. In addition, an intelligent data scientist is also well-versed in the theory and practice of a few fundamental machine learning methods.
⦁ Data analysts are experts in using SQL and have a practical understanding of statistics. They are adept at quickly turning business inquiries into analytical ones and are skilled at creating compelling visuals using programs like Tableau and Looker.
Final Thoughts:
Making money using data has a significant worldwide economic potential, and a lot of smart organisations are already moving forward with their plans to do so. to combine data from many sources in order to enhance it, produce vital, innovative insights, and collaborate with established players in and outside of sectors. Rich data also makes it possible for business divisions like sales, marketing, and product development to create new income streams. Some businesses go as far as to approach their customers directly with the provision of data as a newly packaged commodity, generating revenue right away.
Qualified individuals may develop machine learning programmes that have the potential to totally revolutionise particular sectors by combining data with the formidable processing skills of computers. These technologies will help companies, for instance, make the move from reporting past events to monitoring current occurrences and eventually forecasting probable future events. I believe we're going to witness a real boom in the number of companies whose operations are heavily dependent on data exploitation, especially in light of the most recent advancements in machine learning and the six unique techniques to monetizing data discussed above.
Click here to learn Data Science Course, Data Science Course in Hyderabad, Data Science Course in Bangalore
Data Science Placement Success Story
Data Science Training Institutes in Other Locations
Agra, Ahmedabad, Amritsar, Anand, Anantapur, Bangalore, Bhopal, Bhubaneswar, Chengalpattu, Chennai, Cochin, Dehradun, Malaysia, Dombivli, Durgapur, Ernakulam, Erode, Gandhinagar, Ghaziabad, Gorakhpur, Gwalior, Hebbal, Hyderabad, Jabalpur, Jalandhar, Jammu, Jamshedpur, Jodhpur, Khammam, Kolhapur, Kothrud, Ludhiana, Madurai, Meerut, Mohali, Moradabad, Noida, Pimpri, Pondicherry, Pune, Rajkot, Ranchi, Rohtak, Roorkee, Rourkela, Shimla, Shimoga, Siliguri, Srinagar, Thane, Thiruvananthapuram, Tiruchchirappalli, Trichur, Udaipur, Yelahanka, Andhra Pradesh, Anna Nagar, Bhilai, Borivali, Calicut, Chandigarh, Chromepet, Coimbatore, Dilsukhnagar, ECIL, Faridabad, Greater Warangal, Guduvanchery, Guntur, Gurgaon, Guwahati, Hoodi, Indore, Jaipur, Kalaburagi, Kanpur, Kharadi, Kochi, Kolkata, Kompally, Lucknow, Mangalore, Mumbai, Mysore, Nagpur, Nashik, Navi Mumbai, Patna, Porur, Raipur, Salem, Surat, Thoraipakkam, Trichy, Uppal, Vadodara, Varanasi, Vijayawada, Visakhapatnam, Tirunelveli, Aurangabad
Data Analyst Courses in Other Locations
ECIL, Jaipur, Pune, Gurgaon, Salem, Surat, Agra, Ahmedabad, Amritsar, Anand, Anantapur, Andhra Pradesh, Anna Nagar, Aurangabad, Bhilai, Bhopal, Bhubaneswar, Borivali, Calicut, Cochin, Chengalpattu , Dehradun, Dombivli, Durgapur, Ernakulam, Erode, Gandhinagar, Ghaziabad, Gorakhpur, Guduvanchery, Gwalior, Hebbal, Hoodi , Indore, Jabalpur, Jaipur, Jalandhar, Jammu, Jamshedpur, Jodhpur, Kanpur, Khammam, Kochi, Kolhapur, Kolkata, Kothrud, Ludhiana, Madurai, Mangalore, Meerut, Mohali, Moradabad, Pimpri, Pondicherry, Porur, Rajkot, Ranchi, Rohtak, Roorkee, Rourkela, Shimla, Shimoga, Siliguri, Srinagar, Thoraipakkam , Tiruchirappalli, Tirunelveli, Trichur, Trichy, Udaipur, Vijayawada, Vizag, Warangal, Chennai, Coimbatore, Delhi, Dilsukhnagar, Hyderabad, Kalyan, Nagpur, Noida, Thane, Thiruvananthapuram, Uppal, Kompally, Bangalore, Chandigarh, Chromepet, Faridabad, Guntur, Guwahati, Kharadi, Lucknow, Mumbai, Mysore, Nashik, Navi Mumbai, Patna, Pune, Raipur, Vadodara, Varanasi, Yelahanka
Navigate to Address
360DigiTMG - Data Analytics, Data Science Course Training Hyderabad
2-56/2/19, 3rd floor, Vijaya Towers, near Meridian School, Ayyappa Society Rd, Madhapur, Hyderabad, Telangana 500081
099899 94319