Strategies On How To Get The Best Out Of Your Data Science Degree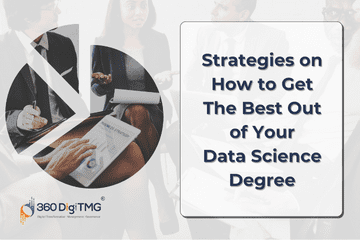 As a data science student, you'll learn how to acquire and handle data safely and then utilize it to make informed decisions. This data science degree program is an interdisciplinary field of study that combines computer science, statistics, mathematics, business, and social sciences. One may work alone or in groups to examine data and resolve challenging issues during your studies.
Learn more about the types of courses you'll study and the employment choices that will be accessible once you finish getting ready to pursue a degree in data science.
Earn yourself a promising career in data science by enrolling in the Data Science Classes in Pune offered by 360DigiTMG.
Learn the core concepts of Data Science Course video on Youtube:
What is a data science degree?
It's a course of study, like a bachelor's degree in data science, that equips graduates to apply their computer science and mathematics knowledge to deal with unstructured data, resolve complex issues, and provide data-driven suggestions. Moreover, with the emergence of big data, businesses and organizations from various industries now value these data scientists. As a result, data scientists frequently have many fascinating employment prospects because there are many potential applications for data science in many businesses.
There is more data available these days than ever before. Humans generate 2.5 quintillion bytes (a quintillion is one followed by 18 zeros) of data per day, according to a 2020 TechJury article. As we continue to produce information, this astounding statistic will undoubtedly increase. Organizations and enterprises rely more on data as a means of decision-making, trend prediction, consumer marketing, and operational scalability. Anyone with a data science degree may turn unusable data into reports, graphs, and dashboards.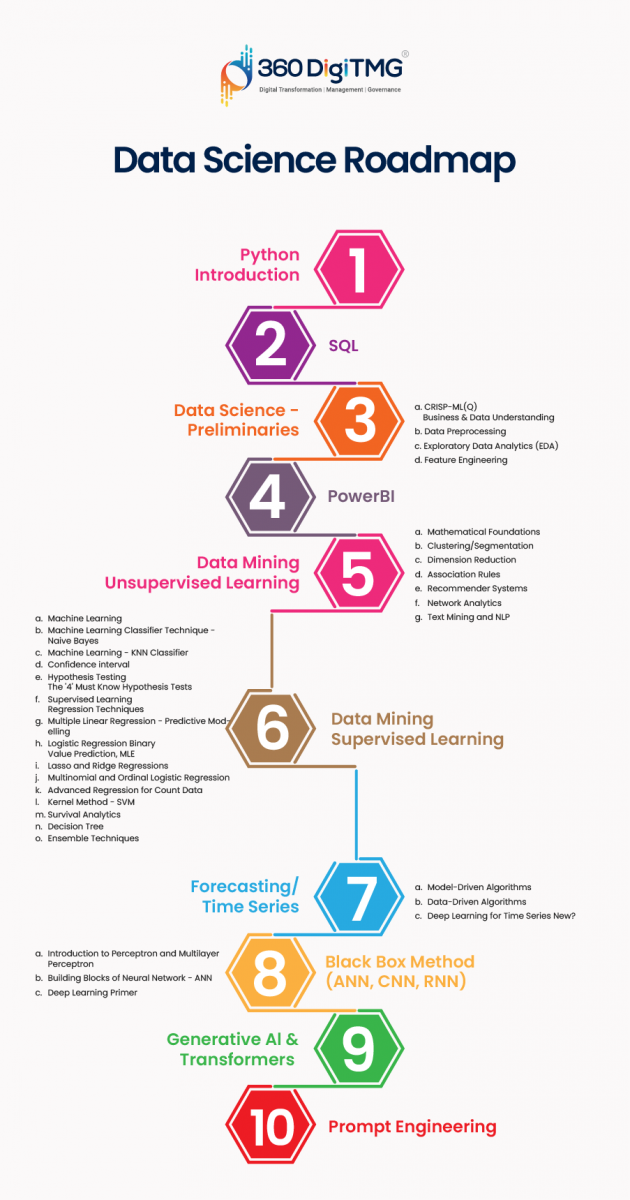 Why pursue a degree in data science?
Data Science has become essential for businesses because of the volume of data that is produced and the analytics industry's development. Companies from various sectors—finance, marketing, retail, IT, and banking—want to get the most out of their data. As a result, all of them are seeking data scientists. Data scientists are, therefore, in great demand all across the world. Given the potential earnings from a company and IBM's claim that it is the 21st century's most popular job, it is a rewarding vocation for many. Anyone from any educational background can pursue a career as a data scientist in this industry.
Looking forward to becoming a Data Scientist? Check out the Data Science Course and get certified today.
Strategies on getting the most from a data science degree
As a data science student, you'll study classes in big data, computer science, math, and other fields. Taking storytelling, public speaking, and graphic design classes could also be beneficial. Through this coursework, you will acquire the knowledge and abilities necessary to gather, purify, and visualize data, create algorithms, and spot trends.
⦁ Can develop essential skills from a data science degree:
To thrive as a data science major, you'll need to put a range of talents into practice. A fantastic place to start your studies in the area is data analysis. More abilities that you might acquire during your program and use in your future profession in data are listed in the list below
1. Technical skills: Big data, DevOps, data visualization, data mining, and artificial intelligence in the workplace
2. Workplace skills: Critical thinking, data interpretation, research, communication, teamwork, collaboration, presentation, and project management
3. Math skills: Models for machine learning, algorithms, and statistics
4. Programming skills: SaaS, C++, Python, Java, Perl, and other programming languages Graduates in data science can collect, manage, and use data responsibly to find ideas, make choices, think critically, and communicate clearly.
⦁ Can get into five popular careers in data science:
Businesses seek to use data to save operating expenses, make better decisions, upskill personnel, create new goods and services, and more. By obtaining, analyzing, and concisely presenting massive data to stakeholders and decision-makers, you will contribute to that process as a data scientist.
The list below shows the top 5 jobs in the data science industry :
1. Data scientist: Large amounts of data will be collected, cleaned, and organized by you as a data scientist for companies and organizations. You could work for large organizations, start-ups, and other businesses.
2. An engineer in machine learning: Behind the scenes, machine learning engineers construct machine learning systems. As one, you would develop data pipelines, put software to use, and conduct testing to keep track of computerized programs and systems.
3. Data architect: Among their many duties, data architects must create applications for various platforms, build databases, and guarantee that data solutions operate as promised.
4. Data engineer: A degree in data engineering will prepare you for various positions inside a business. For example, you will process batch and real-time data before sharing your results with managers and other members of the management, marketing, and technical teams.
5. Statistician: Choose a statistician major if your analytical abilities define your character and personality. As a statistician, you will gather, analyze, and evaluate data to assist a company in making the best decisions across many departments by seeing trends and relationships in data sets.
⦁ Can get benefits to succeed in your data science career:
Data science is essential in many industries, including the public sector. Data science is one of the professions with the fastest projected growth over the next ten years, according to the report of US Bureau of Labor Statistics.
The benefits of majoring in data science include the following:
1. Professional advantage: Business owners and executives will greatly value your data science expertise in using big data within their firms.
2. Portability and flexibility: A data scientist's position lends itself to remote work, which may give you more freedom to work where you want.
3. Educational possibilities: Many of the disciplines covered by the data science degree have educational opportunities available both online and on campus.
⦁ Can develop some technical skills from a data science degree:
Students that enroll in data science degree programs acquire a variety of efficient skills, such as data analysis, computer programming, predictive modeling, statistics, calculus, and economics. In addition, the foundation for a student's understanding of artificial intelligence (AI), machine learning, and deep learning are often laid out in a data science program.
1. Artificial intelligence: The advanced process of teaching machines and computers to act, think, decide, or reason independently is known as artificial intelligence. Although the phrase is frequently used concerning robots, it is considerably broader and includes self-driving automobiles and the automatic buying and selling of stocks. In addition, artificial intelligence (AI) has become a key topic in many major data science courses due to its expanding use in emerging technologies.
2. Machine Learning: Machine learning is a subset of an artificial intelligence (AI) in which data scientists provide computers with self-correcting algorithms so they may learn for themselves. These systems use digital neural networks to understand, make judgments, and correct their trajectory when implemented. For example, computers use machine learning to recommend movies, compose music, analyze photos, and even diagnose diseases.
3. Deep Learning: Deep learning, which uses neural networks with several levels of feedback to generate more complicated judgments, is a significant idea in the study of machine learning. Deep learning allows computers to make their own decisions, pursue nested paths, and detect subtleties in datasets.
Become a Data Scientist with 360DigiTMG Data Science course in Hyderabad Get trained by the alumni from IIT, IIM, and ISB.
⦁ Can get knowledge on job outlook in data science:
Due to the abundance of information and the growing reliance of many businesses on data and information technology (IT), data scientists are in great demand. Therefore, professionals usually carry out tasks like the following in their capacity as data scientists:
⦁ Managing data and using their analytical skills to transform unprocessed data into accessible, practical takeaways for lay audiences.
⦁ Making data-driven recommendations to address complicated issues for all types of businesses and organizations.
⦁ Following data science trends and staying current with best practices and new software, AI, and analytics technologies.
⦁ Utilizing computer programming, mathematics, and statistics skills to increase productivity, spot trends, boost revenue, and draw insightful conclusions from data.
⦁ Coordinating with colleagues in the business and IT sectors to make sure that conclusions are understandable and practical.
Data scientist students might graduate from bachelor's degree programs with many intriguing career prospects available because they frequently equip with particular technological skills.
Are you looking to become a Data Scientist? Go through 360DigiTMG's PG Diploma in Data Science and Artificial Intelligence!.
Conclusion:
Data scientists' value to their organizations is immeasurable, and they will get into jobs that challenge them intellectually and call for creative problem-solving. As a result of scarcity of the data scientists in the country, their services are in great demand. For people who major in data science, there may be many fantastic chances due to a positive career outlook and a broad skill set. Enroll in one of the University's Bachelor of Science in Data Science programs to start down the path to an opportunity-rich, satisfying profession. When you obtain a degree in data science, you will learn a new programming language, delve into the background of big data, and establish a foundation in machine learning.
Data Science Placement Success Story
Data Science Training Institutes in Other Locations
Agra, Ahmedabad, Amritsar, Anand, Anantapur, Bangalore, Bhopal, Bhubaneswar, Chengalpattu, Chennai, Cochin, Dehradun, Malaysia, Dombivli, Durgapur, Ernakulam, Erode, Gandhinagar, Ghaziabad, Gorakhpur, Gwalior, Hebbal, Hyderabad, Jabalpur, Jalandhar, Jammu, Jamshedpur, Jodhpur, Khammam, Kolhapur, Kothrud, Ludhiana, Madurai, Meerut, Mohali, Moradabad, Noida, Pimpri, Pondicherry, Pune, Rajkot, Ranchi, Rohtak, Roorkee, Rourkela, Shimla, Shimoga, Siliguri, Srinagar, Thane, Thiruvananthapuram, Tiruchchirappalli, Trichur, Udaipur, Yelahanka, Andhra Pradesh, Anna Nagar, Bhilai, Borivali, Calicut, Chandigarh, Chromepet, Coimbatore, Dilsukhnagar, ECIL, Faridabad, Greater Warangal, Guduvanchery, Guntur, Gurgaon, Guwahati, Hoodi, Indore, Jaipur, Kalaburagi, Kanpur, Kharadi, Kochi, Kolkata, Kompally, Lucknow, Mangalore, Mumbai, Mysore, Nagpur, Nashik, Navi Mumbai, Patna, Porur, Raipur, Salem, Surat, Thoraipakkam, Trichy, Uppal, Vadodara, Varanasi, Vijayawada, Visakhapatnam, Tirunelveli, Aurangabad
Data Analyst Courses in Other Locations
ECIL, Jaipur, Pune, Gurgaon, Salem, Surat, Agra, Ahmedabad, Amritsar, Anand, Anantapur, Andhra Pradesh, Anna Nagar, Aurangabad, Bhilai, Bhopal, Bhubaneswar, Borivali, Calicut, Cochin, Chengalpattu , Dehradun, Dombivli, Durgapur, Ernakulam, Erode, Gandhinagar, Ghaziabad, Gorakhpur, Guduvanchery, Gwalior, Hebbal, Hoodi , Indore, Jabalpur, Jaipur, Jalandhar, Jammu, Jamshedpur, Jodhpur, Kanpur, Khammam, Kochi, Kolhapur, Kolkata, Kothrud, Ludhiana, Madurai, Mangalore, Meerut, Mohali, Moradabad, Pimpri, Pondicherry, Porur, Rajkot, Ranchi, Rohtak, Roorkee, Rourkela, Shimla, Shimoga, Siliguri, Srinagar, Thoraipakkam , Tiruchirappalli, Tirunelveli, Trichur, Trichy, Udaipur, Vijayawada, Vizag, Warangal, Chennai, Coimbatore, Delhi, Dilsukhnagar, Hyderabad, Kalyan, Nagpur, Noida, Thane, Thiruvananthapuram, Uppal, Kompally, Bangalore, Chandigarh, Chromepet, Faridabad, Guntur, Guwahati, Kharadi, Lucknow, Mumbai, Mysore, Nashik, Navi Mumbai, Patna, Pune, Raipur, Vadodara, Varanasi, Yelahanka
Navigate to Address
360DigiTMG - Data Science, Data Scientist Course Training in Bangalore
No 23, 2nd Floor, 9th Main Rd, 22nd Cross Rd, 7th Sector, HSR Layout, Bengaluru, Karnataka 560102
1800-212-654-321