Degree In Data Analytics: Are They Worth It?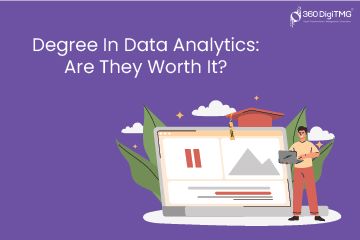 One of the professions with the highest demand worldwide is skilled data analysts. As a result, data analysts command enormous incomes and top-notch benefits, even at the entry level, because there is a massive demand for their services and a shortage of qualified candidates.
Careers for data analysts are available in a range of businesses and sectors. Any business that utilises data for analysis it needs data analysts. One of the most important functions of data analysis is the use of data to allocate resources, target consumers, assess risks, and make investment choices.
Through customer success and support departments, large firms frequently communicate with thousands of customers. Every interaction has value, and the company may gain from each one. As a result of the increasing amount of these connections, it is hard to study each one independently or understand the distinctive customer experience. Data science comes into play in this situation.
Kickstart your career by enrolling in this Data Analyst Course Fees in Chennai.
What are Data Analytics?
The term "data analytics" refers to the act of looking at and analysing raw data to find important patterns, make judgements, and assist in decision-making. In order to find trends, patterns, correlations, and other important information inside huge and complicated data sets, it incorporates a variety of methodologies and tools.
Data analytics may be viewed as a sort of company intelligence that may be used to address certain problems and challenges inside an organisation. The first step to this process is identifying trends in a data set that might provide details about a certain component of the business, such as how various clientele groups behave or the way staff members engage with a particular tool.
What is the role of a Data Analyst?
As you can see, different firms have varied meanings for the data analyst role. However, most job descriptions for data analysts have a few characteristics. A data analyst's regular duties and tasks include the following:
⦁ Control the distribution of customer satisfaction surveys with data visualization software, and report the results.
⦁ Together with the owners of the business lines, develop needs, give success criteria, manage and execute analytical projects, and evaluate results.
⦁ Examine practices, procedures, and systems for areas for improvement.
⦁ Actively communicate and collaborate with business units, technical teams, support teams, and stakeholders to establish concepts, assess needs, and determine functional requirements.
⦁ Convert powerful queries into specific analytical activities.
⦁ Assemble new information to address consumer inquiries, gathering and arranging information from various sources.
⦁ Utilize analytical methods and tools to gather and provide new information to clients through interactive dashboards and reports.
⦁ Work with the team's data scientists to identify the best product solutions.
⦁ Creating, testing, and maintaining backend code.
⦁ Establish data quality processes, define data quality standards, and create data procedures.
⦁ Take control of the codebase and offer ideas for refactoring and enhancements.
Pursue a career in Data Analytics with the number one training institute 360DigiTMG. Enroll in the Best Data Analytics Courses in Hyderabad with placements to start your journey.
What is a Data Analytics degree?
By completing the requisite programme subject matter that the institution of higher learning requires you to enrol in, you can get a bachelor's degree. Whichever institution where you wish to receive your degree, finishing your course might take anywhere from three to seven years.
Data gathering and analysis, site monitoring codes, marketing tactics, and programme management are usually the focus of data analytics courses. The integration of analytics with various facets of the business sector may be a focus in certain courses.
Also, check this Data Analytics Course to start a career in Data Analytics.
Types of degrees in Data Analytics:
Bachelor's degree in Data analytics:

Since data analytics is a broad field, a specific bachelor's degree is not necessary to work as a data analyst. However, a degree in mathematics, computer science, or statistics is typically preferred. These degrees provide you with statistical tools, probability understanding, linear algebra, multivariable calculus, and exposure to Python, R, and SQL.

Students with degrees in social science, physics, and astrophysics may also think about a future in data analytics. These programs, however, are less valuable, and you might need to take more in-depth courses to gain the abilities you need.

Master's degree in Data Analytics:

You may further your education after receiving a bachelor's degree by enrolling in a master's programme, which may require two years to complete. They provide you the option to concentrate on a certain subject of study. Experts with the highest levels of professional and academic education will instruct you.

This programme will place a strong focus on data operations. You could be considered for a master's degree in data analysis to gain practical knowledge of the many tools and techniques used by data analysts. By the conclusion of your programme, you'll have been able to transform unstructured or raw data into a framework that is more insightful.
Don't delay your career growth, kickstart your career by enrolling in this Data Analyst Course in Pune.
Are degrees in Data Analytics worth it?
The simple answer is that while a degree will undoubtedly help you master data analytics, getting a fantastic career is not always necessary. However, a degree might be the right choice if you're willing to devote four years of your life to your education, spend a sizable sum of money on it, and leave yourself open to various employment choices.
Instead, enroll in a data analytics course training if becoming a data analyst is your only goal, you don't want to pick up more skills, and you want a fast-paced, low-cost learning program. You will gain the precise abilities required to launch your profession, such as:
⦁ Understanding of programming languages and methods.
⦁ Machine learning.
⦁ Structured Query Language (SQL).
⦁ Tableau, RapidMiner, Excel, and KNIME are a few examples of data analysis software.
⦁ Understanding of statistical techniques.
⦁ Skills in presentation, communication, organization, and collaboration.
You have the chance to create a professional portfolio of work as part of the training course curriculum. You can share this with potential employers to prove your skills and increase your chances of success.
Learn the core concepts of Data Science Course video on Youtube:
A Data analytics degree should teach you these skills:
A data analytics degree needs considerable time and financial commitment. Making ensuring the degree curriculum is genuinely relevant is consequently crucial.
One approach to achieving this is educating yourself as much as possible about the data analytics position before applying. For example, what will your regular work entail? What abilities will you require? You can choose a data analytics degree with more confidence if you choose one after finding the answers to these questions.
Any degree in data analytics should emphasize the following competencies:
⦁ Managing Numbers: Data analytics must include both statistics and mathematics. The majority of your degree program should consist of them. Search for a course that covers the concepts of variance, covariance, correlation, probability, and expectation.
⦁ Communication: Data analytics is all about turning numbers into stories. You must feel at ease telling this tale to company stakeholders and providing them with reports and presentations about it.
⦁ Coding: A profession in data analytics necessitates a working knowledge of coding. Python and R are the two most used programming languages. For creating databases and managing data, SQL is also crucial. In addition, you should know about Hadoop, Microsoft Excel, Tableau, and other data analysis tools.
⦁ Data cleaning: Although you may not include it in your job description, most positions for data analysts call for you to clean data. You might need to track down transcription mistakes. You'll be in charge of converting data between different formats.
⦁ Collaboration with Everyone: Data analysts operate in teams. Working with other team members in data-centric jobs is a requirement for a career in this sector.
Why should you take Data Analytics courses?
Those who want to start a career in data analysis can enrol in specialised training courses known as data analytics course training. These courses are organised by knowledgeable data professionals who are familiar with the qualifications needed for employment in the field.
Compared to degree programmes, they are cheaper, faster, and more focused. For first-year learners seeking jobs swiftly and without any prior experience, data analytics training programmes are appropriate.
A data analytics degree can provide you with the knowledge and skills you need to succeed in the challenging employment market of today. Some programmes also provide further assistance with résumé creation, job hunt training, and career counselling.
Look out the course offerings before selecting one. It should include technologies like Spark, Hadoop, Spark, and Tableau. There are options for full-time as well as part-time employment. You may choose a training course depending on your needs, convenience, and schedule.
Why a degree in Data Analytics is worth the investment:
The main argument for obtaining a degree is data analytics is the career opportunities. Data scientists and other similar data professionals frequently hold the top jobs in the United States.
Data scientists score well for job satisfaction because of a dynamic workplace, results-driven solving issues, and the evident impact of their work. According to the job market analytics company EMSI, data scientists make a median salary of $120,200 year. In addition, the profession will have exceptional job security due to the long-term development prognosis and strong demand.
If a career in data analytics looks like it would be great for you, the next step is to choose the best degree programme to allow you to reach your full potential.
What you should do now:
Since data analytics is a rapidly increasing field, skilled data analysts will continue to be in high demand. Anyone with enthusiasm and drive may become a fully-fledged, job-ready data analyst with the proper training. Would you like to know additional information about data analytics? Why not check out the 360digiTMG short introduction course on data analytics?
Are you prepared to begin? You have a wealth of resources to help you decide whether earning a degree in data science is worthwhile, so start looking into 360digiTMG options right away!
Data Science Placement Success Story
Data Science Training Institutes in Other Locations
Agra, Ahmedabad, Amritsar, Anand, Anantapur, Bangalore, Bhopal, Bhubaneswar, Chengalpattu, Chennai, Cochin, Dehradun, Malaysia, Dombivli, Durgapur, Ernakulam, Erode, Gandhinagar, Ghaziabad, Gorakhpur, Gwalior, Hebbal, Hyderabad, Jabalpur, Jalandhar, Jammu, Jamshedpur, Jodhpur, Khammam, Kolhapur, Kothrud, Ludhiana, Madurai, Meerut, Mohali, Moradabad, Noida, Pimpri, Pondicherry, Pune, Rajkot, Ranchi, Rohtak, Roorkee, Rourkela, Shimla, Shimoga, Siliguri, Srinagar, Thane, Thiruvananthapuram, Tiruchchirappalli, Trichur, Udaipur, Yelahanka, Andhra Pradesh, Anna Nagar, Bhilai, Borivali, Calicut, Chandigarh, Chromepet, Coimbatore, Dilsukhnagar, ECIL, Faridabad, Greater Warangal, Guduvanchery, Guntur, Gurgaon, Guwahati, Hoodi, Indore, Jaipur, Kalaburagi, Kanpur, Kharadi, Kochi, Kolkata, Kompally, Lucknow, Mangalore, Mumbai, Mysore, Nagpur, Nashik, Navi Mumbai, Patna, Porur, Raipur, Salem, Surat, Thoraipakkam, Trichy, Uppal, Vadodara, Varanasi, Vijayawada, Visakhapatnam, Tirunelveli, Aurangabad
Data Analyst Courses in Other Locations
ECIL, Jaipur, Pune, Gurgaon, Salem, Surat, Agra, Ahmedabad, Amritsar, Anand, Anantapur, Andhra Pradesh, Anna Nagar, Aurangabad, Bhilai, Bhopal, Bhubaneswar, Borivali, Calicut, Cochin, Chengalpattu , Dehradun, Dombivli, Durgapur, Ernakulam, Erode, Gandhinagar, Ghaziabad, Gorakhpur, Guduvanchery, Gwalior, Hebbal, Hoodi , Indore, Jabalpur, Jaipur, Jalandhar, Jammu, Jamshedpur, Jodhpur, Kanpur, Khammam, Kochi, Kolhapur, Kolkata, Kothrud, Ludhiana, Madurai, Mangalore, Meerut, Mohali, Moradabad, Pimpri, Pondicherry, Porur, Rajkot, Ranchi, Rohtak, Roorkee, Rourkela, Shimla, Shimoga, Siliguri, Srinagar, Thoraipakkam , Tiruchirappalli, Tirunelveli, Trichur, Trichy, Udaipur, Vijayawada, Vizag, Warangal, Chennai, Coimbatore, Delhi, Dilsukhnagar, Hyderabad, Kalyan, Nagpur, Noida, Thane, Thiruvananthapuram, Uppal, Kompally, Bangalore, Chandigarh, Chromepet, Faridabad, Guntur, Guwahati, Kharadi, Lucknow, Mumbai, Mysore, Nashik, Navi Mumbai, Patna, Pune, Raipur, Vadodara, Varanasi, Yelahanka
Navigate to Address
360DigiTMG - Data Science Course, Data Scientist Course Training in Chennai
D.No: C1, No.3, 3rd Floor, State Highway 49A, 330, Rajiv Gandhi Salai, NJK Avenue, Thoraipakkam, Tamil Nadu 600097
1800-212-654-321