Top 5 Ways To Choose Most Trustworthy Data Science Course For You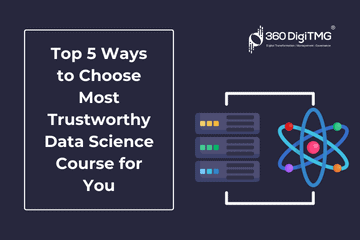 You must make time and effort commitments if you want to learn something. You may learn anything today while sitting at home. Data science is a popular topic right now, and many people are interested in learning more. The problem is that they are unable to choose a data science course, narrow their choices to the top data science courses, or locate the course providers. This blog will serve as your one-stop shop for the solutions to these questions.
Professionals who want to stay on top of changes in their field and learn how to solve challenges typically enrol in data science courses. The following criteria should be considered before registering for data science courses. They could help with your job hunt.
Become a Data Scientist with 360DigiTMG Data Science course in Hyderabad Get trained by the alumni from IIT, IIM, and ISB.
5 ways to choose the best data science course for you:
Making your way through the vast selection of data science courses is challenging because so many possibilities are available. This overview of data science courses is divided into five primary sections to make things simpler
1. Be sure of the area in which you wish to specialize.
It is beneficial if your organization has already correctly sorted out and established sustainable data pipelines that generate and process data for future analysis daily before you can do all the fancy statistical and analytical models to find patterns and outliers and build algorithms, which is the main job of a data scientist. The less well-known but no less valuable Data Engineer is doing this filthy, meaningful work.
Another consideration is what kind of profession you wish to pursue in this field. Do you want to work as a consultant, a freelancer, or a practitioner? You can also decide to continue working and use your newly acquired skills in your present or next position. The idea is that there are many opportunities available, so you must be sure of the direction you want to go to begin an intense journey toward additional education that should develop over time.
Also, check this Data Science Institute in Bangalore to start a career in Data Science.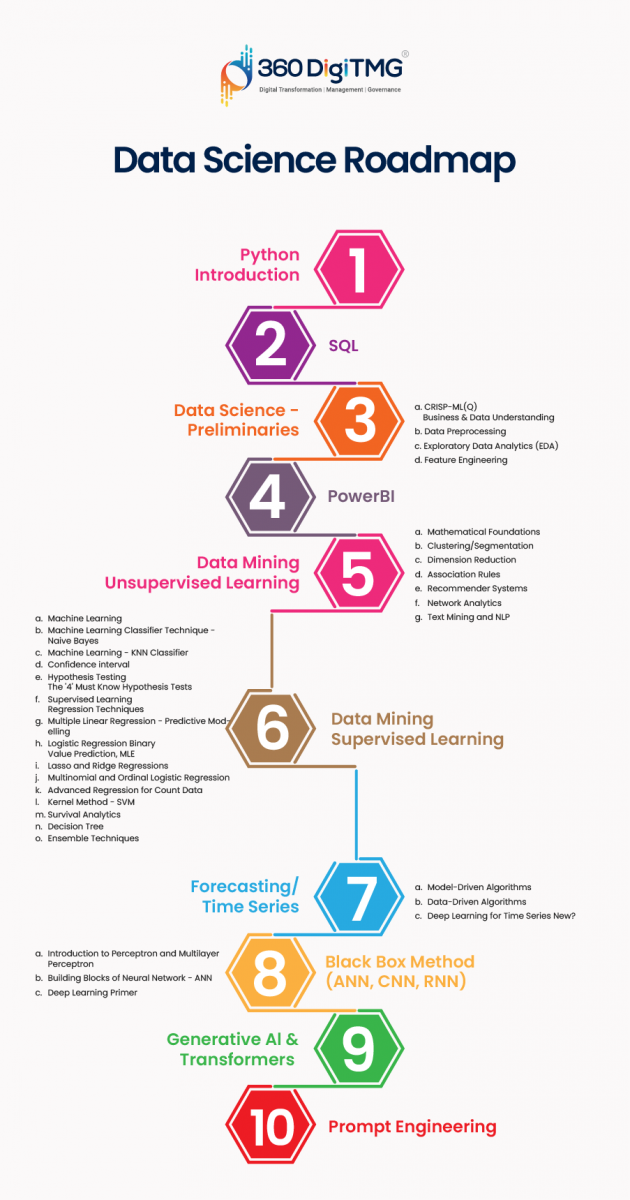 2. Studying Data Science at a University or College
The most commonplace setting to enrol in a data science course is a university or college. One choice is a master's or doctorate degree at the postgraduate level, or a three- or four-year undergraduate degree. A strong argument for pursuing the course at a college is that the degree credential you acquire in data science is highly recognised by businesses and will help you land your first job in the industry.
Furthermore, the social aspect of an in-person learning choice might promote learning by giving you the impression that you're not studying by yourself. Finally, the university's decision has a considerable financial disadvantage. With costs of up to $50,000, undergraduate degrees are much more expensive than graduate degrees. For most people, being able to afford education is important, and if you live somewhere where it is free or much reduced, it makes the importance of that notion less important.
You must be certain that a college data science course is a suitable fit before registering for it. Once you've made that decision, you're bound by the price you've paid. This might be seen as a positive because your perseverance will motivate you to complete your schoolwork.
The huge time commitment, constrictive study schedule, and difficult admittance criteria, particularly at top colleges, are additional downsides.
Learn the core concepts of Data Science Course video on YouTube:
3. Take into account the course's structure and location:
When comparing different data science programmes, one of the crucial choices you must make is whether you choose an online, in-person, or hybrid programme. Each of these many educational systems has its own benefits, depending on your goals, the tools at your disposal, and your particular circumstance.
⦁ Actual classes: A more structured, hands-on learning environment with an instructor on hand to help as required is usually provided through in-person course instruction. Additionally, taking classes in person may aid in networking and the development of interpersonal skills like cooperation and teamwork. However, if you want to register in a course that is far away or have a busy schedule, this choice might not be flexible enough for you.
⦁ Online courses: Enrolling in a course online might be a practical way to do so without forgoing a full education. Online courses are typically finished at your own pace and may be accessed from any place with an internet connection. While some might have an instructor to help them, when necessary, others might be more self-directed and autonomous. However, compared to in-person programmes, online ones could not provide as many opportunities for networking and team-building activities.
⦁ Hybrid courses:Hybrid courses combine the advantages of both online and conventional learning. A hybrid data science course, for instance, combines the convenience of online learning with the immersion of in-person instruction. If you want to take both in-person and online classes, this is a crucial decision.
Looking forward to becoming a Data Scientist? Check out the Data Science Course and get certified today.
4. Select a data science course if it's the right fit for you:
Although taking a data science course can have numerous advantages, it's crucial to consider whether this type of learning will best serve your long-term professional objectives. Consider the following typical advantages and disadvantages of data science courses
⦁ Demonstrates determination: Many employers regard persons who obtain course certifications as highly competent, hardworking prospects. According to HackerRank's 2020 Developer Skills Report, almost 40% of developers think course-trained candidates are equally qualified as colleagues who attended college.
⦁ Limited financial aid: Course training is usually far less expensive than completing a degree, but be aware that financial aid opportunities to assist you in covering the cost of a training program are uncommon. You might be successful using student loan choices or staggered payment schedules.
⦁ Effective yet demanding: Effective yet demanding: Despite the short duration of the program as a whole, anticipate spending that time engaged in data science. If you have full-time work already, this could be an issue.
⦁ Career-oriented: When you enroll in a data science course, you'll learn among others who share your interests and are probably equally focused on their careers as you are. Additionally, these programs may include career services and job assistance.
Are you looking to become a Data Scientist? Go through 360DigiTMG's PG Diploma in Data Science and Artificial Intelligence!.
5. Online and Offline Interactive Courses (360digiTMG):
For the majority of people who want to learn data science, interactive online and offline courses, according to 360digiTMG, are the best options. Consequently, 360digiTMG does not employ video. Instead, we supplement our text-based instruction with an interactive coding environment. You may finish our coding exercises right away in your browser without having to bother about configuring your local climate beforehand. When you run your code, immediate feedback is sent to you.
⦁ In a nutshell, this is the 360digiTMG Course platform:
According to studies, hands-on learners fared 20% better than passive learners on average when compared to passive learning methods like books and MOOCs. In addition, students reported a median salary increase of $12,450 when comparing their wages before and after 360digiTMG. They said that they were using the skills they learned there in their present employment.
Wrapping Up:
You can think about enrolling in a flexible online and in-person data science course program to get ready for your future work, regardless of whether you choose to study a course or obtain a degree. With the help of leading industry experts like IBM, 360digiTMG offers specialties and professional certificates that can introduce you to the crucial knowledge you need to get started in the sector.
Suggestions on selecting 360digiTMG:
1. Online courses are also available for free. To identify the best free programs that suit your interests, compare them as you conduct your research.
2. Try reaching out to individuals on social media platforms like LinkedIn to seek their feedback on the course.
3. Before applying for the program, thoroughly review the requirements.
4. You have prior knowledge if you are a beginner. For example, to learn machine learning or data science, you should be familiar with programming fundamentals and languages like Python.
5. Therefore, don't worry and do it! The discipline of data science is currently in high demand. Therefore, don't think twice about spending your time and money on it. If you want to learn more about topics in data science, click the data science course links from our website www.360digiTMG.com.
Data Science Placement Success Story
Data Science Training Institutes in Other Locations
Agra, Ahmedabad, Amritsar, Anand, Anantapur, Bangalore, Bhopal, Bhubaneswar, Chengalpattu, Chennai, Cochin, Dehradun, Malaysia, Dombivli, Durgapur, Ernakulam, Erode, Gandhinagar, Ghaziabad, Gorakhpur, Gwalior, Hebbal, Hyderabad, Jabalpur, Jalandhar, Jammu, Jamshedpur, Jodhpur, Khammam, Kolhapur, Kothrud, Ludhiana, Madurai, Meerut, Mohali, Moradabad, Noida, Pimpri, Pondicherry, Pune, Rajkot, Ranchi, Rohtak, Roorkee, Rourkela, Shimla, Shimoga, Siliguri, Srinagar, Thane, Thiruvananthapuram, Tiruchchirappalli, Trichur, Udaipur, Yelahanka, Andhra Pradesh, Anna Nagar, Bhilai, Borivali, Calicut, Chandigarh, Chromepet, Coimbatore, Dilsukhnagar, ECIL, Faridabad, Greater Warangal, Guduvanchery, Guntur, Gurgaon, Guwahati, Hoodi, Indore, Jaipur, Kalaburagi, Kanpur, Kharadi, Kochi, Kolkata, Kompally, Lucknow, Mangalore, Mumbai, Mysore, Nagpur, Nashik, Navi Mumbai, Patna, Porur, Raipur, Salem, Surat, Thoraipakkam, Trichy, Uppal, Vadodara, Varanasi, Vijayawada, Visakhapatnam, Tirunelveli, Aurangabad
Data Analyst Courses in Other Locations
ECIL, Jaipur, Pune, Gurgaon, Salem, Surat, Agra, Ahmedabad, Amritsar, Anand, Anantapur, Andhra Pradesh, Anna Nagar, Aurangabad, Bhilai, Bhopal, Bhubaneswar, Borivali, Calicut, Cochin, Chengalpattu , Dehradun, Dombivli, Durgapur, Ernakulam, Erode, Gandhinagar, Ghaziabad, Gorakhpur, Guduvanchery, Gwalior, Hebbal, Hoodi , Indore, Jabalpur, Jaipur, Jalandhar, Jammu, Jamshedpur, Jodhpur, Kanpur, Khammam, Kochi, Kolhapur, Kolkata, Kothrud, Ludhiana, Madurai, Mangalore, Meerut, Mohali, Moradabad, Pimpri, Pondicherry, Porur, Rajkot, Ranchi, Rohtak, Roorkee, Rourkela, Shimla, Shimoga, Siliguri, Srinagar, Thoraipakkam , Tiruchirappalli, Tirunelveli, Trichur, Trichy, Udaipur, Vijayawada, Vizag, Warangal, Chennai, Coimbatore, Delhi, Dilsukhnagar, Hyderabad, Kalyan, Nagpur, Noida, Thane, Thiruvananthapuram, Uppal, Kompally, Bangalore, Chandigarh, Chromepet, Faridabad, Guntur, Guwahati, Kharadi, Lucknow, Mumbai, Mysore, Nashik, Navi Mumbai, Patna, Pune, Raipur, Vadodara, Varanasi, Yelahanka
Navigate to Address
360DigiTMG - Data Science, Data Scientist Course Training in Bangalore
No 23, 2nd Floor, 9th Main Rd, 22nd Cross Rd, 7th Sector, HSR Layout, Bengaluru, Karnataka 560102
1800-212-654-321