Home / Blog / Data Science / Top Reliable Data Science Training Courses For Beginners To Pursue In 2022
Top Reliable Data Science Training Courses For Beginners To Pursue In 2022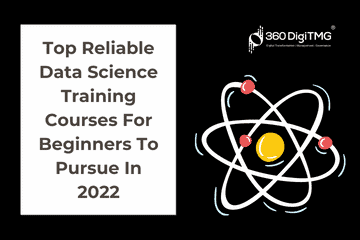 If you are interested in using data and numbers to help businesses, a career in data science may be appealing to you.
You have a dilemma since data science is something you know nothing about. You may have pals who found job in the sector and have heard the term thrown about. Even if you're not enthusiastic about entering the profession of data science, you should have some data science abilities on hand (and on your CV) because it's a career that's in great demand right now.
You've come to the correct spot if you're interested in learning Data Science and Data Analysis and are looking for free and paid online training courses to get started. Online classes may be a great way to quickly pick up crucial knowledge, from Python or SQL to basic data analysis and machine learning, and you can take them whenever you have time. You might need to make an investment, though, to get the necessities.
Also, check this Data Science Institute in Bangalore to start a career in Data Science.
Statistics regarding course rankings of 360digiTMG
⦁ A total of 2.3 million students are registered in all courses, with 714k students enrolling in the course with the largest enrollment.
⦁ Some of the courses are charged, while some are free or free to audit.
⦁ Seven of the courses are for beginners, and the remainder is for intermediate students.
⦁ Six different providers are listed for the data science course, with 360digiTMG having the highest representation.
⦁ Some of the courses in this ranking use Python, some use R, and the rest do not involve coding.
The Top Data Science Training Courses for beginners to help you get started
If you're a beginner, ignore everything on the internet and do these classes sequentially. If you follow the timetable, completing them shouldn't take more than six months. You can also meet them simultaneously. The courses listed below can be for free in some cases; however, to receive certification, you must pay the fees.
Looking forward to becoming a Data Scientist? Check out the Data Science Course and get certified today.
1. An Introduction to Data Science Certification Course:
This is among the top courses for studying data science. If you learn best visually, this data science course is a great choice for you. With this programme, you'll discover excellent data management techniques. Additionally, you must be able to distinguish the most significant facts from a sea of useless data using your data analysis skills.
In addition to educating, you about data science and its history, this course will help you hone these abilities. Additionally, this course will provide you with a road map to better understand the data analysis industry. After completing this course, you'll be able to distinguish between false information and actual information with ease.
Learn the core concepts of Data Science Course video on YouTube:
2. Introduction to Data Science using Python:
It is one of the most superficial data science online courses you'll discover online. Yet, Python is the world's most widely used programming language for data science. In this 2.5-hour video course, you can learn data science using Python.
Don't expect to learn everything there is to know about the subject because this is an introductory course. However, this is the first step you must take if you want to have a successful career as a data analyst.
You will learn the below-mentioned concepts in this course:
⦁ Basics of Analytics and Data Science
⦁ Learn how to utilize Scikit and Python
⦁ knowledge of all trendy terms, including "data science," "machine learning," "data scientist," etc.
3. Basics of SQL for Data Science
Most people ignore SQL, the data language, before realising its importance. Since certain positions are wholly dependent on SQL, you'll soon need to use it regularly in your work, therefore you should start being skilled with it right away. Although there are other different courses listed here, this one focuses on what we require from the viewpoint of a data scientist.
It is more than enough to complete the first two specialised courses.
Earn yourself a promising career in data science by enrolling in the Data Science Classes in Pune offered by 360DigiTMG.
4. NumPy for Beginners in Data Science in 2022:
Understanding the Python library NumPy, which is crucial for data science and machine learning, will help you tremendously in your day-to-day work as a data scientist.
You will learn the following things in this course:
⦁ Various Numpy operations applied to matrices and arrays
⦁ Different Linear Algebra, Statistics, and Math Numpy functions
⦁ Matplotlib visualization using Numpy
⦁ Numpy Tests
5. Introduction to Machine Learning course for Data Science:
Machine learning for data science beginner-level course, which covers subjects like artificial intelligence (AI), machine learning, and computer science and teaches you how they all work together, can be finished in less than six hours. Although the website does provide a seven-day free trial, the fee could get relatively high depending on how and when you choose to pay. Sixty-two lectures make up the course (5 hours, 33 minutes).
Want to learn more about data science? Enroll in the Best Data Science courses in Chennai to do so.
6. Statistical Analysis in Python:
Although it would be tempting to ignore statistics, you will soon regret it. I was rewarded for my patience and hard effort. I eventually started to understand every statistical concept. The course is filled with beginner-friendly activities, case studies, and real-world applications. You should start using these concepts in your work life right away.
Here are some profound truths to help you stay on course:
The courses indicated above do have alternatives, though. There will be groups of people debating which courses are ideal for each topic and which are better for projects versus courses, hands-on learning against theory-first learning. The reality behind all of these ideas is as follows:
⦁ Opinions are subjective and skewed by personal preferences.
⦁ There are various ways to become successful in data science.
⦁ Information overload, or having too much information at once, overwhelms you and causes you to lose your bearings.
⦁ To become a data scientist, you must concentrate on at least one path.
⦁ The path you choose ought to be clear-cut and conducive to taking action.
⦁ When you're finished with these, you'd probably feel clear about what you need to learn next and how to apply for jobs.
Tips for Choosing the Best reliable Data Science Course:
⦁ The first advice to give you is to stay committed to the course. It would help if you committed to any of these online courses you signed up for as you would to a college course.
⦁ Another advice is to use the abilities you pick up from an online course right away on a real-world assignment. Working on practical projects will improve your comprehension.
Conclusion:
Our examination of the best online data science courses for beginners in 2022 comes to a close now. If you want to become a data scientist, it would be a good idea to enrol in one of these courses. Data analysis is more important than ever right now. You may be a successful data analyst, but you must understand that this is a challenging and important job.
You will be helped in 2021 by taking the 360digiTMG Data Science course to master the concepts and procedures required to become a Data Scientist. You will get knowledge about the top Data Science jobs, specialisations, wage trends, and Python packages. Get all the information you need before starting your journey to become a Data Science practitioner.
Data Science Placement Success Story
Data Science Training Institutes in Other Locations
Agra, Ahmedabad, Amritsar, Anand, Anantapur, Bangalore, Bhopal, Bhubaneswar, Chengalpattu, Chennai, Cochin, Dehradun, Malaysia, Dombivli, Durgapur, Ernakulam, Erode, Gandhinagar, Ghaziabad, Gorakhpur, Gwalior, Hebbal, Hyderabad, Jabalpur, Jalandhar, Jammu, Jamshedpur, Jodhpur, Khammam, Kolhapur, Kothrud, Ludhiana, Madurai, Meerut, Mohali, Moradabad, Noida, Pimpri, Pondicherry, Pune, Rajkot, Ranchi, Rohtak, Roorkee, Rourkela, Shimla, Shimoga, Siliguri, Srinagar, Thane, Thiruvananthapuram, Tiruchchirappalli, Trichur, Udaipur, Yelahanka, Andhra Pradesh, Anna Nagar, Bhilai, Borivali, Calicut, Chandigarh, Chromepet, Coimbatore, Dilsukhnagar, ECIL, Faridabad, Greater Warangal, Guduvanchery, Guntur, Gurgaon, Guwahati, Hoodi, Indore, Jaipur, Kalaburagi, Kanpur, Kharadi, Kochi, Kolkata, Kompally, Lucknow, Mangalore, Mumbai, Mysore, Nagpur, Nashik, Navi Mumbai, Patna, Porur, Raipur, Salem, Surat, Thoraipakkam, Trichy, Uppal, Vadodara, Varanasi, Vijayawada, Visakhapatnam, Tirunelveli, Aurangabad
Data Analyst Courses in Other Locations
ECIL, Jaipur, Pune, Gurgaon, Salem, Surat, Agra, Ahmedabad, Amritsar, Anand, Anantapur, Andhra Pradesh, Anna Nagar, Aurangabad, Bhilai, Bhopal, Bhubaneswar, Borivali, Calicut, Cochin, Chengalpattu , Dehradun, Dombivli, Durgapur, Ernakulam, Erode, Gandhinagar, Ghaziabad, Gorakhpur, Guduvanchery, Gwalior, Hebbal, Hoodi , Indore, Jabalpur, Jaipur, Jalandhar, Jammu, Jamshedpur, Jodhpur, Kanpur, Khammam, Kochi, Kolhapur, Kolkata, Kothrud, Ludhiana, Madurai, Mangalore, Meerut, Mohali, Moradabad, Pimpri, Pondicherry, Porur, Rajkot, Ranchi, Rohtak, Roorkee, Rourkela, Shimla, Shimoga, Siliguri, Srinagar, Thoraipakkam , Tiruchirappalli, Tirunelveli, Trichur, Trichy, Udaipur, Vijayawada, Vizag, Warangal, Chennai, Coimbatore, Delhi, Dilsukhnagar, Hyderabad, Kalyan, Nagpur, Noida, Thane, Thiruvananthapuram, Uppal, Kompally, Bangalore, Chandigarh, Chromepet, Faridabad, Guntur, Guwahati, Kharadi, Lucknow, Mumbai, Mysore, Nashik, Navi Mumbai, Patna, Pune, Raipur, Vadodara, Varanasi, Yelahanka
Navigate to Address
360DigiTMG - Data Science, IR 4.0, AI, Machine Learning Training in Malaysia
Level 16, 1 Sentral, Jalan Stesen Sentral 5, Kuala Lumpur Sentral, 50470 Kuala Lumpur, Wilayah Persekutuan Kuala Lumpur, Malaysia
+60 19-383 1378