Home / Blog / Data Science / Top 10 Essential Tips For Data Analyst Jobs For Job Seekers In 2023 To Start Their Career
Top 10 Essential Tips For Data Analyst Jobs For Job Seekers In 2023 To Start Their Career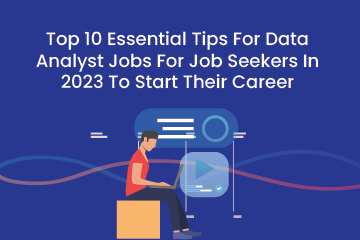 Data analysts are in high demand in every industry, including banking, consulting, manufacturing, pharmaceuticals, government, and education. Data analysts need to have a strong sense of organization, the capacity for close attention to detail, and the capacity for effective communication. They must be able to communicate through written, verbal, and visual means in addition to understanding the data.
The tremendous quantity of data that businesses have on their clients and the industry is made sense of by data analysts. By utilising exceptional statistical knowledge and incredible database development, data analysts may identify patterns, identify problems with current approaches, and recommend a course of action. Then, as a data analyst, you analyse the statistics to present information that is easy to comprehend so that others may utilise it to improve the business model.
Also, check this Data Analytics Course to start a career in Data Analytics.
List of some Data Analytics jobs:
Understand the pay ranges for relevant occupations before you begin studying a new skill set. For example, a data analyst is a person whose role is to collect and analyze data to address a particular issue. Below are a few data analytics jobs you should consider applying for.
1. Business Intelligence Analyst:
The primary responsibility of a business intelligence analyst is to value-extract from company data. Most businesses require BI analysts to evaluate data quickly, use SQL, and build models and data visualizations.
2. Data Engineer:
Because it is their responsibility to optimise the infrastructure supporting various data analytics techniques, data engineers often concentrate on larger datasets. A database infrastructure improvement can also be necessary for faster searches.
3. Data Analyst:
The duties of a data analyst include in the job description, which calls for them to analyze business and industry data to derive value. Therefore, most data analyst positions demand proficiency in programming, SQL, statistical knowledge, data analysis workflow comfort, and data visualization abilities.
Learn the core concepts of Data Science Course video on Youtube:
4. Quantitative Analyst:
A quantitative analyst uses data analytics to discover potential prospects for future financial investments or problems with risk management. Some analysts begin their firms even after working in this industry.
5. Data Scientist:
Data scientists gather and analyze data like analysts in other positions and then share insights. In terms of technical proficiency, data scientists usually outperform data analysts. However, they can create forecasts using a more informed understanding of the facts.
6. Operations Analyst:
Large organizations typically employ operations analysts internally but can also serve as consultants. For example, systems for internal reporting, the production and distribution of goods, and routine commercial activities might fall under this category.
Wish to pursue a career in data analytics? Enroll in this Data Analytics course in Bangalore to start your journey.
7. Data Analytics Consultant:
An analytics consultant can work for multiple companies for short periods while specializing in any industry or study, which is different from an in-house data scientist or data analyst.
8. Marketing Analyst:
Data analytics is also a component of digital marketing. For example, to evaluate the traffic from websites and social media advertisements, marketers frequently use tools like Google Analytics, bespoke reporting tools, and other third-party websites.
9. IT Systems Analyst:
System analysts create systems to address issues in information technology. These roles need varying levels of technical ability, which opens up options for specialization by industry and individualized interest.
10. Project Manager:
Project managers use analytics tools to monitor a team's development, effectiveness, and productivity. These jobs are frequently in management consulting and are typically internal at influential organizations.
11. Transportation Logistics Specialist:
For large shipping companies like Amazon or UPS, as well as for airlines, shipping companies, and city planning authorities, a transportation logistics specialist optimises the transfer of physical goods. They need to analyse a lot of data to assist in the removal of transit bottlenecks, whether they are on land, at sea, or in the air.
Pursue a career in Data Analytics with the number one training institute 360DigiTMG. Enroll in the Best Data Analytics Courses in Hyderabad with placements to start your journey.
Top 10 tips for Data Analytics job seekers in 2023:
The following ten suggestions for success in your first data analytics position will get you off to a great start and work you for success. Focusing on one or two elements from this list as you begin your exciting new profession in data could help you feel more confident, even though you'll undoubtedly be busy learning the ropes. So let's get started without further ado.
⦁ Possess a strong portfolio:
Employers typically seek to see your professional data analytics portfolio, which may be on paper or online. Using particular projects and examples to demonstrate your big data expertise is a great way to demonstrate your practical data analytics understanding. Some applicants prefer the ease of use and accessibility of an online portfolio that contains links to pertinent work, a "About Me" section, and your most recent CV.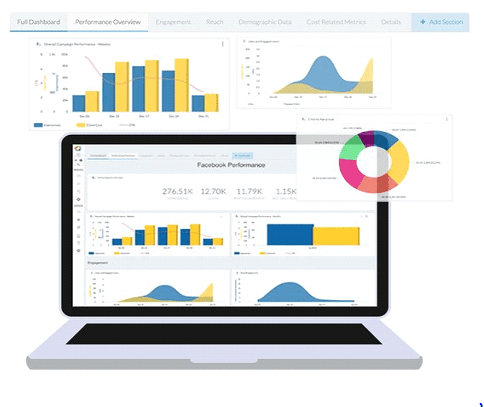 ⦁ Consider practical applications rather than just theory:
The theoretical underpinnings of data analysis are essential. But you must be able to put that theory into practice in situations like market research and logistics. To demonstrate how well you comprehend and apply abstract concepts to a potential employer, be prepared to show or explain how you can use a particular theory in a business setting.
⦁ Create an online presence:
Many employers check out their social media and other internet presence to better understand a candidate's personality and credentials. To find qualified individuals for the open post, an estimated 75% of talent scouts use LinkedIn. Maintain an updated LinkedIn profile with your contact details and available work history.
⦁ Think about finding a mentor:
If you want to start a career in data analytics but have no prior expertise in the field, you might want to consider finding a mentor. People with experience in this field have undoubtedly been in your position and can offer advice on how to effectively prepare for a career as a great data analyst. Additionally, they may provide you advice on the skills you should possess the skills and credentials required for careers in this field. Because they have professional expertise, they can even help you avoid mistakes they may have made on their path.
⦁ Build the network:
Connect with individuals in the data analytics sector to locate employment opportunities that might not otherwise be made public. It is true even in a booming job market. Beyond face-to-face interactions, networking can occur at industry events, during data analytics coursework, or with peer groups on social media networks like LinkedIn or Twitter.
⦁ Create daily goals:
Finding a job may be difficult. Set yourself daily and weekly objectives and treat them like a job. It promotes focus and lays the groundwork for responsibility. You may lift your spirits by accomplishing tiny daily tasks when you don't feel like you are making progress. Decide, for example, to look for and apply for two jobs at least once per day.
⦁ Make yourself ready for behavioral interview questions:
More than only technical abilities are crucial to employers. The objective is for you to blend in culturally. Be able to explain how you dealt with conflicts and unforeseen difficulties. Consider a challenge you faced during a project, even one from class, and describe your approach and the steps you took to resolve it to the interviewer.
⦁ Bring questions to ask the interviewer:
Interviews involve both parties. Clearly state to the interviewer that you are genuinely interested in the position and have extensively studied the business. Ask questions that are specific to the interviewer's job. For example, inquire about a typical day in the life of a data analyst at a particular organization from the hiring manager. Request an organizational chart or a description of the job hierarchies from human resources.
⦁ Display confidence:
There are numerous ways to demonstrate to potential employers that you have faith in your abilities. It may include doing some research on websites like Salary.com so that you have a specific salary range for the field in which you're applying and pay rates commensurate with the region. In addition, learning about the firm you are using will enable you to ask insightful questions about its operations and culture, further demonstrating your confidence.
⦁ Transportation Logistics Specialist:
For large shipping companies like Amazon or UPS, as well as for airlines, shipping companies, and city planning authorities, a transportation logistics specialist optimises the transfer of physical goods. They need to analyse a lot of data to assist in the removal of transit bottlenecks, whether they are on land, at sea, or in the air.
Kickstart your career by enrolling in this Data Analyst Course Fees in Chennai.
Start your Data Analytics career by enrolling in 360digiTMG courses:
Data analytics is one of the sectors with the highest demand. 360digiTMG offers several course alternatives if you're interested in learning how to analyze and visualize data. The training we provide in our Python for Data Science course is a beautiful place to start. This intense course covers fundamental Python skills, such as an overview of the many data formats and how to generate data visualizations that are important for the data sciences.
For those who are interested in learning more about data analytics in particular, courses like the Data Analytics Certification training are offered both live online and in-person classes. These demanding educational choices include Tableau, SQL, and other essential data analysis tools.
Data Science Placement Success Story
Data Science Training Institutes in Other Locations
Agra, Ahmedabad, Amritsar, Anand, Anantapur, Bangalore, Bhopal, Bhubaneswar, Chengalpattu, Chennai, Cochin, Dehradun, Malaysia, Dombivli, Durgapur, Ernakulam, Erode, Gandhinagar, Ghaziabad, Gorakhpur, Gwalior, Hebbal, Hyderabad, Jabalpur, Jalandhar, Jammu, Jamshedpur, Jodhpur, Khammam, Kolhapur, Kothrud, Ludhiana, Madurai, Meerut, Mohali, Moradabad, Noida, Pimpri, Pondicherry, Pune, Rajkot, Ranchi, Rohtak, Roorkee, Rourkela, Shimla, Shimoga, Siliguri, Srinagar, Thane, Thiruvananthapuram, Tiruchchirappalli, Trichur, Udaipur, Yelahanka, Andhra Pradesh, Anna Nagar, Bhilai, Borivali, Calicut, Chandigarh, Chromepet, Coimbatore, Dilsukhnagar, ECIL, Faridabad, Greater Warangal, Guduvanchery, Guntur, Gurgaon, Guwahati, Hoodi, Indore, Jaipur, Kalaburagi, Kanpur, Kharadi, Kochi, Kolkata, Kompally, Lucknow, Mangalore, Mumbai, Mysore, Nagpur, Nashik, Navi Mumbai, Patna, Porur, Raipur, Salem, Surat, Thoraipakkam, Trichy, Uppal, Vadodara, Varanasi, Vijayawada, Visakhapatnam, Tirunelveli, Aurangabad
Data Analyst Courses in Other Locations
ECIL, Jaipur, Pune, Gurgaon, Salem, Surat, Agra, Ahmedabad, Amritsar, Anand, Anantapur, Andhra Pradesh, Anna Nagar, Aurangabad, Bhilai, Bhopal, Bhubaneswar, Borivali, Calicut, Cochin, Chengalpattu , Dehradun, Dombivli, Durgapur, Ernakulam, Erode, Gandhinagar, Ghaziabad, Gorakhpur, Guduvanchery, Gwalior, Hebbal, Hoodi , Indore, Jabalpur, Jaipur, Jalandhar, Jammu, Jamshedpur, Jodhpur, Kanpur, Khammam, Kochi, Kolhapur, Kolkata, Kothrud, Ludhiana, Madurai, Mangalore, Meerut, Mohali, Moradabad, Pimpri, Pondicherry, Porur, Rajkot, Ranchi, Rohtak, Roorkee, Rourkela, Shimla, Shimoga, Siliguri, Srinagar, Thoraipakkam , Tiruchirappalli, Tirunelveli, Trichur, Trichy, Udaipur, Vijayawada, Vizag, Warangal, Chennai, Coimbatore, Delhi, Dilsukhnagar, Hyderabad, Kalyan, Nagpur, Noida, Thane, Thiruvananthapuram, Uppal, Kompally, Bangalore, Chandigarh, Chromepet, Faridabad, Guntur, Guwahati, Kharadi, Lucknow, Mumbai, Mysore, Nashik, Navi Mumbai, Patna, Pune, Raipur, Vadodara, Varanasi, Yelahanka
Navigate to Address
360DigiTMG - Data Science, IR 4.0, AI, Machine Learning Training in Malaysia
Level 16, 1 Sentral, Jalan Stesen Sentral 5, Kuala Lumpur Sentral, 50470 Kuala Lumpur, Wilayah Persekutuan Kuala Lumpur, Malaysia
+60 19-383 1378