Data Analytics: What Does It Mean And What Are Its Most Common Types?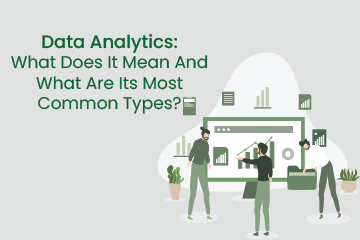 An essential part of effective corporate management is data analytics. By utilising data in a variety of ways, organisations may better understand their historical performance and make decisions regarding their future operations. Analytics is the process of spotting and disclosing important data patterns. Analytics is especially useful in industries with a wealth of recorded information since it relies on the concurrent use of statistics, computer programming, and operation research to qualify performance. Analytics also commonly choose data visualisation to provide insight.
Businesses frequently use analytics to explain, forecast, and enhance business performance. Mainly, areas within include enterprise decision management, predictive analytics, etc. In addition, the algorithms and software used for analytics take advantage of the most recent techniques in computer science because analytics can necessitate substantial computing (due to massive data).
Although we are aware that there are several analytics accessible to process the data, many businesses are unsure of when to apply them. The most outstanding data scientist or data analyst really distinguishes themselves from the competition by having the capacity to select the sort of analytics that best fits the objectives of the organisation to maximise outcomes. Additionally, every type of analytics offers special insights. And in this article, we'll look at the most common types of data analytics.
Also, check this Data Analytics Course to start a career in Data Analytics.
What does Data Analytics mean for business?
Data analytics is used to analyze data to find answers, spot trends, and draw conclusions. You can utilize software, frameworks, and applications like Google Charts, Data Wrapper, Infogram, Tableau, and Zoho Analytics to analyze data. These can assist you in exploring data from many perspectives and producing visuals that shed light on the narrative you're attempting to tell.
Data analytics also includes algorithms and machine learning, which can acquire, sort, and analyze data more quickly and in greater volume than people. Although writing algorithms is a more complex data analytics ability, you can profit from data-driven decision-making without a strong coding and statistical modeling background.
Pursue a career in Data Analytics with the number one training institute 360DigiTMG. Enroll in the Best Data Analytics Courses in Hyderabad with placements to start your journey.
How can Data Analytics help businesses make better decisions?
Extraction of specific metrics or key performance indicators (KPIs) from data may be difficult. When data is dispersed throughout an organisation, it might be difficult to get integrated information on time. Usually, obtaining the required information or insights your firm needs to compete requires an excessive amount of time and work.
It is frequently brought on by perhaps lacking analytical capabilities. For example, although the data is easily accessible, no tool allows quick access. If there were, business analysts or data analysts could carry out self-service data analysis and visualization right away. Additionally, personnel must physically collect the data because it frequently disperses before they can begin their research.
Kickstart your career by enrolling in this Data Analyst Course Fees in Chennai.
Why is Data Analytics necessary?
Any business professional who makes judgments must have a solid understanding of data analytics. Data access is more accessible to come by than ever. You may overlook significant possibilities or warning signs if you design strategies and make decisions without considering the facts.
Skills in data analytics can be helpful in the following professions:
For instance, utilising data on clients, market dynamics, and the outcomes of prior campaigns, marketers create marketing plans.
Product managers analyse industry, market, and user data to enhance their firms' products.
Finance specialists use prior performance information as well as market trends to forecast the financial paths of their organisations.
To make substantial organisational changes, experts in human resources, diversity, equality, and inclusion gather data on the attitudes, motivations, and behaviours of their workforce and integrate it with market trends.
Learn the core concepts of Data Science Course video on Youtube:
Wish to pursue a career in data analytics? Enroll in this Data Analytics course in Bangalore to start your journey.
What are the common types of Data Analytics?
Understanding and utilizing various analytics was beneficial for a corporation to enhance its organizational-level operational capabilities. Analytics can make the most of the unstructured or structured data they possess by selecting the appropriate kind of data. Firms are increasingly implementing sophisticated data analytics solutions with machine learning capabilities to improve business decisions and identify industry trends and opportunities.
⦁ Descriptive Analytics:
To identify patterns and trends in historical data, data mining and data aggregation are crucial strategies. Instead of drawing inferences or forecasting the future based on its findings, descriptive analytics concentrates on properly representing the past.
Line, bar, and pie charts are widely used to depict descriptive analytics and act as the beginning point for further research even if they already offer valuable information on their own. Because descriptive analytics use very simple analysis techniques, any conclusions drawn from them should be simple enough for the greater corporate audience to comprehend.
⦁ Predictive Analytics:
Future projections, market trend analysis, customer behavior change prediction, competitor analysis, and the development of cutting-edge business strategies are all intriguing endeavors. Forecasting is the core concept of predictive analytics. By utilizing advanced statistical and machine learning models, businesses use insights generated by descriptive and diagnostic analytics and other historical data sets to develop a model based on recommendations.
For instance, by studying a patient's past medical history and general demographics, predictive analytical models in healthcare can determine whether or not a person is prone to a heart attack. Similarly, you can create a campaign using predictive analytics by considering customers' purchasing patterns at various moments in the past.
⦁ Prescriptive Analytics:
Prescriptive analytics automatically combine large data, mathematical science, business rules, and machine learning to produce a prediction. They then propose a choice alternative to capitalize on the forecast.
Prescriptive analytics goes beyond forecasting outcomes by recommending actions that will benefit from the forecasts and outlining the implications of each decision option for the decision maker, in addition to predicting what will happen and when prescriptive analytics also considers why it will happen. Additionally, prescriptive analytics can recommend options for decisions regarding how to seize an opportunity or reduce future risk while highlighting each option's implications.
⦁ Diagnostic Data Analytics:
While it might not be as exciting as making forecasts, using historical data to guide your organization's actions can be quite beneficial. Diagnostic data analytics is the process of analysing data to identify causes, occurrences, or the reasons why something happened. Drill-down, data discovery, data mining, and correlation approaches are some of the methods we regularly employ.
Diagnostic data analytics provide an explanation of what occurred. Similar to the preceding categories, it is divided into two additional areas: discover and alerts and query and drill-downs. To get more information from a report, questions and drill-downs are used; for example, to identify a salesman who closed less transactions in a given month. Drilling down might also show that there are fewer working days due to a two-week vacation.
Learn and send warnings Send out a notification in advance of a potential issue, such as a notice about a decrease in staff hours that might have an impact on the volume of closed transactions. Additionally, diagnostic data analytics may be utilised to "find" information like the best candidate for a vacant position at your company.
⦁ Cognitive Analytics:
The most sophisticated type of analytics is called cognitive analytics, which integrates various intelligent technologies, including artificial intelligence, deep learning models, machine learning algorithms, and others, to analyze data, infer relationships between variables, and come to conclusions. These discoveries help fill up the knowledge base for potential future stumbling blocks. The self-learning feedback loop imitates human mental processes to gradually increase the intelligence and effectiveness of cognitive applications.
Processing massive parallel/undistributed data (such as contact center conversation records) to gain insights is an example of cognitive analytics.
Conclusion:
Many organizations still lack the capabilities necessary to fully utilize data analytics, despite the obvious advantages of doing so. Data analytics is a challenging field of study. Forbes notes that almost all firms perceive the need to manage unstructured data as challenging for their organization, even though less than a quarter of businesses currently characterize themselves as data-driven. There is a rising skills gap for corporate experts who can manipulate and comprehend data.
To completely comprehend the story that the data portrays and reach informed conclusions, the four basic methods of analysing information should be merged. To begin with, utilise descriptive analytics to understand your company's present situation. To find out how your company got to that point, use diagnostic analytics in the second step. Third, predictive analytics may be used to forecast how an issue will develop—will current trends continue? Finally, by enabling you to consider all aspects of probable future scenarios, prescriptive analytics may help you create effective strategies.
You may employ two or three of these analytics kinds or use them all sequentially to fully grasp the story the data tells, depending on the issue you're attempting to address and your objectives.
Data Science Placement Success Story
Data Science Training Institutes in Other Locations
Agra, Ahmedabad, Amritsar, Anand, Anantapur, Bangalore, Bhopal, Bhubaneswar, Chengalpattu, Chennai, Cochin, Dehradun, Malaysia, Dombivli, Durgapur, Ernakulam, Erode, Gandhinagar, Ghaziabad, Gorakhpur, Gwalior, Hebbal, Hyderabad, Jabalpur, Jalandhar, Jammu, Jamshedpur, Jodhpur, Khammam, Kolhapur, Kothrud, Ludhiana, Madurai, Meerut, Mohali, Moradabad, Noida, Pimpri, Pondicherry, Pune, Rajkot, Ranchi, Rohtak, Roorkee, Rourkela, Shimla, Shimoga, Siliguri, Srinagar, Thane, Thiruvananthapuram, Tiruchchirappalli, Trichur, Udaipur, Yelahanka, Andhra Pradesh, Anna Nagar, Bhilai, Borivali, Calicut, Chandigarh, Chromepet, Coimbatore, Dilsukhnagar, ECIL, Faridabad, Greater Warangal, Guduvanchery, Guntur, Gurgaon, Guwahati, Hoodi, Indore, Jaipur, Kalaburagi, Kanpur, Kharadi, Kochi, Kolkata, Kompally, Lucknow, Mangalore, Mumbai, Mysore, Nagpur, Nashik, Navi Mumbai, Patna, Porur, Raipur, Salem, Surat, Thoraipakkam, Trichy, Uppal, Vadodara, Varanasi, Vijayawada, Visakhapatnam, Tirunelveli, Aurangabad
Data Analyst Courses in Other Locations
ECIL, Jaipur, Pune, Gurgaon, Salem, Surat, Agra, Ahmedabad, Amritsar, Anand, Anantapur, Andhra Pradesh, Anna Nagar, Aurangabad, Bhilai, Bhopal, Bhubaneswar, Borivali, Calicut, Cochin, Chengalpattu , Dehradun, Dombivli, Durgapur, Ernakulam, Erode, Gandhinagar, Ghaziabad, Gorakhpur, Guduvanchery, Gwalior, Hebbal, Hoodi , Indore, Jabalpur, Jaipur, Jalandhar, Jammu, Jamshedpur, Jodhpur, Kanpur, Khammam, Kochi, Kolhapur, Kolkata, Kothrud, Ludhiana, Madurai, Mangalore, Meerut, Mohali, Moradabad, Pimpri, Pondicherry, Porur, Rajkot, Ranchi, Rohtak, Roorkee, Rourkela, Shimla, Shimoga, Siliguri, Srinagar, Thoraipakkam , Tiruchirappalli, Tirunelveli, Trichur, Trichy, Udaipur, Vijayawada, Vizag, Warangal, Chennai, Coimbatore, Delhi, Dilsukhnagar, Hyderabad, Kalyan, Nagpur, Noida, Thane, Thiruvananthapuram, Uppal, Kompally, Bangalore, Chandigarh, Chromepet, Faridabad, Guntur, Guwahati, Kharadi, Lucknow, Mumbai, Mysore, Nashik, Navi Mumbai, Patna, Pune, Raipur, Vadodara, Varanasi, Yelahanka
Navigate to Address
360DigiTMG - Data Science, Data Scientist Course Training in Bangalore
No 23, 2nd Floor, 9th Main Rd, 22nd Cross Rd, 7th Sector, HSR Layout, Bengaluru, Karnataka 560102
1800-212-654-321