Home / Blog / Data Science / Top Trusted Data Science Course You Can Take in 2022 to Boost Your Career Future
Top Trusted Data Science Course You Can Take in 2022 to Boost Your Career Future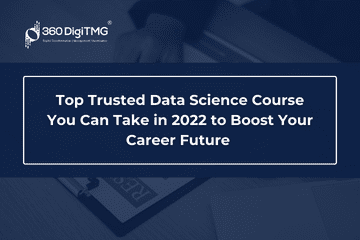 One of the highest-paying careers in the emerging field of data science is that of a data scientist. When big data emerged, and the need to process these enormous volumes of data emerged, data science became increasingly popular and used in more and more applications. One of the critical uses of artificial intelligence is data science, which enables businesses to draw conclusions from data and take actions based on those conclusions. Data Scientists are in high demand due to data science's importance to all industries. There is fierce competition everywhere. But if you can gain an advantage over your competitors, you can easily land lucrative careers in demand. You can achieve that edge by taking online courses in data science.
An overview of Data Science Courses.
A data science course certificate can assist you in developing the technical knowledge and desirable skills you need to establish a career in data science. Additionally, a data science certificate will provide tangible evidence of the value you'll provide to a data science team and authenticate your talents in the eyes of hiring managers and recruiters.
When selecting a data science course program, you should consider pricing, curriculum, course length, and more. Consider your objectives and educational requirements as you think about your possibilities. If getting a job after graduation is your goal, you should prioritize courses that provide vital career assistance services. If you learn best with one-on-one instruction, search for a course training program that will connect you with a data science mentor who can answer technical issues and help you acquire skills faster.
Want to learn more about data science? Enroll in the Best Data Science courses in Chennai to do so.
Reasons to Enrol in a Data Science Course:
⦁ Curriculum Covered: The list should consider the syllabus's length and breadth and how thoroughly it chooses various levels of expertise.
⦁ Course Length: The length of each course should be appropriately analyzed to adjust it with the learner's available timing.
⦁ Course Fee: ensure that you get the best value for your money, the list should be arranged based on the features of the courses concerning their fees.
Course results and other highlights, such as placement assistance, hands-on projects, etc., have also been noted to help students become market-ready.
Earn yourself a promising career in data science by enrolling in the Data Science Classes in Pune offered by 360DigiTMG.
Think about the Data Science Course's Methodology:
⦁ Curriculum depth: The emphasis is on the breadth of knowledge and skills covered
⦁ Interactive, hands-on learning: How interactive is the learning process and how much emphasis is placed on mastering genuine tools, resolving real business issues, etc.
⦁ Program Recognition: Are the industry's program and final certificate acknowledged? Is it recognized more globally or just in India?
⦁ Student experience: In addition to taking into account student feedback, opinions from outside sources should also be considered.
Learn the core concepts of Data Science Course video on YouTube:
Why are Data Science Courses in Demand?
Data scientists in India may earn INR 19 lakhs annually, which is significantly higher than any other profession like engineering. For students with expertise in computer science, engineering, statistics, or mathematics, a data scientist course is a more lucrative option than B.Tech or mainstream Engineering courses. In addition, data science is a possibility for students with management expertise who do not wish to pursue an MBA.
In the financial and insurance industries, data scientists are in high demand, and with the proper training, even finance and management majors may further their careers. Indeed, the number of job postings for data scientists on a main job board increases by 29% annually, making this one of the professions with the highest demand.
Looking forward to becoming a Data Scientist? Check out the Data Science Course and get certified today.
Is a Certificate in Data Science Course Worth It?
A data science certificate will not guarantee a job, but it will assist you in gaining the necessary hands-on experience and professional portfolio to be considered for a data science post. The top data science certification programs will impart technical knowledge through project-based learning, allowing you to create a strong portfolio focusing on practical data science scenarios.
Using data science in business contexts will be the primary focus of a practical professional certification. You must exhibit strong technical proficiency to get hired in the field, but that's not all. Additionally, you must demonstrate your capacity to recognize a business issue, frame it as a data science query, and use data storytelling to make a real-world business effect. Worthwhile data science courses will educate you on the hard and soft skills required to be job-ready.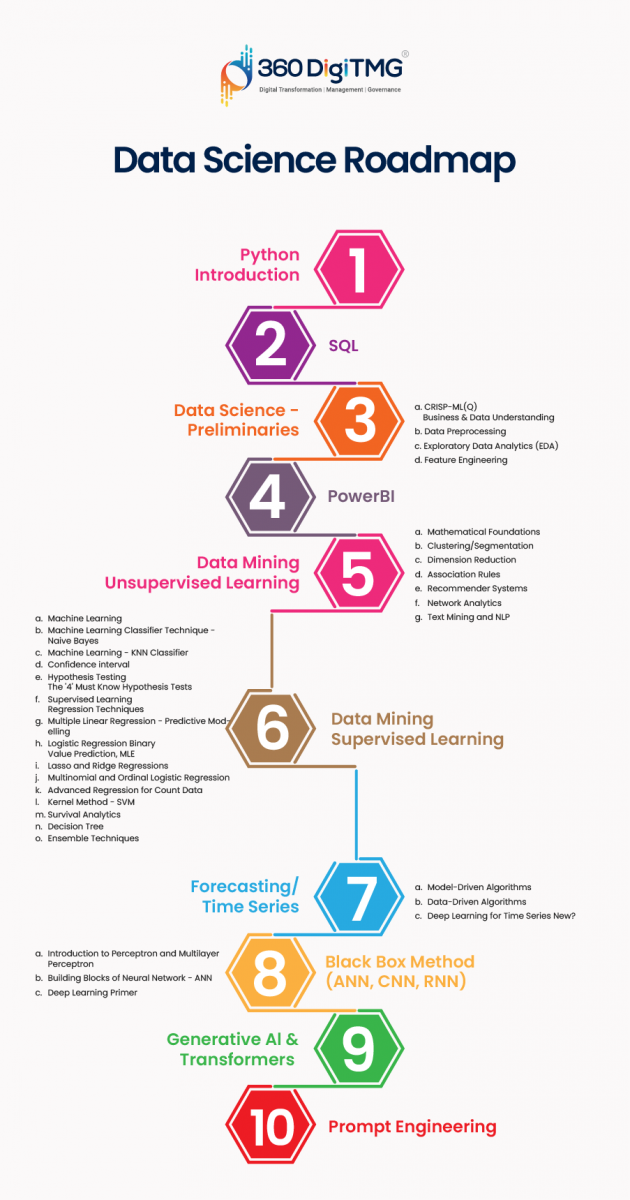 Best Trusted Data Science Courses to Boost Your Career:
Let us see at some of the best trusted popular Data Science courses in 2022 for those who want to build their data science career future.
⦁ Post-Graduate Diploma in Business Analytics (PGDBA):
IIM Calcutta, IIT Kharagpur, and ISI Kolkata are partners offering this full-time, two-year curriculum. Eighteen months of classroom instruction and six months of internship make up a program. The various statistical principles, tools, and techniques of data science, as well as how to use them in practical contexts, are taught to students. The course costs 20 lakh rupees. Additionally, this course has a little extra zing thanks to the participation of three outstanding institutions, and students love it because they also get to visit these institutions.
⦁ Tableau Training:
Become a Tableau expert with this free tableau course, which covers all Tableau subjects from the fundamentals to the advanced. Tableau is a well-known corporate intelligence, reporting, and data visualization application produced by Tableau software. Enroll right away to learn how to organize data, construct dashboards that aid in the creation of business intelligence reports, and generate high-impact visualizations of data analysis. After completing the free tableau training course, get identified by top recruiting businesses and upskill yourself to stay ahead of the competition.
Also, check this Data Science Institute in Bangalore to start a career in Data Science.
⦁ Postgraduate Diploma in Data Science (PGD-DS):
This full-time 11-month program is provided in Bangalore and consists of a mix of classroom sessions in Bangalore and Hyderabad, followed by a 3-month internship or project. Working professionals who wish to assume leadership positions in the analytics industry should enroll in this program. Using resources like SQL, Hadoop, Apache Spark, Tableau, etc., students will understand fundamental and advanced ideas in data science and extensive data methodologies. The course cost is 6.15 lakh rupees, including the cost of the hostel.
⦁ Python Libraries for Data Science:
Today, Python is the second most popular programming language, and data science and machine learning applications favor it. With the aid of Python data science libraries like NumPy, Pandas, and Matplotlib, the free Python libraries course intend to teach you how to perform numerical calculations, data analysis, and data visualization. Get job-ready for high-paying occupations like data scientist, data analyst, ML engineer, and NLP scientist by taking this course for free.
⦁ PGP – Data Science and Engineering:
Consider the PGP in Data Science and Engineering that various training institutes offer in Gurgaon, Mumbai, Chennai, Hyderabad, Bangalore, and Pune if you're seeking data science courses in India. This five-month program consists of lectures, practical exercises, and meetings with business professionals. In addition, the data science curriculum should cover python programming, exploratory data analytics, SQL programming, machine learning techniques, and other topics. The course costs 3.5 lakh rupees.
Data Science Courses with Placements from 360digiTMG
| S.No | COURSE NAME | DURATION |
| --- | --- | --- |
| 1 | Data Science Using Python | 1 Month |
| 2 | Certificate Program on Data Analytics | 3 Months |
| 3 | Certificate Course on Data Science | 4 Months |
| 4 | Professional Course in the Data Science & AI with Placement Assistance | 6 Months |
| 5 | Certificate Course on Data Engineering | 3 Months |
| 6 | Data Visualization Using Tableau Training | 2 Months |
| 7 | Certification Course in Core Python | 2 Months |
| 8 | Data Visualization Using Power BI Training | 3 Months |
| 9 | Full Stack Data Scientist Course | 9 / 12 Months |
Choosing the finest data science education should be based on various aspects such as the institute's accreditation, course quality, mentor and career support, and so on. 360digiTMG is World's largest online higher education organization, offering a wide range of courses, including some of the best data science courses available offline and online. 360digiTMG's courses, in conjunction with IBM, cover all of the essential data science and machine learning concepts in depth while also providing substantial hands-on projects to work on, making them solid selections for anyone seeking to become experienced data scientists. These data science programs also offer great job and placement assistance.
Data Science Placement Success Story
Data Science Training Institutes in Other Locations
Agra, Ahmedabad, Amritsar, Anand, Anantapur, Bangalore, Bhopal, Bhubaneswar, Chengalpattu, Chennai, Cochin, Dehradun, Malaysia, Dombivli, Durgapur, Ernakulam, Erode, Gandhinagar, Ghaziabad, Gorakhpur, Gwalior, Hebbal, Hyderabad, Jabalpur, Jalandhar, Jammu, Jamshedpur, Jodhpur, Khammam, Kolhapur, Kothrud, Ludhiana, Madurai, Meerut, Mohali, Moradabad, Noida, Pimpri, Pondicherry, Pune, Rajkot, Ranchi, Rohtak, Roorkee, Rourkela, Shimla, Shimoga, Siliguri, Srinagar, Thane, Thiruvananthapuram, Tiruchchirappalli, Trichur, Udaipur, Yelahanka, Andhra Pradesh, Anna Nagar, Bhilai, Borivali, Calicut, Chandigarh, Chromepet, Coimbatore, Dilsukhnagar, ECIL, Faridabad, Greater Warangal, Guduvanchery, Guntur, Gurgaon, Guwahati, Hoodi, Indore, Jaipur, Kalaburagi, Kanpur, Kharadi, Kochi, Kolkata, Kompally, Lucknow, Mangalore, Mumbai, Mysore, Nagpur, Nashik, Navi Mumbai, Patna, Porur, Raipur, Salem, Surat, Thoraipakkam, Trichy, Uppal, Vadodara, Varanasi, Vijayawada, Visakhapatnam, Tirunelveli, Aurangabad
Data Analyst Courses in Other Locations
ECIL, Jaipur, Pune, Gurgaon, Salem, Surat, Agra, Ahmedabad, Amritsar, Anand, Anantapur, Andhra Pradesh, Anna Nagar, Aurangabad, Bhilai, Bhopal, Bhubaneswar, Borivali, Calicut, Cochin, Chengalpattu , Dehradun, Dombivli, Durgapur, Ernakulam, Erode, Gandhinagar, Ghaziabad, Gorakhpur, Guduvanchery, Gwalior, Hebbal, Hoodi , Indore, Jabalpur, Jaipur, Jalandhar, Jammu, Jamshedpur, Jodhpur, Kanpur, Khammam, Kochi, Kolhapur, Kolkata, Kothrud, Ludhiana, Madurai, Mangalore, Meerut, Mohali, Moradabad, Pimpri, Pondicherry, Porur, Rajkot, Ranchi, Rohtak, Roorkee, Rourkela, Shimla, Shimoga, Siliguri, Srinagar, Thoraipakkam , Tiruchirappalli, Tirunelveli, Trichur, Trichy, Udaipur, Vijayawada, Vizag, Warangal, Chennai, Coimbatore, Delhi, Dilsukhnagar, Hyderabad, Kalyan, Nagpur, Noida, Thane, Thiruvananthapuram, Uppal, Kompally, Bangalore, Chandigarh, Chromepet, Faridabad, Guntur, Guwahati, Kharadi, Lucknow, Mumbai, Mysore, Nashik, Navi Mumbai, Patna, Pune, Raipur, Vadodara, Varanasi, Yelahanka
Navigate to Address
360DigiTMG - Data Science, Data Scientist Course Training in Bangalore
No 23, 2nd Floor, 9th Main Rd, 22nd Cross Rd, 7th Sector, HSR Layout, Bengaluru, Karnataka 560102
1800-212-654-321