Home / Blog / Data Science / 12 Common Questions You May Have About Data Science Courses you are Afraid to Ask
12 Common Questions You May Have About Data Science Courses you are Afraid to Ask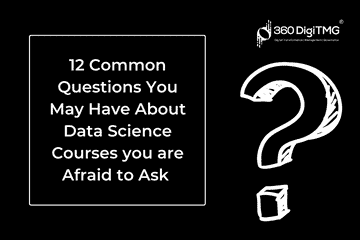 Recently, data science has become one of the most fascinating, divisive, competitive, and dynamic areas in the world. Unsurprisingly, a lot of people are interested in learning more about this subject of study, its future prospects, how to learn it, what data scientists do on a daily basis, how much they make, and where and how to apply for jobs. The market has a tonne of opportunity, the pay is among the best, and occupations have various faces and dimensions. But the Data Science industry has a bright future and might be the "aspiration of the decade."
Due to this technology-driven upswing, young individuals may engage in numerous Data Science courses, usually without giving it any attention. The confusion is further increased by the wide variety of online courses that promise a comparable career path to any other degree. Success may be attained in a variety of ways, although earning a degree from a recognised university is helpful.
This post addresses the questions about data science courses that individuals are most hesitant to ask. The answers to these queries may be useful for students who want to change occupations, are deciding on their first major after college, and are considering a career in data science.
Also, check this Data Science Institute in Bangalore to start a career in Data Science.
How can I learn?
There are significant differences in how courses are taught at various course training institutes. Therefore, depending on your course, you could be learning in any combination of the following ways, including
⦁ Trainers or Tutors
⦁ Tutorials or supervisions
⦁ Work Experience
⦁ Practical Knowledge
⦁ Real-world Projects
⦁ Independent study
Find out if the course you're thinking about gives you the chance to study how you like to learn. For example, choose a course that offers four lectures a week; the rest is independent study time if you can't handle spending hours alone in a library studying. Alternatively, if you enjoy being out in nature and learning through hands-on experience, be sure you incorporate some fieldwork or job experience.
What is the average time it will take to become a data scientist?
Learn the core concepts of Data Science Course video on YouTube:
If you have a solid background in an analytical discipline, such as physics, mathematics, engineering, computer science, economics, or statistics, you can essentially teach yourself the principles of data science. Then, you can calculate how long it will take you to achieve a given level of skill using your experience and the amount of time you are willing to devote to learning data science. For instance, those with training in the analytical disciplines indicated above often require less time than those with expertise unrelated to data science.
Looking forward to becoming a Data Scientist? Check out the Data Science Course and get certified today.
What Are the Prerequisites for Learning Data Science Course?
Although learning data science could be easier and faster for programmers, statisticians, and mathematicians, it doesn't always follow that those with different backgrounds won't be able to pursue a career in the field. However, the assertion that there are no qualifications for someone to begin learning data science is also incorrect. You will need an exploratory mentality, creativity, high motivation to understand data science, and a fascination with the data and what lies beneath it to succeed in your studies.
Earn yourself a promising career in data science by enrolling in the Data Science Classes in Pune offered by 360DigiTMG.
Is the program's course material brand-new, or was it just randomly reused?
Data science is a modern discipline. As a result, it's important to regularly update the course material to reflect shifting industry standards. Additionally, the majority of data science's guiding concepts were developed in the previous decade, utilising advances in computer technology. It is crucial to make sure the course being taken is current and pertinent in this situation rather than being reused and repackaged from out-of-date course materials.
Who will you reveal your analysis to, and how well do they comprehend statistics?
Your findings will be made available to the sales team, the data science team, the marketing team, and the user of the product or website, all of whom come from different backgrounds. Therefore, you constantly need to present your found results to your intended audience, maintaining their statistical understanding in your mind. It will help if you maintain a balance while sharing your findings with others so that audiences with higher and lower statistical backgrounds can follow along.
Who is going to teach me?
You'll probably hear courses given by PhD-holding professors and researchers who have extensive experience as educators and researchers. You must be aware of the training and background of individuals in charge of small-group instruction, though. Make sure the people who are grading your work, giving you feedback, and helping you develop your ideas in small groups are of a calibre that satisfies your requirements. Knowing their histories will make it easier for you to choose which lecturers to consult with and ask questions of if you have a specific interest.
What do data scientists get paid?
The organization or business you work for, your educational background, the number of years of experience, and your particular job role all affect how much money you make as a data scientist. The compensation range for data scientists is $50,000 to $250,000, with a typical pay of roughly $120,000.
Which programming languages should I focus on?
If you're interested in learning the fundamentals of data science, you must start somewhere. Do not let the excessive number of programming languages listed in job postings for data scientists scare you. It is advisable to start by studying just one or two computer languages, even though it is essential to become familiar with as many data science tools as you can. Python and R continue to be the top two programming languages used in data research.
Are the system languages that are taught being used today?
Today's data science courses center on various system languages like Python, SAS, R, SQL, etc. However, with technological improvements, these languages are getting updated at a quick pace. As a result, several languages are becoming obsolete and redundant simultaneously. Therefore, enrolling in a forward-thinking course is crucial, current with the market, and offers instruction in languages that are here to stay.
How Skilled Should a Data Scientist Be in Coding?
All data science occupations require knowledge of coding, even if prior programming experience is not necessary to enter this field. These skills are frequently required by data scientists' employers, thus anybody searching for job in the field should be familiar with the relevant programming languages and technical resources. The coding toolkit of a data scientist, however, is clearly less than that of, say, a software developer or computer scientist. Knowing the core data-related procedures and techniques of even one of the few programming languages that may be used to tackle data science challenges can be a great place to start.
Want to learn more about data science? Enroll in the Best Data Science courses in Chennai to do so.
What is more value being offered?
Data science opens up a variety of multifaceted responsibilities for one. The focus extends beyond data processing, analytics, and data munging. Using the knowledge derived from the data of various business processes is the subject of much research. A robust overall program design includes a value addition of Project Management or Business Analytics certification.
Are Jobs in Data Science in Demand?
Data science is currently in extremely high demand, and considering how swiftly contemporary technologies are advancing, this need is only expected to grow. To confirm, simply search for "data science jobs" on Google or on any job-search engine like Indeed, Glassdoor, or LinkedIn. You'll be surprised by how many job opportunities there are in this industry. This type of popularity is due to a number of factors. In today's intensely competitive market, every organisation requires data analysis and predictive modelling to succeed, since the amount of data generated globally is growing every day.
Get started with 360digiTMG:
Above all, it's essential to consider your career interests. The buzz surrounding data science may give the impression that it is the thing to pursue. The most crucial factor is to have enough motivation to spur you on to learn, practice more, and keep progressing. Now that you know where to begin, how to learn data science, how to look for a job, and what abilities and attributes you might need to improve, you should have a clear plan. 360digiTMG offers a variety of projects that might serve as a fantastic starting point for you to create your portfolio of data science projects if you want to gain additional experience with real-world data problems.
Data Science Placement Success Story
Data Science Training Institutes in Other Locations
Agra, Ahmedabad, Amritsar, Anand, Anantapur, Bangalore, Bhopal, Bhubaneswar, Chengalpattu, Chennai, Cochin, Dehradun, Malaysia, Dombivli, Durgapur, Ernakulam, Erode, Gandhinagar, Ghaziabad, Gorakhpur, Gwalior, Hebbal, Hyderabad, Jabalpur, Jalandhar, Jammu, Jamshedpur, Jodhpur, Khammam, Kolhapur, Kothrud, Ludhiana, Madurai, Meerut, Mohali, Moradabad, Noida, Pimpri, Pondicherry, Pune, Rajkot, Ranchi, Rohtak, Roorkee, Rourkela, Shimla, Shimoga, Siliguri, Srinagar, Thane, Thiruvananthapuram, Tiruchchirappalli, Trichur, Udaipur, Yelahanka, Andhra Pradesh, Anna Nagar, Bhilai, Borivali, Calicut, Chandigarh, Chromepet, Coimbatore, Dilsukhnagar, ECIL, Faridabad, Greater Warangal, Guduvanchery, Guntur, Gurgaon, Guwahati, Hoodi, Indore, Jaipur, Kalaburagi, Kanpur, Kharadi, Kochi, Kolkata, Kompally, Lucknow, Mangalore, Mumbai, Mysore, Nagpur, Nashik, Navi Mumbai, Patna, Porur, Raipur, Salem, Surat, Thoraipakkam, Trichy, Uppal, Vadodara, Varanasi, Vijayawada, Visakhapatnam, Tirunelveli, Aurangabad
Data Analyst Courses in Other Locations
ECIL, Jaipur, Pune, Gurgaon, Salem, Surat, Agra, Ahmedabad, Amritsar, Anand, Anantapur, Andhra Pradesh, Anna Nagar, Aurangabad, Bhilai, Bhopal, Bhubaneswar, Borivali, Calicut, Cochin, Chengalpattu , Dehradun, Dombivli, Durgapur, Ernakulam, Erode, Gandhinagar, Ghaziabad, Gorakhpur, Guduvanchery, Gwalior, Hebbal, Hoodi , Indore, Jabalpur, Jaipur, Jalandhar, Jammu, Jamshedpur, Jodhpur, Kanpur, Khammam, Kochi, Kolhapur, Kolkata, Kothrud, Ludhiana, Madurai, Mangalore, Meerut, Mohali, Moradabad, Pimpri, Pondicherry, Porur, Rajkot, Ranchi, Rohtak, Roorkee, Rourkela, Shimla, Shimoga, Siliguri, Srinagar, Thoraipakkam , Tiruchirappalli, Tirunelveli, Trichur, Trichy, Udaipur, Vijayawada, Vizag, Warangal, Chennai, Coimbatore, Delhi, Dilsukhnagar, Hyderabad, Kalyan, Nagpur, Noida, Thane, Thiruvananthapuram, Uppal, Kompally, Bangalore, Chandigarh, Chromepet, Faridabad, Guntur, Guwahati, Kharadi, Lucknow, Mumbai, Mysore, Nashik, Navi Mumbai, Patna, Pune, Raipur, Vadodara, Varanasi, Yelahanka
Navigate to Address
360DigiTMG - Data Analytics, Data Science Course Training Hyderabad
2-56/2/19, 3rd floor, Vijaya Towers, near Meridian School, Ayyappa Society Rd, Madhapur, Hyderabad, Telangana 500081
099899 94319