Why are Data Scientists Getting High-Pay Jobs?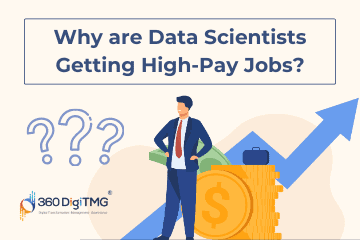 Image from pixabay
Everything You Need To Know About
Starting On
Lawyers, doctors, engineers, and bankers are a few common professions in our area. Many more occupations now use technology as it develops in our everyday lives.
One of them is the study of data. We generated a lot of data in our everyday lives, which businesses and organisations analyse to uncover important information.
Nobody could have predicted that data would impact our lives twenty years ago. What do you consider to be the most lucrative profession with large compensation packages? One of them is the data science sector.
Data science positions are among the highest-paying professions in America, according to Glassdoor. They also acknowledge it as the 21st century's greatest job. An average data scientist may make $123,000 a year, according to Indeed.
What makes this profession profitable and in-demand? What are the fundamental elements that affect a data scientist's compensation package? Join us as we tell the narrative.
Who are Data Scientists and What Job They Do?
Data scientist term is now well-known, and people accept their role as technology is being evolved in our daily lives as we created more data. But where this data has gone. What happens when we search a smartphone on google and it repeatedly shows us commercials of smartphones until we mute them or declare them as irrelevant?
Big companies and businesses, social media, banks, corporate sector, airline industry, hospital, school, and even small business created a lot of data, and data scientists' job is to process this data.
A data scientist's work is to dig and analyze data from many sources such as social media, banks, customer transactions, etc. Data scientists then analyze and create useful insights from given data and extract information to build correlation models. They help to make good decisions to power the business value. Click here to learn Data Science Course in Bangalore with Placements
Learn the core concepts of Data Science Course video on Youtube:
Data Scientist's Profile:

A data scientist should possess a wide range of abilities, including programming, data visualisation, machine learning, and business savvy. A data scientist possesses the ideal mix of soft and hard talents.

Statistics on the typical salaries of data scientists:

The average income for a data scientist in India is 9 50,000, according to a Glassdoor study that was done in 2019. A Senior Data Scientist may earn roughly $175,000 when experience is factored into the job description.

The salaries for certain additional job profiles in the data science sector, such as data analysts or quantitative analysts, might range from 21,000 to 57,000, respectively.

How Much a Fresh Data Scientist Earn:

It isn't easy to get into an industry without any experience, but a fresher can also get drawn high pay in the data science industry. This is just because there is a scarce of qualified people. From day one, a fresher gets a handsome amount.

A fresh data scientist can draw a salary range between ₹ 304,918 – ₹ 1,728,919.
Click here to explore 360DigiTMG.
Why Data Scientists Get High-Paying Salary Packages?
A data scientist is very talented. It is possible to state that this is the ideal fusion of arithmetic, statistics, programming, and analytics. The role of a data scientist is to go deeply into the data and analyse it to produce reliable findings. Additionally, data scientists are crucial to every company's decision-making process.
Large organisations and businesses regularly process data because they understand that they cannot live without it. They employ skilled workers with the ability to screen out a large number of applicants for this reason.
Therefore, businesses require data scientists and pay them much for their services. There are several causes for this.
Image from pixabay
Big Data Knowledge is a Must

Every day a huge amount of data is created in the form of numbers, words, pictures, and infographics. In recent two years, 90% of the world's total information was created. The majority of all enterprises' data is organized; neither data analytics software reads or analyzes it accurately.

Now here, a data scientist's role has begun and you understand why they need a qualified person who can deal with this data.

Data scientists help companies, organizations, and business leaders make more accurate and realistic decisions by better understanding the world. Data scientists can convert a company's data into supporting them and gives a competitive advantage.

More Demand and Less Supply

This is a straightforward instance of supply and demand, but it's one of the key explanations for why data scientists receive well-paying employment. Companies are always seeking for skilled applicants that can better assist them and have a good understanding of the issue. Additionally, workers assist businesses in making decisions. Consequently, the ideal individual or applicant for a job is a skilled data scientist who possesses the optimal blend of soft and hard talents.

Companies are constantly searching for qualified data scientists who can support them broadly, though. Unfortunately, there are few suitable applicants available, which results in a strong demand for data scientists in the workforce and expensive compensation.

According to Crowdflower, a respected platform for data scientists, there is a severe lack of data scientists, which has caused their compensation range to rise by 75% in recent years.

Advance Skills add Value to Your CV

To become a data scientist, it is necessary to have good math, programming, and statistics skills at a time. Besides, you would need analyzing skills too. How difficult is it to be perfect on all grounds? The demanding qualification is another reason behind demand and supply chain. Qualified data scientists are less in number that's why they deserve a high-paying salary.

The reason behind the lack of professional data scientists is that there aren't institutes and universities that offer authentic data courses. A famous data scientist community revealed in a report published in 2017 that most data scientists currently working in the market learned data science through untraditional routes.

Almost 32%data scientists acquire data science skills by MOOCs, and approximately 27% learn data science on their own (internet, books, community, peer group, etc.)

Data Science Power Business Values

Companies and enterprises now recognise the importance of data analysis in reaching sound decisions. Your firm will grow and prosper thanks to data.

To get insight from and manage enormous volumes of data from internal and external sources, businesses require data scientists. All C-level executives and other business owners need a distinct, noticeable, and understandable representation of this data.

They work with data scientists to make wise judgements that improve their business. Another explanation for the excessively high pay paid to data scientists is this.

Emerging of E-Commerce

The increasing demand of e-commerce companies with millions of users generates a huge amount of data. The expanding volume of e-commerce companies surprises the growth rate during recent years. Therefore, increasing demand for qualified people has turned the table. Many traditional and untraditional trades, occupations, and businesses now sell online, so they need data scientists who can monetize the situation and help them to grow. Click here to learn Data Science Training in Hyderabad

A Data Scientist is a Combination of STEM Skills

Science, technology, engineering, and math abilities are a must for a data scientist to be qualified; in addition, data scientists must be proficient in programming languages, business intelligence, and statistics. The requirement that they have a solid understanding of each of these topics is another factor contributing to their high remuneration package.

Different profile responsibilities in the data science sector:

Engineer for Data
Data manager,
Data scientist, and
Data architect
Engineer ML researcher
Final Thoughts
Now, hopefully, you understand why data scientists getting high package salaries. Increasing demand for technology in every field, more demand, and less supply, and the significant role of data scientists for businesses provoke companies to pay higher salaries to them.
A data scientist is a combination of multi-skills. Experience and qualification will make a pure blend and that's why data scientists get the highest position on the salary pyramid.
CEO of Hortonworks Rob Bearden says, "The career as a data analyst is one of the most sought after positions these days. The importance of a data scientist can be evaluated from the fact that the talented candidate is available but when it comes to data scientist is roughly 20 percent of the existing demand in the current market".
There is a clear and significant shortage of competent data scientists on the employment market. Their duties are difficult for people seeking a typical 9 to 5 tranquil employment, but if you enjoy challenges and dare to take a chance, your career is bright and you will soon land your ideal job.
You can make more money than you imagine in the field of data science. How are you feeling right now? Do you have a burning desire to work in the data science field? Do you possess the qualifications to work as a data scientist? There are many data science courses accessible to develop your talent, so if you are passionate about the field and want to contribute to it, enrol in one of these courses.
Click here to learn Data Science Course, Data Science Course in Hyderabad, Data Science Course in Bangalore
Data Science Placement Success Story
Data Science Training Institutes in Other Locations
Agra
,
Ahmedabad
,
Amritsar
,
Anand
,
Anantapur
,
Bangalore
,
Bhopal
,
Bhubaneswar
,
Chengalpattu
,
Chennai
,
Cochin
,
Dehradun
,
Malaysia
,
Dombivli
,
Durgapur
,
Ernakulam
,
Erode
,
Gandhinagar
,
Ghaziabad
,
Gorakhpur
,
Gwalior
,
Hebbal
,
Hyderabad
,
Jabalpur
,
Jalandhar
,
Jammu
,
Jamshedpur
,
Jodhpur
,
Khammam
,
Kolhapur
,
Kothrud
,
Ludhiana
,
Madurai
,
Meerut
,
Mohali
,
Moradabad
,
Noida
,
Pimpri
,
Pondicherry
,
Pune
,
Rajkot
,
Ranchi
,
Rohtak
,
Roorkee
,
Rourkela
,
Shimla
,
Shimoga
,
Siliguri
,
Srinagar
,
Thane
,
Thiruvananthapuram
,
Tiruchchirappalli
,
Trichur
,
Udaipur
,
Yelahanka
,
Andhra Pradesh
,
Anna Nagar
,
Bhilai
,
Borivali
,
Calicut
,
Chandigarh
,
Chromepet
,
Coimbatore
,
Dilsukhnagar
,
ECIL
,
Faridabad
,
Greater Warangal
,
Guduvanchery
,
Guntur
,
Gurgaon
,
Guwahati
,
Hoodi
,
Indore
,
Jaipur
,
Kalaburagi
,
Kanpur
,
Kharadi
,
Kochi
,
Kolkata
,
Kompally
,
Lucknow
,
Mangalore
,
Mumbai
,
Mysore
,
Nagpur
,
Nashik
,
Navi Mumbai
,
Patna
,
Porur
,
Raipur
,
Salem
,
Surat
,
Thoraipakkam
,
Trichy
,
Uppal
,
Vadodara
,
Varanasi
,
Vijayawada
,
Vizag
,
Tirunelveli
,
Aurangabad
Data Analyst Courses in Other Locations
ECIL, Jaipur, Pune, Gurgaon, Salem, Surat, Agra, Ahmedabad, Amritsar, Anand, Anantapur, Andhra Pradesh, Anna Nagar, Aurangabad, Bhilai, Bhopal, Bhubaneswar, Borivali, Calicut, Cochin, Chengalpattu , Dehradun, Dombivli, Durgapur, Ernakulam, Erode, Gandhinagar, Ghaziabad, Gorakhpur, Guduvanchery, Gwalior, Hebbal, Hoodi , Indore, Jabalpur, Jaipur, Jalandhar, Jammu, Jamshedpur, Jodhpur, Kanpur, Khammam, Kochi, Kolhapur, Kolkata, Kothrud, Ludhiana, Madurai, Mangalore, Meerut, Mohali, Moradabad, Pimpri, Pondicherry, Porur, Rajkot, Ranchi, Rohtak, Roorkee, Rourkela, Shimla, Shimoga, Siliguri, Srinagar, Thoraipakkam , Tiruchirappalli, Tirunelveli, Trichur, Trichy, Udaipur, Vijayawada, Vizag, Warangal, Chennai, Coimbatore, Delhi, Dilsukhnagar, Hyderabad, Kalyan, Nagpur, Noida, Thane, Thiruvananthapuram, Uppal, Kompally, Bangalore, Chandigarh, Chromepet, Faridabad, Guntur, Guwahati, Kharadi, Lucknow, Mumbai, Mysore, Nashik, Navi Mumbai, Patna, Pune, Raipur, Vadodara, Varanasi, Yelahanka
Navigate to Address
360DigiTMG - Data Analytics, Data Science Course Training Hyderabad
2-56/2/19, 3rd floor, Vijaya Towers, near Meridian School, Ayyappa Society Rd, Madhapur, Hyderabad, Telangana 500081
099899 94319