Do You Know How to Make a Successful Data Science Career?
What is 'Data Science'?
We are currently living in the Internet era where the commonest of activities are managed online. As a result of our online activities, we are flooded by a tsunami of data from different sources. With each passing day, the size and quantity of this data are increasing exponentially. Along with this arises the need to store this humongous data. Many enterprises understood this to be a glorious opportunity and focussed their research efforts and invented better and more efficient ways to store data. This led to many inventions, the most important of which was cloud computing. Cloud computing enabled users to store gigabytes of data at a minimal cost. By the year 2010, several companies migrated to the cloud and solved the problem of data storage.
Then firms decided to use the stored data to derive valuable insights and business decisions. A lot of data lies dormant inexpensive storage locations and it made sense to analyze it to generate information that could drive business decisions.
This led to the birth of " data science" which opened up many avenues to analyze this data with statistical methods and draw inferences to drive top-line growth. Data science is considered as the base and future of artificial intelligence and with the rapid pace of future technological innovations and development, AI systems are going to be a major game-changer in the world economy. So, data science has evolved from a fanciful whim to a major tool that is catapulting the world into an automated future. This has spawned numerous career opportunities in the field of data science. But for this, we need to know what exactly data science is.
Put simply, data science is an amalgam of various scientific methods and techniques which are utilized to extract hidden patterns from raw data. These trends and patterns are utilized for important decision making. At this point, data science may start sounding similar to statistics, but it's different. Statistics only give us an objective image of the past and present condition of a company and is mainly used for performance review and analysis, whereas data science not only gives us enough information about the present condition of the firm but also gives us sufficient data to simulate future conditions and predict various consumer patterns in foresight. Data Science can help companies avert losses by predicting adverse outcomes before their occurrence. It can help any enterprise stay ahead of the competition.
Data Science has become an integral part of most businesses today. Businesses analyze purchase patterns of consumers to find out their product preference. They then refine their products to include additional features that meet customer requirements. They have also invested in recommender systems that forward relevant advertisements to interested customers.
The data generated from the Internet is unstructured data that consists of text, images, and sound. This is also called Big Data. It is difficult to analyze this data and individuals with a strong foundation in statistics and programming are required for analysis. Data Science involves the analysis of huge volumes of structured and unstructured data and this is the challenge of any data scientist.
Most businesses have adopted data science to make crucial decisions. So the demand for data scientists far outstrips the supply. Every firm is onboarding data scientists by the day. Data Science is now a lucrative career option with more and more students signing up for data science courses by the day. However, it is not an easy subject to master and it is difficult to excel in a data science career in this competitive age.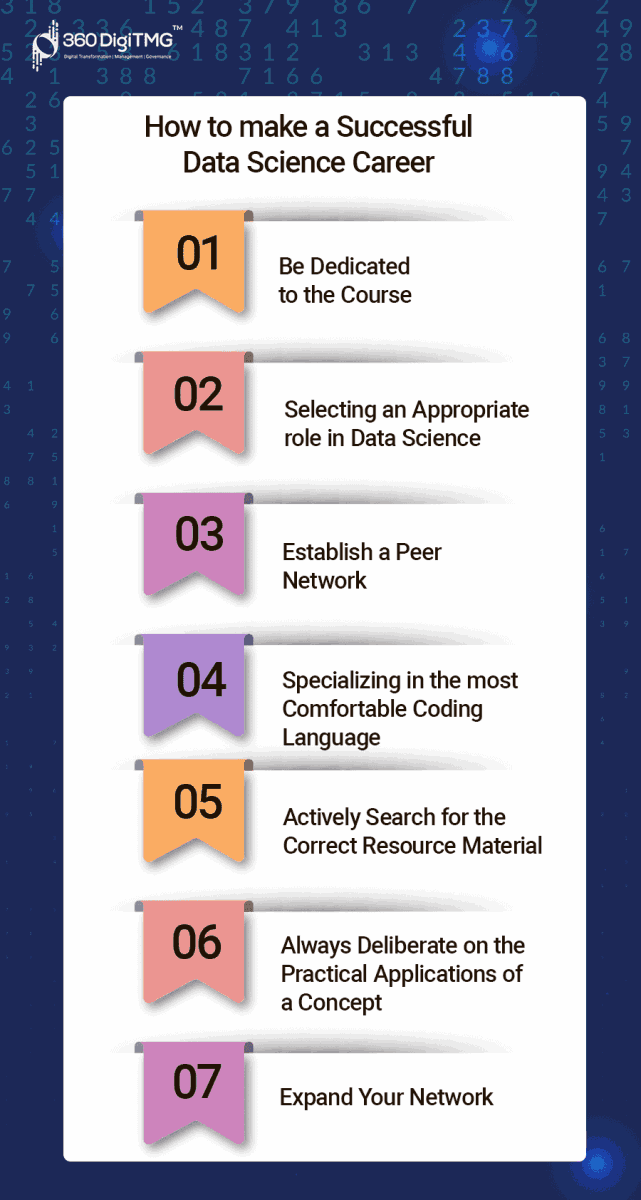 How to succeed in a Data Science Career?
Data science is an interesting yet complex subject and one needs to be familiar with various concepts and technologies therein. This is an arduous task. Hard work, dedication, and application is the key to perfection. Given below are useful hints for a glorious career in data science.
Be dedicated to the Course:

Any subject, not just data science requires immense dedication and hard work to successfully excel at it. If someone decides to pursue a course in data science they must thoroughly ingest all the theoretical concepts. Only a thorough study and revision of the basic concepts can ensure excellence in data science. Data science is very complicated and requires rigorous practice and effort. There are many free courses being conducted online and are available at the click of a button. One can register for these free courses and gain knowledge about the concepts of data science. People can also access various webinars published worldwide on the internet.

Selecting an appropriate role in Data Science:

There is a wide spectrum of jobs available in the data science field like data analyst, data engineer, business analyst, data visualization expert, machine learning expert, data miner, etc. Selecting a role must be done in accordance with the academic background and coding skills that the student possesses. It is better to research all the positions in data science and then choose the best role for yourself.

Establish a Peer Network:

Once a student selects an appropriate role it would be advisable for him to network with his peers. He could either connect to a peer group on social media or join a course and form a peer group with fellow participants. The peer group can be a forum where students can discuss technical questions and resolve doubts. A lot of information exchange happens in a peer network.

Specializing in the most Comfortable Coding Language:

Data Science is a vast subject and is employed in various countries. A plethora of coding languages and statistical tools are available in the market. It is natural for any student to get overwhelmed by this bumper shower of software. However, the good news is -there is no need to dabble in multiple languages as it degrades the quality of learning. Students should shortlist the most popular programming languages and specialize in the language that they are at ease with. You can program in any language in data science.

Actively search for the Correct Resource Material:

It is imperative to gain access to the best study material on data science available and master the concepts mentioned therein. The course curriculum needs to be developed by senior data scientists and must be industry-specific and up-to-date. The good study material also contains the knowledge of best practices in the industry.

Always deliberate on the Practical Applications of a Concept:

While learning a course, there is a high probability of becoming too enwrapped in the theory, so much so that the practical aspects are ignored completely. However, it is very important to apprehend the practical applications of a concept. This will help the student on the job. It is advisable to choose a course that offers live project exposure.

Expand your Network:

The main priority of the student should be to study the subject matter at hand. However, it is also advantageous to attend seminars and meet experts and professionals in the field. The student can later join an industry body association or a data scientist fraternity. This enables the student to refresh his knowledge of the latest trends in the industry and widens the horizon of his knowledge.
Therefore use the above-mentioned tips to avoid common pitfalls and craft a beautiful career in data science in your future. Click here to learn Data Science Course
Click here to learn Data Science Course, Data Science Course in Hyderabad, Data Science Course in Bangalore
You may also like...
Data Science has become a leading field of study in recent times owing to its vast use in almost every industry in all parts of the world.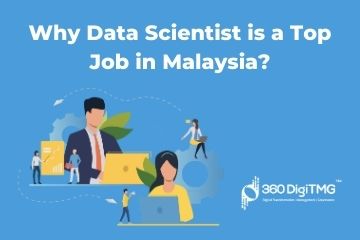 Data Scientists are one of the most sought-after jobs in Malaysia because they are high in demand and also offer enormous pay.
Most of the Data Scientists started their careers as data analysts or statisticians. But the beginning of the escalation in demand and evolution of big data led to the evolution of these roles as well.