Home / Blog / Data Science / Top 5 Strategies to Use Data Science Course to Advance Your Career Future
Top 5 Strategies to Use Data Science Course to Advance Your Career Future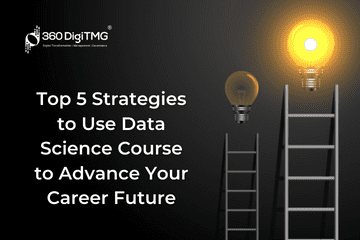 Learning is an investment that will benefit both your personal and professional life in a variety of ways. Many employers prefer to recruit applicants who have higher education, whether it comes from finishing certificate programmes or receiving bachelor's or master's degrees. Academic abilities that may be used in a number of occupations are part of learning.
Higher education programme graduates often have better financial situations and live longer. It's great to acquire academic knowledge, but what do you do with it when your classes are over?
It takes applying what you learn in the classroom to your profession to retain information and skills. The application helps you to grow and stay current by showing your employer that you can put ideas into practise to enhance work.
Top institutions and certification organisations are teaching more and more courses in data science. Additionally, data science can be studied separately or in combination with other fields including big data, artificial intelligence, machine learning, and data analytics.
There are many workplace applications for the knowledge you gain in the classroom. Data scientists are in great demand right now. So, if you're considering a career in data science, this is the ideal moment to get started.
But how can one learn data science the best?
According to studies, most individuals learn best by doing, not by watching videos or memorizing texts. To compete in the market today, people of all skill levels—from beginners to seasoned professionals—need to learn particular abilities in data science. Training programs are the most effective approach to acquiring the necessary skills to advance your career in data science. You will develop practical knowledge, work on real projects, and the essential technical and analytical skills.
Also, check this Data Science Institute in Bangalore to start a career in Data Science.
Strategies to Use Data Science Course:
Let's go down the line to learn the five strategies you may use data science course to boost your career
Use What You've Learned in R and Python Programming:
You should learn how to programme to convert your mathematical skills into scalable computer programmes after getting familiar with the relevant mathematical concepts. Python and R are the two most important programming languages, so that's a terrific place to start. R and Python are excellent places to start for a number of reasons. First, because these languages are open-source and free, anybody may learn to programme in them. Second, both programming languages are supported by Linux, Windows, and macOS.
Most significantly, these languages are simple to use and have clear libraries and syntax. Almost every data science activity may be completed using Python and R combined, while each language offers benefits in specific areas. In general, Python performs better when processing large volumes of data. It is better than R for tasks involving deep learning, web scraping, and workflow automation.
R is the most effective language for transforming statistical techniques into computer models. R contains statistical programmes that you may use to rapidly and simply apply to datasets. Because of this, building statistical models in R is simpler than in Python. Your professional goals ultimately determine whether to use Python or R. If you want to work in data science subjects like deep learning and artificial intelligence, Python is a great place to start. However, if you're more interested in using straightforward statistical methods and creating models, start using R. You can always study the other later, so keep that in mind.
Learn the core concepts of Data Science Course video on YouTube:
Learn, Adore, Practice, and Repeat:
Once you've mastered data analysis techniques, you can work on simple projects. But remember that thoroughly knowing everything you've learned thus far is more crucial than just being familiar with various subjects. To ensure you comprehend what you've learned, put it into practice.
Consider the situation where you are learning about the idea of a weighted mean. Don't only learn the term; retain it as well. For example, try developing a Python program to determine a dataset's weighted mean. You can better understand the concepts you learn if you learn by doing.
Become a Data Scientist with 360DigiTMG Data Science course in Hyderabad Get trained by the alumni from IIT, IIM, and ISB.
Work on Projects Involving Data Science:
Now that everything has been established, it is time to create individual projects. Let's first take a closer look at a few examples of what these initiatives may include.
1. Sentiment analysis first:
The method of identifying the emotions represented in a particular text is known as sentiment analysis. For instance, you may group messages into binary categories (good or negative attitude) or, for a more thorough classification, tag texts with other feelings like joy, delight, or interest.
Any writing on the Internet is open to sentiment analysis. These sorts of data are regularly found in social media feeds, so you may utilise one of them to investigate a particular hashtag for your sentiment analysis project.
2. Movie Recommendation System:
Assume you are creating a system for making movie recommendations. You might start by obtaining your data from the Movie Lens databases. Then you may construct your recommendation engine using criteria such as genre, actors, runtime, etc. These are only a few examples. Try whatever you're interested in, and see if you can find insights using statistics.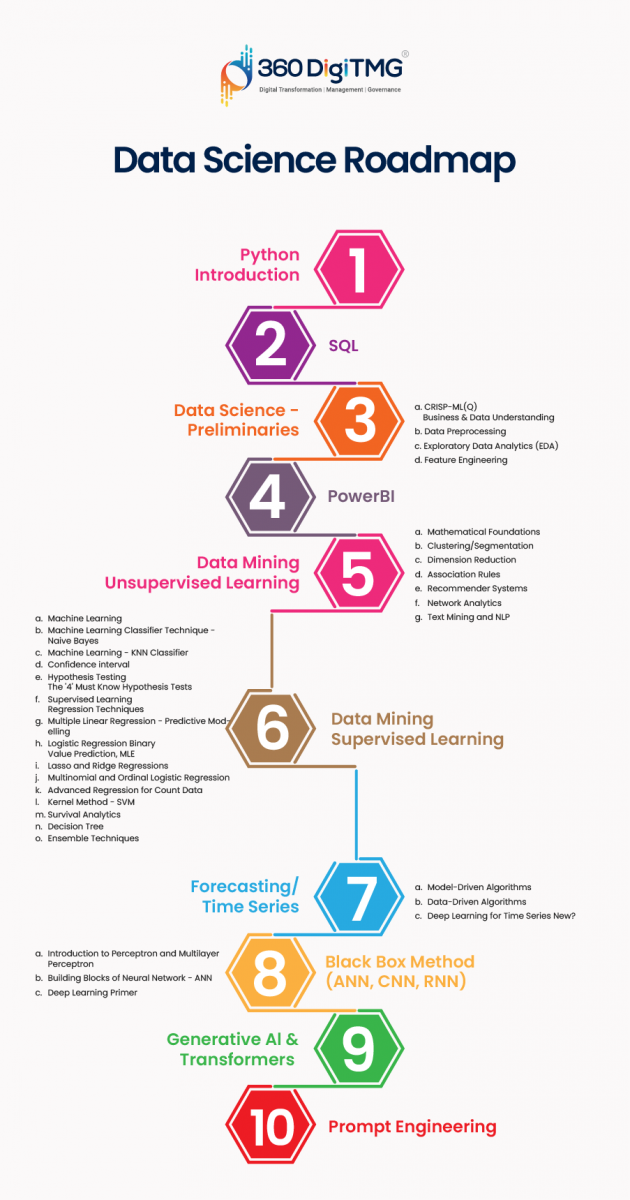 Develop Your Data Storytelling Skills:
Data scientists must explain their findings to their peers clearly and concisely. This is where good storytelling can shine. The three primary elements of data storytelling are listed below.
Data: Your story will begin with the data you collect during the analytical process.
Narrative: A narrative is a context and story you want to communicate to your audience.
Visualizations: These are data visualizations in graphic form. You can use graphs, charts, films, and diagrams to support your narrative in a simple way for your audience to understand.
Programming: Anyone wishing to enter the data science sector must have some programming experience, so learning languages like Python and R is a requirement. Given its simplicity of learning and capacity to accommodate a variety of data science and machine learning packages, Python is one of the most preferred choices. Among other things, good data science courses will teach programming skills.
A data science professional's job profile includes handling databases, creating them, administering them, and extracting valuable data, among other things.
Looking forward to becoming a Data Scientist? Check out the Data Science Course and get certified today.
Always be Learning and Building Your Network:
Your learning journey doesn't end once you finish a few tasks or land a job. Given that data science is continuously changing, it would be beneficial if you kept growing. You should be aware of recent developments in business. If you don't know what changes, you won't know what to learn. Observe industry influencers and read industry publications. If you're prepared to start looking for a career in data science, networking with individuals in the field is crucial in addition to working on personal projects and preparing your CV.
When you are just starting out on your data science adventure, networking may be advantageous in a number of ways. First, by conversing with data scientists, you may find out more about the condition of the industry and what it's like to work there. Speaking with recruiters might provide you details on their interview process and aid in your job search. Finally, it may be quite helpful to communicate with people who are informed about various firms and how they utilise data to make decisions.
Are you looking to become a Data Scientist? Go through 360DigiTMG's PG Diploma in Data Science and Artificial Intelligence!.
The Bottom Line:
You may learn data science on your own with the aid of online courses or even YouTube videos. There is no shortage of educational resources on the Internet if you want to pursue a profession in this area.
In spite of this, self-learning lack's structure, and you can be unaware of the vital elements that are lacking. Data science courses and boot camps provide an experienced instructor and a group environment where feedback may be offered to anyone looking for a balance between independence and assistance. Alumni of 360DigiTMG discuss their educational experiences and how they used the skills they learnt with us to find the ideal data science job.
Data Science Placement Success Story
Data Science Training Institutes in Other Locations
Agra, Ahmedabad, Amritsar, Anand, Anantapur, Bangalore, Bhopal, Bhubaneswar, Chengalpattu, Chennai, Cochin, Dehradun, Malaysia, Dombivli, Durgapur, Ernakulam, Erode, Gandhinagar, Ghaziabad, Gorakhpur, Gwalior, Hebbal, Hyderabad, Jabalpur, Jalandhar, Jammu, Jamshedpur, Jodhpur, Khammam, Kolhapur, Kothrud, Ludhiana, Madurai, Meerut, Mohali, Moradabad, Noida, Pimpri, Pondicherry, Pune, Rajkot, Ranchi, Rohtak, Roorkee, Rourkela, Shimla, Shimoga, Siliguri, Srinagar, Thane, Thiruvananthapuram, Tiruchchirappalli, Trichur, Udaipur, Yelahanka, Andhra Pradesh, Anna Nagar, Bhilai, Borivali, Calicut, Chandigarh, Chromepet, Coimbatore, Dilsukhnagar, ECIL, Faridabad, Greater Warangal, Guduvanchery, Guntur, Gurgaon, Guwahati, Hoodi, Indore, Jaipur, Kalaburagi, Kanpur, Kharadi, Kochi, Kolkata, Kompally, Lucknow, Mangalore, Mumbai, Mysore, Nagpur, Nashik, Navi Mumbai, Patna, Porur, Raipur, Salem, Surat, Thoraipakkam, Trichy, Uppal, Vadodara, Varanasi, Vijayawada, Visakhapatnam, Tirunelveli, Aurangabad
Data Analyst Courses in Other Locations
ECIL, Jaipur, Pune, Gurgaon, Salem, Surat, Agra, Ahmedabad, Amritsar, Anand, Anantapur, Andhra Pradesh, Anna Nagar, Aurangabad, Bhilai, Bhopal, Bhubaneswar, Borivali, Calicut, Cochin, Chengalpattu , Dehradun, Dombivli, Durgapur, Ernakulam, Erode, Gandhinagar, Ghaziabad, Gorakhpur, Guduvanchery, Gwalior, Hebbal, Hoodi , Indore, Jabalpur, Jaipur, Jalandhar, Jammu, Jamshedpur, Jodhpur, Kanpur, Khammam, Kochi, Kolhapur, Kolkata, Kothrud, Ludhiana, Madurai, Mangalore, Meerut, Mohali, Moradabad, Pimpri, Pondicherry, Porur, Rajkot, Ranchi, Rohtak, Roorkee, Rourkela, Shimla, Shimoga, Siliguri, Srinagar, Thoraipakkam , Tiruchirappalli, Tirunelveli, Trichur, Trichy, Udaipur, Vijayawada, Vizag, Warangal, Chennai, Coimbatore, Delhi, Dilsukhnagar, Hyderabad, Kalyan, Nagpur, Noida, Thane, Thiruvananthapuram, Uppal, Kompally, Bangalore, Chandigarh, Chromepet, Faridabad, Guntur, Guwahati, Kharadi, Lucknow, Mumbai, Mysore, Nashik, Navi Mumbai, Patna, Pune, Raipur, Vadodara, Varanasi, Yelahanka
Navigate to Address
360DigiTMG - Data Science, IR 4.0, AI, Machine Learning Training in Malaysia
Level 16, 1 Sentral, Jalan Stesen Sentral 5, Kuala Lumpur Sentral, 50470 Kuala Lumpur, Wilayah Persekutuan Kuala Lumpur, Malaysia
+60 19-383 1378