Home / Blog / Data Science / Best Curated Reliable Advice To A Data Analytics Beginner To Succeed Their Career?
Best Curated Reliable Advice To A Data Analytics Beginner To Succeed Their Career?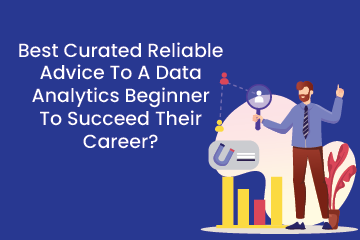 In a time where data collection and storage are more prevalent than ever, it is crucial for many businesses and organisations to understand the best methods for data evaluation and data extraction. Additionally, since the advent of big data, cloud computing, artificial intelligence, and other new software and hardware, data analytics has grown considerably, becoming an essential part of modern business decision-making.
Data is gathered, cleaned, and studied in the quickly expanding subject of data analytics to produce business intelligence, influence market trends, and direct corporate decisions. Data analysts are experts in this discipline who use analysis to extract meaningful insights from unstructured data.
Because of the sector's expansion, data analytics is a sought-after job path. As a result, data analysts are in huge demand today more than ever, and there are many chances for qualified analysts to help businesses and organizations with their data requirements.
Pursue a career in Data Analytics with the number one training institute 360DigiTMG. Enroll in the Best Data Analytics Courses in Hyderabad with placements to start your journey.
What qualifications do I require to become a Data Analyst?
Even though there isn't a single best way to become a data analyst, there are a few fundamental hard and soft skills that any new data analyst will need to succeed in the field. If you're considering changing careers, use this list as a starting point. It's by no means comprehensive.
Data analysts must possess some hard skills:
⦁ Programming languages and query languages, such as Python and SQL, with demonstrable expertise.
⦁ A track record of success using business intelligence and data analytics tools, such as SAS, Tableau, and RapidMiner.
⦁ Thorough knowledge of each phase in the data analysis process.
Learn the core concepts of Data Science Course video on Youtube:
Strong statistical and arithmetic abilities:
As you may have guessed, hard skills are the technical knowledge needed to perform the duties of a role. You can measure them in terms of competence, from elementary to an advanced expertise.
Data analysts must possess the following soft skills:
⦁ Excellent teamwork and communication abilities.
⦁ Attention to detail.
⦁ A thorough, logical strategy.
⦁ A spirit of problem-solving.
In contrast to hard abilities, soft skills are not quantifiable. Soft skills more closely resemble your personality attributes, even though you may have acquired or honed them through previous jobs or experiences.
Don't delay your career growth, kickstart your career by enrolling in this Data Analyst Course in Pune.
Why Study Data Analytics?
Businesses are beginning to understand how data analytics may aid in gaining insights and making informed decisions. Consequently, there is a significant demand for data analysts who can identify and point out hidden patterns, identify new opportunities, and produce insights for a business's benefit. Your career in data analytics will get off to a good start with the help of this lesson on the subject.
Who needs to study Data Analytics?
Due to the massive quantity of data that is generated daily and the numerous businesses attempting to leverage it, a career in data analytics is the newest hot field. If you are interested in data and how to extract useful information from data, you may register in the well-known Data Analytics Bootcamp offered by Simplilearn. Regardless of your level of knowledge, this data analytics lesson will help you choose precisely the course you should start with.
Kickstart your career by enrolling in this Data Analyst Course Fees in Chennai.
Best advice to a beginner in Data Analytics
If you're eager to learn new things and challenge yourself, going into the field of data analysis is a terrific decision. You'll benefit from a burgeoning pool of employment opportunities and a long-lasting, lucrative career. Here are some recommendations for getting your first job and guidance for those preparing to begin their career in data analysis.
⦁ Begin by learning the fundamentals of Data Analytics:
Learning the principles of data analysis is the first step in beginning your new career in data-driven business. It typically entails a thorough understanding of how data functions in a corporate setting and the kinds of tools you'll need to comprehend it. For those just getting started with data analytics, there are some excellent free resources accessible.
⦁ Work on your portfolio:
A portfolio is not something you need to be a creator to have. However, building a collection of their most noteworthy work will enable data analysts to demonstrate their subject-matter competence. Additionally, because a lot of the best learning resources feature real-world tasks for you to do, as you enrol in various courses and obtain certifications to develop your talents, you could grow your portfolio.
The skills that are most relevant to the employment you are looking for should be displayed in your portfolio. You could wish to show off your grasp of the programming language R or your proficiency with Python, for instance.
⦁ Sign up for data communities:
The importance of collaboration in the IT industry cannot be emphasised enough, since technical advancement demands teamwork. Joining networks on different sites (LinkedIn, Discord, which is Slack, the messaging app WhatsApp, Twitter, etc.) will help you stay motivated, learn from others' experiences, and obtain help when you run into problems. Join various online data communities, for instance. They constitute an online information association with a membership of over 6000 available members from various data areas. Join the community on Twitter, Discord, and Facebook.
⦁ Go steadily and slowly:
Going fast and hard will cause burnout, whereas moving slowly will guarantee steady improvement. Do not attempt to learn everything immediately because there is much to learn. Set a realistic pace and create a study curriculum for the path you want to take. Lifelong learning is a process.
⦁ Fill out entry-level job applications to gain experience:
Even though having a substantial degree will increase your chances of landing the ideal position, most employers will also prefer experience. Entry-level positions are the most distinctive approach to learning what working as a data analyst is like and how to succeed in these settings.
You can search online for "Junior data analyst" positions that allow you to study and advance in a situation in exchange for a somewhat lower salary. Additionally, several businesses post job ads for "entry-level" data analysts, who gather and handle data while frequently collaborating with statisticians and data specialists.
⦁ Develop your technical Data Analytics skills:
You can start developing your technical expertise after you feel comfortable with data analysis and computer science fundamentals. Most of the time, positions as data analysts will call for specialized knowledge in a particular programming language or set of coding tools.
Remember that many employers will search for critical technical and soft skills, such as solid communication and problem-solving skills. Therefore, work to improve your interpersonal skills and technical understanding.
⦁ Obtain certification in Data Analytics:
It can be challenging to stand out in a crowded industry like data analytics, especially when applying for a position that sounds very interesting. Obtaining certifications is an excellent approach to increasing your work prospects and attracting the interest of several hiring managers.
Additionally, data analytics certifications are an excellent method to advance from data analyst to more responsible positions like analytics manager or chief data scientist. There are many different certification programs, most of which concentrate on enhancing your expertise in a particular field.
⦁ Conduct thorough research:
Before entering the industry, you should conduct thorough research to understand data analytics and determine whether it is something you are interested in. In addition, using the appropriate keywords when searching for what you need on Google is a crucial skill you will frequently need.
Wish to pursue a career in data analytics? Enroll in this Data Analytics course in Bangalore to start your journey.
Embrace the Data Analytics career with 360digiTMG courses:
In the upcoming years, analytics for data will be widely used in technology, medical, educational, and other sectors. As a result, now is a good time to enter the industry. Learn further about the fundamentals of statistical analysis for beginners by enrolling in 360digiTMG classes. Every day, a brief education on data analytics will arrive in your email. You may run the initial analysis while learning about data analytics with our course on data analytics. Participate in any of our live data analysis events with leading professionals.
Data Science Placement Success Story
Data Science Training Institutes in Other Locations
Agra, Ahmedabad, Amritsar, Anand, Anantapur, Bangalore, Bhopal, Bhubaneswar, Chengalpattu, Chennai, Cochin, Dehradun, Malaysia, Dombivli, Durgapur, Ernakulam, Erode, Gandhinagar, Ghaziabad, Gorakhpur, Gwalior, Hebbal, Hyderabad, Jabalpur, Jalandhar, Jammu, Jamshedpur, Jodhpur, Khammam, Kolhapur, Kothrud, Ludhiana, Madurai, Meerut, Mohali, Moradabad, Noida, Pimpri, Pondicherry, Pune, Rajkot, Ranchi, Rohtak, Roorkee, Rourkela, Shimla, Shimoga, Siliguri, Srinagar, Thane, Thiruvananthapuram, Tiruchchirappalli, Trichur, Udaipur, Yelahanka, Andhra Pradesh, Anna Nagar, Bhilai, Borivali, Calicut, Chandigarh, Chromepet, Coimbatore, Dilsukhnagar, ECIL, Faridabad, Greater Warangal, Guduvanchery, Guntur, Gurgaon, Guwahati, Hoodi, Indore, Jaipur, Kalaburagi, Kanpur, Kharadi, Kochi, Kolkata, Kompally, Lucknow, Mangalore, Mumbai, Mysore, Nagpur, Nashik, Navi Mumbai, Patna, Porur, Raipur, Salem, Surat, Thoraipakkam, Trichy, Uppal, Vadodara, Varanasi, Vijayawada, Visakhapatnam, Tirunelveli, Aurangabad
Data Analyst Courses in Other Locations
ECIL, Jaipur, Pune, Gurgaon, Salem, Surat, Agra, Ahmedabad, Amritsar, Anand, Anantapur, Andhra Pradesh, Anna Nagar, Aurangabad, Bhilai, Bhopal, Bhubaneswar, Borivali, Calicut, Cochin, Chengalpattu , Dehradun, Dombivli, Durgapur, Ernakulam, Erode, Gandhinagar, Ghaziabad, Gorakhpur, Guduvanchery, Gwalior, Hebbal, Hoodi , Indore, Jabalpur, Jaipur, Jalandhar, Jammu, Jamshedpur, Jodhpur, Kanpur, Khammam, Kochi, Kolhapur, Kolkata, Kothrud, Ludhiana, Madurai, Mangalore, Meerut, Mohali, Moradabad, Pimpri, Pondicherry, Porur, Rajkot, Ranchi, Rohtak, Roorkee, Rourkela, Shimla, Shimoga, Siliguri, Srinagar, Thoraipakkam , Tiruchirappalli, Tirunelveli, Trichur, Trichy, Udaipur, Vijayawada, Vizag, Warangal, Chennai, Coimbatore, Delhi, Dilsukhnagar, Hyderabad, Kalyan, Nagpur, Noida, Thane, Thiruvananthapuram, Uppal, Kompally, Bangalore, Chandigarh, Chromepet, Faridabad, Guntur, Guwahati, Kharadi, Lucknow, Mumbai, Mysore, Nashik, Navi Mumbai, Patna, Pune, Raipur, Vadodara, Varanasi, Yelahanka
Navigate to Address
360DigiTMG - Data Science Course, Data Scientist Course Training in Chennai
D.No: C1, No.3, 3rd Floor, State Highway 49A, 330, Rajiv Gandhi Salai, NJK Avenue, Thoraipakkam, Tamil Nadu 600097
1800-212-654-321