What Are The Roles And Responsibilities Of An Operations Analyst?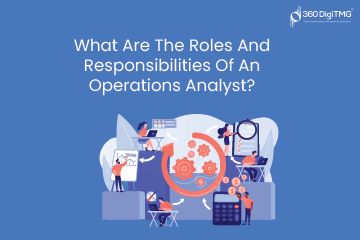 Business has undergone a fast digitalization that has altered how organisations run. Thanks to new data sources and technological breakthroughs, businesses today have unparalleled visibility into their daily operations and the ability to make modifications in real time as soon as issues arise.
TAlong with these developments, operations analytics' significance has grown. Despite the fact that operations analytics is not a new topic, the function of the twenty-first century has been considerably altered by the data we now have access to.
What is an Operations Analyst?
An operations analyst's task is to identify and fix issues that have an impact on how smoothly business operations run. The engineering and sales management departments must examine a sizable amount of data and information to achieve this. Depending on the industry, an operations analyst might advance into a regional or national job supervising various enterprise accounts.
A bachelor's degree is frequently needed for operations analysts, while most firms prefer candidates with master's degrees in business or a similarly related discipline. A minimum of three years of experience working as an analyst in a formal corporate setting is necessary because of the demands of the position. Candidates that succeed in this profession have excellent attention to detail, business acumen, and quick analytical abilities.
Learn the core concepts of Data Science Course video on Youtube:
Qualifications and skills of an Operations Analyst:
Some applicants won't apply until they satisfy all the requirements. If you specify the desire vs. need, you're more likely to receive more applications. For example, you could want to add the following:
⦁ Displays business acumen.
⦁ Provides recommendations based on facts and demonstrates a high aptitude for analysis and problem-solving.
⦁ Reports to decision-makers and has a solid oral and written communication style.
⦁ Can work with individuals from different departments and levels of authority.
⦁ Has the ability to coordinate several projects at once and is organized and time-efficient.
Education and Experience Requirements
⦁ The prerequisite is a bachelor's degree in business, finance, economics, or a closely related field.
⦁ A graduate degree in business, finance, economics, or a closely related field is advantageous.
⦁ Operations experience of at least some years is preferred.
What Does an Operations Analyst Actually Do?
Here are some general obligations and duties that come with the job of an operations analyst, regardless of the industry you work in.
⦁ Determine issues: One of your most significant duties as an operations analyst is to recognize operational problems and possible issues. You need to discuss these issues with clients and stakeholders. Logistics issues, such as estimating costs and staffing issues in supply and production, can be a part of these issues. Your primary responsibility is to increase the organization's overall effectiveness; thus, you must be wise to see any problems.
⦁ Research problems: You'll identify the difficulties and then use various modeling techniques to fix them. You may utilize a tonne of different software tools for statistical modeling and data analysis. Predicting the outcomes of the available solution alternatives is part of this research phase.
⦁ Solution suggestions: You must provide presentations and reports that back up your suggested solutions to the difficulties and issues raised by your research and analysis. You'll write in-depth reports that cover every aspect of the solution and outline any drawbacks to using it. You'll need to be able to explain everything in detail and convey your ideas to those who might not have a background in operations or data analysis.
⦁ Work together as a team: You can't work alone to resolve the problems because they are not straightforward or small-scale initiatives. To effectively execute the ideas, you must work in teams and cooperate with coworkers, including other analysts, researchers, and managers. As a result, you must be an effective team player.
Why Is the Demand for Operations Analysts High?
Due of its ability to lower costs, this position may expand. Analysts and polls have predicted that this will lead to a rapid increase in the number of these occupations. Various industries, including manufacturing, scientific and technological services, banking and insurance, and the federal government, are hiring for jobs in this field.
This role can potentially grow because it can reduce a company's expenses. Because of this, analysts and surveys have forecast that the number of these jobs will rise quickly. Jobs in this position are available in various sectors, including manufacturing, scientific and technical services, finance and insurance, and the federal government.
Entry-level jobs can be well paid due to the growing demand for operations analysts. You can grow to become an Operations Manager, Senior Financial Analyst, Ops Supervisor, or even VP of Operations with the right combination of experience and leadership skills.
Job Responsibilities of an Operations Analyst
It will help if you list the primary duties of your position in this area of your job description for an operations analyst. Give candidates a thorough list to assess their interest in and suitability for the post. Here are a few typical operations analyst job duties to get you started on your list:
⦁ Collects and evaluates market and company research data.
⦁ Interviews employees from several departments to get information.
⦁ Writes monthly reports that include the most important conclusions, analyses, and suggestions.
⦁ Suggests strategies to boost profits, save costs, and boost effectiveness.
⦁ Will present a monthly report for review by the decision-makers.
⦁ Department leaders support the implementation of new policies, rules, and procedures.
⦁ Will work closely with the technology, financial, marketing, and sales teams.
⦁ Practical experience and internships: Nearly all employers favor applicants with previous hands-on experience. Thus, internships have a lot of potentials. Even though many internships don't pay well, the experience you gain is priceless. You will receive hands-on training from professionals while working as an intern, enhancing your resume and imparting valuable knowledge and career tips. You'll get a lot of real-world experience while learning if you choose a course training method. In addition, it implies that you'll have a better chance of landing a job in your chosen field as soon as you graduate.
⦁ Positions for Operations Analysts at Entry Level: If you lack relevant work experience, you might need to go through an additional step before being hired as an operations analyst. You must first submit the application for the position of Junior Analyst. It will open doors and give you much-needed work experience and on-the-job training.
What are the roles of an Operations Analyst?
As an operations analyst, your day will probably start with a lot of meetings. Others in the firm will rely on you to supply information about the efficacy of their teams, so get ready to provide facts and offer recommendations for improvement. Additionally, as you develop confidence from the business and experience, you'll assume greater power: Operations analysts are typically the go-to experts when it comes to automating monotonous processes.
Your afternoon will be finished by gathering reports and producing dashboards for other team members. Plan to spend a lot of time in front of the computer as you'll be gathering data and compiling it to tell a story about the organization's procedures.
Naturally, your day-to-day might vary greatly depending on the business. According on the role you pick, you might spend additional time on warehouse management, budget reports, client-facing remedies, or a range of other specialised aspects of the work. Businesses need operations analysts across numerous sectors.
⦁ Hours: The majority of Operations Analysts work standard 9-5 hours. Being accessible throughout regular business hours is necessary because you'll frequently collaborate with other teams and senior management.
⦁ Tools: The majority of your tools are digital. Excel, PowerPoint, SalesForce, and perhaps a few more specialist reporting and data visualization apps will all become quite familiar.
⦁ Working conditions: Since this is an office job, you may work at corporate headquarters or, if you're fortunate enough to secure a remote position, from the comfort of your home.
What skills do Operations Analysts require?
All operations analysts should have the following essential skills:
⦁ Applied mathematics and statistics are crucial for evaluating and making meaning of various intricate sources.
⦁ Critical thinking and problem-solving are essential for understanding facts and recognizing and addressing problems in the actual world as they arise.
⦁ Systems analysis is the capacity to analyze, assess, and improve processes, procedures, software, and IT systems.
⦁ Require expertise in programming is needed to enable system analysis, construct software, and create unique applications or methods.
⦁ Require management skills like a fundamental understanding of crucial resource allocation, leadership, and strategic planning concepts.
⦁ Financial knowledge is like the capacity to compile, comprehend, and contextualize financial accounting data concerning broader business and economic activities.
⦁ Should know data analytics software with various data analytics tools, procedures, and systems, from Excel and Python to proprietary platforms like SAP.
⦁ Knowledge of logistics and transportation is a significant player in the manufacturing industry, and you must be familiar with supply chain procedures.
⦁ Operations analysis requires decision-making under extreme time pressure. Therefore, you'll need to remain composed and exercise clear judgment.
Conclusion:
Operations analysts are acquainted with the term "operations research analyst," which accurately describes the profession. You will do operations research in this position to support management in making choices, altering policies, modifying logistics, and streamlining procedures. Additionally, because they work in a technical field, analysts in today's fast-paced workplaces are continually updating their skill sets and learning about market trends and new technologies.
Click here to learn Data Science Course, Data Science Course in Hyderabad, Data Science Course in Bangalore
Data Science Placement Success Story
Data Science Training Institutes in Other Locations
Agra, Ahmedabad, Amritsar, Anand, Anantapur, Bangalore, Bhopal, Bhubaneswar, Chengalpattu, Chennai, Cochin, Dehradun, Malaysia, Dombivli, Durgapur, Ernakulam, Erode, Gandhinagar, Ghaziabad, Gorakhpur, Gwalior, Hebbal, Hyderabad, Jabalpur, Jalandhar, Jammu, Jamshedpur, Jodhpur, Khammam, Kolhapur, Kothrud, Ludhiana, Madurai, Meerut, Mohali, Moradabad, Noida, Pimpri, Pondicherry, Pune, Rajkot, Ranchi, Rohtak, Roorkee, Rourkela, Shimla, Shimoga, Siliguri, Srinagar, Thane, Thiruvananthapuram, Tiruchchirappalli, Trichur, Udaipur, Yelahanka, Andhra Pradesh, Anna Nagar, Bhilai, Borivali, Calicut, Chandigarh, Chromepet, Coimbatore, Dilsukhnagar, ECIL, Faridabad, Greater Warangal, Guduvanchery, Guntur, Gurgaon, Guwahati, Hoodi, Indore, Jaipur, Kalaburagi, Kanpur, Kharadi, Kochi, Kolkata, Kompally, Lucknow, Mangalore, Mumbai, Mysore, Nagpur, Nashik, Navi Mumbai, Patna, Porur, Raipur, Salem, Surat, Thoraipakkam, Trichy, Uppal, Vadodara, Varanasi, Vijayawada, Visakhapatnam, Tirunelveli, Aurangabad
Data Analyst Courses in Other Locations
ECIL, Jaipur, Pune, Gurgaon, Salem, Surat, Agra, Ahmedabad, Amritsar, Anand, Anantapur, Andhra Pradesh, Anna Nagar, Aurangabad, Bhilai, Bhopal, Bhubaneswar, Borivali, Calicut, Cochin, Chengalpattu , Dehradun, Dombivli, Durgapur, Ernakulam, Erode, Gandhinagar, Ghaziabad, Gorakhpur, Guduvanchery, Gwalior, Hebbal, Hoodi , Indore, Jabalpur, Jaipur, Jalandhar, Jammu, Jamshedpur, Jodhpur, Kanpur, Khammam, Kochi, Kolhapur, Kolkata, Kothrud, Ludhiana, Madurai, Mangalore, Meerut, Mohali, Moradabad, Pimpri, Pondicherry, Porur, Rajkot, Ranchi, Rohtak, Roorkee, Rourkela, Shimla, Shimoga, Siliguri, Srinagar, Thoraipakkam , Tiruchirappalli, Tirunelveli, Trichur, Trichy, Udaipur, Vijayawada, Vizag, Warangal, Chennai, Coimbatore, Delhi, Dilsukhnagar, Hyderabad, Kalyan, Nagpur, Noida, Thane, Thiruvananthapuram, Uppal, Kompally, Bangalore, Chandigarh, Chromepet, Faridabad, Guntur, Guwahati, Kharadi, Lucknow, Mumbai, Mysore, Nashik, Navi Mumbai, Patna, Pune, Raipur, Vadodara, Varanasi, Yelahanka
Navigate to Address
360DigiTMG - Data Science, Data Scientist Course Training in Bangalore
No 23, 2nd Floor, 9th Main Rd, 22nd Cross Rd, 7th Sector, HSR Layout, Bengaluru, Karnataka 560102
1800-212-654-321