How To Use Data Analytics To Improve Decision-Making?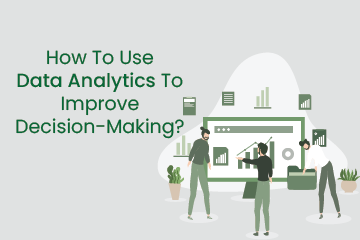 Businesses increasingly gather and process enormous amounts of data, making big data a crucial asset. Nevertheless, since a lot of data is prone to duplication, redundancy, and inaccuracy, "clean" data is still in high demand. Even less of this knowledge richness can be used immediately, too. However, data analytics provide priceless, measurable numbers that can use to gauge progress. Thus, it could be equally instructive to think about how data analytics can improve decision-making.
Because big data is altering the corporate sector's competitive landscape, businesses are beginning to speed up their digital transformation. As a result, there is a huge increase in demand for data analytics. The abundance of data is causing the emergence of fresh patterns. The current strategy for success is to make decisions based on data analysis.
Small businesses can now use data analysis to increase their competitiveness. Artificial intelligence and machine learning both are disruptive technologies that are changing the environment.
Kickstart your career by enrolling in this Data Analyst Course Fees in Chennai.
What is Data Analytics?
Data analytics is the process of analysing data to discover insights, identify patterns, and address questions. Additionally, you may refer to data analytics used in business as business analytics.
To examine data, you may utilise tools, frameworks, and programmes like Google Charts, Data Wrapper, Infogram, Tableau, and Zoho Analytics. These can let you explore data from many angles and create graphics that illuminate the story you're trying to convey.
Algorithms and machine learning are also included in data analytics since they can collect, organise, and analyse data more rapidly and in bigger quantities than people. Although building algorithms is a more difficult data analytics skill, even without a solid experience in coding and statistical modelling, you may benefit from data-driven decision-making.
Also, check this Data Analytics Course to start a career in Data Analytics.
Various Data Analytics types:
1. Descriptive Analytics: Descriptive analytics concentrates on gathering information from a single source and breaking it down into smaller units, like by-products or customer segments. For instance, let's say you want to know more specifics about how your mobile business performs. The goal of descriptive analytics, a subfield of data science, is to find meaningful patterns in massive amounts of data. You can use it to examine the traits and behaviors of individuals, groups, and other types of entities.
2. Diagnostic Analytics: Diagnostic analytics is a type of data analytics concerned with understanding the system's present condition and pinpointing all the elements contributing to its subpar performance. Diagnostic analytics seeks to specify all the problems producing a problem, including their potential locations, the information lacking from the system, and the best course of action to take. You can use it for incident management, configuration management, and troubleshooting.
3. Predictive Analytics: A branch of data science that concentrates on forecasting. It entails employing mathematical models, statistical algorithms, and computer programmes to make predictions about the future. Numerous applications of predictive analytics are available in marketing, fraud prevention, CRM, credit scoring, and fraud detection. Predictive analytics is a type of analytics that aims to anticipate future events or patterns.
4. Prescriptive Analytics: Data science involves data analysis to produce more accurate forecasts. A predictive analytics branch of data science aims to forecast customer behavior, corporate performance, and other things. Predictive analytics is an important skill to comprehend a phenomenon from historical data and predict future results. For example, a decision support system (DSS) or statistical modeling is predictive analytics.
Don't delay your career growth, kickstart your career by enrolling in this Data Analyst Course in Pune.
Data use to drive decision-making:
One should use the four data analysis categories to provide a complete picture of the story the data tells and reach informed decisions. First, use descriptive analytics to grasp the current state of your firm. Next, utilize diagnostic analytics to determine how your organization arrived there. Will current patterns continue? It is a question that can be answered using predictive analytics. Finally, prescriptive analytics can assist you in planning effective tactics by allowing you to go through all potential future and present events.
You may employ two or three of these analytics kinds or use them all sequentially to fully grasp the story the data tells, depending on the issue you're attempting to address and your objectives.
You may benefit from your data insights and grow your business and career by developing your analytics abilities.
Learn the core concepts of Data Science Course video on Youtube:
How data analytics can improve decision-making expertise:
It is essential to combine the precise methods by which data analytics might enhance decision-making into three significant axes. All three are related to the elements above and aptitudes that elevate data into valuable insights.
⦁ Observing consumer behavior:
Using analytic CRMs' modelling of predictions, the Google Analytics' description outline, and any other analytics asset, data can show trends. Indeed, behavioural patterns can influence a wide range of decisions because they are so immensely predictable. Research that demonstrates how consumer data can dramatically boost sales may be used to prove it.
Consider the following applications in this regard.
⦁ Sales forecasting and customer segmentation:
Such features enable data analytics to assist decision-making and can be found on many platforms. For example, you can improve a person's sales funnel and proactively adjust sales methods with accurate client segmentation and predictions.
⦁ The experience of the customer:
The value of a client's experience is comparable to that of sales growth since it directly increases customer pleasure. Additionally, effective data analytics may improve customer experience by boosting traffic from referrals and retention rates for clients.
⦁ Analytics helps improve risk mitigation:
The risk posed by the massive amount of data being obtained is one of the main reasons why businesses need to use analytics to make better decisions. However, without thorough analysis, making the wrong choices is straightforward, given the presented volume of unstructured data. In light of the preceding, the proper data analytics strategy will enable risk prediction and aid in improving future judgments.
Additionally, business analytics significantly reduces the risk associated with expansions by providing organizations with helpful information before they make a final choice. It is also possible to engage with the data to turn it into a workable strategy.
Businesses using a baseline standard for assessing risk can use precise figures in their decision-modeling process. Essentially, they can anticipate specific events and make early plans for them.
⦁ Making use of data to improve performance:
As mentioned above, data analytics can influence performance in indirect and overt ways. Take into account the following applications on the front of performance across the board.
⦁ Productivity increases with a streamlined workflow:
By acquiring thorough insights into company operations, if they be every day, every week, or every month, one may optimise and simplify their workflow. Reports on employee performance, for instance, can assist team leaders and supervisors in assessing employee performance, cutting down on time wasted on pointless work, and eventually improving time management. Additionally, since employees are more productive and you can set clear short-term targets for them, such efforts could lead to an increase in productivity.
⦁ Pricing and cost-effectiveness:
Likewise, analytics teams can assess past, present, and future performance using data points. As a result, they can evaluate cost-effectiveness, decide on the best routes for each department, and calculate the best return on investment (ROI). And finally, companies can examine rival data to identify appropriate pricing levels and boost performance.
Streamlining one's workflow and ensuring cost-effectiveness can improve performance and guide decisions.
⦁ Data can improve performance:
To uncover purchase trends, small firms can expect to devote a significant amount of time to data analysis. However, performance must also be a priority. Data analysis plays a crucial role internally within a firm by offering insight into decisions based on increased efficiency. Operational costs, product development, and personnel planning are a few examples. Utilizing insight offers a distinctive perspective into intricate internal business issues.
Businesses can increase their profit margins through analytics by creating more effective workflows.
Wish to pursue a career in data analytics? Enroll in this Data Analytics course in Bangalore to start your journey.
How to Use Data to Make Decision making:
It's best to start with an action plan before you begin information analysis. It should explain how you will get and understand the appropriate data to make the best possible business decisions. Then, please take a look at your objectives and order them. Starting with your primary corporate goals should guide all of your decisions.
⦁ Define the objective:
To understand the primary and future goals of the organization, the first step is to define business goals. These can be as concrete as boosting revenue or raising brand recognition.
⦁ Data preparation and search:
It is time to locate and use the pertinent facts after outlining the problem you must solve and the proposed solution. Then, gather and prepare all the info you need. If your company's data is spread among numerous unrelated sources, getting high-quality and trustworthy data may be challenging.
⦁ Reviewing data and formulating a development plan:
Reviewing and analyzing the data is the next step. Making good data-driven decisions depends on being able to visualize them. Ideas will likely impact senior management and other employees' decisions when you can represent them visually.
Conclusion:
In this unpredictable environment of data-driven transformation, business managers must simultaneously look through two lenses. They must first identify attractive, high-risk prospects like entering untapped markets and changing established corporate structures. Second, they need to keep including analytics in their main process for making business decisions.
Data Science Placement Success Story
Data Science Training Institutes in Other Locations
Agra, Ahmedabad, Amritsar, Anand, Anantapur, Bangalore, Bhopal, Bhubaneswar, Chengalpattu, Chennai, Cochin, Dehradun, Malaysia, Dombivli, Durgapur, Ernakulam, Erode, Gandhinagar, Ghaziabad, Gorakhpur, Gwalior, Hebbal, Hyderabad, Jabalpur, Jalandhar, Jammu, Jamshedpur, Jodhpur, Khammam, Kolhapur, Kothrud, Ludhiana, Madurai, Meerut, Mohali, Moradabad, Noida, Pimpri, Pondicherry, Pune, Rajkot, Ranchi, Rohtak, Roorkee, Rourkela, Shimla, Shimoga, Siliguri, Srinagar, Thane, Thiruvananthapuram, Tiruchchirappalli, Trichur, Udaipur, Yelahanka, Andhra Pradesh, Anna Nagar, Bhilai, Borivali, Calicut, Chandigarh, Chromepet, Coimbatore, Dilsukhnagar, ECIL, Faridabad, Greater Warangal, Guduvanchery, Guntur, Gurgaon, Guwahati, Hoodi, Indore, Jaipur, Kalaburagi, Kanpur, Kharadi, Kochi, Kolkata, Kompally, Lucknow, Mangalore, Mumbai, Mysore, Nagpur, Nashik, Navi Mumbai, Patna, Porur, Raipur, Salem, Surat, Thoraipakkam, Trichy, Uppal, Vadodara, Varanasi, Vijayawada, Visakhapatnam, Tirunelveli, Aurangabad
Data Analyst Courses in Other Locations
ECIL, Jaipur, Pune, Gurgaon, Salem, Surat, Agra, Ahmedabad, Amritsar, Anand, Anantapur, Andhra Pradesh, Anna Nagar, Aurangabad, Bhilai, Bhopal, Bhubaneswar, Borivali, Calicut, Cochin, Chengalpattu , Dehradun, Dombivli, Durgapur, Ernakulam, Erode, Gandhinagar, Ghaziabad, Gorakhpur, Guduvanchery, Gwalior, Hebbal, Hoodi , Indore, Jabalpur, Jaipur, Jalandhar, Jammu, Jamshedpur, Jodhpur, Kanpur, Khammam, Kochi, Kolhapur, Kolkata, Kothrud, Ludhiana, Madurai, Mangalore, Meerut, Mohali, Moradabad, Pimpri, Pondicherry, Porur, Rajkot, Ranchi, Rohtak, Roorkee, Rourkela, Shimla, Shimoga, Siliguri, Srinagar, Thoraipakkam , Tiruchirappalli, Tirunelveli, Trichur, Trichy, Udaipur, Vijayawada, Vizag, Warangal, Chennai, Coimbatore, Delhi, Dilsukhnagar, Hyderabad, Kalyan, Nagpur, Noida, Thane, Thiruvananthapuram, Uppal, Kompally, Bangalore, Chandigarh, Chromepet, Faridabad, Guntur, Guwahati, Kharadi, Lucknow, Mumbai, Mysore, Nashik, Navi Mumbai, Patna, Pune, Raipur, Vadodara, Varanasi, Yelahanka
Navigate to Address
360DigiTMG - Data Analytics, Data Science Course Training Hyderabad
2-56/2/19, 3rd floor, Vijaya Towers, near Meridian School, Ayyappa Society Rd, Madhapur, Hyderabad, Telangana 500081
099899 94319