Home / Blog / Data Science / One Best Reliable Skill Every Data Science Beginner Needs To Start a Successful Career
One Best Reliable Skill Every Data Science Beginner Needs To Start a Successful Career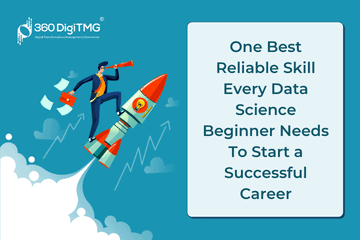 Data science is a multidisciplinary field that integrates programming, statistics, and business knowledge to solve problems and back choices with facts rather than gut instinct. Mathematical modelling, machine learning, and other cutting-edge statistical techniques are needed to glean valuable insights from unstructured data.
You need a few particular talents as a novice to launch a career in data science. The discipline of data science has a large learning curve. Data scientists must have excellent interpersonal and communication skills as well as a working knowledge of basic programming languages and statistical computations. Data science is preferred by both newcomers and seasoned experts in this industry. Professionals will have a wide range of talents based on their experience. The ideal course to take, the abilities they need to develop, and if any prior understanding of the topic is required are all issues that novices will have on their thoughts. This essay will go over how novices may overcome that difficulty and establish a prosperous career.
Also, check this Data Science Institute in Bangalore to start a career in Data Science.
Life-cycle of Data Science:
It is an iterative process that seeks to generate insights and forecast outcomes to accomplish corporate objectives. The Data Science life cycle involves several techniques, including business comprehension, data preparation, data cleansing, visualization, modeling, and deployment. Let's go over each and every stage in more detail:
⦁ Understanding the business: Before processing data, it is critical to understand the organization's problem or goals. For instance, a company must identify the variables behind credit loss if it wishes to reduce it. We must comprehend our data's kind, relevance, sources, and structure to do this.
⦁ Data preparation:: It is the most critical step in the Data Science life cycle, and it entails data extraction, combining several data sources, cleansing, and dealing with missing values. The process of the cleaning and transforming the data is time-consuming, but it is essential to building a solid model. Analyzing exploratory data We need to compile data on the influencing elements and potential solutions before we develop the actual model. After processing the data, we must identify the optimal solution that yields the desired outcomes.
⦁ Data modeling:: The data model receives the prepared data and outputs what is desired. After choosing the model, we must select the algorithm that yields the ideal outcomes. We can also employ hyperparameters to achieve desired results while balancing generalization and performance.
⦁ Model testing: We should test using new datasets and evaluation metrics after training and adjusting the model. We must iterate the model until it produces the expected results if we do not obtain the desired outcomes.
⦁ Model deployment: The final stage of the data science life cycle involves deploying the model in the preferred channel and format. The data model will be prepared to deliver the results in real time after thorough analysis and changes.
Looking forward to becoming a Data Scientist? Check out the Data Science Course and get certified today.
How Come Data Science is Interesting?
In the constantly growing field of data science, the rate of new scientific developments and discoveries is escalating. As a consequence, while working every day, you could learn something new. Because of this, you may continually pick up new Data Science skills, giving you a competitive advantage through training and experience. This is why data science is fascinating.
Learn the core concepts of Data Science Course video on YouTube:
What Makes a Good Data Scientist?
You should be aware of Data Science's potential if you wish to learn more about it. You will learn in this video that becoming a good data scientist requires you to master a variety of abilities.
An excellent data scientist needs to have a variety of abilities, including technical knowledge, statistical reasoning, an analytical mindset, curiosity, a problem-solving methodology, Big Data analytical capabilities, and more.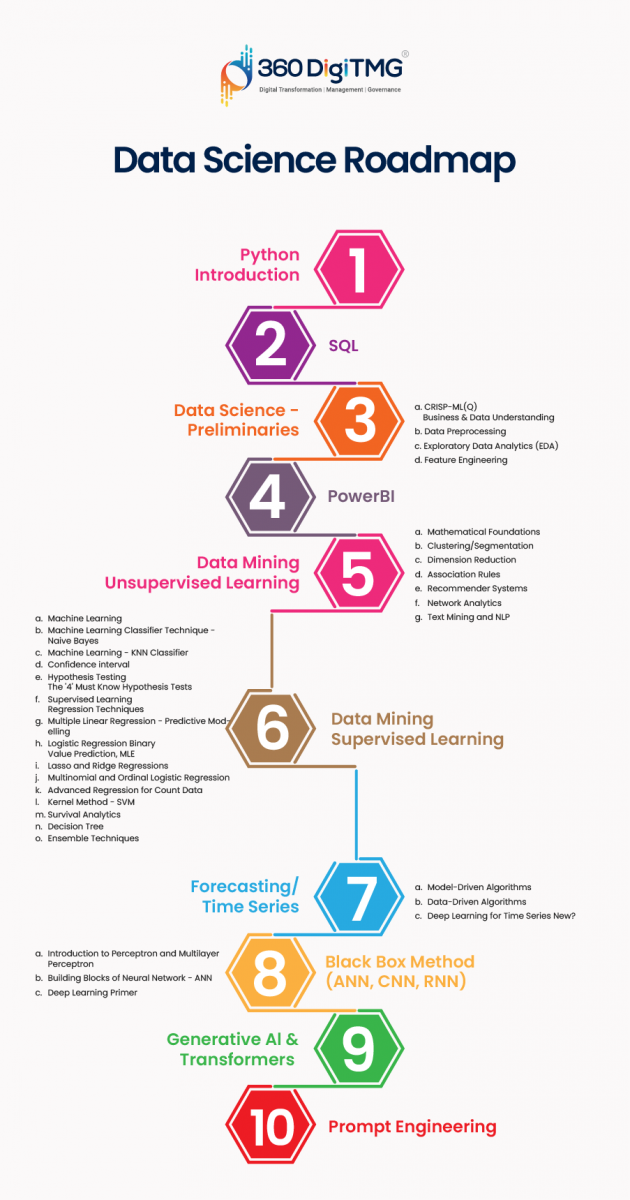 Who Needs Skills in Data Science?
Data science skills are especially important for people that work directly with data and must have a thorough grasp of it to do their jobs (such as data scientists, data engineers, and analysts). Other professionals, though, can gain from mastering data science techniques. As a manager, business leader, or individual contributor, for instance, developing your data science skills may help you: Even if you don't use data regularly, hunt for and evaluate any that might be relevant to your job.
⦁ Increase the number of facts you consider while making decisions.
⦁ Change your job to one that is more data-focused to: Improve communication with firm employees (particularly those on the data team), executives, and C-suite members
⦁ No matter how often you interact with data, having a strong understanding of data science may help you develop in your career, especially as more small and mid-sized businesses adopt data-driven decision-making.
⦁ Change your profession to one that is more data-focused
No matter how frequently you work with data, having a solid grasp of data science can help you advance in your career, especially as small and mid-sized organizations follow the lead of more prominent corporations in embracing data-driven decision-making.
Earn yourself a promising career in data science by enrolling in the Data Science Classes in Pune offered by 360DigiTMG.
One Skill that Each Beginner in Data Science Needs to Possess to Launch a Successful Career
The study of data involves numerous challenging technical constraints. Therefore, it is not recommendable to attempt learning data science without the aid of a structured learning program. However, since you are a beginner, you will undoubtedly have many questions; thus, enrolling in a data science training program is best to acquire all the necessary skills to launch your career. Another benefit for beginners is that they need one skill to get started in this sector, and the rest may learn through a training program. Below is one skill for beginners who wish to start their career in data science.
It All Begins With the Basics - Programming Language + Database:
As a result, working as a data science professional would require you to be familiar about various programming languages to manipulate the data and implement various sets of algorithms as needed. If you don't know how to programme, everything is pointless because you can't execute any work that would allow you to gain understanding. Data scientists do, however, commonly utilise a few key languages, and more crucially, the recruiter will expect you to be familiar with these languages. A list of programming languages is shown below:
Scala, Python, R programming, SQL, Scala
In order to store data in a systematic manner and ensure when and how data should be called when needed, a few key databases are also necessary. The most widely used databases are used by many data scientists:
MongoDB, MySQL
Regardless of the sector, data scientists generally use Python and R programming to create the outcomes required by most firms. Additionally, they offer frameworks and tools that are beneficial for gathering numerical and statistical data.
Want to learn more about data science? Enroll in the Best Data Science courses in Chennai to do so.
Wrapping Up:
The 360digiTMG Data Science training program assists you in self-preparation for the rising need for Big Data expertise and technology. This Data Science program provides professionals with knowledge of data management technologies such as Hadoop, Flume, Machine Learning, and others. A candidate would have an advantage in the job market if they were knowledgeable about and proficient in these essential data skills. The same applies to beginners because they have to start from scratch. It is simple for a candidate to obtain the top Data Science job Titles that offer a high range of compensation after they become an expert in Big Data and Data Science technology.
Data Science Placement Success Story
Data Science Training Institutes in Other Locations
Agra, Ahmedabad, Amritsar, Anand, Anantapur, Bangalore, Bhopal, Bhubaneswar, Chengalpattu, Chennai, Cochin, Dehradun, Malaysia, Dombivli, Durgapur, Ernakulam, Erode, Gandhinagar, Ghaziabad, Gorakhpur, Gwalior, Hebbal, Hyderabad, Jabalpur, Jalandhar, Jammu, Jamshedpur, Jodhpur, Khammam, Kolhapur, Kothrud, Ludhiana, Madurai, Meerut, Mohali, Moradabad, Noida, Pimpri, Pondicherry, Pune, Rajkot, Ranchi, Rohtak, Roorkee, Rourkela, Shimla, Shimoga, Siliguri, Srinagar, Thane, Thiruvananthapuram, Tiruchchirappalli, Trichur, Udaipur, Yelahanka, Andhra Pradesh, Anna Nagar, Bhilai, Borivali, Calicut, Chandigarh, Chromepet, Coimbatore, Dilsukhnagar, ECIL, Faridabad, Greater Warangal, Guduvanchery, Guntur, Gurgaon, Guwahati, Hoodi, Indore, Jaipur, Kalaburagi, Kanpur, Kharadi, Kochi, Kolkata, Kompally, Lucknow, Mangalore, Mumbai, Mysore, Nagpur, Nashik, Navi Mumbai, Patna, Porur, Raipur, Salem, Surat, Thoraipakkam, Trichy, Uppal, Vadodara, Varanasi, Vijayawada, Visakhapatnam, Tirunelveli, Aurangabad
Data Analyst Courses in Other Locations
ECIL, Jaipur, Pune, Gurgaon, Salem, Surat, Agra, Ahmedabad, Amritsar, Anand, Anantapur, Andhra Pradesh, Anna Nagar, Aurangabad, Bhilai, Bhopal, Bhubaneswar, Borivali, Calicut, Cochin, Chengalpattu , Dehradun, Dombivli, Durgapur, Ernakulam, Erode, Gandhinagar, Ghaziabad, Gorakhpur, Guduvanchery, Gwalior, Hebbal, Hoodi , Indore, Jabalpur, Jaipur, Jalandhar, Jammu, Jamshedpur, Jodhpur, Kanpur, Khammam, Kochi, Kolhapur, Kolkata, Kothrud, Ludhiana, Madurai, Mangalore, Meerut, Mohali, Moradabad, Pimpri, Pondicherry, Porur, Rajkot, Ranchi, Rohtak, Roorkee, Rourkela, Shimla, Shimoga, Siliguri, Srinagar, Thoraipakkam , Tiruchirappalli, Tirunelveli, Trichur, Trichy, Udaipur, Vijayawada, Vizag, Warangal, Chennai, Coimbatore, Delhi, Dilsukhnagar, Hyderabad, Kalyan, Nagpur, Noida, Thane, Thiruvananthapuram, Uppal, Kompally, Bangalore, Chandigarh, Chromepet, Faridabad, Guntur, Guwahati, Kharadi, Lucknow, Mumbai, Mysore, Nashik, Navi Mumbai, Patna, Pune, Raipur, Vadodara, Varanasi, Yelahanka
Navigate to Address
360DigiTMG - Data Science, Data Scientist Course Training in Bangalore
No 23, 2nd Floor, 9th Main Rd, 22nd Cross Rd, 7th Sector, HSR Layout, Bengaluru, Karnataka 560102
1800-212-654-321