Home / Blog / Data Science / Data Science Course: A Complete Guide on its Importance, Why Should You Choose it for Career?
Data Science Course: A Complete Guide on its Importance, Why Should You Choose it for Career?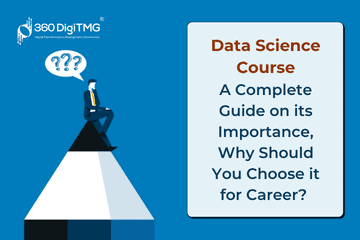 Data science jobs now have the highest salaries in the world. Data scientists that can analyse complicated data and effectively communicate their conclusions are more in demand as a result of data science's extensive application across a wide range of businesses. Learning and understanding the field of data science has become essential for every organisation in the current data-driven economy, making it a desired job in any business.
Numerous employment possibilities are available in the field of data science. For those seeking employment as data scientists, both novices and seasoned experts must complete data science training. In order to handle and analyse a significant quantity of data utilising innovative open-source tools and difficult data analysis techniques, candidates must get enough training in data science.
What is a Data Science Course?
Have you ever considered how Netflix suggests movies based on your preferred genre? How do the faces of recognized people get automatically tagged on Facebook? Alternatively, how can banks determine which of their clients are most likely to switch to a rival and which are more likely to remain loyal? How has the drug discovery process been made simpler? A data science course will cover these phenomena and how they function. Data Science, which combines business knowledge, machine learning methods, algorithms, and mathematics, aids in the discovery of hidden patterns in unstructured data. This knowledge allows the organization to make wise and significant business decisions, making this talent crucial.
Want to learn more about data science? Enroll in the Best Data Science courses in Chennai to do so.
Why Should You Take Data Science Course?
Due to the volume of data generated and the growth of the analytics sector, data science has become crucial for organisations. Companies that seek to make the most of their data come from a variety of industries, including finance, marketing, IT, retail, and banking. Data scientists are needed by all of them. As a result, there is a huge need for data scientists all around the world. Anyone may pursue a career as a data scientist in this field, regardless of background. Data analytics, data mining, artificial intelligence, machine learning, and various subdisciplines are all included in the field of data science.
A student will be prepared for big data technologies and abilities, which are in great demand, through a data science upskilling programme. People will study data management technologies including machine learning and artificial intelligence through this programme. Over the preceding three decades, the need for data science professionals has increased by 75%, according to recruiting websites. Data science technology has generated a significant number of employments with competitive pay rates when compared to other IT sectors.
Learn the core concepts of Data Science Course video on YouTube:
What Makes a Good Data Scientist?
The area of data science is expanding swiftly, and more organizations realize the value of hiring data scientists. Data scientists are in huge demand, but the competition is often intense. More people are doing what they can to get trained in the field of data science and to stand out from other applicants because this may also be a lucrative career field to pursue. In other words, it's essential to have the appropriate training if you're serious about pursuing a career in data science.
Are you looking to become a Data Scientist? Go through 360DigiTMG's PG Diploma in Data Science and Artificial Intelligence!.
Why should you care Data Science Course to Start Your Career
The greatest way to realise your ambition of working in technology is to pursue data science courses. Specialists in data science are highly sought after not just in top sectors but also in major cities worldwide. As a result, many top business executives worldwide have access to careers in data science.
⦁ Career Development:
Getting your data science certification is a crucial step to take if you want to kickstart your Career. Professional certification from a well-structured data science course can still help you improve your job, increase brand awareness, and even increase your earning potential, even if you already have experience with data science.
Become a Data Scientist with 360DigiTMG Data Science course in Hyderabad Get trained by the alumni from IIT, IIM, and ISB.
⦁ Flexibility, Independence, and Choices:
Many different industries are making use of data science, including healthcare, retail, banking, and entertainment. Nearly every industry and organisation today are aware of the importance of data and the need for qualified data scientists. Location is a key consideration while choosing a professional route and what to become certified in. As a certified data scientist, you will have the option, independence, and flexibility to work anywhere in the globe.
⦁ Structured Education Program:
Some people choose to hone their talents by reading blogs and websites' advice and viewing free online videos. Even though these materials may originate from reliable sources, they are not structured learning approaches. Due to the likelihood that you will only know fragments of knowledge from accessible sources, it is also simple to miss essential lessons that you would otherwise learn through an organized education program. Students who participate in structured educational programs receive all the tools they need to master data science methodically and systematically.
⦁ Teaches You How to Use the Most Popular Data Science Tools:
Since data science is a discipline that is always evolving, data scientists consistently employ cutting-edge approaches to increase the effectiveness of their job. Without enrolling in a data science course, it might be difficult to become familiar with the current, commonly used data science tools. But this is a skill that every data scientist requires. If you just use a few data science tools now, it's important to diversify your knowledge and learn about all of them because different organisations use different tools.
⦁ Updates You on the Most Recent Industry Trends:
Enrolling in a data science course will enable you to stay current on the most recent developments in the industry. Developing new talents is crucial if you want to increase your knowledge. However, getting this information from several sources can be challenging if you already have other responsibilities, such as full-time employment. Therefore, to improve your learning experience, enrolling in a data science course at an accredited university is usually more effective.
⦁ Showcase Your Expertise Easily:
Whenever you seek for a new job, employers take into account your experience along with a number of other factors. Working experience might occasionally show that you are knowledgeable in a given field. Other times, use real-world experience acquired through a recognised course certification to demonstrate your skills and competence to potential employers. If you have a professional data science certification and on-the-job experience, you may be almost unstoppable.
Also, check this Data Science Institute in Bangalore to start a career in Data Science.
⦁ It Demonstrates Your Dedication and Commitment:
Companies understand and value that completing an educational program and becoming certified can be difficult. In addition to studying and working hard, students frequently have additional commitments, such as family life and a full-time job, to manage. By enrolling in a course, you convey to potential employers how serious and passionate you are about data science and how committed you are to the field.
Conclusion:
If you're seeking for a course that keeps students abreast of the most recent data science trends and examines practical knowledge in its curriculum, the 360digiTMG Data Scientist Course Training Programme is a great option. The first step is to enrol in an accredited data science course that will provide you with all the knowledge you need, from the basics to advanced techniques, to succeed in the field. The best way to learn data science is to register in a structured, approved programme that offers instruction from business professionals and that, upon completion, may get you a professional certification. This is true even though there are many helpful free internet resources available to you.
Data Science Placement Success Story
Data Science Training Institutes in Other Locations
Agra, Ahmedabad, Amritsar, Anand, Anantapur, Bangalore, Bhopal, Bhubaneswar, Chengalpattu, Chennai, Cochin, Dehradun, Malaysia, Dombivli, Durgapur, Ernakulam, Erode, Gandhinagar, Ghaziabad, Gorakhpur, Gwalior, Hebbal, Hyderabad, Jabalpur, Jalandhar, Jammu, Jamshedpur, Jodhpur, Khammam, Kolhapur, Kothrud, Ludhiana, Madurai, Meerut, Mohali, Moradabad, Noida, Pimpri, Pondicherry, Pune, Rajkot, Ranchi, Rohtak, Roorkee, Rourkela, Shimla, Shimoga, Siliguri, Srinagar, Thane, Thiruvananthapuram, Tiruchchirappalli, Trichur, Udaipur, Yelahanka, Andhra Pradesh, Anna Nagar, Bhilai, Borivali, Calicut, Chandigarh, Chromepet, Coimbatore, Dilsukhnagar, ECIL, Faridabad, Greater Warangal, Guduvanchery, Guntur, Gurgaon, Guwahati, Hoodi, Indore, Jaipur, Kalaburagi, Kanpur, Kharadi, Kochi, Kolkata, Kompally, Lucknow, Mangalore, Mumbai, Mysore, Nagpur, Nashik, Navi Mumbai, Patna, Porur, Raipur, Salem, Surat, Thoraipakkam, Trichy, Uppal, Vadodara, Varanasi, Vijayawada, Visakhapatnam, Tirunelveli, Aurangabad
Data Analyst Courses in Other Locations
ECIL, Jaipur, Pune, Gurgaon, Salem, Surat, Agra, Ahmedabad, Amritsar, Anand, Anantapur, Andhra Pradesh, Anna Nagar, Aurangabad, Bhilai, Bhopal, Bhubaneswar, Borivali, Calicut, Cochin, Chengalpattu , Dehradun, Dombivli, Durgapur, Ernakulam, Erode, Gandhinagar, Ghaziabad, Gorakhpur, Guduvanchery, Gwalior, Hebbal, Hoodi , Indore, Jabalpur, Jaipur, Jalandhar, Jammu, Jamshedpur, Jodhpur, Kanpur, Khammam, Kochi, Kolhapur, Kolkata, Kothrud, Ludhiana, Madurai, Mangalore, Meerut, Mohali, Moradabad, Pimpri, Pondicherry, Porur, Rajkot, Ranchi, Rohtak, Roorkee, Rourkela, Shimla, Shimoga, Siliguri, Srinagar, Thoraipakkam , Tiruchirappalli, Tirunelveli, Trichur, Trichy, Udaipur, Vijayawada, Vizag, Warangal, Chennai, Coimbatore, Delhi, Dilsukhnagar, Hyderabad, Kalyan, Nagpur, Noida, Thane, Thiruvananthapuram, Uppal, Kompally, Bangalore, Chandigarh, Chromepet, Faridabad, Guntur, Guwahati, Kharadi, Lucknow, Mumbai, Mysore, Nashik, Navi Mumbai, Patna, Pune, Raipur, Vadodara, Varanasi, Yelahanka
Navigate to Address
360DigiTMG - Data Science, IR 4.0, AI, Machine Learning Training in Malaysia
Level 16, 1 Sentral, Jalan Stesen Sentral 5, Kuala Lumpur Sentral, 50470 Kuala Lumpur, Wilayah Persekutuan Kuala Lumpur, Malaysia
+60 19-383 1378